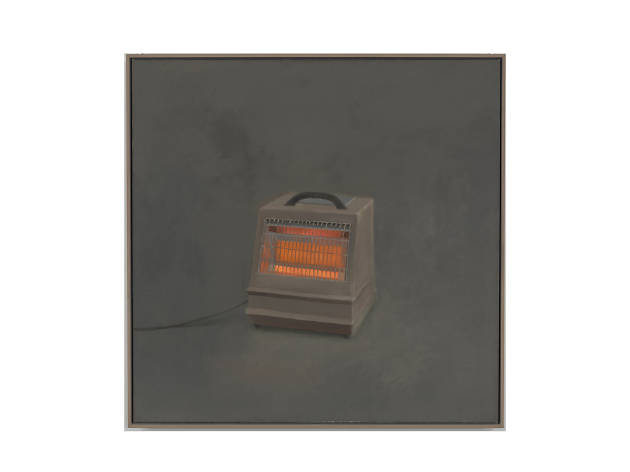 Time Out says
Over her five decades as an artist, Vija Celmins has been known mostly as an artist's artist, a reputation that may stem from the contemplative nature of her work: Whether it's black-and-white, photo-realistic images of empty oceans, distant stars and arid vistas, or sculptures depicting stones and antique schoolhouse writing slates with uncanny verisimilitude, Celmins's output demands slow, sustained and thoughtful viewing. This elegantly presented retrospective may not make her a household name, but it does allow us to reconsider an artist who delimited her scope in order to deepen her quietly intense meditation on how we observe reality.
Born in Latvia in 1938, Celmins moved in 1962 to Los Angeles, where she began her career by painting quotidian objects in her studio: a desk lamp, an electric fan, an opened airmail envelope and so on. Though aligned with Pop Art's interest in everyday consumer goods, these early still lifes were very different, relying on a subdued, nearly monochromatic palette—with the exception of two 1964 compositions, Heater and Hot Plate, which both feature glowing red coils. More typical is the entirely gray TV (also 1964), which pictures a plane exploding in midair on a television screen. Celmins followed that with a series of canvases sourced from similarly ominous photos of combat that were likely related to her childhood during World War II.
These efforts fit into the larger photo-realist movement of the period, though Celmins took the idea one step further in a 1968 series of graphite trompe l'oeil drawings depicting torn and creased photographs on a blank background. Along with other renderings from 1969 based on photos from the moon landing that year, they reveal that Celmins's project paralleled Gerhard Richter's explorations of photography, history, memory and the way the camera has subsumed perception itself.
At the same time, Celmins began limning more timeless and generic subjects—horizonless views of the Pacific, the night sky seen through a telescope, the parched floor of the California desert—with a painstaking, meticulous hand. She added spiderwebs to the mix in the early 1990s, but in all of these works, copious surface details captivate and engross us, even as we remain aware of the original photos used to make them.
With another artist, this sort of single-mindedness might seem obsessive, but the palpable diligence of Celmins's labor, coupled with the quietude of her works, makes her practice feel more like a spiritual vocation. And despite their modest size, Celmins's depictions of vast, inhuman stretches of the world can evoke the sublime, as in the views of the sky hung in one chapel-like gallery. Though it may appear cool and nearly colorless at first glance, this exhibition grows more vivid and impassioned the longer we look.
Details
Users say