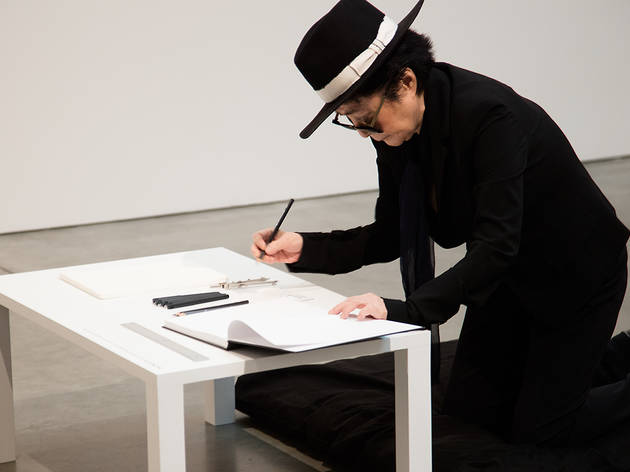 Yoko Ono talks about her new interactive installation and the power of social media
The prolific artist's double exhibition "The Riverbed" fills two Chelsea galleries with a yen for Zen
For years, Yoko Ono's celebrity status obscured her role as a Conceptual art pioneer. But in 
the last 25 years or so, she's reinvigorated her artistic career with exhibitions at the Whitney Museum of Art 
and, most recently, at the Museum of Modern Art. 
Since then, the 82-year-old has been busy with her latest project, 
a double exhibition of three interactive installations at Galerie Lelong and Andrea Rosen Gallery in Chelsea. Recently, Ono discussed the motivation behind the works with Time Out New York, while also relaying her newfound passion for social media.

You've titled your two-space show, "The Riverbed." Why?
This particular riverbed is the one between life and death. We're standing on this side and are thinking about what happens 
on the other. You can't ignore 
it because we're all going to be 
dead one day.

Viewers are asked to participate in different ways, including one instance when they're instructed to pick up a stone from a pile and put it in their laps. What's the point there?
They're stones from a riverbed, which is where the show's title comes from. Each is inscribed with a word that came to me: DREAM, LOVE, GIVE, IMAGINE, HUG, WISH. They all require action, which in this case means giving all of your emotion to the stone. So you pick one up and meditate for as long as you want according to what's written on it.

What do you mean by "giving all 
of your emotion to the stone"?
Say you have an incredible 
anger; the stone will take it 
away from you. As I said, the riverbed sits between life and death, but it also gives you the chance to get rid of all of your 
anger and sadness.

Another of the works consists of 
low tables, each with a notebook and pencils, pens, a protractor 
and ruler. What do you expect the viewer to do with them?
The work invites you to go somewhere, and going somewhere is a mathematical thing. So those tools are the kind used in science and math. You can draw in the notebook or do anything you want.

Does that include drawing on 
the walls or hanging what you've done in the galleries?
I have to admit that there's a certain fear on my part about that. 
I still have the belief that art should be beautiful, and if someone did something that wasn't beautiful, 
I would be upset.

That piece and the one with the stones are new. But the third piece, in which viewers are asked to mend broken cups I seem to remember you and John Lennon performing it on The Mike Douglas Show when you were both cohosts for a week in 1972. You broke 
a cup and mended it day by day. How does that differ from what you've done here?
Did we? Wow, that's great. But 
the reason it's different is that originally, the idea meant mending relationships. But now we have to mend the whole world, so there's 
a certain sense of urgency.

I've read you've taken to social media. How do you use it?
People are always asking me questions, so it's a good way to communicate with them. I use Facebook and Twitter to respond to their questions, which I do during weekends. It's become very important for me.
See the exhibition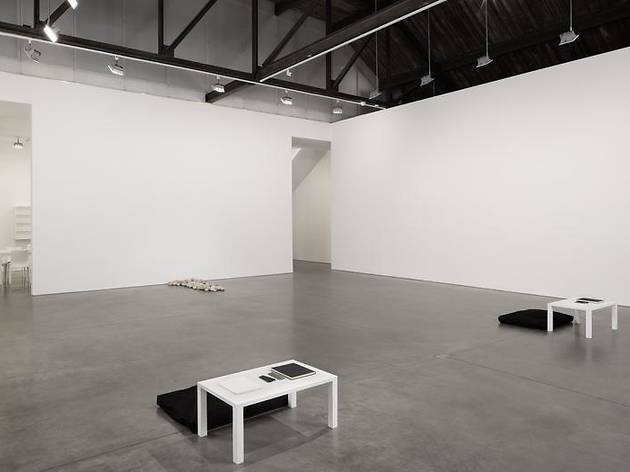 Elegantly minimalist in the Japanese tradition, the work—whose theme is healing, spiritually and otherwise—is designed with viewer participation in mind: Visitors, for example, are meant to pick up and meditate one of a pile of smoothly eroded river stones, inscribed with a words such as "remember," "dream" and "wish."