1/6
Photograph: Anna O. Grant
Peter Pan Donut and Pastry Shop
2/6
Photograph: Anna O. Grant
Peter Pan Donut and Pastry Shop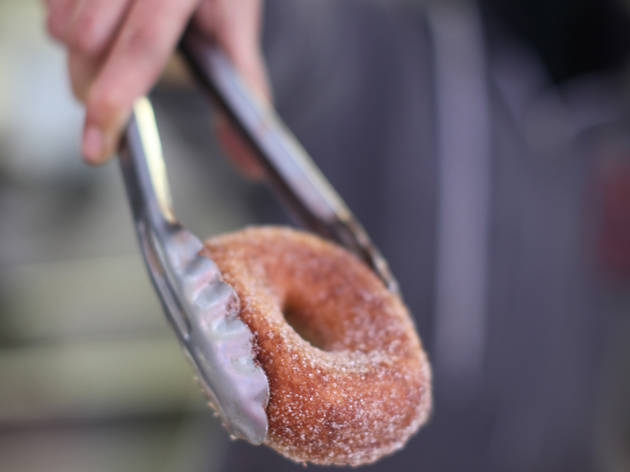 3/6
Photograph: Anna O. Grant
Carpe Donut NYC
4/6
Photograph: Anna O. Grant
Dun Well Donuts
5/6
Photograph: Anna O. Grant
Dun Well Donuts
6/6
Photograph: Anna O. Grant
Mikes Donuts and Coffee
The history of the doughnut in NYC—as much a part of the city's culinary fabric as pizza or hot dogs—stretches back to 1673, when 225-pound Anna Joralemon (affectionately nicknamed "the Big Doughnut") began selling the fried cakes downtown. Now the sugary snacks are getting a well-deserved tribute at the quirky City Reliquary.
Organized by Julie Thomson—a former Reliquary volunteer who blogs, tweets and produces audio documentaries about doughnuts—the exhibit focuses its sweet-toothed affection on nine present-day purveyors, including Dough, food truck Carpe Donut, vegan shop Dun-Well Doughnuts and Peter Pan Donut & Pastry Shop, which has produced hand-cut rings for more than five decades and even got a shout-out from Liz Lemon on 30 Rock.
Visitors can read the history and view photos of each store, alongside miscellanea such as the bike that Doughnut Plant founder Mark Isreal used to deliver his goodies before he had a brick-and-mortar location, and vintage postcards showing Union Square's Salvation Army–run Donut Hut where WWI soldiers chowed down. Some of the objects are sourced from Thomson's personal collection, like a 1930s menu, mug and plate from Mayflower Doughnuts, the city's first doughnut chain.—Jennifer M. Wood
As part of its closing weekend, hear author Sally Levitt Steinberg (The Donut Book) lecture on the history of the fried cake (Sat 1 at 3pm) and participate in a meeting of the Donut Dunkers Club (Sun 2 at 4pm).