Heads up! We're working hard to be accurate – but these are unusual times, so please always check before heading out.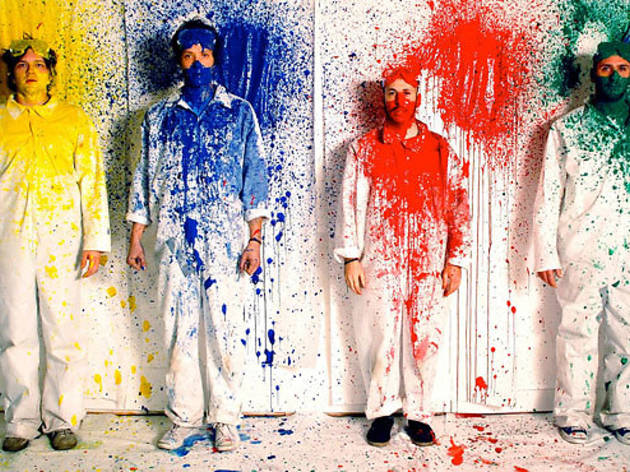 1/8
Photograph courtesy Contemporary Arts Center
OK Go: "This Too Shall Pass" (Rube Goldberg Machine version) (2010). Directed by James Frost, OK Go, and Syn Labs. The costumes worn by bandmembers will also be on view as part of the exhibition.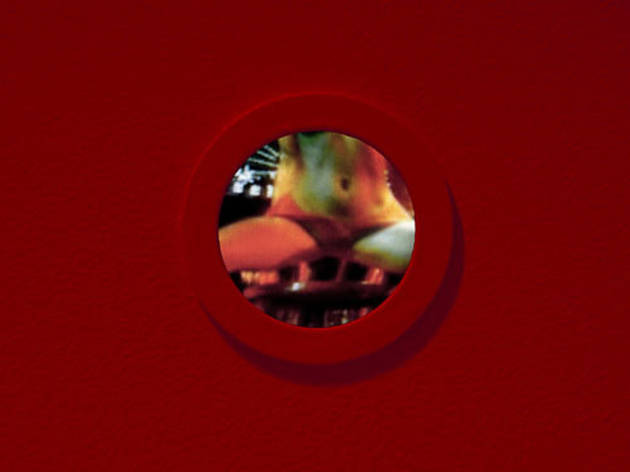 2/8
Photograph courtesy Flux
Agent Provocateur peephole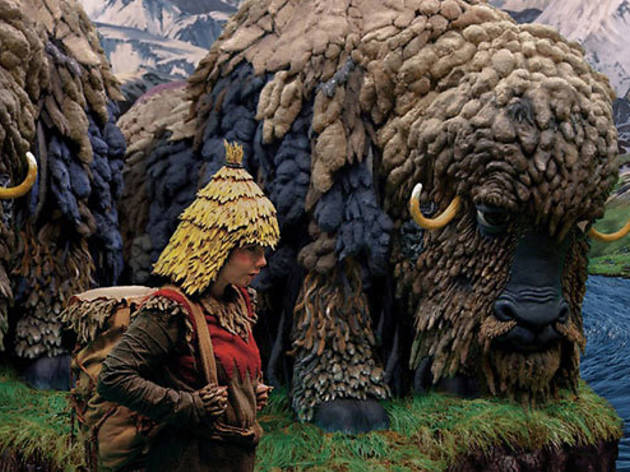 3/8
Photograph courtesy Contemporary Arts Center
Bjork: "Wanderlust" (2008). Directed by Encyclopedia Pictura.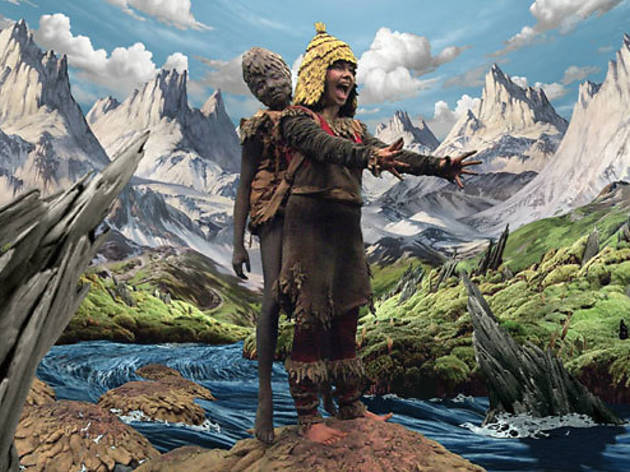 4/8
Photograph courtesy Contemporary Arts Center
Bjork: "Wanderlust" (2008). Directed by Encyclopedia Pictura.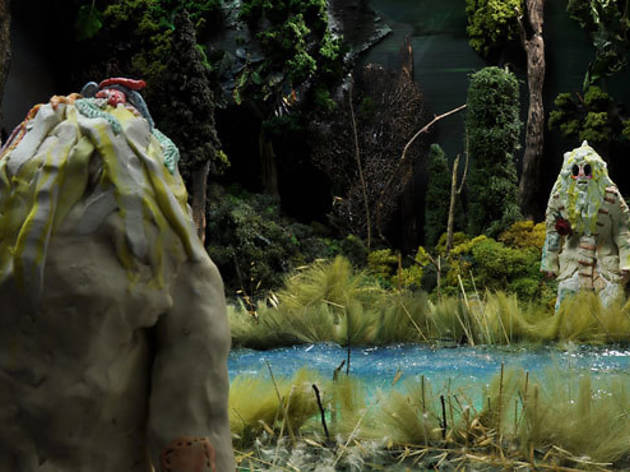 5/8
Photograph courtesy Contemporary Arts Center
Grizzly Bear: "Ready, Able" (2009). Directed by Allison Schulnik.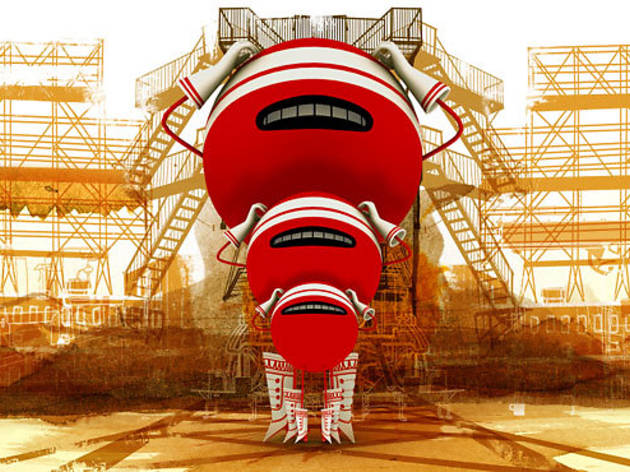 6/8
Photograph courtesy Contemporary Arts Center
NASA: "Spacious Thoughts" (2009). Directed by Flourescent Hill.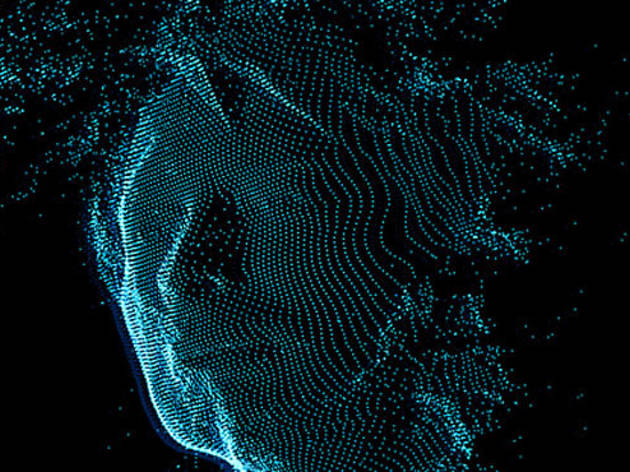 7/8
Photograph courtesy Contemporary Arts Center
Radiohead: "House of Cards" (2008). Directed by James Frost.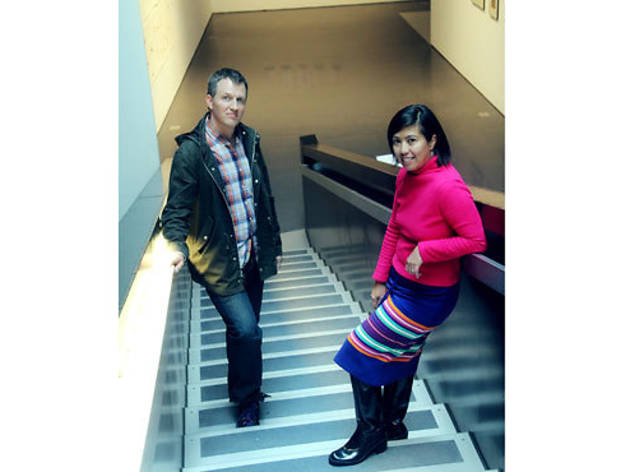 8/8
Photograph courtesy Contemporary Arts Center
"Spectacle" curators Jonathan Wells and Meg Grey Wells of Flux
Museums get musical: 'Spectacle' and smokeforblues
In "Spectacle: The Music Video" and the smokeforblues festival, MoMI and the Whitney pay tribute to MTV and modern blues.
The way we interact with the music we love has significantly changed over the past few decades, so why shouldn't the way we memorialize it evolve as well? This week, two attractions—an exhibit and a museum-hosted festival—will let you experience recent music history in vivid and innovative ways.
On April 3, the Museum of the Moving Image debuted this examination of the music video as art (the most comprehensive collection ever compiled, according to the curators). The exhibit explores the form's history and evolution, as well as the auteurs who pioneered the medium, the tools they used and the blueprints they've established (then broken). "Spectacle" includes more than 300 seminal clips from Bowie to Beastie Boys, some of them displayed interactively. Björk's animatronic "Wanderlust" is screened in stereoscopic 3-D; Kanye West's mythic "Power" gets the Michelangelo treatment in a large-scale, gold-framed screen; and Arcade Fire's "Sprawl II (Mountains Beyond Mountains)" is presented with sensors that change the direction of the video according to your movements. There's even a section where you can watch racier, controversial clips such as N.W.A's "Straight Outta Compton" and Sigur Ros's "Viorar Vel Til Loftarasa" through a peephole.
Trailblazing shows Yo! MTV Raps and Video Music Box, which championed hip-hop music for the masses, are given their due, as are early iterations of the music video such as 1932 animated shorts "Minnie the Moocher" and "I'll be Glad When You're Dead, You Rascal You," both starring Betty Boop. Original props and costumes are also among the collection, including an eyeball-helmet-and-top-hat ensemble worn by avant-garde '70s creepers the Residents, the steampunk ship from the Smashing Pumpkins' "Tonight, Tonight" clip, a re-creation of Milky the milk carton from Blur's "Coffee and TV" and yarn pieces from Michel Gondry's video for Steriogram's "Walkie Talkie Man." Plus, an adjacent film series begins May 3, featuring as-yet-unannounced movies, documentaries and concert films.
Museum of the Moving Image, 36-01 35th Ave at 37th St, Astoria, Queens (718-777-6888, movingimage.us). Wed, Thu 10:30am–5pm; Fri 10:30am–8pm; Sat, Sun 11:30am–7pm. $12, seniors and students $9, children 3–12 $6, members and children under 3 free, Fri 4–8pm free. Through June 16.
Almost any music that can truly be called American has been influenced, at least in part, by the blues. The Whitney Museum's current "Blues for Smoke" exhibit explores that centuries-old legacy and how it has affected U.S. culture— musical or otherwise—over the last hundred years. This weekend-long festival showcases young New York musicians who give a contemporary spin to that blues tradition, from radical musical experimentation to addressing themes of racial and social injustice. Art-rapper Mykki Blanco, Bed-Stuy psych-soul outfit King Holiday and the individual artists formerly known as Das Racist are all on the bill. To really integrate the events into the exhibit, many of the shows will go down within installations commissioned by the Whitney and designed by the performers.
smokeforblues kicks off on Friday 5 with Blanco and Kool A.D. (Das Racist's Victor Vazquez), who will be joined by producer Amaze 88 and hype-man Loren Hell. Blanco will deliver a specially prepared set he's calling "xyz performance," and we're anticipating selections from Kool's third and fourth solo mixtapes, 63 and 19, which were released as a double album in February. On Saturday 6, you'll hear King Holiday's socially conscious fusion of electronica, psych-rock and Motown soul in Bloo Voyage; the multimedia experience combines set design, video and performance art to portray the daily life of a traveling modern-blues musician. Sunday's shows will be heavily improvised, with Das Racist alums Heems (Himanshu Suri) and Dapwell (Ashok Kondabolu) taking charge of their own installations for solo sets. Heems, who advocates for Queens-based community organization SEVA NY, plans to air original content reflecting his Indian heritage, while Dap will host onstage conversations with performers such as gender-bending underground rapper Le1f.
Whitney Museum of American Art, 945 Madison Ave at 75th St (212-570-3600, whitney.org). Fri 5 6–9pm, Sat 6 11am–6pm, Sun 7 11am–6pm. $18; seniors, adults 19–25 and students $14; ages 18 and under free; Fri 6–9pm pay what you wish.