Heads up! We're working hard to be accurate – but these are unusual times, so please always check before heading out.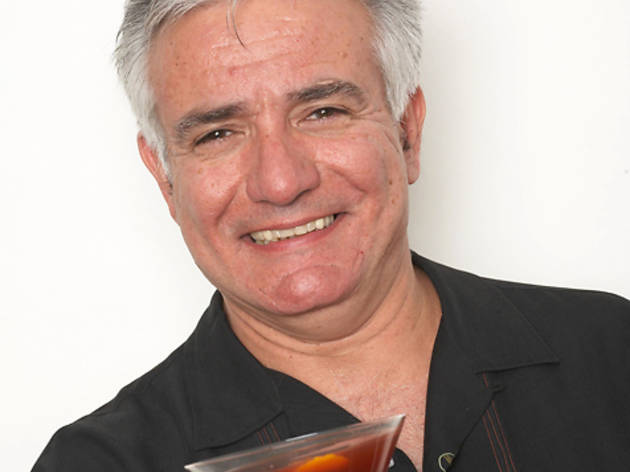 1/52
Dale DeGroff; "King Cocktail" and cofounder of Beverage Alcohol Resource (BAR), an educational course for bartenders and spirit professionals You began working with fresh juices and other quality ingredients at the Rainbow Room in the 1980s, and are often credited with being the godfather of the modern mixology movement. What does that responsibility mean to you?I want to share with as many young bartenders as I can the richness of opportunity the profession affords us; an opportunity to touch perhaps more lives than many other professions permit. [It's] not for everyone. When a person is not suited for this constant interaction with all sorts of people, cynicism and meanness can overcome their personality---and there is nothing as disheartening as an unhappy person in a happy place, like behind the bar of a good saloon. What have you seen around New York lately that's excited you?I have been on the road more than in NYC, so what excites me is to see the blossoming of the cocktailian scene in cities around the country...around the world, in fact. What cocktail trends would you like to see die?Mediocrity, poor ingredients, lack of training [and not thinking of bartending] as a craft profession. You wrote The Essential Cocktail and The Craft of the Cocktail. Got another book in you? I'd love to explore small plates and cocktails. We want to buy you a drink. What'll it be?Gin martini, straight up with an olive and a twist.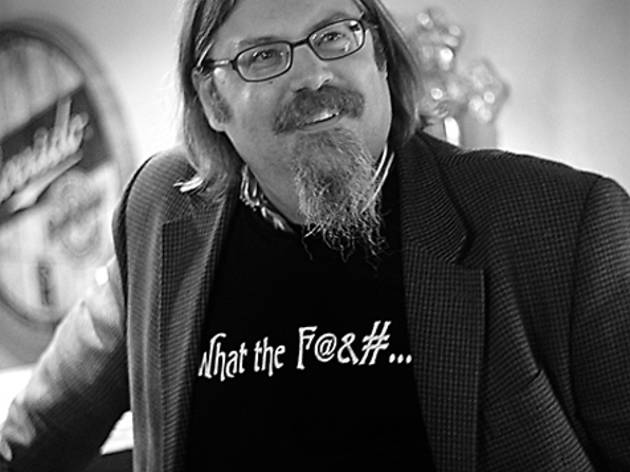 2/52
Photograph: Danny Valdez
David Wondrich, cocktail historian and writer, author of Imbibe! and Punch, and cofounder of Beverage Alcohol Resource (BAR) What have you seen around New York lately that's excited you? There are a number of casual, pleasant new bars with excellent cocktails---places where you can converse with your friends, nibble on something and enjoy a well-crafted drink without having to worry that you might not be doing it right. Some current favorites are Lani Kai in Soho, Dram and The Drink in Williamsburg, and the Rum House in midtown. I like places where good cocktails are a given and you're free to focus on the other parts of the bar experience. Now if someone could just clone the jukebox from Hank's and put it in a cocktail bar... What cocktail trends would you like to see die?Cucumbers. And if the "house-made" trend (house-made bitters, syrups, infusions, etc.) could not die, but at least catch mono and have to stay home for a while, I would not be displeased. Too many drinks made with these things end up tasting like somebody boiled the sachet from your grandmother's coffee table in them. "As soon as you pick up a chef's knife and approach food, you're already in debt to the French," wrote Anthony Bourdain in No Reservations. To whom do New York City bartenders owe a debt of gratitude?Dale DeGroff. And Orsamus Willard, Cato Alexander, Shed Sterling, Panama Joe Fernandez, Jerry P. Thomas, William Schmidt, Harry Johnson, George Kappeler, Hugo Ensslin, Jack Grohusko, Eddie Woelke and a hundred other old-time barkeepers who laid down the principles of the trade. Imbibe! and Punch are practically textbooks for scholarly bartenders. Got another book in you? What topic would you love to explore?Since Punch tried to tell the story of the birth of modern mixology and Imbibe! the story of how America came to dominate the craft, for my next one I'm going to try to tell the story of how the American cocktail went global in the late 19th and early 20th centuries. Basically, a drinking tour of the world in the steamship age. What else are you working on right now? My monthly column for Esquire, cocktail columns for Imbibe magazine and the Malt Advocate, a monograph on Cuban bartending with Greg Boehm, translating The Decline and Fall of the Roman Empire into Lithuanian... Soapbox time: What pisses you off? What do we need to start or stop talking about?What pisses me off is the growing inequity between the richest Americans and the rest of us, the decay of our infrastructure, the decline of our education system, and the cheapening and vulgarization of our culture. Cocktails are just drinks---the most worked up I'll ever get about them barely amounts to a feeling of mild disappointment. But I would not be disappointed at all if they would stop flavoring perfectly good spirits with artificial crap and trying to twist my arm into saying nice things about the results.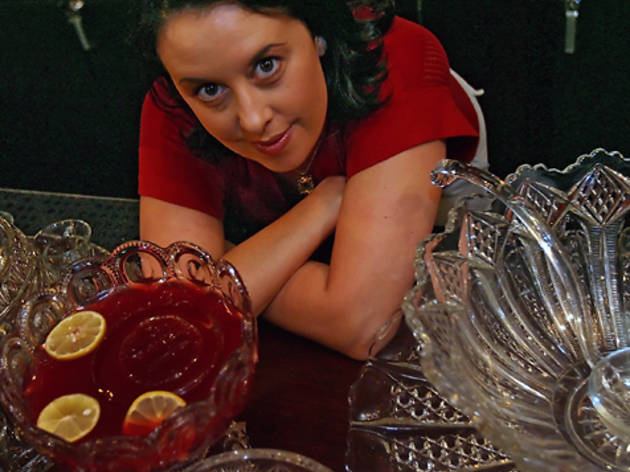 3/52
Photograph: Courtesy Andrea Mohin/The New York Times/Redux
Julie Reiner; Clover Club, Flatiron Lounge, Lani Kai Where and when can we find you in New York?I am in NYC about 98 percent of the time. With three cocktail lounges, I am happily tied to New York City! The trick is catching me running between the three joints! You opened Flatiron Lounge in 2003---years before the current cocktail boom. How have things changed in the intervening years? Where are we headed next?When I opened Flatiron, the only other cocktail bars were Milk and Honey and Angel's Share, and Milk and Honey wasn't really accessible to the masses yet. I actually did not know about it until 2004, when Dale DeGroff told me I had to check it out. When we opened, I had to train everyone on the style of cocktails that went on the menu there. Fresh juice and syrups were not the norm in NYC, so bartenders did not really know how to work with a market-fresh bar program yet. When I lost a bartender, it was months of training to replace them. I tried to hire people as bar-backs and cocktail servers who I saw as future bartenders. This system really worked for me. It created an "apprenticeship" program, where if you put in your time and learned, you could become a bartender. Phil Ward, Adam Ramsey [Mayahuel], and Adam McGee [Cienfuegos] all started as bar-backs at Flatiron---while Katie Stipe [Vandaag] and Lynnette Marrero [Freemans, Peels] began as cocktail servers. What have you seen around town lately that's excited you?I have witnessed prominent bartenders in the industry sharing their recipes and ideas with younger, less experienced bartenders. I love this; it is great to share ideas rather than keep them to yourself. If there's a better way to make a syrup, or infusion, etc.---help people out. Oftentimes more experienced bartenders have already worked through a process, and are saving the newbies a whole lot of time. What cocktail trends would you like to see die?Vodka hating! Get over it. It is a top-selling spirit. Be creative and make something interesting with it, because guess what? The public likes it. What are you working on right now?Blue frozen drinks in the frozen-drink machine at Lani Kai, and a li hing mui tequila cocktail. It is a sweet-and-sour dried plum that people eat in Hawaii. I have wanted to create a cocktail with it for some time now, but haven't nailed it just yet. We want to buy you a drink. What'll it be?A well-prepared old-fashioned, please!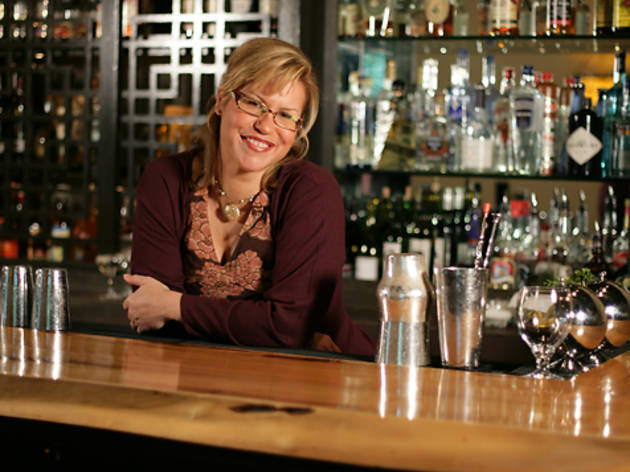 4/52
Audrey Saunders, Pegu Club Where and when can we find you in New York?I split my time up each month between Seattle and New York. I am thoroughly enjoying the bicoastal life; it's the best of both worlds and provides me with a bigger lens into the national industry than when I was based solely in NY. But when I'm in New York, you'll find me at Pegu. You opened Blackbird in 1999. How has the cocktail scene changed in the intervening years?Blackbird was an incredible experience, and no doubt some of the most fun I've ever had working behind a bar. In 1999, we were serving Cosmopolitans and apple martinis right alongside the Ramos Fizz and Sazerac---not only without shame, but we had fun serving them! The mojito was a curiosity at that point, and the caipirinha was the new kid on the block. It was the year that Dale [DeGroff]reintroduced the "Cobbler," created the Whiskey Smash, and promoted the concept of working with market-fresh, seasonal fruit. Every day working with Dale was like Christmas, we had a blast. You name it; there was always something new going on. It was an extremely creative time for us. Where is the cocktail scene headed next?I don't know where we're headed, but frankly would like to have a good time when we get there. How about a fun bar where the bartender can speak languages other than cocktail, who knows how to tell a really good joke, provides great service and just happens to make superb drinks? Notice the use of the word drink.  Everything's a fucking "cocktail" these days, it's exhausting. Is there a cocktail trend you'd like to see die?"Reservation only" and "no standing at the bar" policies. No standing at a bar?  Are you kidding? Ridiculous. What are you working on right now?Wedding bells, but won't say more than that. We want to buy you a drink. What'll it be?An off-duty bartender ordered an "igloo-gel-flocken-swizzle" from Philip Duff. This is the drink I'd like to try. Soapbox time: What pisses you off? What do we need to start or stop talking about?At this point I don't really give a flying fuck about the "brilliant," mediocre, fine-Corinthian-leather bitters used in that $18 cocktail, or the exhaustive flow of vainglorious social-media updates. Just make me something solid and delicious, and tell me a dirty joke instead.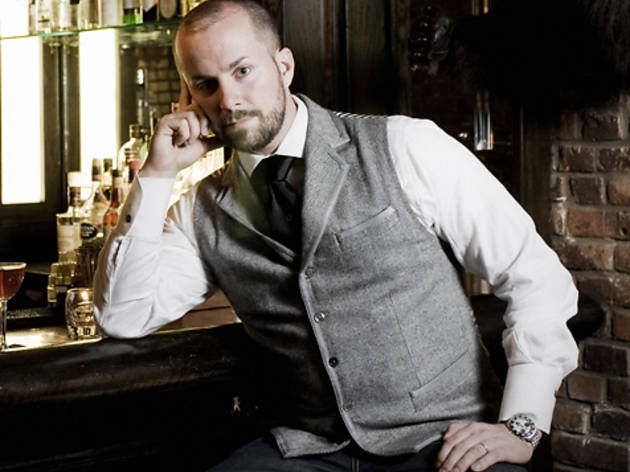 5/52
Jim Meehan; PDT, author of the forthcoming PDT Cocktail Book Since PDT opened, in 2007, craft cocktails have gained more traction in NYC. What do you think the bar's influence is?I think PDT helped pave the way for more causal cocktail bars such as PKNY, Mayahuel and Dram. When we opened, classical music, formal uniforms and cheflike bartenders were common characteristics of cocktail bars. Brian Shebairo and I opened a bar that we wanted to drink in: a place where we could come dressed casually, listen to the music we love and interact with the staff without pretension.... I suppose my goal has been always been for cocktails to be acknowledged as a culinary art. To promote this aim, I instituted a restaurant-like reservation system bolstered with an etiquette policy. Many people think they can say and do whatever they want in a bar, but need to behave in restaurants. This drives me insane. What have you seen around town lately that's excited to you?I love Katie Stipe's cocktails at Vandaag. She's done a great job of using the bold flavors of Philip Kirschen-Clark's food and integrating them into the cocktail program.... Her use of beer, aquavit, genever and the spices of Scandinavia are brilliant. It's great to see other restaurants such as Eleven Madison Park, wd~50, Momofuku Ssm Bar, Ai Fiori, Caf Boulud and so many more places establish or continue to devote significant resources to their cocktail programs.... Cocktails are finally becoming one of the hallmarks of a world-class restaurant. I [also] think Richie Boccato's ice program at Weather Up, the fresh-juice operation at Rouge Tomate and microconcepts such as Toby Maloney's coffee cocktails at The Randolph have all helped enrich and diversify cocktail culture in the last couple of years. Our readers got to know you at PDT, but these days you're working on other projects, too. Tell us what's in the works.For the past year and a half, I've been writing The PDT Cocktail Book. I collect cocktail books and have always wanted to pen my own. I partnered with Chris Gall, who is well known for his subway-art-series poster of the flying fish, to illustrate my dream book, which Sterling Books is publishing this fall. Writing this book took up an extraordinary amount of time, and my staff carried the bar more than ever during the process. Besides my book and the latest edition of Food & Wine's annual cocktail book that I helped compile simultaneously, I've devoted a lot of time behind the scenes to help develop a rum brand called Banks, named after the historic English botanist and explorer Sir Joseph Banks. Our first offering is a flavorful, blended white rum called 5 Island, sourced from four rum-producing regions near the Caribbean and one from Southeast Asia.PDT's phone-booth entryway: still cool?The phone booth is the single most commented-on aspect of our bar. For many, it's the primary reason they come.... I'm not sure if the booth was ever cool, but it's a never-ending source of amusement for many, which makes me happy. We want to buy you a drink. What'll it be? I'll have an All Greens with Apple from Liquiteria, my neighborhood juice bar on the corner of 12th Street and Second Avenue.   Soapbox time: What pisses you off?  What do we need to start or stop talking about?  I guess what frustrates me most about the New York media and its audience is the disproportionate focus on new restaurants and bars. The best-of-the-year issues and awards are all based on the best new whatever from the year's most ambitious empire builder. I've been the recipient of a considerable amount of favorable focus over the years, so I'm not pleading my case, but the people and places that turn out great food and drinks day after day, year after year, they should be recognized for it on an annual basis without having to open another place.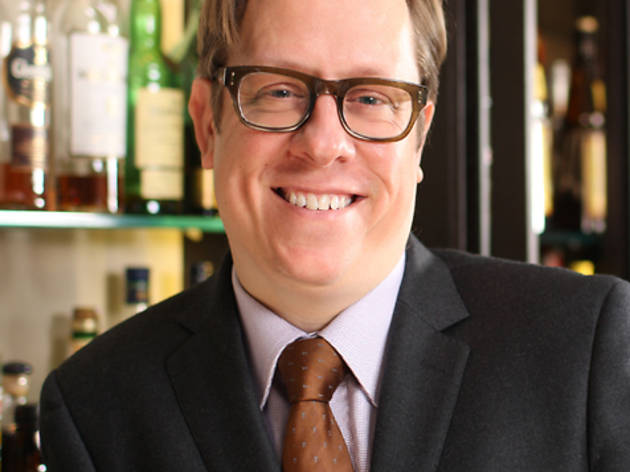 6/52
Eben Freeman; Ai Fiori, Osteria Morini, Marea Where and when can we find you in New York?Monday through Friday at Ai Fiori, Osteria Morini and Marea. What have you seen around town lately that's excited you?The kids seem to be loving the saltwater cocktails these days. Craft beer is back, and that makes me happy. What cocktail trends would you like to see die?Food pairings. I like a drink before and perhaps after, but I love wine, beer and sake with a meal. I do not support any pairing over 20 percent ABV. What are you working on right now?The menu for [the AltaMarea Group's] latest property, Al Molo in Hong Kong. What's the craziest thing you've seen happen at a bar?Years ago, when I worked at Sophie's on 5th Street, an Irish friend and bar regular got drunk and thought this Englishman at the bar had made a disparaging comment about his homeland. My friend walks out to his truck, grabs a chisel and walks back into the bar, proceeds to swing the chisel at the offending patron's head. Luckily, someone was there to grab his arm and stop this guy from killing the poor SOB. After a brief discussion in which it was revealed that the Brit's mum was Irish, the two men sat down and drank together for hours singing and hugging all the while. Scenes like this played out like this often in that bar. We want to buy you a drink. What'll it be?If I am in my bar, it will be a beer. If I am out, it will be bartender's choice. Soapbox time: What pisses you off? What do we need to start or stop talking about?Nuevo Prohibition is my latest rant. If you think it can't happen again, take a look at the smoking ban. Other people want to decide how you should live and die. The fact that a community board, a group of unelected, unimpeachable "citizens" can decide who gets to do business in this city is a cruel farce. This is not the New York I knew growing up.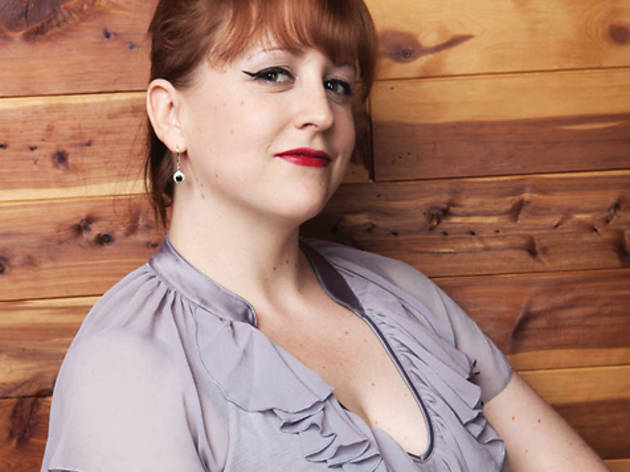 7/52
Photograph: Dale May
Meaghan Dorman; Raines Law Room, Lantern's Keep Where and when we can find you in New York? Thursdays, Fridays, Sundays and Mondays at Raines Law Room; Wednesday and Saturday at Lantern's Keep. What were your goals for Raines Law Room when you opened it in 2009?We always aimed for it to be really welcoming. When we opened, cocktail places had a reputation for being a little snotty, and that's not what we wanted to do. We wanted it [to feel] like an intimate house party every night. Michael McIlroy, of Milk and Honey, trained us when we first opened. What do you think your style is behind the bar?I pride myself on always being a lady under any circumstances.... I keep my eye on everything. I see if people are having a weird time and I jump in and fix it. In such a small space, if there's a bad vibe growing it ruins the party. You're a founding member of the local chapter of LUPEC, Ladies United for the Preservation of Endangered Cocktails---an organization that promotes community and charity work for gals in the booze biz. Tell us about that.We really wanted to create a nurturing space for the younger girls working in New York. There is a downside to getting caught up in the party aspect of bartending---it can hurt people's reputations. We try to look out for people. And the charity aspect has been fun. Do you think it's harder for women to gain respect as career bartenders?Lynnette Marrero and Audrey Saunders have really helped me learn the ropes. The service industry can be so transient, so people do wait and see if you stick around before they give you praise. I think that is especially so with women. Do you have any advice for the novice cocktailian?You don't have to drink a mescal old-fashioned to be a [serious] cocktail drinker. I drink French 75s half the time. I drink anything with fruit in it, and I can drink anyone under the table. Let's not make fun of people just because they like strawberries in their drinks. Soapbox time: What pisses you off? When people come into the bar with their so-called friends and stay on the phone the whole time. And women who talk in baby voices. They're like, "Hm, I don't know what I should get?" Then they ask the boy. It's like, "woman, you're in a bar, you're over 21, get it together!" I'm not so into the small-batch bitters craze. I think some great stuff has come out of it---mole bitters, apple-cinnamon bitters---but there seems to be a lot of similar products. I wonder if there is a market to really support it. Read more about Meaghan Dorman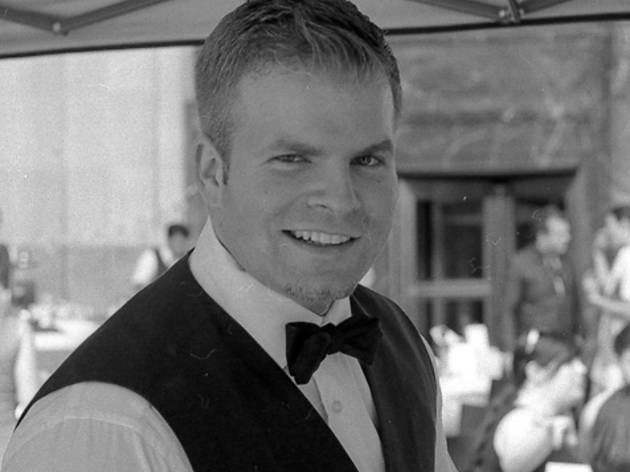 8/52
Photograph: Nathan Rawlinson
Leo Robitschek, Eleven Madison Park Where and when can we find you in New York?If you come into Eleven Madison Park, Monday through Friday, you will definitely find me. On the weekends I usually frequent other restaurants and bars. What have you seen around town lately that's excited you?I am most excited about the local and seasonal movement in New York. We are lucky to live in a city with a distinct four seasons, and I enjoy drinking what the weather dictates. The appreciation for all the local farms and distilleries is inspiring. It's great that people are embracing bitter flavors as well. I am in love with the selection of aromatized wines and bitter liquors currently available, and enjoy using them in many different styles of cocktails. What cocktail trends would you like to see die?I am over receiving e-mails for "diet" spirits and energy liquors. It doesn't really have a huge impact on our niche in the community, but if they are out there I am sure someone is buying it. The Skinny Girl marketing concept is ridiculous to me, although they are brilliant for marketing the original margarita recipe---blanco tequila, orange liqueur, and fresh lime juice---and making millions from it. What are you working on right now?We are currently working on our summer menu, and have really been inspired by wine-based products. I love using lower-alcohol, complex ingredients like vermouths and other aromatized bitter products, such as Cocchi Americano and Gran Classico. They are fun in citrus-based cocktails as well as stirred drinks. I have also become a little obsessed with nitrous infusions and Don Lee's amazing hair. What's the craziest thing you've seen happen at the bar?I would have never believed anyone if they told me that I would see chef Daniel Boulud, chef Daniel Humm, and chef Angela Pinkerton all standing on the bar and spraying bottles of champagne on 400 people dancing to a DJ playing Queen's "We Are the Champions." We want to buy you a drink. What'll it be?I am a when-in-Rome type of guy. If the bar is serving it, I am drinking it. Soapbox time: What pisses you off? What do we need to start or stop talking about?I usually am not a fan of bartenders who partake in backseat bartending; when I am out, I enlist my trust in the bartender, and when you join me, I would love it if you could do the same. Let's treat each other with love and respect, guys; we are all on the same team.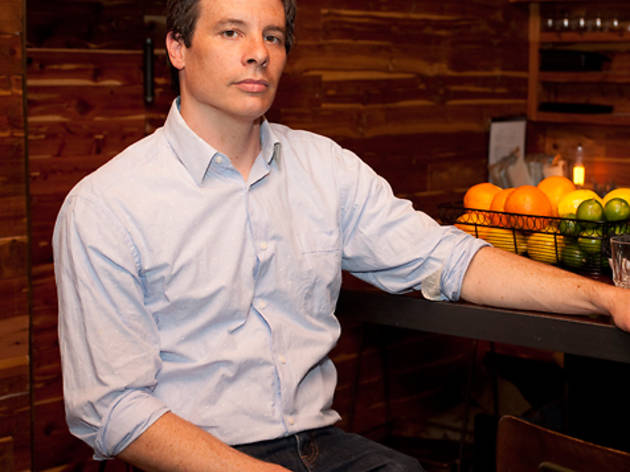 9/52
Photograph: Jolie Ruben
Tom Chadwick, Dram Specifically, where and when can we find you in New York?Dram on Wednesdays until 8pm and Fridays until 2am. What cocktail trends would you like to see die?Cocktail bartenders acting like rock stars. Is that a trend? Respect your craft, but stop taking this whole thing so seriously. What are you working on right now?An aperitivo menu. I'd like to have a "classy" happy hour of lighter cocktails for late-afternoon drinking. Cocktail nerds: Love 'em or hate 'em? Cocktail nerds are always welcomed if they understand that during peak service hours, it may be difficult to talk shop. Also, do not order a cocktail at our bar after 3:30am. That is when a beer and a shot are in order. It's been a long shift, and cocktail bars have lengthy breakdown times. We want to buy you a drink. What'll it be?German pilsner. A surprisingly difficult style to get right. A beer you can drink every day and not get sick of. That is my postshift drink of choice. Soapbox time: What pisses you off? What do we need to start or stop talking about?I understand that the uninitiated consumer may have bad associations with cocktails being sweet, but hearing requests for drinks to be made "not sweet" literally dozens of times a night makes me want to require all guests to read a disclaimer that good cocktails are balanced. Also, guests who insist on "the best" in terms of menu selection. The implication is that some selections on the menu aren't good.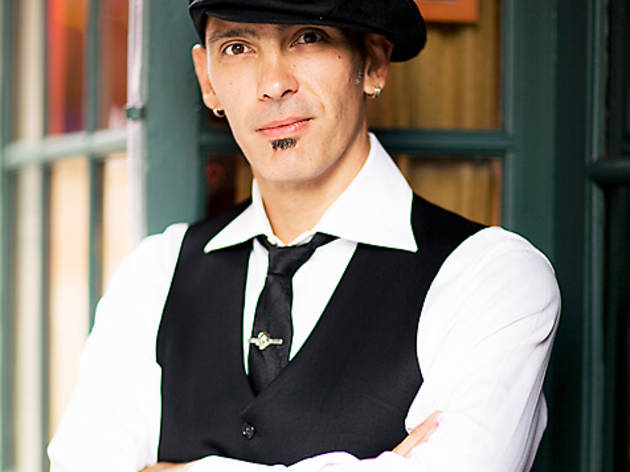 10/52
Dushan Zaric; Employees Only, Macao Trading Co. Where and when can we find you in New York?Every Wednesday night you can find me behind the bar at Employees Only and every Thursday night behind the bar at Macao Trading Co. I am around on other nights as well---except for the weekends---but more in an overseeing capacity. What have you seen around town lately that's excited you?I am mostly impressed by the attitude, creativity and determination of the new generation of young professional bartenders who are popping up everywhere, not only in Manhattan or Brooklyn, but also lately in Queens and even the Bronx. They understand the cocktail, the classic and contemporary techniques, and they are aware that they are representing the lineage of the great American bartenders. They have a lot to learn still, mostly about gastronomy, food, the restaurant world and hospitality, but they are coached and guided properly in most cases, and they provide the draw for the establishments that employ them. As my teacher Dale DeGroff says, people go out to visit the bartender, not the bar. What's the craziest thing you've seen happen at the bar?A mass orgy during a swingers party. It was a mistake to book that party, as we didn't really know what was coming our way. I ran around trying to protect and calm down the female staff members who were harassed by some middle-aged, bald, sorry-looking dudes.... I am certainly not a prude, nor is my bar staff---but that was a very stressful experience and not something I wish upon anyone. How can a patron get the best out of you? The guests do get the best out of me when they come earlier in the evening, when the bar is just comfortably full and I can dedicate all the attention and time needed to serve them properly. If they walk out a touch happier and more content than they were when they came in, I have achieved my objective and intention. We want to buy you a drink. What'll it be?Americano, please. Campari, Italian vermouth and club soda, tall. Don't have Campari? No problem. Anything from distilled agave will do...and thank you. Soapbox time: What pisses you off? Mayor Bloomberg, his administration and their crusade against small businesses. The legal extortion by the city agencies is a shame. What a hypocrite...the citizens of New York City deserve better than this.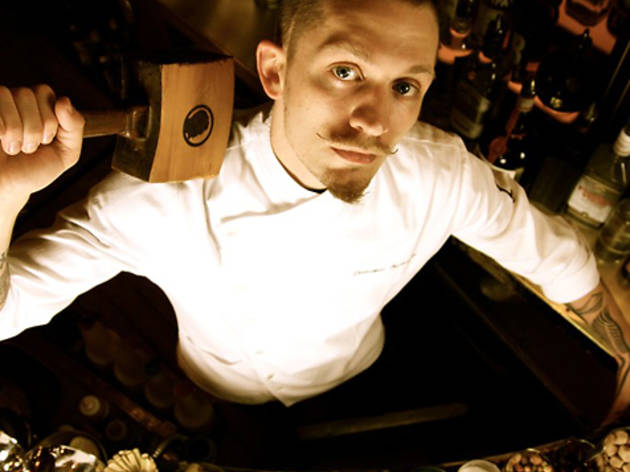 11/52
Steve Schneider; Employees Only, Macao Trading Co. Where and when can we find you in New York?I'm at Employees Only on Thursdays and Sundays, plus other various nights throughout the week. Macao Trading Co. on Saturdays. You're a Marine-turned-bartender. How does your time in the service help you these days?Learning from my peers can be like intelligence work. I get what I need by any means necessary. I gain intel, I pick out what I need and want---and then I pass it along. You're also very loyal to your Employees Only crew. You even have the logo tattooed on your hand. Semper Fi?Employees Only is part of my lineage. They are my family, and my foundation was built here. I will always bleed EO red. Or EO whatever color EO wants me to bleed. I see myself at Employees Only forever---until, of course, I get my own place. What will that place be like?I have tons of ideas. I want to show my personality and who I am: a lovable badass patriot. What are you working on right now?Classics and new cocktails with crushed ice. I've got a collection of large, obnoxious mallets that are just dying to smash some ice to bits! You "free-pour" rather than use jiggers to measure the ingredients in your drinks. That's a divisive technique among serious bartenders. Why do you favor it?I'm an instinct bartender. I can make you a negroni with my eyes closed. And that's what works for me. That's my kung fu style. I have this thing I like to call the Schneidy Sense. I know where everyone is behind the bar. I know how to move. I'm listening. What's your relationship like with the guests? Do you resent patrons who ask for swill?I have no bad blood. I want anybody on the planet, no matter where you're from, to be able to come into my bar. And I'd like to be able to make you a quality cocktail.... I don't [judge] what you're drinking. You're paying me, and when I'm behind the bar, I'm like Alfred from Batman. I'm like your butler. Soapbox time: What pisses you off? What do we need to start or stop talking about?Napkin-shredders, straw-benders and the no-tab credit card closers. Just kidding! This is a great time for bartenders. A dear friend of mine once told me, "I go to Employees Only to see you! If you had the same cocktails at the same bar but with a bunch of lame, boring hacks as bartenders---that place would be empty." It's the pulse and enthusiasm of the crowd that makes me the happiest and most energized bartender on the planet. There's always more to learn, but I'm at the top of my game right now and I've only just begun to bring the "thunder." Read more about Steve Schneider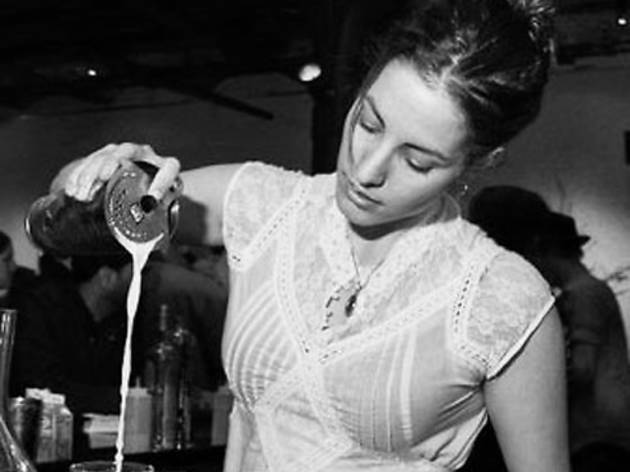 12/52
Ivy Mix; Lani Kai, Clover Club Where and when can we find you? I'm at Lani Kai on Tuesdays and Fridays and Clover Club on Wednesday and Thursdays. What have you seen around town lately that's excited you?Maybe it's just because there seems to have been more tragedy lately, but I love seeing people in this industry using [their powers] to raise money for a good cause. There were countless Japan benefits, and there have also been events for things like multiple sclerosis. I also am doing a series of all-female bartending competitions across the country called Speed Rack, where all the proceeds go to breast cancer research. What cocktail trends would you like to see die?I want to see overzealous infusions die. Sweet Jesus. Just because you can put ginger or tea into something does not make it good. What are you working on right now?I'm working a lot on using vegetable juices and muddled vegetables in cocktails. Things like beets and carrots that have so much color and different flavors. What's the craziest thing you've seen happen at a bar?Well, the craziest thing that happened to me in a bar was when I was bartending in Guatemala and we actually got locked into the bar by Interpol. We had to sedate the customers with pitchers of margaritas and Cuba Libres in the back room and finally got the front door's bolt cut to let everyone escape. How can a patron get the best out of you?Just don't eat my fucking garnish. It's gross to have some random person's hands scrambling through my raspberries, olives, strawberries, etc. How would you like it if I went and manhandled all the fruit in your basket, huh? We want to buy you a drink. What'll it be?Tobola, neat. Any day. Soapbox time: What pisses you off? In the age of the "mixologist," it seems like people behind the stick have forgotten how to be real bartenders. There is a whole culture that has grown around going and sitting around the bar to be around the bartender who knows your problems, knows your jokes and most importantly, knows your drink. This is the hospitality industry. Get your noses out of your jiggers for a second and learn how to not only make a good drink, but also how to get people coming back or even just stay for one more.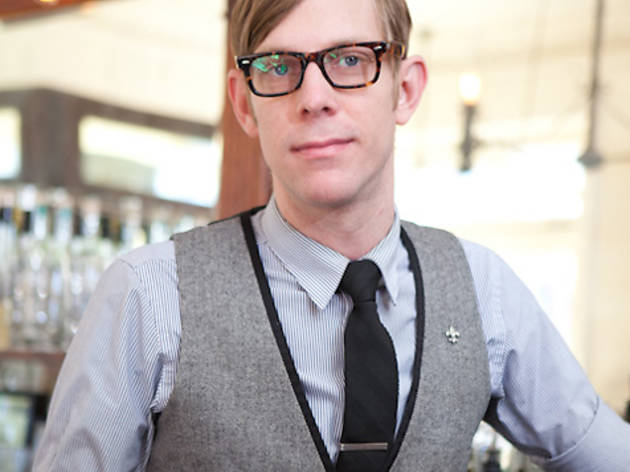 13/52
Damon Boelte, Prime Meats Where and when can we find you?I'm behind the bar at Prime Meats Monday, Thursday and Saturday nights, but I'm actually always there. What have you seen around town lately that's excited you?It's exciting to see so many more professional bar tools and fancier glassware, punch bowls included. I've been collecting antique barware since before I was legally able to partake, and it's nice to see them in use behind a lot of the great bars, even if that means that it will be harder for me to acquire them personally at a decent price. What cocktail trends would you like to see die?Eggs. I love a good egg cocktail, but the exotic appeal tends to direct customers to drinks that might not be executed correctly. Also, egg whites are a good way to round off harsh edges of certain flavors in a drink, and often get used as a cheater ingredient. What are you working on right now?I've been working with vinegars lately. All kinds. It's a nice way to add acidity and depth to a cocktail. Also, I just created my third cocktail that calls for an entire bottle of Underberg bitters, the German digestif, and it's a tiki drink! What's the craziest thing you've seen happen at a bar?You'll have to wait for the book. Are you sick of abiding cocktail nerds? I never really get annoyed by cocktail nerds, I like to embrace them. A lot of times it will be someone that is just getting into cocktails and wants to play Stump the Bartender. I've realized that those kinds of customers are just there to learn, but have a funny way of going about it. We as bartenders strive to know as many recipes and variations as possible. Nowadays, there are so many proprietary cocktail recipes from different bartenders and establishments, and it's impossible to know them all, although I do get a kick out of my bartender friends sending me text messages while they are working, asking me for a recipe for a cocktail that a customer had at my bar. We want to buy you a drink. What'll it be?It's no secret that I love Fernet Branca. Soapbox time: What pisses you off? The term mixologist gets used very loosely by bartenders these days. Not all bartenders are mixologists, and not all mixologists are bartenders. It's the whole "rock star" thing; You should never call yourself a rock star, or mixologist. You should let other people refer to you as such.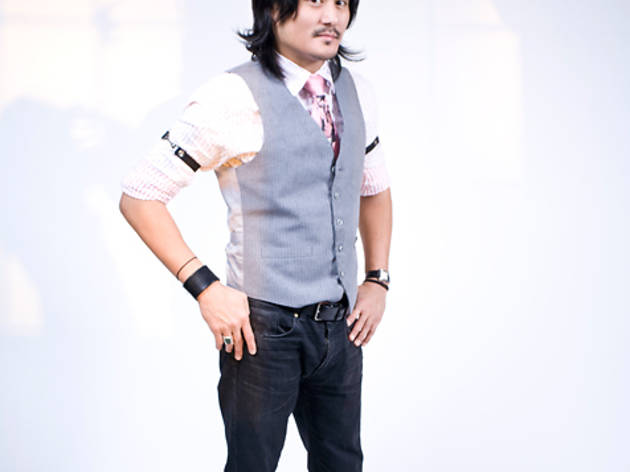 14/52
Photograph: Jay Muhlin
Enzo Lim; Minetta Tavern, PKNY, Maharlika Where and when can we find you in NYC?At present, I'm employed at Minetta Tavern (on the weekends) and PKNY (on Wednesdays). But I'm also a partner at Maharlika, where we are currently doing a Filipino pop-up brunch. What have you seen around town lately that's excited you?It's particularly exciting to see the proliferation of spirit-specific bars. These places act as informal classrooms where one can learn as much as they want, or just enjoy a drink. I am also intrigued by flash infusions and the return of many types of ice. What are you working on right now?I just got back from the Philippines, so I have some new ideas for food and drink at Maharlika. It's been a constant learning process trying to modernize Filipino food and drink without losing its essence. I'm happy to say that I witnessed some progress at home. What's the craziest thing you've seen happen at a bar?There was this one time I saw a girl lean over the bar to kiss the bartender and her hair caught fire.... You know what that smelled like. She stuck around for a bit after that. I suppose that was pretty crazy. But I don't think I can tell you the craziest. That just wouldn't be right. We want to buy you a drink. What'll it be?I'll probably never refuse a whiskey with a side of ice. Soapbox time: What pisses you off? What do we need to start or stop talking about?"Not too sweet." When did this become such an issue? How can I possibly know your threshold for sugar unless you've had at least one drink already? Are you really sure you want no sugar at all? And men, please be men and not worry if your drink looks "girly" or comes in a "girly" glass. Drink it down or just order something you consider "manly" next time.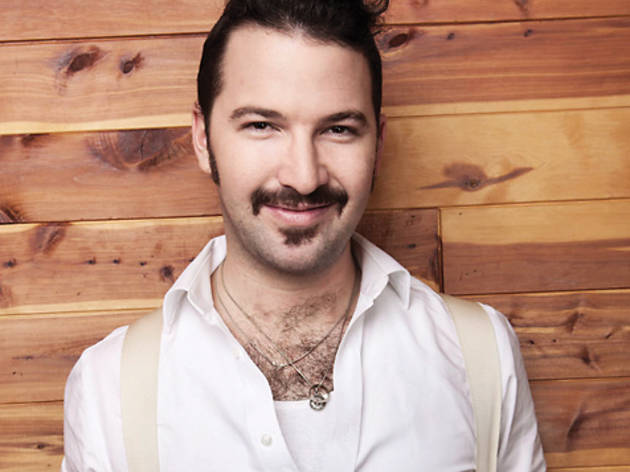 15/52
Photograph: Dale May
Sam Ross; Milk and Honey, Little Branch Where and when can we find you in New York?I spend the majority of my time at Milk and Honey: Wednesday, Thursday, Friday, Saturday and Sunday. And I still maintain a Thursday shift at Little Branch. You've been at Milk and Honey for six years and have definitely helped shape the bar's distinctive style. What is it?We're about doing the classics really well. [My personal style] is friendliness. I enjoy being behind the bar and serving people---this is a trait that is often overlooked by some of the up-and-comers. You can teach drinks, but you can never teach personality. Milk and Honey has been around since 2000. What do you think the bar's influence is?Milk and Honey had a really big part to play in the classic-cocktail push, and inadvertently, it kick-started the whole speakeasy style. It's hilarious, because that was never the intention! There was a stipulation in the contract of the residential building that it's in: It didn't allow advertising on the entrance. Your coworker Michael McIlroy is sort of your partner in crime.I call him my nonsexual life partner. We were part of the original bar scene at East Side Company and Little Branch. We became really close with our Milk and Honey shifts. We are a perfect contrast: I always call him the mean one and I'm the nice one. I'm the yin to his yang. Or vice versa. We share a similar thought process when it comes to this whole cocktail game. What's your take on "molecular mixology"? Are you open to modern techniques behind the bar?I'm open to new techniques. I make my own assessments if I feel something is a worthwhile tool.... But you shouldn't have to think about why something is good. At the end of the day we drink to relax, to bond and for the social aspect of it. I don't think you need to confuse people too much.... I'm not super into the idea that we "invent" drinks. Everything we do can be traced back to the classics, you know, like the French mother sauces. What cocktail trends would you like to see die?God, I'm done with reservations-only bars. So pretentious! Speaking of! We hear you have plans to take over the Milk and Honey space in a few months. Milk and Honey is planning on moving to a slightly larger location further uptown. Michael and myself have taken over the space with Sasha [Petraske] as a backer. It's called Attaboy. We're redesigning, renovating, opening up the front with windows and glass doors. Cocktails of the highest degree are still our primary intention. But [there will be] no floor servers [and] no reservations. What else are you working on?I have a cocktail iPhone app called Bartender's Choice coming out soon. It's meant to mimic sitting at a bar with me or Michael. You input flavors, and it'll give you drinks aligned with those ideas. For instance, you'll write rye whisky, boozy, bitter. And it'll give you Manhattan or old-fashioned variations. If a patron wanted to buy you a drink what would it be?I've been on such a Negroni kick for a number of years. If somebody put one in front of me, I'd probably be pretty fond of them. Read more about Sam Ross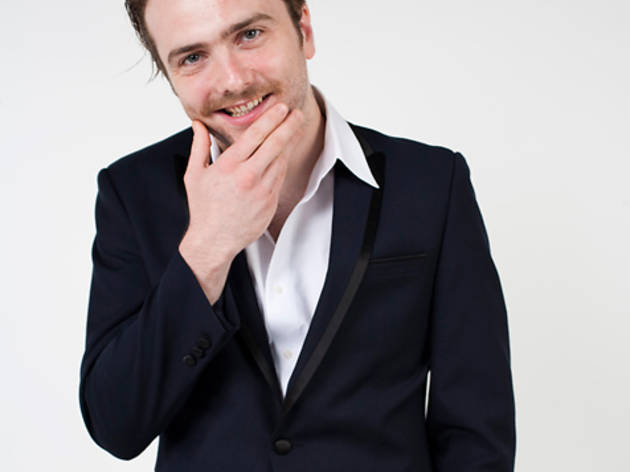 16/52
Photograph: Jolie Ruben
Michael McIlroy, Milk and Honey Where and when can we find you in New York?You can find me at Milk and Honey on Wednesday, Thursday, Friday and Sunday. Is there a cocktail trend you'd like to see die?The "speakeasy." It been done to death. I like the idea of looking out of a window while drinking, but that's just me. What are you up to these days?Right now I'm working on getting my own place open. It really is as difficult as people make it out to be! Are you sick of abiding cocktail nerds?I'm a geek! During my shifts I will nerd out and talk shop with anyone. My fondest punters, however, are the ones that know when enough is enough and can carry a conversation about absolutely anything. We want to buy you a drink. What'll it be?Two light ales from McSorley's, please, with a plate of cheese and crackers! Soapbox time: What pisses you off? Homemade bitters! Since when did Angostura become not good enough that we needed to make something else?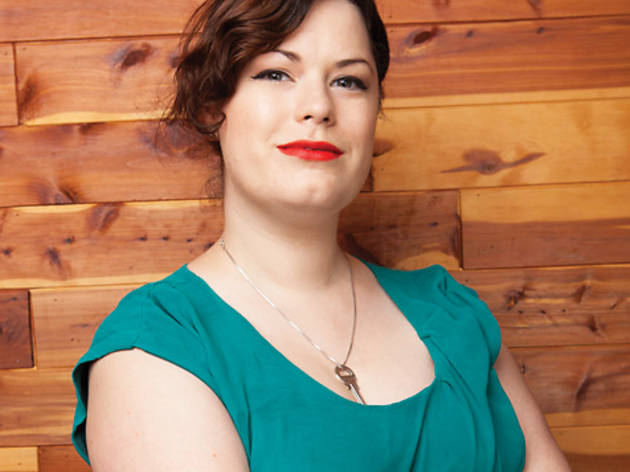 17/52
Photograph: Dale May
Karin Stanley; Little Branch, Dutch Kills, Milk and Honey Where and when can we find you in NYC?Mondays and Saturdays I'm at Little Branch, and Fridays at Dutch Kills. I work at Milk and Honey, too, anytime anyone needs a night off. How did you find your way into bartending?During high school in Canada, I was at a bar in Hamilton on Christmas Day. Other people started coming in because it was the only place open. So the owner starts asking, "Does anyone know how to make a margarita?" I did. Afterward he was like, "You should come back tomorrow." I moved to New York in 2002 and worked at a place called Rififi... [Eventually] I met Sasha Petraske and I started training at Little Branch. I had always wanted to be a [career] bartender, and I had never seen anyone make a real study of it. What have you learned while toiling for the House of Petraske?Sasha impressed on me that we are bartenders and not chefs or mixologists. It's craft-based; it's scientific and specific. There's a reason for [everything you do]. How can a patron get the best out of you?I love when people ask for a bartender's choice. It's very rewarding when someone says, "Wow, I've never had anything like this." Being open is the way to my heart. A guy came in the other day and he said, "I'd like a bartender's choice. Something with grapefruit juice, Earl Grey tea--infused vodka, cinnamon and egg whites." That was frustrating. That's not a bartender's choice. That's, like, the contents of your fridge. What have you seen around town lately that's excited you?Jane Danger and Mayur Subbarao at Cienfuegos and Amor y Amargo. They showed me beer schnapps. My favorite beer is Hitachino, and they had a distillate of the base of that beer. They had vermouth on tap!... I'm [always] on the hunt for new flavors. I recently had a mescal mule with passion fruit, ginger and cayenne pepper at PDT. [I thought], How do you make that taste? I can't make that taste! It's awesome. Soapbox time: What pisses you off? People who think they can behave like assholes because they're at a bar. Being drunk is not an excuse to behave badly. There's a stigma that a bar is a place for fucking and fighting instead of relaxing. I think everyone's life would be better if people could go to a bar and have a great conversation instead of being a jerk to their waitress. Read more about Karin Stanley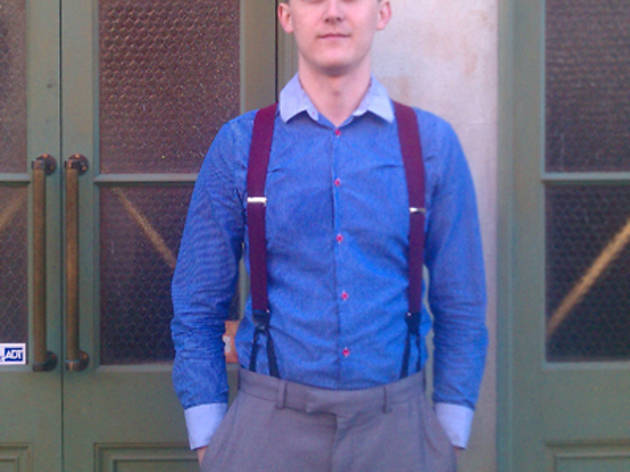 18/52
Maxwell Britten, Maison Premiere Where and when can we find you in New York?I am behind the bar at Maison Premiere Friday and Saturday nights. We usually get a lot of industry visitors on the later side. A lot of people are getting off of work and are looking for their postshift oyster-and-champagne fix. What have you seen around town lately that's excited you?I wish I were a better trend-spotter and trendsetter, I might be more popular if I were.... People are talking about vinegar as a citrus alternative, salt in cocktails, Clinebell ice, stuff like that. Here is my prediction: I really believe [that] modern craft bartending is heading [toward] a more disciplined yet simplistic style and a strong [sense of] hospitality.... I think people are tired of being treated like second-rate citizens by bartenders for not knowing what goes into some forgotten cocktail or why we are stirring their vodka martini instead of shaking it. At the end of the day, what we should always remember is that our job is...just to get someone what they want and make them feel good about it. Often my guest will say, "What should I have to drink?," and I tell them, "There is no right or wrong drink to order; order what you're in the mood for. How was your day? Are you finishing the evening or on the town?" There is a hat and a pair of shoes for every occasion, and the same for drinks. How can a guest get the best out of you? People can get the best out of me when they are good at dining. If I were a customer at Maison Premiere, I would probably come in, order a vermouth on the rocks with a twist, then after that I would ask for an oyster menu and get a dozen oysters and a bottle of champagne. After that I would order a shrimp cocktail. After that I would probably have a Negroni. Then I would buy the bar staff a round of Fernet. Maybe I would go to Peter Luger after that for a steak. When people roll up to my bar and dine like that, I am happy for them, and I will usually say, "Nice work, guys, that is how to dine." I feel a connection to my guest when they almost make me feel envy for the way they are ordering, I will think to myself sometimes when someone orders like that, Hell. Yes. That. Is. What. I. Am. Talking. About. What's the craziest thing you've seen happen at the bar?The other day I watched a couple of my overachieving cohorts eat over 144 oysters; that was something I had never seen before.... [Once] I found myself in the center of a bar fight and I got punched in the face by my favorite professional skateboarder from my childhood. If I had known back then that was going to happen to me, I would have been really bummed. What are you working on right now?Let's just say that I am doing a lot of writing these days. We want to buy you a drink. What'll it be?One ounce of Gran Classico dropped into super-cold Double IPA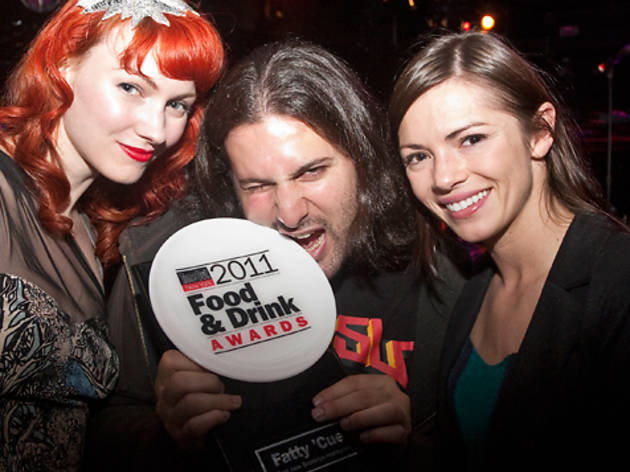 19/52
Photograph: Caroline Voagen Nelson
Jane Danger (left), Cienfuegos Where and when can we find you in New York?I'm at Cienfuegos Thursday, Friday and Saturday, and other days through out the week I'm hanging out. If I'm not there, I'm probably at Doc Holliday's, PKNY or Dram. Possibly Mars Bar on a good day. What are you working on right now? I've been working on any and all things atomic: atomic daiquiris, atomic sunrises, atomic ice teas. All green Chartreuse, all the time. What's the craziest thing you've seen happen at a bar? Well, excluding all things I saw at CBGB [my first bar gig in NYC], it's probably pretty normal. People vomiting out of nowhere, random fingerbanging, poo in places poo shouldn't be, people betting over [who can] drink a whole bottle of El Dorado 21-year... We want to buy you a drink. What'll it be?I would probably like a Campari or Fernet neat, followed by a Rodenbach Grand Cru sidecar. And if you've caught me on a cocktail day, I'd take a 151 daiquiri. That'll set you straight, and probably remove the paint from your automobile.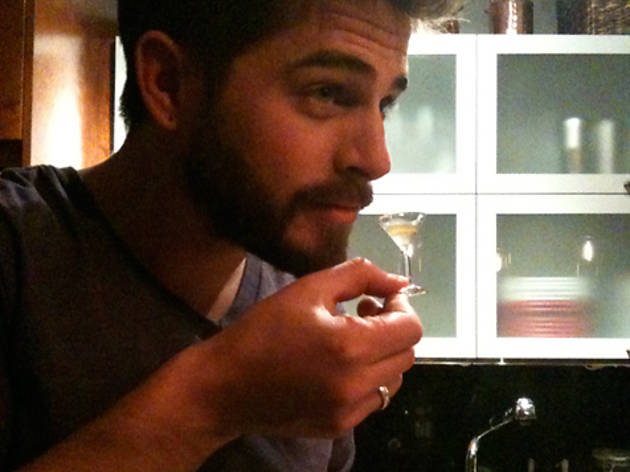 20/52
David Kaplan; owner, Death & Company, Bar & Kitchen (Los Angeles)How has Death & Company changed since it opened in 2007? Where does it fit now in the larger context of NYC cocktail bars?We are not trend-oriented, but I do think Death & Co changes all the time. We constantly try to push harder---be it [via our] offerings [or] level of service. Our current menu is more diverse and more intensive than any other menu we have ever done. Death & Co opened with the goal to be the environment that is so comfortable that you don't want to leave, and you never have to. You can order food and drinks all night, catch up with friends or have that special date in the corner booth. I hope that is all still relevant, I hope those things always will be. You and your partner Alex Day recently launched a cocktail program at Rosa Mexicano. That's a large-scale project---are you trying to spread the good gospel to the masses?Getting people [to] drink better is always the goal, and Rosa is very forward-looking and has the footprint to bring interesting things to a large scale. Stirred tequila, for instance, may be old hat to the specialty cocktail bars, but introducing that, as one example, in multiple places across the States with a focused staff is very exciting. You're opening a project in the Financial District. What can you tell us about that?Alex and I are working with our partner David Blatt to open a project at 90 Broad Street. It was another a-ha moment for both of us, going down and seeing how amazing the neighborhood is and is becoming.... The team we have assembled for the Financial District project is incredible and the project is amazingly complicated---it is inspiring to work on. We want to buy you a drink. What'll it be?Depends on where we are. I always love an Elder Fashioned at D&C or a beautiful Sazerac.  If we're out, then a shot of Fernet or Chartreuse? Jameson rocks? Or, of course, when it is after the Manhattan Cocktail Classic, I would prefer you buy me some coconut water....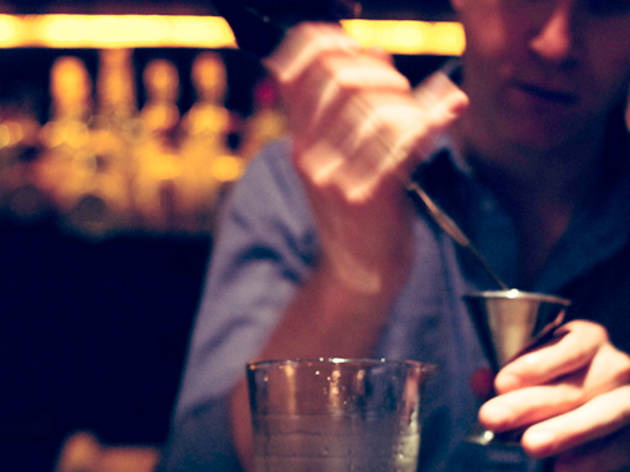 21/52
Photograph: Rob Powell
Alex Day, Proprietors LLC, and a veteran of Death & Company Where and when can we find you in NYC?My business partner Dave Kaplan and I are on the road a lot these days, but if I'm in New York, you can probably find me at Death & Co. Despite leaving the city full-time a year ago and setting some roots in Los Angeles, there are few bars anywhere that I spend as much time in. What can I say? It's home. What have you seen around town lately that's excited you?The overall level of quality drinks in New York is staggering these days. It seems like every bar or restaurant has at the very least a modestly well-conceived cocktail program, and not just the type that uses fresh juice or a token selection of hand-cut ice. I'm talking about well-heeled programs pumping out fine drinks by barkeeps hell-bent on legitimizing the profession even more with loads of intellectual gusto. It's cool and exciting, but it also makes me wonder where all these people came from. What cocktail trends would you like to see die?I don't know if I want to see anything die. To me, trends are synonymous with progress. They're the things that get people excited, galvanize an entire industry to innovate, and push people's expectations beyond what they might be comfortable with. So, you know, even things that I look back at from a few years ago as being outdated are super-important steps along the way to where we are now. Each trend has turned into something we take for granted as a staple for any quality bar: fresh juice, spirit geekery, good ice, suspenders (still awesome, I don't care what you say), Japanese technique, barrel aging, sherry (never not awesome) and so on and so on... What do you make of cocktail nerds?I'll never get sick of cocktail nerds. I don't really get the backlash of bartenders toward cocktail nerds. I know it sounds overly political, but come on, if you're not excited by a group of people that love what you do and want nothing more than for you to share it with them, then you're in the wrong line of work. What I am sick of is rudeness and know-it-all-ism, both from bartenders and cocktail nerds. No one likes feeling like a dumb-ass for not knowing the historical relevance of this or that li'l tidbit of esoterica. Likewise, no bartender worth their salt likes being told that the way they make a given drink is wrong even before they start making it. Soapbox time: What pisses you off? What do we need to start or stop talking about?The only thing that really pisses me off is the snake-oil salesmen of our industry. Those people who try to sell us on a bill of goods, be it their own prowess or knowledge backed up by nothing more than fluff, are incredibly harmful for the bartending profession.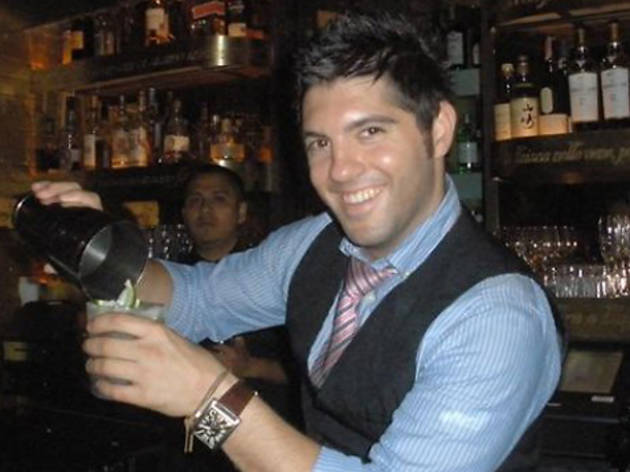 22/52
Justin Noel; 1534, Contemporary Cocktails Inc. Where and when can we find you in New York?You can find me behind the stick at 1534 on Friday and Saturday. Or I'm running around doing a rum training for Appleton Estate Jamaica Rum. What have you seen around town lately that's excited you? Bartenders making their own spirits, beer and vermouths. What cocktail trends would you like to see die?I would love to see the whole "skinny cocktail" trend put down. The idea is ridiculous, and it's a marketing ploy from some idiot that has now worked its way into all bars. I was in Mayahuel the other day and heard someone ask if they could get a skinny-style margarita. I just laughed. How can a patron get the best out of you? Are you sick of abiding cocktail nerds? A guest can get the best out of me if they come to the bar with a great attitude and aren't adverse to experimentation. I love engaging with patrons and find that I have more fun when they want to spend more time chatting about life, love and making cocktails for the mood they are currently in. We want to buy you a drink. What'll it be?If you want to buy me a drink, you can't go wrong with Pisco Sour or a bourbon Manhattan on the rocks with an orange twist. However, if you want to be my friend, a tall cold Guinness and a shot of any quality tequila will be much appreciated. Soapbox time: What pisses you off? I can't tell you how many of New York's top bars don't seem to understand that hospitality is what our industry is [about], not [just] making drinks. I am sorry, but if you can't talk to me while you make a drink, or you browbeat me because I am sitting at your well-built finely crafted bar and I want a cold beer, get over yourself. This is what we do. We serve people what they want.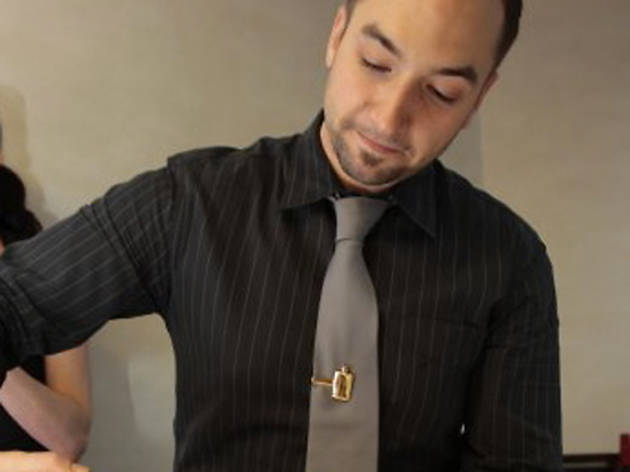 23/52
Marshall Altier, 1534 Where and when can we find you in New York? I am fortunate to still be invited to call 1534 my home base when I'm home in New York. You can find me there on Saturday nights. I currently travel for work about half of the time, so I really enjoy my nights behind the bar. I've got something coming up here in the city that will anchor me down a bit. It's hush-hush for now. What have you seen around town lately that's excited you?The trend of pop-up bars and guest bartenders around town has been a fun one to follow.... I'm stoked about seeing local distilling become a trend. Brooklyn is going to eventually have something like half a dozen distilleries operating. That's pretty exciting. As a lover of food, I'm also enjoying seeing more attention paid to cocktails in fine dining. Eben Freeman's program at Ai Fiori and Leo Robitschek's at Eleven Madison Park are world-class cocktail programs at world-class restaurants. It would be nice to see more of that happen. What are you working on right now?Lots.... I've got three cocktail programs in various phases in Hong Kong. I am putting together a seminar on the history of beverage service culture for a five-star hotel group based in China. I've loved formulating and supporting the launch of my own Bar Keep Baked Apple Bitters throughout the U.S. (I know, I'm shameless). Also, I'm planning bar openings in Manhattan and Las Vegas in the coming months. Throughout it all, I'm always focusing on my work with the local chapter of the United States Bartenders' Guild, of which I am vice president. What's the craziest thing you've seen happen at a bar?Drugs, guns, solicitation, marriage proposals, breakups, makeups, tabloidworthy bad behavior by celebrities. You name it. I've worked everywhere from Michelin-star restaurants to seedy-ass dive bars where they refill the top shelf bottles with swill. The bar is where real life happens. How can a patron get the best out of you? I love geeking out on drinks as much as the next nerdy bartender, but it does get old. Just be open, have fun and relax. I don't want to argue about how much Chartreuse gets floated on a Daisy de Santiago. We want to buy you a drink. What'll it be?Well, my whole thing is context. The right drink is the one for the moment. It's a lovely spring afternoon, [so] I'll have a gin and tonic, please.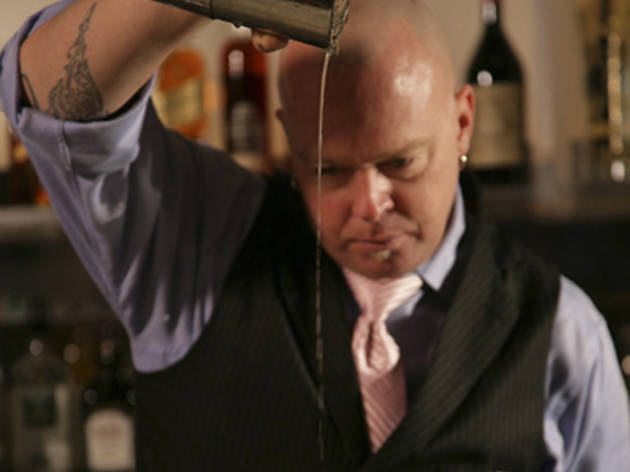 24/52
Toby Maloney; Alchemy Consulting NYC, creator of the cocktails at the forthcoming Hotel Williamsburg, and head mixologist at the Violet Hour (Chicago) and Patterson House (Tennessee) Where can we find you in New York?I am guest bartending here and there when the whim strikes me, or I find a charity event to donate my time. Guest bartending is the bartender version of being put out to pasture. With tendonitis in my elbow and two bum knees, I'm lucky it wasn't off to the glue factory. I worked in clubs a decade ago and they would bring in guest bartenders to "boost sales." I would always curse their slow feet, sloppy habits and inept, POS skills. Now I'm---shudder---one of them. It's incredibly disheartening, much like the moment of epiphany when one has been bitten by a zombie and it is clear that the future is being a drooling, shuffling member of the Army of Darkness. What have you seen around town lately that's excited you?Micro-distilleries, I think, are going to change the way people drink as much as microbreweries changed the American beer landscape in the '80s and early '90s. I am hoping that eventually these distilleries will work in conjunction with bartenders to create more spirits specifically designed for cocktails. Raise the proof, dry it out and let strong, clear flavors shine. What are you working on right now?[My company, Alchemy Consulting,] is working with the Graves hotel group.... We are doing four bars for them at Hotel Williamsburg on 12th and Bedford. We are doing classic cocktails in the lobby, food-friendly cocktails in the restaurant, Streets. And then light, refreshing, cocktails on the roof deck. The view from up there is amazing. And then when the pool opens, thoughtful, easy-drinking libations to go with a suntan. How can a patron get the best out of you? The best way to get the best out of any bartender is to be specific. "Make me anything" or "I'll take whatever you drink" is just too vague. It's like being asked to come up with a sentence about summer. There are just too many choices. Give me some information on how you are feeling. Are you hot or cold, thirsty or full, happy or bummed, adventurous or in need of comfort, want something strong or long, are you about to leave on a vacation to Cambodia or have just broken your pinkie toe?  All information is going to help me make the cocktail best suited to you at that moment. Soapbox time: What pisses you off? What do we need to start or stop talking about?People on Yelp that love to trash-talk. I get it, it's more fun to be snarky and "over it" than to write a fair and balanced review. Trashing someone else's creative outlet anonymously is like throwing rocks at a child while hidden in the bushes.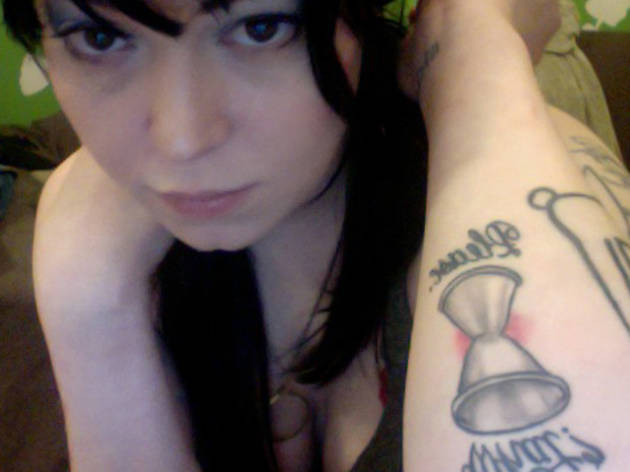 25/52
Tonia Guffey; Dram, Flatiron Lounge, Lani Kai Where and when can we find you in New York?I sling drinks for the House of Reiner on Thursdays and Fridays at the Flatiron Lounge and on Saturdays at Lani Kai. On Tuesdays I make drinks with two of my best friends---Nicholas Jarrett and Jeff Hazell---at Dram in Billyburg. I'm also there Wednesday nights, and every other week I have guest bartenders come in and make a special menu. Flatiron is where you take dates and where you really get the elegance and class of the craft. Dram is Partytown, USA. We get to dress down, throw our iPods on and make dope cocktails. They're different, but I love them equally. What have you seen around town lately that's excited you?I definitely think that the trend of guest bartending is blowing up, and it makes me really happy. A lot of us in this industry fall into jobs we really, really love and end up sort of treating our coworkers and bosses like family. It's a tight and beautiful relationship, but sometimes that means that we get a kind of tunnel vision. The idea of guest bartending lets us experience other methods, different styles, tastes, and generally forms a whole new connection between people. What cocktail trends would you like to see die?Honestly, I think people get overzealous about the idea of making drinks. They go crazy. I'd like to see more bars tone it down a little and stick to the classics, as opposed to trying to reinvent the wheel with a muddy mix of stuff.... Also, the whole ironic-facial-hair-and-suspenders business is really silly to me. What are you working on right now?Right now I'm doing a ton of stuff. I'm in a band, which has been really radical. We practice on my day off, and it's such a nice change. A different sort of creative outlet. What's the craziest thing you've seen happen at the bar?Mostly weird sexytime stuff. The worst are older couples! They get down right in front of you and it's like, "Are you serious? You're, like, older than my parents." I think the things that make me most awestruck are just sheer lack of manners. Like snapping or putting your hand up. I'm a professional. I know you are at the bar. I'll come to you as soon as I have a minute. Or people who grab garnishes out of their containers. Do they think it's their house? So absurd to me. I had a woman grab a handful of espresso beans and then freak out because she tried to eat them. I dunno if she thought they were nuts or something, but it was kind of hilarious. How can a patron get the best out of you? Are you sick of abiding cocktail nerds?I think that in order for me to really make something that is going to suit a patron's taste correctly, the person needs to know what they like. Asking me if you can have the best isn't going to land you a good beverage. Your best and my best are different, because you have a taste all your own. We want to buy you a drink. What'll it be?I drink shots and beer. If I'm feeling particularly surly I like things that are overproof. Green Chartreuse, Rittenhouse Rye, White Dog. You can never go wrong giving me Fernet Branca, which is my most favorite. It tastes like shoe polish and mint, but in this really, really good way. It's like the most intense and complex thing that just makes me so happy. I drink stout because it doesn't fill me up like most beers. Soapbox time: What pisses you off? What do we need to start or stop talking about?I thought the piece in [TONY's 2011 Food & Drink Awards issue], which featured a lot of cocktail and restaurant people with tattoos, was interesting. But then I learned that they were airbrushed, which sort of made me miffed.... As someone who has tattoos dedicated to the craft of bartending, [I think] it's sort of silly. It'd be really cool to see an article about bartenders tattoos. Real ones. I get pissed off about the elitism that surrounds this industry.... People need to get over themselves and have a good time. That's the most important part of being at a bar: Making party. It doesn't always have to be a dick-wagging contest. Lower your sword and make party!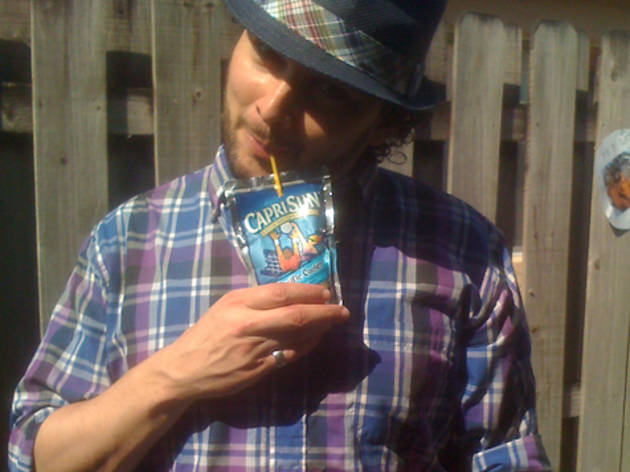 26/52
Rob Fuentevilla, Mayahuel Where and when can we find you in New York?Slinging drinks at Mayahuel, Tuesday through Friday nights. Otherwise I'm drinking at awesome bars. What have you seen around town lately that's excited you?As I write this, the Manhattan Cocktail Classic is going on. So seeing our friends from the West Coast is always great! Also, meeting new tenders from around the world, that are here to see, learn, teach, drink and become friends. This is one of the best parts of our business: camaraderie. Liquors and cocktails on tap I [also] find fascinating, but I haven't tried one yet. What cocktail trends would you like to see die? The V-shaped martini glass. What are you working on right now?A bottle of mescal. How can a patron get the best out of you? Be nice. Have respect for others, and our home. And for God's sake...at least open the menu! We want to buy you a drink. What'll it be?I'm on a three-month detox/diet. So it would probably be an aai smoothie from Juicy Lucy's. But normally, it would be a Miller High Life and a shot of Powers, or a Tom Collins. Soapbox time: What pisses you off?Liars. Idiots. Cheaters. Sad music. Flat tires. Disrespect. Taxes. Shadiness. MTA machines... When foreigners don't tip. Seriously when I travel, I find out what the customs are so I don't look like an idiot. People who take pictures without asking. The guest who feels entitled to free drinks. Bad sandwiches. The verbal tip. Taxes. Really bad movies. Improper ventilation. Long lines. DMV. What do we need to start or stop talking about?Stop talking about bitters. Start talking about more charity events and how we can help our own communities.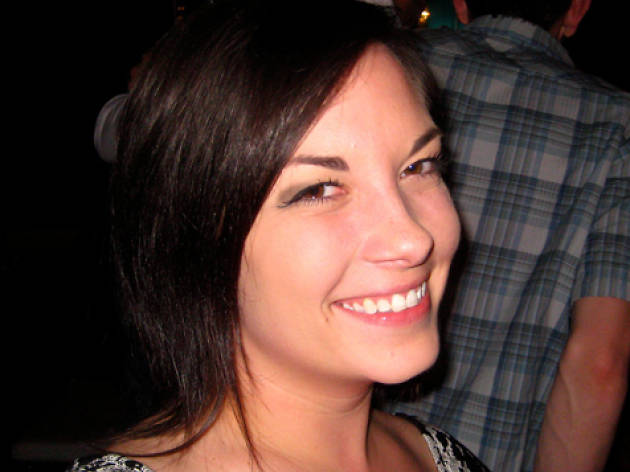 27/52
Eryn Reece, Mayahuel Where and when can we find you in New York?I'm slinging tasty cocktails behind the bar at Mayahuel Sunday, Wednesday, Thursday and Saturday. What have you seen around town lately that's excited you? I'm super-excited about all the new mescals that are popping up! We have been so spoiled lately, having such amazing brands coming out with new stuff, like Del Maguey's new Espadine or Mezcales de Leyenda's whole delicious line. What cocktail trends would you like to see die?The pickleback. Please go away already! How can a patron get the best out of you? I would just love if people could come in and just enjoy the experience. I don't mind people coming in and geeking out about agave, just do it and have fun. We want to buy you a drink. What'll it be?I'm pretty simple; I love a classic daiquiri. At any time of the day!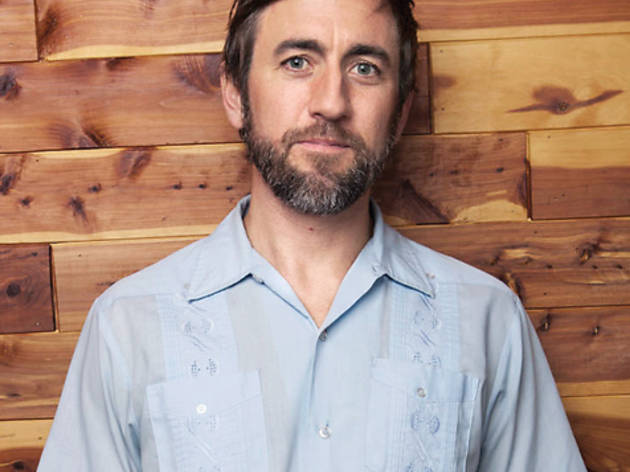 28/52
Photograph: Dale May
Greg Seider, The Summit Bar Where and when can we find you?I'm at the Summit Bar Wednesday through Friday. I'm an old man. I can't handle the late nights. You were one of the first bartenders in NYC to roll out a barrel-aged cocktail. Has your experimentation with that technique evolved? I'm actually getting some samples of this new honeycomb-barrel technology. More of the wood is touching the liquid [inside the barrel], so you can age spirits and cocktails in a quarter of the time. It just came out, so I haven't gotten it yet. They're coming out of Minnesota. What are some other techniques you're playing with?My friend got me a cold smoker for Christmas, so I've been using that to do infusions. We did an event where I hickory-smoked bourbon and made mint juleps. It was pretty awesome.... I don't know how practical it is, but [I'd like to explore] sous vide [for cocktails]. Some of the drinks at Summit Bar are very baroque. What's your process for creating them?I start with an amazing ingredient like a new spice or a new tea. I'm usually working off of some kind of nostalgia. It's emotional. I've had the flavor somewhere. Then I just figure out what spirit would go with that ingredient and how to accent it with other layers...I want to make all spirits enjoyable to everyone's palette. I'll take a spirit that [some might find] undesirable, use my culinary skills to choose and layer likable flavors. I'll create a kind of "gateway cocktail" that introduces a customer to a new spirit in a more enjoyable medium. Is there a drink on your menu that you think really represents your approach?The John Lee Hooker is probably the most original. It's based on [the blues artist's song] "One Bourbon, One Scotch, One Beer." It's misted with Scotch---a smoky Peat Monster---and then there's bourbon and cinnamon, agave and lemon juice, homemade sarsaparilla bitters and it's topped with an IPA beer. You get every one of those elements in perfect nuance. You're opening Italian caf-bar, Prima Strada, in the East Village in a few weeks. What can we expect?It will be really beautiful open space. We're going to create great energy. [For the drinks] I'm going to use a base of Italian ingredients and elevate them. We're going to make some limoncellos [using ingredients like] lemon, lemongrass, and black pepper or blood orange and basil. Read more about Greg Seider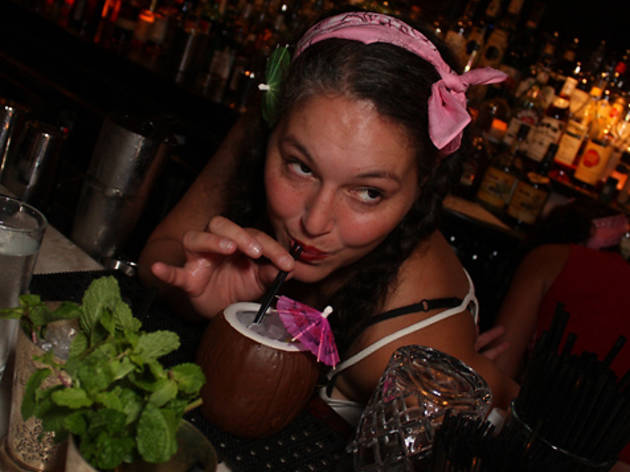 29/52
Lynnette Marrero, Drinksat6 consulting, LUPEC NYC Where and when can we find you in New York?  I consult on various projects, most recently Astor Room. I'm taking some time off to work on my own project. But you'll see me around NYC working with LUPEC [Ladies United for the Preservation of Endangered Cocktails]. What have you seen around town lately that's excited you?Just seeing more restaurants investing in having quality bar programs to match the food. I love food, and it's nice to know I can start with a great cocktail at dinner. Eleven Madison Park has done this for a while, and Brian Miller and I did it at Elettaria, but it was still a newer concept then. What are you working on right now?My own business plan with [bartender] Jim Kearns, and growing the presence of LUPEC NYC, starting with a breast cancer charity competition called Speed Rack [on June 12]. What's the craziest thing you've seen happen at a bar?One year on New Year's Day while working at Flatiron Lounge, I saw a holiday-party guest rip out a bolted-down table! How can a patron get the best out of you?Be nice and respectful, and smile! We want to buy you a drink. What'll it be?Negroni, rocks, flamed twist, more gin. Or a glass of sherry. Soapbox time: What pisses you off? What do we need to start or stop talking about?As a community we should be looking out for the overall improvement of our work conditions. If [a bar consultant] takes $5 to do a cocktail list, people will devalue the hard work we all put in.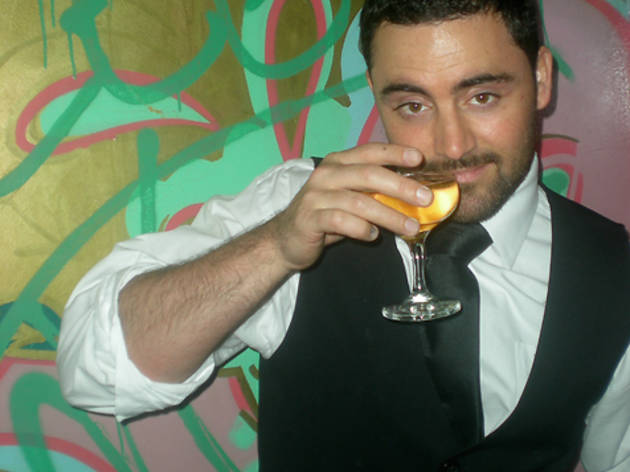 30/52
Tim Cooper; Goldbar, Imperial No. 9, Contemporary Cocktails Inc. Where and when can we find you in New York? Goldbar on Fridays and Saturdays. And Imperial No. 9 in the Mondrian Hotel during the weekdays---usually Tuesday and Thursday. What cocktail trends would you like to see die? One thing that I've never been a big fan of is the overserious cocktail bartender who doesn't know how to smile behind the bar. What are you working on right now? I've been playing with a fairly new liqueur called Root that recently hit New York. I'm a sucker for root beer, so for me this is something that makes me feel warm inside. Besides that, I've been making a bunch of different nut syrups for cocktails. Peanut, pistachio and cashew, to be exact.  What's the craziest thing you've seen happen at a bar?In no particular order: a fellow bartender being so drunk that when he left the bar to use the "bathroom," he stopped at the front of the bar and started to urinate onto the foot rail; a fellow cocktail waitress straddling the trash can in the liquor room to take a piss because she said the line for the bathroom was too long; a "superbug" shot, which consists of swirling Jger in one's mouth, then spitting it into the next person's mouth for them to swallow. I could go on... How can a patron get the best out of you? Are you sick of abiding cocktail nerds? You can always get the best of me. I strive to give my best every shift I work. If you come up to me with a smile, even more so. I've never "abided" by a cocktail nerd. I can nerd it up with the best of them, believe me. But I have a lot more going on in my life than to sit around and worry about which shake creates the finest layer of mystical ice on top. If you could make a cocktail for anyone...Rachel Maddow. I know she loves cocktails. I just want to make her a cocktail. Can someone please pass this request on to her? And here are a few others in no particular order: the RZA, Bill Clinton, Anthony Robbins, Charles Barkley and Dusty Rhodes, a.k.a. the American Dream. That is all. Soapbox time: What pisses you off? What do we need to start or stop talking about? The person who wants a cocktail but specifies about three times "as long as its not sweet." I get it. I got it. I heard you. A thousand times a night. If you're at a legit cocktail establishment that takes the time to juice produce fresh, has hand-cut ice and measures ingredients, it's pretty safe to say that we're going to create a balanced cocktail that won't be "too sweet.' Hello Kitty credit cards piss me off. Whoever thinks that it's a good idea to have their line of credit represented with a silly cartoon cat, i'm here to tell you that it's a bird move.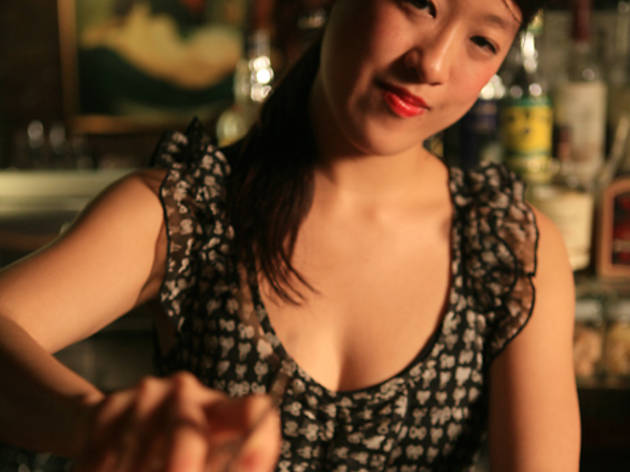 31/52
Karen Fu; PDT, Momofuku Where and when can we find you in New York?You can find me fueling the locomotion of livelihood at my favorite (maybe, hopefully yours, too) bar, PDT. Otherwise, tending to your dining and imbibing needs at Momofuku Ssm Bar (the restaurant) and new BAR next door to it. What cocktail trends would you like to see die?Over-the-top showmanship, jerk-off competitions. When it comes down to it, we're all bartenders, no matter what kind of drink [we're executing]. What are you working on right now?I just collaborated on [a drink] with Jim Meehan made with strawberries, Death's Door white whiskey, Aperol, Martini & Rossi Rosato vermouth and Bitter Truth aromatic bitters. Next up: a variation of a bubble-tea drink with peach, tapioca pearls and rum [that has] a creamy or milky texture. And I'd love to make something balanced, Fernet-driven, with a little acidity. What's the craziest thing you've seen happen at a bar?You name it: breakups, entanglements, engagements, upchucks, fights. I've seen the [glass on the] phone-booth door broken (which is a sad sight, the nerve!); "famous" people just having a good time; and a girl cleanly, calmly throw up in two water glasses then be perfectly fine and astounded. We want to buy you a drink. What'll it be?A mint julep, Smith & Cross daiquiri with a few dashes of Angostura bitters on top, or Bulleit Rye on the rocks. Soapbox time: What pisses you off?Shake Weight jokes. The whole point of that informercial product is so the person working out doesn't have to do any actual work. And pardon my sass, but I don't have these guns for nothing.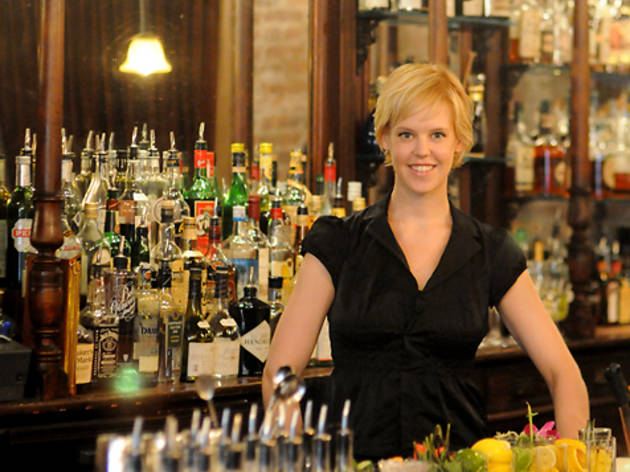 32/52
Katie Stipe, Vandaag Where and when can we find you in New York?Currently I am working on the spirits and cocktail program at Vandaag. The cocktail program focuses on genever (Dutch-style gin), aquavit, beer and wine cocktails. I work closely with chef Phillip Kirschen-Clark's market-driven menu to create complimenting flavor profiles in our signature cocktails. What have you seen around town lately that's excited you?I am excited to see more restaurants take an interest in having an equally strong cocktail program. The booze is what pays the bills in restaurants, and it's about time that restaurateurs invest in talent behind the bar that can serve up quality cocktails along with quality food. What cocktail trends would you like to see die?"Molecular mixology." I know this is just the beginning of the trend, but just the sound of it certainly doesn't make me thirsty. We are not splitting atoms behind bars, we are just mixing booze together.... I feel a lot of it is self-indulgent and more about the show then the actual balance and flavor of the drink. Personally, I just don't want to spend $26 on three ounces of a cocktail made with a gram of Calazoon with injected smoke vacuum-sealed and sous vide with nitrogen-charged foam that all trickles down slowly from a freakish vessel into an eggshell. It's kinda like when you go the Met and walk through the modern-art exhibit and see a canvas painted white. Seriously? What are you working on right now?I'm currently setting up Last Call Consulting with my longtime beau, Philip Ward (Mayahuel, Death & Company, Pegu Club, Flatiron Lounge), who knows just a little bit about cocktails. How can a patron get the best out of you?People---especially our beloved tourists in New York---must embrace the custom of American tipping. I don't work for just the sheer excitement of it, I work for tips. Minimum wage doesn't pay the rent, gratuity does. I emit my energy to each and every guest to ensure they have a positive and memorable drinking and eating experience. When you feel like you've really connected with guests and given them your best and they return their gratitude with 10 to 15 percent, that just blows. Are you sick of abiding cocktail nerds?[Cocktail nerds]...can sometime suck the life out of a bartender, wanting original cocktails custom-made for them each and every time, and then drinking them in three minutes flat. Putting all the creative effort into drinks that are just thrown down the hatch seems a waste. If the purpose is to just get drunk, then let's not waste each other's time and I'd be happy to pour you a shot of whiskey and a beer. We want to buy you a drink. What'll it be?After eight years of slinging drinks, testing drinks and testing other people's drinks, I just want to drink a nice beer or a glass of wine. Soapbox time: What pisses you off?Sometimes it would be nice to tell some folks to go blog yourself. With the wonders of the Internet at our fingertips, it seems just about everyone is a critic. We even have critics that critique other critics' criticism. It's just silly.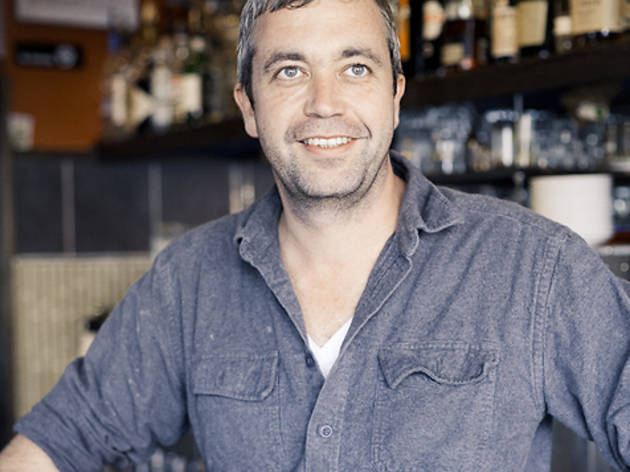 33/52
Photograph: Sam Horine
St. John Frizell, Fort Defiance Where and when can we find you?Fort Defiance, Friday through Sunday nights. And by appointment. What cocktail trends would you like to see die?High prices. It's just all too damn expensive, and at many bars, you don't get what you pay for. High prices perpetuate the stereotype of cocktails as elitist pleasures. That's not necessary. What are you working on right now?Managing the Fort has kept me busy---we just got a dynamite new chef, Adam Baumgart, from Bluebird Coffee Shop. Planning a big block party at the end of the August---the first annual Fort Defiance Day. And working on some low-alcohol cocktails for summer, like a citrusy smash with Cocchi Americano. We want to buy you a drink. What'll it be?I'll take a nice old rum---Clment VSOP, Angostura 1824 or the like---on the rocks with a lime twist. Soapbox time: What pisses you off? What do we need to start or stop talking about?Instead of asking me what's good, or what I like, or what I feel like making, try ordering a drink on the menu, at least to start. I change the list every couple weeks, so it's always fresh, and the drinks are there because they're really good. The drinks on the list are the starters on my team, not the scrubs.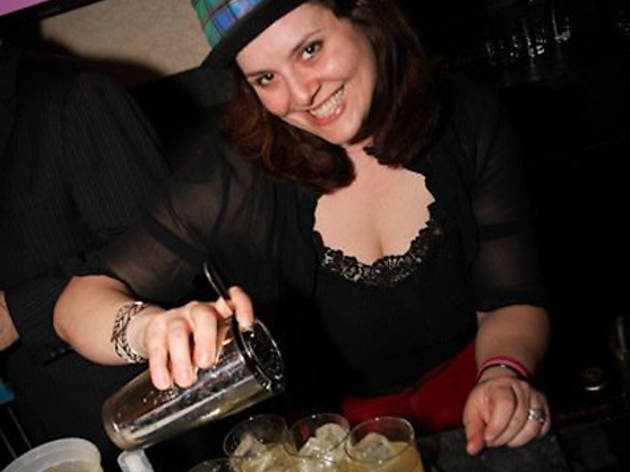 34/52
Abigail Gullo, Fort Defiance, The Beagle Where and when can we find you in New York?I work at Fort Defiance Monday, Thursday and Saturday nights. I also work at the Beagle. I have a cocktail blog and am a proud member of LUPEC (Ladies United for the Preservation of Endangered Cocktails). We do events all over the country! What have you seen around town lately that's excited you? I got into this industry because I love good food. So many food places just didn't have the cocktail program to match.  That seems to be changing.  There is also a wealth of small-batch, indie spirits and long-lost cocktail ingredients making a comeback. I just love to stare at an interesting back bar and talk with educated bartenders who love to play with their drinks. Both bars that I work at have amazing kitchens producing wonderfully inventive food. Creative American cuisine paired with classic cocktails and a killer back bar with unusual, local and craft spirits, beer and natural wines...that is so in my wheelhouse. What cocktail trends would you like to see die?Poor service and stuck-up attitudes. What are you working on right now?  The Beagle has a great "big ice" program. I am having fun carving up some big rocks...It's like a Gallagher show at the bar sometimes when the ice chips go flying! What's the craziest thing you've seen happen at the bar? During a post-Christmas blizzard, I hiked two and a half miles in knee-deep snow to the bar just so I could work the Saints game. Fort Defiance is not a sports bar, but we are a New Orleans bar, so we got a big "Who Dat" for the Saints. We didn't get any deliveries because of the storm, so [owner] St. John Frizell whipped up some gumbo, borrowed a TV from a neighbor, and I set to making Sazeracs, Vieux Carres and pouring Abitas while the Saints won their spot in the playoffs. Before I knew it the bar was full of Red Hookers dancing to New Orleans crunk and celebrating like it was Mardi Gras. I thought I would sleep at the bar that night, stranded as I was. Luckily, I have wonderful regulars who offered me their spare room, new toothbrush included, one block away. How can a patron get the best out of you?I've been told I have need-to-please disease. So if you are enjoying yourself and having fun, I am just pleased to be hosting the party.... I'll always play Wheel of Drinkage with a great cocktail book. That is when you flip to a random page and make the drink your finger lands on. That is fun to do with the Museum of the American Cocktail book or Vintage Cocktails and Forgotten Spirits by Ted Haigh. We want to buy you a drink. What'll it be?I am a rye girl, and with all the tasting I do all night, a good, clean old-fashioned or Manhattan variation is always my go-to drink. And make it look pretty.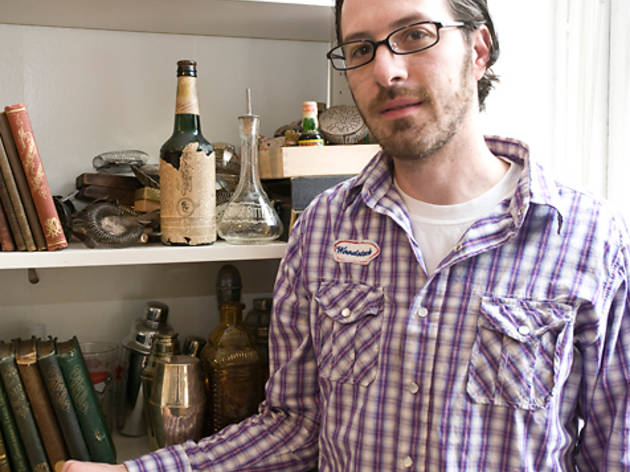 35/52
Photograph: Jay Muhlin
Greg Boehm, cocktailkingdom.com What's your role in the world of NYC cocktails?I am a curator of old and practical artifacts from bartending and cocktail history. At first I collected antique cocktail books (a collection that has hit approximately 3,000), and then I started collecting [tools] that were used by bartenders in the 1800s through the 1940s. These collections led to a few things. First I created a working library for bartenders and cocktail geeks. I then decided to publish accurate reproductions of the most important, rarest books about cocktails. More recently I've been parading my collection of antique barware around cocktail bars. I pride myself on making the best from the past available again. Your office is a de facto library for bartenders looking to research the history of the drinks they serve. What are people looking for now?Most people using the library are looking for the first time a specific cocktail appeared in print. New York bartenders are getting used to having the library as a resource and are therefore starting to look for more specific things. For example, a bartender that was visiting recently was looking for early examples of dry shaking (shaking a cocktail that contains an egg white first without the ice, then adding the ice and shaking again, in order to create an extra-foamy head). What have you seen around town lately that's excited you?Barrel-aged cocktails are really interesting. There is not much historical context for them, but the flavors and smoothness of these drinks is notable. I recently enjoyed a barrel-aged Brooklyn Cocktail at The Dutch. What cocktail trends would you like to see die?Pop-up bars and guest-bartending spots are making me crazy.... It is not sustainable.... Some bars have guest bartenders so often that it drains the excitement from something I used to look forward to. It just seems like a gimmick. What are you working on right now?Now that Cocktail Kingdom has reintroduced a proper julep strainer, we are working on perfecting the hand juicer and Hawthorne strainer. We want to buy you a drink. What'll it be?Dark and stirred drinks are my go-to liquid. Something like the Brooklyn Cocktail or a Greenpoint Cocktail. In general, I like to taste the booze.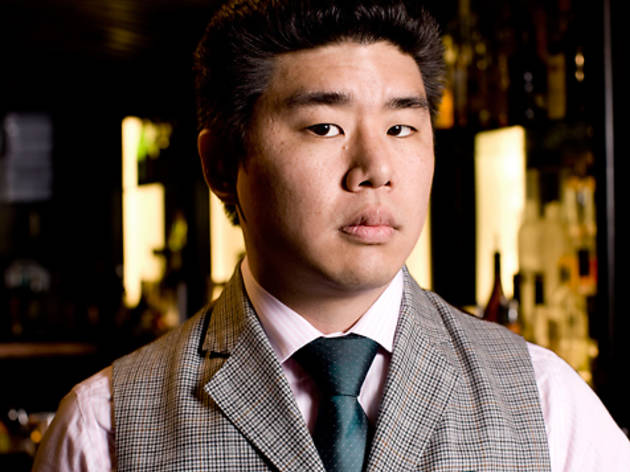 36/52
Don Lee, cocktailkingdom.com Our readers got to know you at PDT and later at Momofuku. You're not working at a bar these days, but you're an important part of the booze scene in NYC. How would you define your role?I work at Cocktail Kingdom doing new-product and business development, but I also am working on a cocktail-technique book and teaching. I would say that my role now is being an enabler. What have you seen around New York lately that's excited you?Dave Arnold's nitrogen-infusion technique is the most exciting thing I've seen lately. The possibilities are endless, and it's made me completely change the way I think about infusions. What cocktail trends would you like to see die?"Solid" cocktails. It's amusing to make solid food with cocktail flavors, but let's stop kidding ourselves and stop calling them cocktails. What are you working on right now?I've been learning wood, metal and jewelry production techniques to build prototypes. Any spare time I have is spent documenting the hows and whys of bartending and cocktails with my coauthor. We want to buy you a drink. What'll it be?A Negroni or a beer. Soapbox time: What pisses you off? The myth of big ice. Bigger ice does not make a "colder drink with less dilution." When shaking [a drink], size doesn't make that big of a difference, and there is no chilling without dilution. Big clear ice is all about presentation. It's sexy and will dilute less [while it is] in the glass.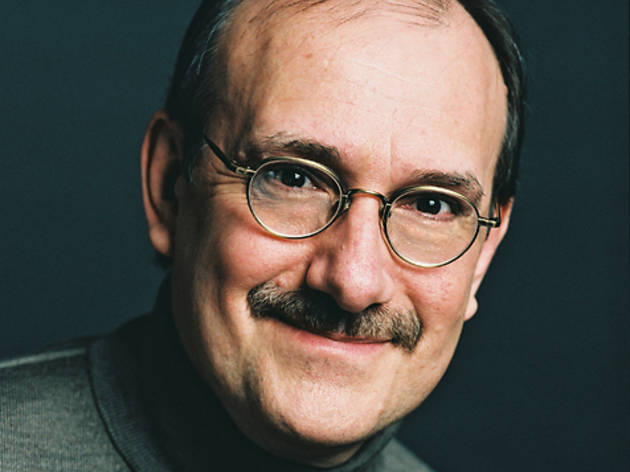 37/52
Paul Pacult, cofounder of Beverage Alcohol Resource (BAR), Ultimate Beverage Challenge, spirits writer and author of Kindred Spirits and A Double Scotch: How Chivas Regal and the Glenlivet Became Global Icons, among other books What's your role in the world of NYC cocktails?I'm probably most accurately viewed as an educator and mentor whose primary focus is distilled spirits, and how they should be appreciated and served on their own and within the cocktail context. As one of the founding partners of Beverage Alcohol Resource (along with Dave Wondrich, Dale DeGroff, Steve Olson, Andy Seymour and Doug Frost), I've been honored to be a part of the spirits and cocktail education of many New York--region bartenders and drinks consultants. That would include cocktail superstars such as Jim Meehan, Julie Reiner, Aisha Sharpe, Willy Shine, Don Lee, Audrey Saunders, St John Frizell, Richie Boccato. Erin Reece, Joaquin Simo, Phil Ward, Tim Cooper, Tad Carducci, Albert Hafti, Dan Nicolaescu, Brad Farran and many more. What have you seen around New York lately that's excited you?I really respond to the emphasis on pre--World War II cocktails. Seeing great drinks such as the Ward Eight, Bee's Knees, Vieux Carre, Aviation, Jack Rose, Brandy Crusta and Pegu Club on menus is delightful to me. They represent the inherent wonder of cocktails, in that these wonderfully flavorful cocktails are simultaneously new and old, nostalgic and contemporary. They are also cocktails that highlight the base spirit in their best light. What cocktail trends would you like to see die?Those that involve cocktails "built" out of a ridiculous amount of ingredients. Minimalist cocktails work best for me because I never have any interest in re-creating cocktails in our home bar that utilize eyedroppers, fat-washing, molecular processes or, worst, more than five ingredients. Cocktails are best when they are simple and straightforward. What are you working on right now?My wife and partner, Sue Woodley, and I are deeply involved with our new company, Ultimate Beverage Challenge, which we started with industry veterans David Talbot and Sean Ludford in 2009. UBC conducts three competitions per year: spirits, wine and cocktails, and stages one mammoth party---Ultimate Blast---in October. The point of UBC is to bring beverage competitions into the 21st century by using innovative judging techniques and the finest experts in the world in order to ascertain which spirits, wines and cocktails are the best.  Sue and I are also continuously busy with our advertising-free, subscription-only newsletter, F. Paul Pacult's Spirit Journal, which critiques and rates all distilled spirits four times per year and has done so since 1991. We want to buy you a drink. What'll it be?I'm an admitted fool for five classic cocktails, providing that they are made properly and with certain ingredients. In no particular order my favorite drinks are: the whiskey sour, the Aviation, the margarita, the Ward Eight and the sidecar. I prefer Maker's Mark bourbon for my whiskey sour, and I like it seriously sour. When a bartender puts in simple syrup, I typically slap them silly. "Hey, idiot, it's called a whiskey sour!" My Aviation must be made with Plymouth Gin, thank you. For margaritas and sidecars, I insist on Cointreau as the pivotal ingredient. No Cointreau, no drinkie. Soapbox time: What pisses you off? What do we need to start or stop talking about?First and foremost, I hate overly fastidious, overly fussy or overly complex cocktails that are created more for the ego of the bartender than for the enjoyment of the imbiber. That's a trend that worries me, because I see it more and more, and that pisses me off. I feel that too many bartenders are getting caught up in minutiae and, in the process, are forgetting the fundamentals of making a good-tasting drink for real consumers. Second, if I hear the obnoxious monikers bar chef and mixologist one more fucking time, I'll think I'll explode. People, you are bartenders, period, and there's a lot to be said about that when it's done with precision, expertise and passion.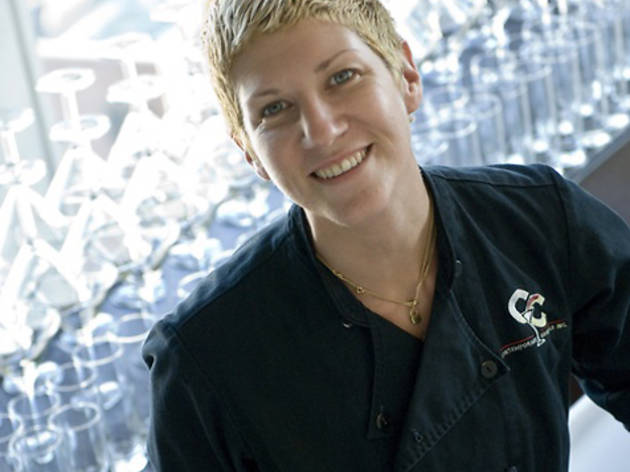 38/52
Aisha Sharpe, Contemporary Cocktails Inc. Where and when can we find you in New York?I am not currently tending bar regularly, as I am running my cocktail-consulting company, Contemporary Cocktails Inc. [Sharpe's beverage programs are in effect at The Ace Hotel, The Breslin and 1534.] I have been popping up here and there doing some guest bartending. What have you seen around town lately that's excited you? I am happy to see hospitality beginning to come back to bars. I have noticed over the last five years, with the growing popularity of cocktails, bartenders were forgetting about the most important factor in their professions: ensuring their guest leaves happy. Everyone became so focused on learning obscure cocktails and making their own ingredients and forgot to have fun along the way. So let's all start having more fun on both sides of the bar. What's the craziest thing you've seen happen at a bar?One of the craziest [things I've seen] was a late night at BED---some very drunk man unzipped his pants and started urinating on the bar while ordering a drink from me. Needless to say, I didn't make the drink, and I had the urinator thrown out. The man was shocked I would do such a thing. How can a patron get the best out of you? Are you sick of abiding cocktail nerds? I don't need to talk about geeky cocktail stuff, I would rather talk about whatever the guest wants to discuss. One of my favorite things about bartending was the opportunity to get to know a diverse group of people I otherwise may never have encountered. I am not going to get that from talking about bitters. We want to buy you a drink. What'll it be?With the nice weather these days, I want to drink a nice glass of ros, but a tequila neat always works as well.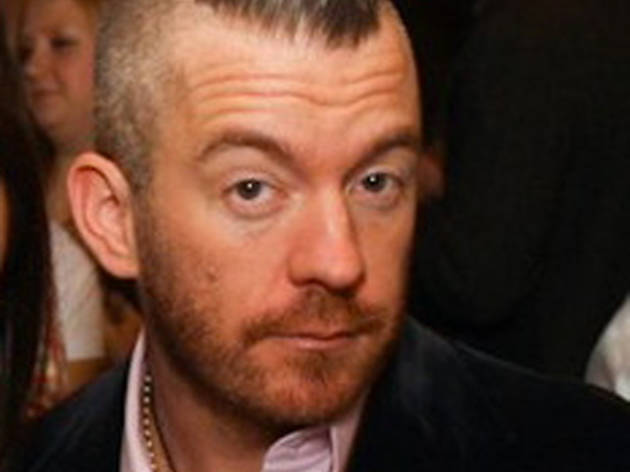 39/52
T.J. Lynch, Imperial No. 9 Where and when can we find you in New York?I can currently be found at Imperial No. 9 Thursdays, Fridays and Saturdays, and assisting at various places in times of distress. I'm kind of the bartender version of MacGyver; I can always find a way to fix any difficult situation with a cocktail toothpick and a half bottle of Galliano. What have you seen around town lately that's excited you?What's exciting to me recently is the demystification of bartending. These are just drinks, people, get over it. Let the "bar chefs" and "molecular mixologists" have their places in the world, yes indeed. But let's keep it separate, shall we?... Hopefully what the mixology trend has left us with is not only more public understanding of what makes up a good cocktail, but more people who can produce one, and without them lecturing you on what you should be drinking while wearing a vest or an obnoxious mustache. What's missing from the NYC bar scene?I'd like to see bartending come back, where you can count on more bars and restaurants to be staffed by someone who can chat you up with actual concern, cut off the local drunk with grace, mix you a cocktail exactly to your liking, then do a shot with you while realizing the music and lights need to be adjusted. I've been asked numerous times over the past few years what's the difference between a bartender and a mixologist. After too much rambling, I've whittled it down to this: Mixology is one-dimensional, it's the creation of new (and not-so-new) cocktails. It has nothing to do with tending a bar. What are you working on right now?Currently I'm running a supper club, and about to start sanding the floors on a bar of my very own. In the between times, I'm throwing drinks around at as many places as possible, spreading the love via booze. We want to buy you a drink. What'll it be?That's nice, thanks.  But bartenders drink free, it's in lieu of health insurance; save your money for a bigger tip, thanks.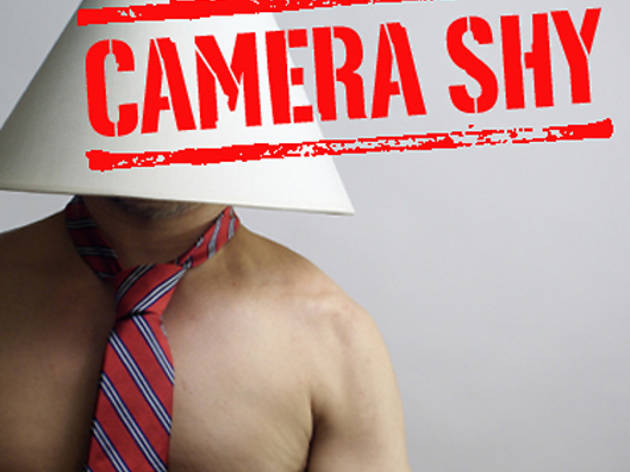 40/52
Nick Jarrett; Dram, Flatiron Lounge, Clover Club Where and when can we find you in New York?Tuesdays and Saturdays, I'm ministering at Dram; Wednesdays, I'm lucky enough to pull a shift at Flatiron Lounge; Thursdays and Fridays, I'm behind the stick at Clover Club. Lastly, I swing the occasional Sunday at Bushwick Country Club. What cocktail trends would you like to see die?Pretense, please. Cocktails are supposed to be fun, heady, quick little rushes. "Triumphs of liquid joy," per [19th-century bartender and author of The Flowing Bowl] Billy Schmidt.... Bars should be fun; drinks should be delicious. That should be our first priority. Can't take ourselves too seriously. What are you working on right now?At Dram we'll be implementing a series of seasonal, barrel-aged house cups la Pimm's. I'm spearheading that. How can a patron get the best out of you? I think a patron can get the best out of a cocktail bartender by following three simple rules of thumb. First, if you have a question, ask by all means, and we'll answer to the best of our knowledge and ability. Your bartender isn't usually looking to get into a debate over the answer to a question, though: Bartenders are highly opinionated individuals, and hold pretty carefully formed opinions. Many of us have discussed best practices and specifications for years, have shelves and shelves of relevant literature, have visited distillers, spoken to chefs, clocked hundreds of hours at seminars and symposiums, in addition to clocking (in some of our cases) tens of thousands of hours in, around and behind bars.... So that's rule number one: Fire away, we're happy to tell you what we think, but don't pick a fight---at least not until we're sharing a round down the road on the same side of a bar. Next: If you want to talk cocktails or shop with your bartender, ask them what they're excited about! Everyone's got their own specialities and fields of interest. Get us talking about our passions, and you may detour into some next level geeking out. Third and last, gauge the room. If there're a bunch of meatheads screaming at the other end of the bar, the servers are running around frantically, and the bartender doesn't stop moving and is curt, we're probably trying to whip through a silly number of cocktails at breakneck speeds to high standards while accommodating everyone in the room. Early in the night or toward close, on slower nights of the week, is the best time to shoot the shit. We want to buy you a drink. What'll it be?Aw, you're a doll. I'll take whatever. Beer (yellow, please) and a shot (whiskey, tequila, applejack, amaro...). A glass of champagne or white burgundy. Martini, Manhattan, old-fashioned (bourbon for me, thanks). Negroni or Americano, daiquiri, Brown Derby...whatevs. Soapbox time: What pisses you off? What do we need to start or stop talking about?Stop mentioning the Ramos Gin Fizz [an egg-white and cream cocktail that requires a powerful, extended shake to reach its proper consistency].... The bar it originated at had crews of shaking assistants for a reason. It really, truly does reflect the care and effort put into it, and frankly, it does not taste good at 99 percent of cocktail bars.... There is no worse way to scumbag a bar staff, and no better way to get the bartender to hate you.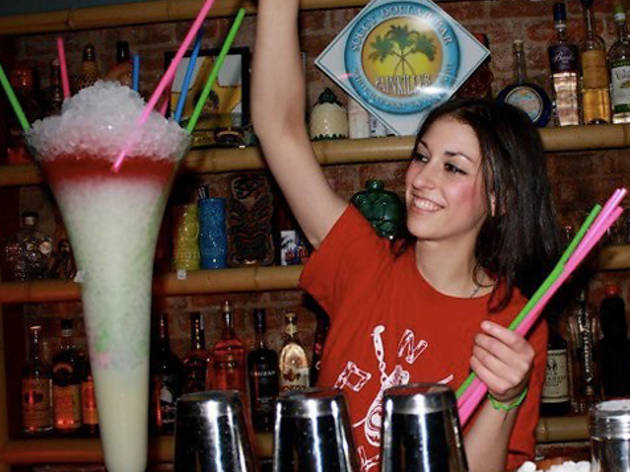 41/52
Yael Vengroff, PKNY, Peels Where and when can we find you in New York?Thursday, Friday, and Saturday you can find me at PKNY. Wednesdays and Sundays I am at Peels. What have you seen around town lately that's excited you?John deBary has a great drink at Momofuku Ssm Bar that is made of Sombra mescal, lime juice, yellow Chartreuse, pea juice and wasabi oil. The drink really captures the essence of a wasabi pea but is still a sophisticated, well-balanced cocktail. I really appreciate drinks that are both playful and yet well constructed at the same time. In terms of techniques right now, I am fascinated by cocktail clarification and carbonation. What cocktail trends would you like to see die?I'm really over the whole Stump the Bartender game that's been going on for the past few years. People ordering obscure drinks from out-of-print cocktail books because they are trying to prove something to themselves or to me, I'm not really sure which it is. What they don't understand is how much the American palate, as well as the products being used, have changed over the course of time, and that these drinks for the most part now taste horrible. If you are looking to try something unique or with some history to it, I recommend simply asking your bartender politely. And not on a Friday or Saturday night. What are you working on right now?Working at PKNY, I have access to a blender, which in the past has been a symbol of torture that most bartenders regard with disdain. I fell in love with well-balanced blender drinks at PKNY and have been working on a number of blended drinks. One is a frozen michelada, the other is a blended Chartreuse smash blended with a couple pineapple chunks, which gives it an almost creamy consistency. How can a patron get the best out of you? A lot of people come into the bar and say, "Make me whatever." This is frustrating, because what I like could be very different than what you may like, and giving me no guidelines poses the same problem. At PKNY, we have such a wide variety of cocktails in terms of strength, consistency and flavor. It's very important to be a little more decisive if you truly want the best from me. It's not about what I like to drink. It's about what you like to drink. Soapbox time: What pisses you off? What do we need to start or stop talking about?Don't call me a mixologist. I'm a bartender. Also, don't wave your hands or money at me, and please try to order all of the drinks for your entire party at once. There is nothing like thinking you've finished making a round of four caipirinhas, and then you ask me for one more. Lastly, hands off of my mise en place and garnishes. It's disrespectful and a health violation. If you do it, I will come to your office and rifle through all of your papers.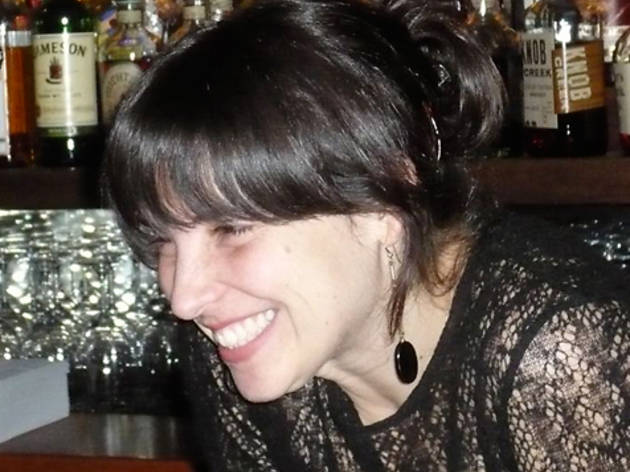 42/52
Stephanie Schneider, Huckleberry Bar Where and when can we find you?I'm at Huckleberry Bar on Tuesday, Wednesday, Saturday and Sunday evenings. What have you seen around town lately that's excited you?My colleague Vince Favela has been working with an iSi charger, and that's pretty cool. I got pretty jazzed when I had a cocktail at Death & Co that uses Gardenia Mix [creamed butter with honey and spices]. Cocktails on draft is a pretty interesting thing I have seen and want to know more about. What are you working on right now?I recently tried to make my own version of a Gardenia Mix, but I wanted to use coconut oil instead of butter. After many tries, I made it work. What's the craziest thing you've seen happen at the bar?A young lady decided to use a drug very indiscreetly right at the bar in front of me, the bartender and other guests. She was promptly asked to leave. These days the craziest thing is me and a couple of colleagues are working out every morning in the bar doing the Insanity Workout DVDs. We call it bartender boot camp. How can a patron get the best out of you? Are you sick of abiding cocktail nerds? I like it when guests will put themselves into my hands creatively. I like it when they have an open mind and are willing to try something new. I am not sick of the nerdiness---I think it's great that we have people pushing the envelope to extremes. I [believe] that thinking outside of the box is a good thing, and trying to stay so true to the old school can get boring. We want to buy you a drink. What'll it be?A Negroni is my favorite drink. Soapbox time: What pisses you off? What do we need to start or stop talking about?I guess it pisses me off when I go to a spot that advertises that they are serious about cocktails, and the cocktails are just way out of balance. It's not enough to have the products, the fresh juice, the fancy outfit, etc. The technique must be there too. I am also always tired of the attitude and ego that goes with some of this bartending culture. Being behind the bar is about taking care of the guest, whoever that person is. It should be a dialogue---not a monologue. I can't stand it when I walk into a place and no one says hello and welcome.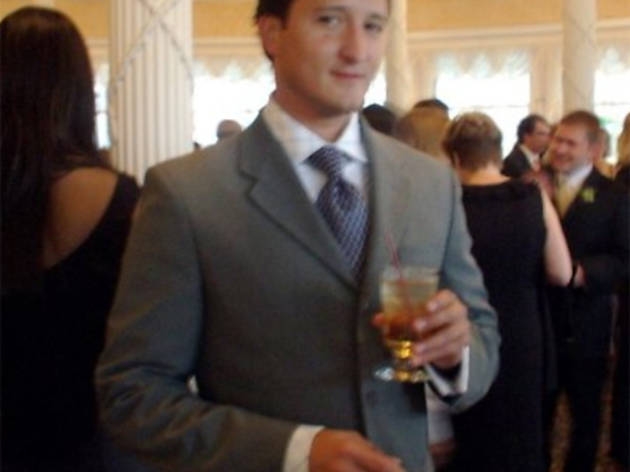 43/52
Vincent Favella; Ward III, Rum House, Huckleberry Bar Where and when can we find you in New York?I tend bar at three locations: Mondays at Ward III; Tuesdays and Wednesdays at Rum House; Thursdays at Huckleberry Bar. What are you working on right now?I'm joining Sasha Petraske's team to open the reincarnation of Double Seven. I'm also having a lot of fun at home these days with my iSi whip creamer, doing quick infusions. We want to buy you a drink. What'll it be?Bartender's choice: brown and stirred. Soapbox time: What pisses you off? What do we need to start or stop talking about?Guests, have your money ready! Slowing down service pisses me off, because I wanna please everybody all of the time, and that's impossible if I can't serve everyone in a timely fashion.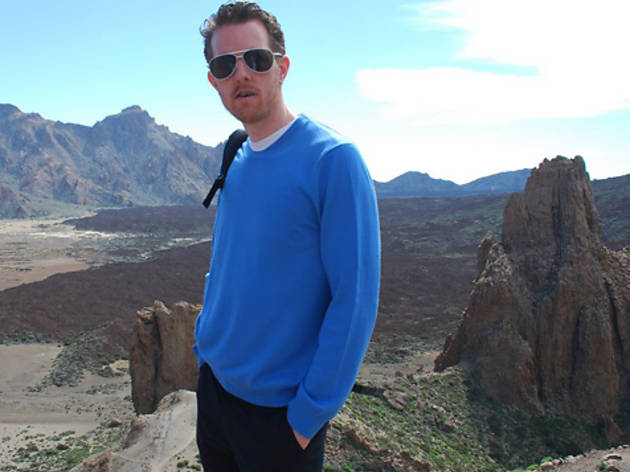 44/52
Brian Matthys, Compose Where and when can we find you in New York?I'm at Compose, Tuesday, Wednesday, Friday and Saturday. What have you seen around town lately that's excited you?I like seeing stellar cocktails in fun environments---PKNY easily comes to mind. What cocktail trends would you like to see die?Skinny drinks and cocktails claiming health benefits. What are you working on right now?One aspect of what we do and have available for use is fresh, seasonal ingredients. We have a pretty awesome forager, Kate Galassi, who helps find us amazing and offbeat ingredients. I made a mescal julep the other day with purple shiso. That was pretty tasty. What's the craziest thing you've seen happen at a bar?A girl wearing only body paint walks into the bar, sits down and has a few drinks. Let's just say it wasn't the worst thing I've had to clean off a barstool. Are you sick of abiding cocktail nerds? Geeking out is cool. It's great that there is such an interest in eating and drinking well, and it's a very exciting time to be behind the bar. That said, good conversation about sports, the weather and current events can be a welcome change. We want to buy you a drink. What'll it be?I have pretty diverse tastes, but something agave-based will usually do the trick.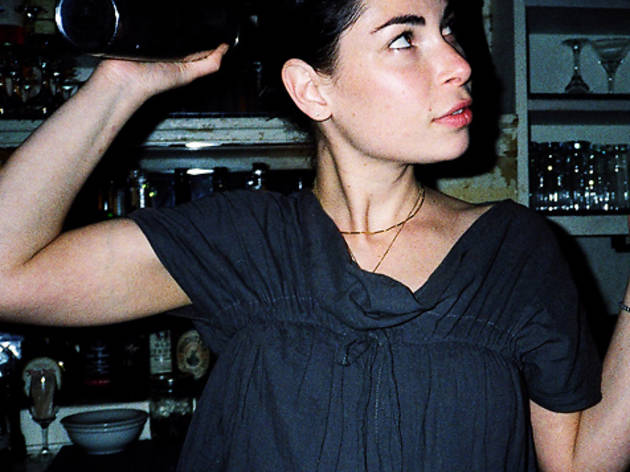 45/52
Yana Volfson, Peels Where and when can we find you?Behind the bar at Peels at the beginning of the week, Freemans at the end. In the morning at La Colombe for a $2 cup of coffee. Eating at Il Buco, Minetta Tavern, Prune, Vinegar Hill House on off days, and routinely, Russ and Daughters for hand-dipped chocolate-covered marshmallows. What have you seen around town lately that's excited you?To be honest, this winter kept me indoors, but recently: barrel-aging cocktails, Katie [Stipe] at Vandaag and tequila cocktails at Mayahuel. What cocktail trends would you like to see die?Bacon, $18 cocktails. Vodka-and-water drinks. (They're not going to keep you skinny.) What are you working on right now?My tan, my posture, my jump shot, different syrups and bitters for my summer cocktail menu, my tone and---when that fails---adjusting the ears of my listeners. What's the craziest thing you've seen happen at a bar?I served a couple on their first date and had them back at the bar a year later, married with child. Meeting the second generation of my regulars. A bare ass behind an apron, hair going up in flames (be careful of the candles). I work at a restaurant at the end of the alley, so I'll leave it to your imagination as to what I see in the alley after work. We want to buy you a drink. What'll it be?If the offer is while I'm behind a bar, then it's a quick shot. If I'm on the other side of the bar, it's something bitter, Pappy Van Winkle's 13-year rye, Havana Club [a Cuban rum] if I'm out of the country, or if you're in a splurging mood, a '95 La Rioja Alta 904. Soapbox time: What pisses you off? I'm a little bummed about the 0 to 10 percent tip at the bar.  Read a guidebook if you're visiting, and if you're from here---shame on you. As professional bartenders we're crafting cocktails, pouring wine, suggesting to your mood and tastes, and educating drinkers on varieties and peculiarities of different spirits. Bartending is an art with a rich history, and while we continue to home in on our craft, it seems as if the appreciation has diminished.  Also, the tip is for the bar-back---he's gotta eat too.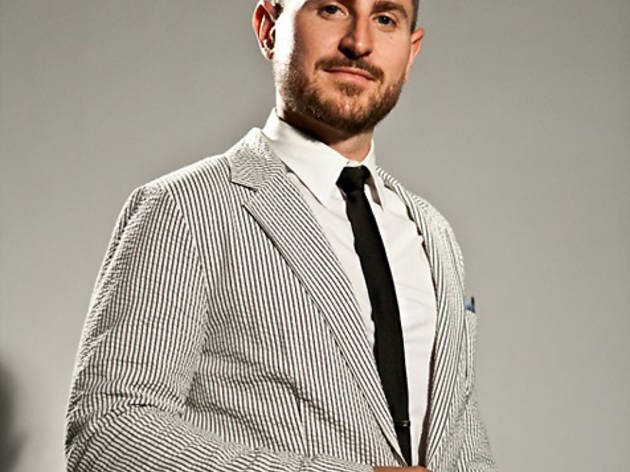 46/52
Joaquin Simo, Death & Company Where and when can we find you?Wednesdays, Thursdays and Fridays at Death & Company. How did you find your way to Death & Company?I've been in this industry for about a decade. Every time I worked somewhere new, I learned something new. Everyone told me, work hard, be nice, maintain your regulars, never forget it's about the customers. I started learning more about the craft, history and made trips to some of the places and distilleries for vodka, tequila, whiskey and to talk to the people who make the spirits. I wanted to learn the process and understand why people do certain things differently. What's your process like for designing new drinks?Inspiration comes from so many places. I hang out with a lot of cooks and read a lot about food. I'm always thinking about flavors. Every so often you just get random thoughts. It can come from a wisecrack or a dish you had. A couple years ago, I was doing a lot more vinegars, shrubs and syrups. We had a curry ginger syrup for our dark and stormy champagne cocktail. My coworkers really, really hated that. You make the syrups. You boil the vinegar. We play around with a lot of different styles. What have you seen around town lately that's excited you?There's a more savory element in cocktails that hasn't been explored a whole lot. You're starting to see more and more a use of salt in ways that are markedly different than just making something salty. Being able to add a lot of that complexity, but maybe dampening the bitterness and letting some of the other notes come out and shine and play. I think that's really fascinating---it's like seasoning your cocktails to an extent and seeing how it affects certain ingredients and your perception of them on the palate. It's going to be a lot of fun to explore. We can do that with endless amounts of amaros or bitters, fortified wines or aromatic bitters. Is there anything you wish you could do but don't have the tools for?It'd be fun to play around with the more techy things, like having a little setup like what Tony Conigliaro has at 69 Colebrooke Row in London, where he has that little lab upstairs and he can distill essences. His capturing of sense memory, especially with olfactory notes and his ability to customize these subtle smells that are very evocative---like hay---is extraordinary. Is there a cocktail trend you'd like to see die?I just want more of the young bartenders to remember the important thing is the customer, your guest, who's sitting opposite you. That's the focus. You should be concentrated on learning points of service, hospitality, how to maintain regulars---that's what bartending really is. The drinks will come. It's cool that you're geeking out, but none of that matters if your guest feels alienated or that you're aloof. The focus on what's going on in the glass at the expense of service is what I'd like to reversed more than any goofy ingredient. We want to buy you a drink. What'll it be?Depends on my mood. I enjoy drinking a lot of different things. I love drinking beer, wine, sherry, vermouths and apertivos. I go to cocktail bars when I want cocktails, but I don't generally drink a lot of cocktails when I go out.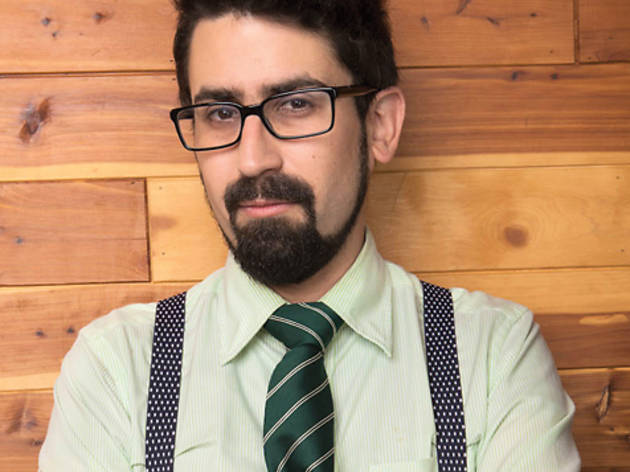 47/52
Photograph: Dale May
Frank Cisneros; The Drink, Dram Where and when can we find you?Fridays and Saturdays at Dram. I'm having more time off as the Drink settles into itself, so I'll be behind the bar both there and Dram more often. You're involved in two bars that have no secret entrances, crazy prices, bouncers, etc. And they're not only about mixed drinks, either. Do they reflect what you think a cocktail bar should be?Yeah, I suppose so. I think I have a pragmatic approach to drinks in that I don't necessarily believe too much in the stuffiness. I'm dogmatic about technique, quality, dedication and consistency, but not about aesthetics and appearances as much. One thing I've learned is that, especially with an open-door policy, you might get a group of eight people that walk in. Maybe two are really into cocktails, and that's why they came to check you out, then maybe four have a passing interest, and one is super into beer, and one is super into wine. Why alienate those last two and have the most amazing cocktails on the planet and have your beer and wine be total afterthoughts?  Seems counterintuitive to me. What have you seen around town lately that's excited you?I'm seeing some trends toward consolidation of resources. Like, there's some guys out there getting together to provide ice-making and delivery services, and juicing services. I've been kicking around the idea of getting a bunch of bars in Brooklyn together in a loose co-op to leverage our collective purchasing power to buy a Rota-Vap (they're like $12,000) and then setting up a system where we each have our day to go in and use it for what we need. I think we've always had a spirit of collectiveness in this community, but it's starting to coalesce like never before. It's great to be a part of it. What cocktail trends would you like to see die?There's nothing I'm particularly angry at. Maybe this whole "emotional cocktail" thing. That speaks for itself, it's super annoying. If a customer asked me, "What would you suggest from the 'stoic and contemplative' section?," I'd suggest, "Going the fuck home." What's the craziest thing you've seen happen at one of your bars?I once saw a dude walk in with not one but two goatees. That's two goatees too many, buddy! Are you sick of abiding cocktail nerds? I would say a few things drive me up the wall: People that try to play Stump the Bartender, people who order drinks from other cocktail bars' menus and people who do bartender's-choice drinks but set up impossible parameters. If you set out looking for a cocktail experience. find out what the bar you're visiting is all about. Do not go in and order the "Muskrat's Foreskin" because you had one at "The Butt Cave" in downtown Peoria, Illinois, and it's the best vodka-and-aai-berry drink ever, and what do you mean you don't know how to make it, everyone makes that drink?!? We're totally open-source in our community, but that doesn't mean we know every drink ever that every bartender in the universe has ever made. And for bartender's choice, keep it reasonable. Don't say, "Okay, I want something sweet, but savory, but spicy, but sour with vodka, and chocolate, and tuna!" No one is that good. It's not going to happen. Go home. What do you drink when you're off-duty? Beers and shots! Nearly always pilsner, Fernet Branca, green Chartreuse, Campari and soda, and lots and lots of daiquiris. I don't drink cocktails unless they're daiquiris. I mean, I think they're delicious, but after three or four, I black out...I treat daiquiris like they're shots. Read more about Frank Cisneros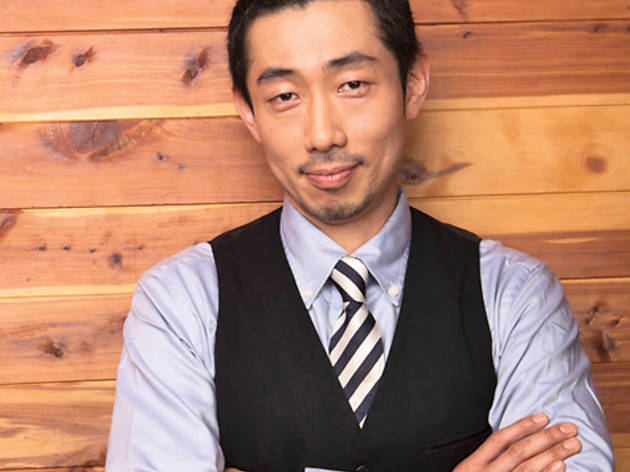 48/52
Photograph: Dale May
Kenta Goto, Pegu Club Where and when can we find you?Tuesdays, Wednesdays, Fridays and Saturdays at Pegu Club. How did you first get into cocktails? Was it a long road to Pegu Club?As a child, I had a dream of opening a bar one day. My family had a restaurant in Tokyo. I enjoyed the experience there. I guess I was also lucky when I came to New York. I thought, If I'm going to do this, I want to be the best. I want to work with the best. I came across an opening ad on Craigslist when I was already in New York. The ad didn't say it was Pegu, but I knew. I sent in a cover letter saying how much I wanted to be there. There were two interviews to go through, but I got the job. What's an interview like for a cocktail bar? Did Audrey Saunders grill you on your rsum?The first interview was pretty much just a conversation between me and Audrey. She asked, "Do you like Pegu? How did you hear about Pegu?" It was basically a Q&A session. But she also wanted to see how I work behind the bar. She showed up at a bar I was working at and I saw her in the crowd. She didn't let me know she was coming. She stayed about 30 minutes. She said, "I'd like you to work for me." I started my first day at Pegu in the first week of January 2007. Where did you work before Pegu?Before that, I was working at a bunch of places, like fine-dining places. I bartended at my family restaurant back in Tokyo, but not at famous places in Ginza. If I started working professionally as a bartender in Tokyo, I might not be doing this in New York. That's interesting. We've heard Tokyo's cocktail world is very different from what we have here.In Tokyo, bars are a hospitality business. But here, you can use creativity to take classics and adds modern twists to it. In Tokyo, you use creativity to stay inside the box and try to make the perfect gin martini or perfect sidecar. Most of the drinks you see are pretty standard cocktails. Do you try to incorporate any elements of Japanese cocktails into what you do?At Pegu, I run a line between Japanese hospitality and New York style. Over here we make tips, but over there we don't. One place I go to in Tokyo is on the seventh floor of a building, and when customers leave they escort them out and wait for the elevator door to close. Then they run down the stairs so they're there when the doors open, and they try to get a cab for the customer. There is something we can learn from. I'm a good person to combine both things. Do you still have that childhood dream of opening your own place? What would it be like?In New York, there is no in-between place when it comes to Japanese eating and drinking. Places are super-expensive or casual. I want to go in between and provide high-end service in a chill atmosphere. Would you incorporate Japanese inspiration into the cocktails?The cocktails I'm going to do for my place are definitely Japanese-inspired cocktails. The ingredients will be Japanese. When people think of Japanese cocktails, they think of saketinis. If I do a saketini, I'll do something much better. My first cocktail for Audrey used a base of sake with maraschino cherry liqueur and gin. Three years ago, I did a another sake drink tequila, St. Germain, yuzu pepper and shiso, which seemed to be very popular in New York. From time to time, I serve this drink at charity events. Calpis, a Japanese lactic acid drink, is something everybody in Japan grew up with. I use it in my cocktails with melon and gin. I did that three years ago, but I think I'll do that again, but with slices of cantaloupe and a mist of absinthe to get an aroma of anise. I basically want to squash the saketini and improve the state of Asian cocktails. You've been at Pegu for five years. How have you seen things change in terms of the customer base?People know what they want to drink more than ever. People are more educated. The weekend crowd five years ago was drinking mixed drinks like vodka cranberry and not open to trying something new. It made my life physically easier, making gin and tonic and rum and Coke. Now, even the weekend crowd has changed. I appreciate it. Is there anything that annoys you when you're working the bar?I want guys to know it is okay for them to drink from cocktail glasses. They feel embarrassed, they worry about how other people look at them. A rocks glass makes them look more manly than a cocktail glass. But when you go to a cocktail bar, try new cocktails. It's about the experience. Read more about Kenta Goto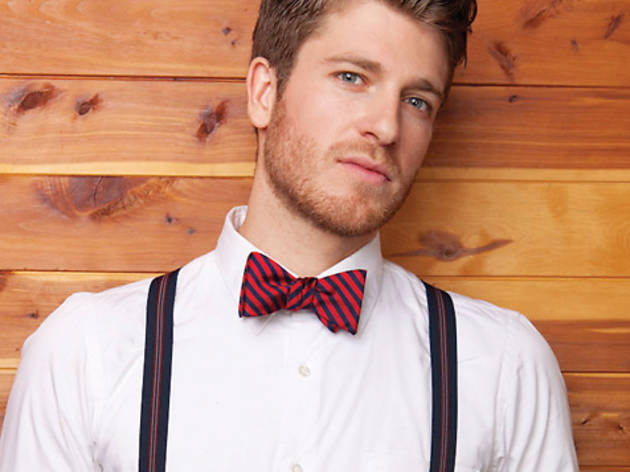 49/52
Photograph: Dale May
Jeff Bell, PDT Where and when can we find you?Every Friday and Saturday night I'm at the bar, and Tuesdays and Wednesdays I work the floor. PDT has been around since 2007 and continues to attract a lot of attention. What do you think keeps the place relevant?We use the classics as a framework for exploration. We try to find new ingredients and see what we can build. Go to the markets and see what's available. It's a farm-to-table approach, but for drinks instead of food. You were at Maialino running the bar program before joining the team at PDT. What did you take from that experience?[PDT founder] Jim Meehan and I both worked for Danny Meyer. The quality of service is incredibly important. The lighting should be right, the music should be right, and people should drink their favorite drink, not ours. It takes a really good bartender to pick out a cocktail that's appropriate for where that person is at that particular time. Is it springtime? Is it a celebration? Have they had dinner, or are they heading to dinner? We help them pick out a cocktail that's appropriate for where they are at that given point in time. What's your approach to formulating new drinks?We try to build drinks from the bottom up, starting with the spirit. Take a spirit, smell it and taste it, and then you figure out what you can do off of that with other ingredients, so you ultimately showcase the flavor of the spirit in the drink. You don't want to hide what it is, you want the spirit in there and you want to know what you're drinking. Are you working on any drinks right now that showcase that approach?A new cocktail added to the menu is the Vigne Verte. It's gin distilled from the same grapes that cognac is made from in France. I added tomatillos, celery juice and lime juice, muddled peppercorns and grape-sugar syrup made from the same grapes as the gin, which helps bring the drink full circle. It's a nice summer drink. The celery is really refreshing and smooth. All juiced in-house. It's as fresh as can be. Is there anything patrons do to get on your nerves? I have a lot of patience. People always want me to make them my favorite drink, though. My favorite drink varies just like everyone else's, and that may not be the best thing for that particular customer. I just don't like it when people ask me to make them my favorite drink, because everyone's palate is different. What do you drink when you're off-duty?I go for Negroni or an Americano. I love Campari in the summertime. Amor y Amargo has Americanos on tap, and it's a cool spot. Are there any cocktail trends you'd like to see die?Everyone bounces around at different bars, and I'd rather be associated with my bar than be here or there. I buy into what I'm doing and I want to stick to my thing. What's special about the PDT experience?Even if they come to PDT on Friday or Saturday, it's not going to be crazy. No one's going to be talking on the phone or reaching over you. Having a drink is an entire experience. You'll be able to have the same drink, with the same quality, any night of the week. The speakeasy thing has been beaten to death at this point. Do you ever think PDT spawned a monster?The only reason we have a secret entrance to the bar is to get around getting a new liquor license for the bar, and that's the reason it started four years ago. And people open these speakeasy bars and don't know what they're doing. Speakeasies are what ruined cocktails. Before Prohibition, cocktails were great, and then you had bartenders in speakeasies making drinks with homemade hooch and they didn't know what they were doing. Read more about Jeff Bell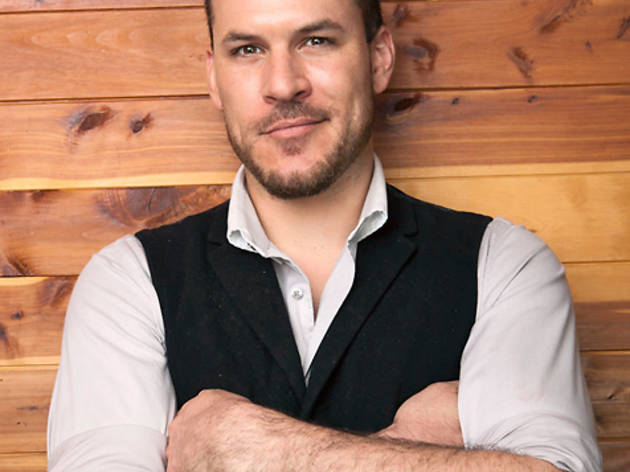 50/52
Photograph: Dale May
Jason Littrell, Death & Company Where and when can we find you?Saturdays and Sundays at Death & Company. You worked at The Randolph, a bar that's gone through various incarnations over the years. What was it like when you were there?The Randolph was crazy. I was only there three days a week. Major drug place. Lots of cocaine everywhere, lots of dope everywhere. I was at that place for about six months. And for three days I'd really treat my body like shit, and then for four days I'd really take care of myself: I would go the gym, eat right...but then Thursday, Friday, Saturday came again. And then eventually that place grew so big that it went to the Randolph Group, which is a consulting project of Sasha Petraske. People think I worked for him, but [my time] sort of predated that. I never worked at any of his places. I never worked at Little Branch and I never worked at Milk and Honey, but he trained us at the Randolph. Were you into cocktails before that?No, I was just like a vodka-soda, Cosmo bartender. So I was really fast. I had worked in clubs and dive bars. I had a reasonably impressive rsum by the time I got to the Randolph as far as versatility and speed goes. But it took, like, a year and a half with the Petraske house before I really started to apply what I had learned in the many years previous. So you think you have the ability to blend that background---being a regular, nongeeky bartender, so to speak---with the knowledge you picked up?Yeah, you know, you never stop learning. I wouldn't consider myself one of the best bartenders in New York. I'm not even the best bartender in the bar. I mean, have you seen them? Those kids are monsters. There's always more to learn. I mean, Death & Co is a study in efficiency. The way things are set up behind that bar is incredible. The mise en place is really logical, it's really organized, and it's kind of indicative of the staff there. You know, like, when we change the menu, it's a really involved process of changing the mise en place and ordering new products and phasing old products out. Doing new syrups and infusions. It's pretty incredible stuff. What cocktail trends would you like to see die?Taking this stuff too seriously. At the end of the day, we're at a bar...people go to bars to have fun. Period. You know who really nails this? Steve Schneider and the rest of the staff at Employees Only. Those guys love what they do, and you can taste it. What's the craziest thing you've seen at a bar?In ten years, I feel like I've seen a pretty comprehensive display of human behavior, from the classy and amazing, to the hideous and obscene. Sex on the dance floor. Stage dives from the bar with nobody there. Guns and knives pulled. Wedding proposals and divorces. Lots of drugs everywhere. Luckily, those days are behind me and I work at a pretty classy joint. I have worked at some seriously surly places, though. That's one of the cool things about working at a bar---life happens there. How can a patron get the best out of you? Are you sick of abiding cocktail nerds? Just having a nice, honest conversation with a total stranger can be a very rewarding thing. No, I usually don't want to talk about ice. No, I'm not too well versed on the Yamazaki's mash bill. Sorry, buddy, I don't know every drink in The Savoy Cocktail Book. Yes, it is a beautiful day, and thanks for asking me how my day is...and waiting for a response. I'm big on eye contact, mutual respect and trying to never miss a good opportunity to shut my mouth. Soapbox time: What pisses you off? What do we need to start or stop talking about?People that are always pissed off piss me off. People who bitch about people who are pissed off really piss me off. Not making fun of yourself really upsets me. Egos behind the bar, or anywhere, make my skin crawl. Granted, I'm not the best bartender in the world, but I really do give a shit about what I do, and I work very hard. We have the opportunity to make a difference every day. Read more about Jason Littrell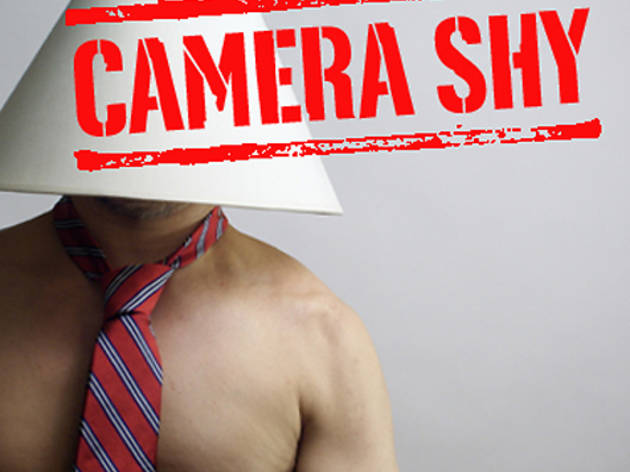 51/52
Giuseppe Gonzalez How did you get into cocktails? CliffsNotes version, please.I stared doing cocktails seriously in Boston about six years ago. Um...got sick, got cancer, got sick of Boston, decided I wanted to do it, like, hard-core and come to the greatest place on earth to learn more---that was obviously New York. So I moved here in 2006. I started working at different bars, eventually got offered a job at Per Se as the bartender there, and then got offered the job at Flatiron Lounge, working twice a week and making syrups. I had to work at Flatiron Lounge because I thought it was a great opportunity to learn and just be engrossed in cocktails. Eventually I became the head bartender there, and I would open up Clover Club, be the head bartender there. Then I would go over to Dutch Kills and be the head bartender there. And it just kept on going and going... You hit some good spots along the way. How did that lead you to open up Painkiller? I just wanted to do something a little bit more unique and more creative, and that's when I decided to open Painkilller---just something completely different. No rules, no cocktail geeks---just a completely unique vision of New York and cocktails and tropical drinks. Looking beyond Painkiller: If you could open your dream project, what would it be like? My dream would be opening something that's iconic New York---celebrating New York City, which is still to me the greatest place on earth... It's the place my family is from---we're straight Nuyorican. My father came here when he was 14. He always pledged his allegiance to the United States, but he never left New York, so I'm like, you should just pledge it New York City. So revisiting the old New York, but not necessarily in the way that the old New York has become a cliche?I don't want to open the 1920s, 1930s speakeasy-style bar. I'm trying to look at the 1970s and at stuff that played a big role in my life: hip-hop culture, graffiti, breakdancing, punk, even artist movements. Got a favorite bar in town?I go to Employees Only a lot. I get a Tom Collins and tell them to cut the sugar so it's just gin, lime and soda. I can get that anywhere, but I love going there because the guys are fun, the music is great, the bar has a great energy and they serve food late. You feel like it'san extension of your home. I'll go to Employees Only and hang out with my friends---I don't know exactly who's going to be there, but I know it'll be fun.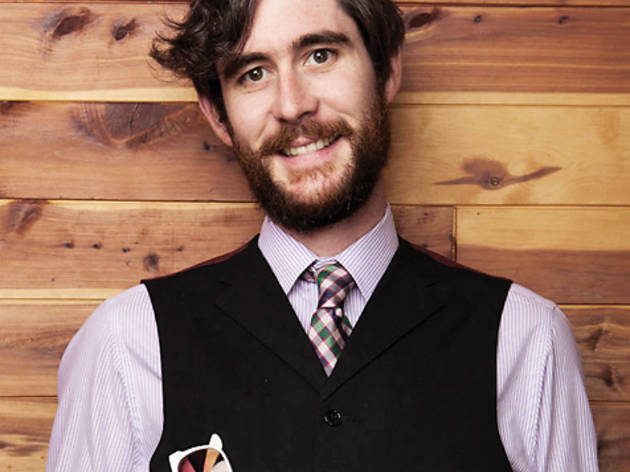 52/52
Photograph: Dale May
Brad Farran, Clover Club Where and when can we find you?Mondays, Tuesdays, Fridays and Saturdays at Clover Club. You've been at Clover Club since it opened. What direction has the bar taken since then?We've grown and have become at ease with who we are, what we are. At the beginning, as with any restaurant, there's a certain degree of identity searching. I think we've really found our footing. We're not the fancy, pretentious cocktail bar. We're your neighborhood joint which serves fancy drinks and great food and we love what we do. Do you have a style behind the bar?I'd like to say it's a relaxed, easy kind style. I'm just as happy to pour somebody a vodka tonic as I am to have them geek out about a Manhattan. I like to define my style as intuitive. I like to feel out what people want and the experience they are looking for without needing to ask. What have you seen around town lately that's excited you?Things are getting more relaxed and less serious. Just make a good drink and serve it with a smile on your face. That's a philosophy I can agree with.... Salt is something we use a lot here. Over the past year we have really used salt to augment the flavors [of cocktails]. What else are you working on?I've been working with Nick Jarett to create a mobile pop-up bar that's green. El Dorado is the project's name---for Jerry Thomas's Gold Rush bar that he had in San Francisco. We wanted to come up with new techniques that essentially move the industry forward. One of the big challenges we're going to address is how to reclaim and reuse water so there's less waste. Read more about Brad Farran
52 bartenders
Meet more of the city's best barkeeps and booze hounds.