Cold-weather drink trend: Nutty winter cocktails
As the temperature drops, bartenders are reaching for nut-based liqueurs and extracts to sweeten seasonal quaffs.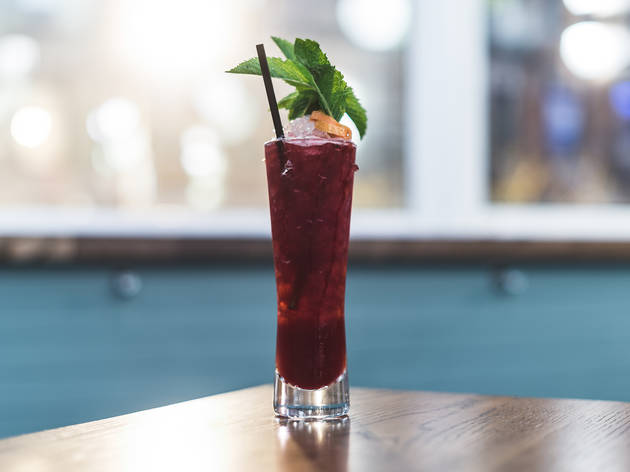 1/6
Photograph: Loren Wohl
The Form of Flattery at Pouring Ribbons 225 Ave B between 13th and 14th Sts (917-656-6788, pouringribbons.com). $14. The booze: The bar's homemade falernum (an almond-and-clove-flavored syrup) combines two rums (turbocharged Lemon Hart 151 and white Caña Brava) with almond, ginger, demerara sugar and nutmeg, giving it a gingersnap-like kick.The drink: Intense falernum lends a deep, spiced sweetness to this winter tiki tipple. The drink's vegetal backbone—compliments of salted beet extract—is brightened by lime and pineapple juices and shot through with molassesy El Dorado 12 Year rum.Kindred cocktails: Add some zing to a daiquiri with a commercial brand, such as John D. Taylor Velvet Falernum, available at liquor stores like Union Square Wines.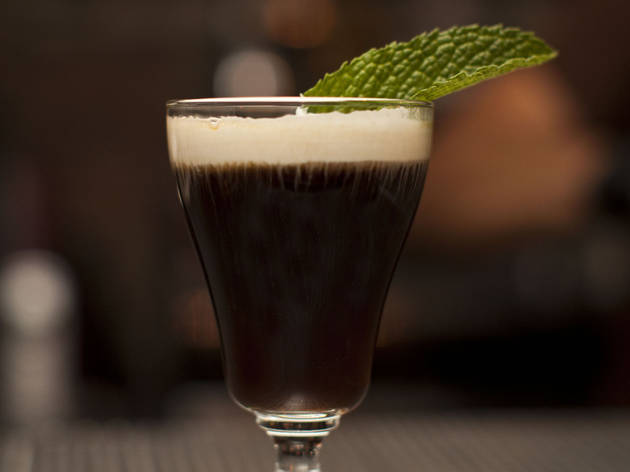 2/6
Photograh: Jolie Ruben
Gaelic Coffee at Middle Branch 154 E 33rd St between Lexington and Third Aves (212-213-1350). $12. The booze: Old-school digestif Lazzaroni Amaretto—produced in Saronno, Italy, since 1851—combines a brandy base with the flavor of the town's famous almond cookies.The drink: The amaretto's sweetness takes the edge off of this supercharged Irish-coffee variation. A velvety shot of bitter espresso enriches a woody Irish-whiskey-and-Scotch base, topped with a snowy peak of whipped cream.Kindred cocktails: Make like an Italian grandpa and use it in an amaretto sour, or as a postdinner sipper on the rocks with a lemon wedge.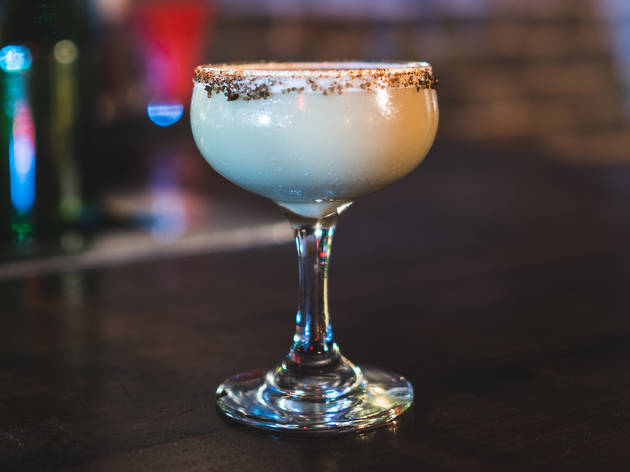 3/6
Photograph: Loren Wohl
Cathee's Cacahuete at Evelyn 171 Ave C between 10th and 11th Sts (no phone yet, evelynnyc.com). $11. The booze: Castries, made with roasted peanuts from the island of St. Lucia, is a creamy rum-based spirit with hints of vanilla and baking spices. The drink: The peanut liqueur binds together a seemingly preposterous roll call of ingredients: mescal, crème de cacao, aged rum, Lactart (a natural acid), and a whole egg. In a single sip, the buttery, dessertlike flip morphs from Snickers bar to spicy hot chocolate. Kindred cocktails: Go on, it's the season for indulgence: Employ a splash for an even smoother White Russian.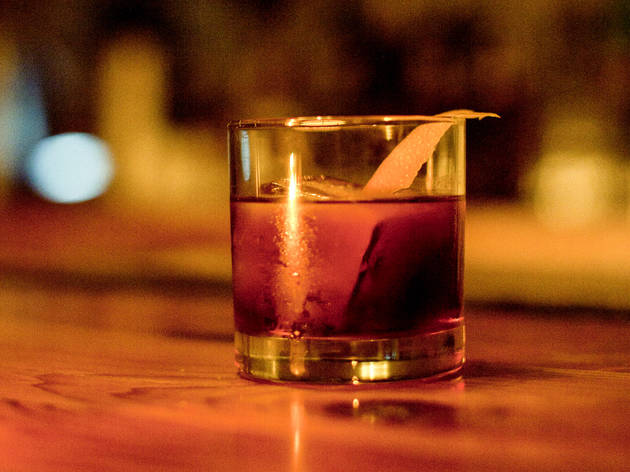 4/6
Photograph: Jolie Ruben
Two Men & the Ocean at the Counting Room 44 Berry St at North 11th St, Williamsburg, Brooklyn (718-599-1860, countingroom.com). $13. The booze: Nux Alpina—a traditional Austrian liqueur—gets its rich, fragrant character from grape-brandy–steeped walnuts and alpine botanicals (such as pine buds). The drink: This frosty aperitif's combo of amari (Pimm's No. 1, Cocchi Americano, Bonal, Campari) strikes a sweet, herbal chord. But the walnut booze underscores deeper, bitter flavors like quinine and gentian (a flower root) in its liquid partners, adding complexity to the boozy nip. Kindred cocktails: Use it to mellow out amaro-heavy classics like the Negroni, or to spike a holiday punch.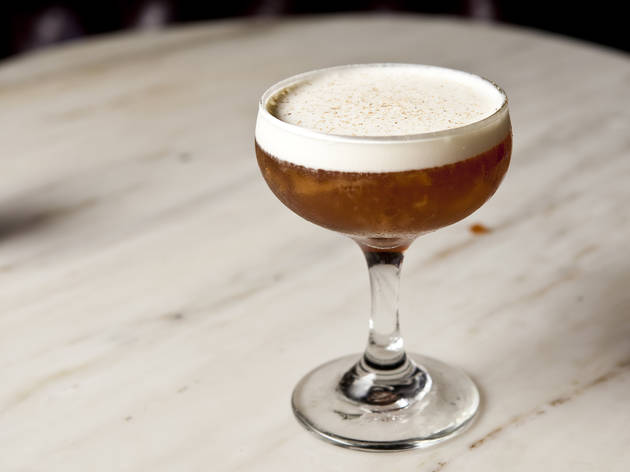 5/6
Photograph: Jessica Lin
Table Talk at Clover Club 210 Smith St between Baltic and Butler Sts, Cobble Hill, Brooklyn (718-855-7939, cloverclubny.com). $12. The booze: Italian hooch Nocello, which hails from Emilia-Romagna, has walnut and hazelnut notes, and a dense, smoky body. The drink: The nut liqueur boosts the pecan-infused rum in this fleecy cocktail, bringing to mind a classic Thanksgiving pie. Cinnabark syrup provides an earthy sweetness, and a thick layer of cream reps the dollop you'd get on a slice. Kindred cocktails: Substitute in place of Baileys for a more full-bodied Irish coffee.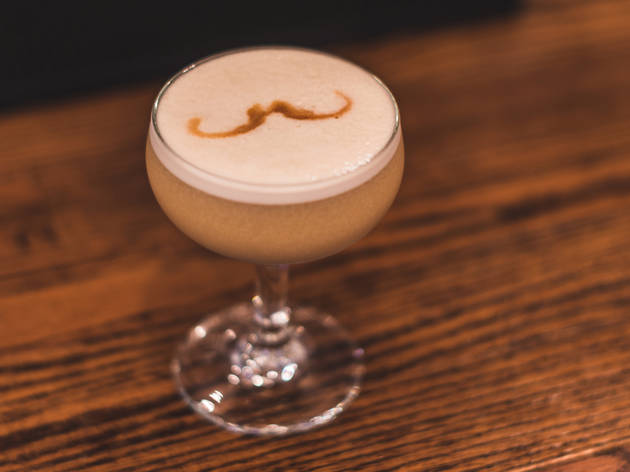 6/6
Photograph: Loren Wohl
Mustachi-ode cocktail at Booker and Dax 207 Second Ave at 13th St (212-254-3500, momofuku.com/new-york/booker-and-dax). $14. The booze: The wizards at Momofuku's mixology lab create their own pistachio orgeat (typically made with almonds) by spinning the nuts in a centrifuge, extracting essential oils and fats and removing the gritty solids. The result is a concentrated, creamy liquid. The drink: Here, the orgeat transcends its usual accent status in cocktails to steal the scene. The pistachio syrup floats atop a base of Wild Turkey bourbon, fluffed up with egg white. Bittersweet Amaro Nardini rounds it out, while an anisey nip of Becherovka keeps the finish dry. Kindred cocktails: Use a store-bought orgeat (like Fee Brothers) to add an exotic note to your next old-fashioned or margarita.  
cold-weather
bar
menus across town. Long written off as saccharine and unsubtle, nut-based spirits are making a comeback, lending depth and complexity to new cocktails. These six tipples feature a range of specialty liqueurs—from a traditional amaretto to a centrifuge-spun pistachio orgeat—and their unique uses. Grab one of these highlighted bottles and experiment at home over the
holidays
.