Heads up! We're working hard to be accurate – but these are unusual times, so please always check before heading out.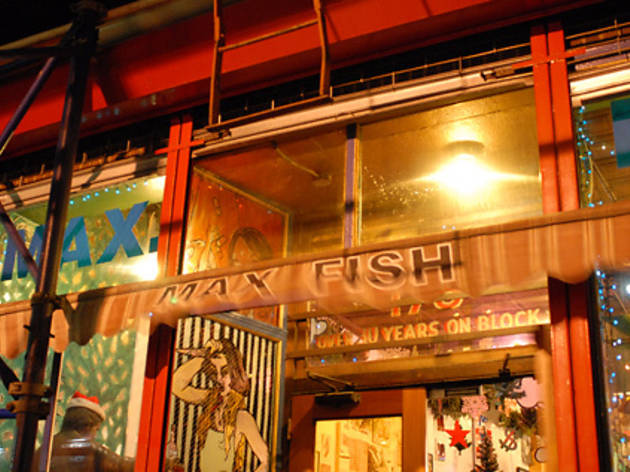 1/14
Ulli Rimkus, owner I wanted to have a place where people [could] come and hang out—not to get drunk, that was never the point. The artists always played a very important role in this place. We were hosting art shows before we even started the bar, when we were still getting everything together.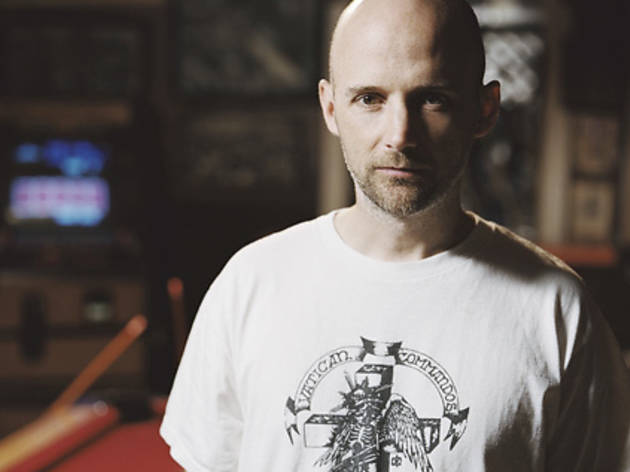 2/14
Photograph: 1996-98 AccuSoft Inc., All right
Moby, musician One of the things I loved about Max Fish was that it was almost an antibar. It was brightly lit and the music was never very loud. For some reason it worked perfectly. I had a list of things in the neighborhood that, were they to go away, then so would I. Max Fish and Mars Bar were both on that list...I remember at one point in the early '90s realizing that every single person I knew had had sex in one of the bathrooms—one friend in 1992 was physically removed from the bathroom in coitus interruptus.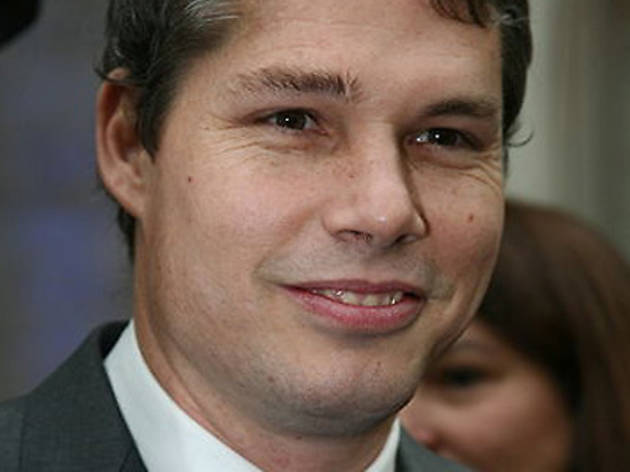 3/14
Shepard Fairey, artist I first went to Max Fish in 1994. The Alleged Gallery was on Ludlow, right next door, and Carlo McCormick from Paper Mag both curated the first show I was in at Alleged and was the weekend host at Max Fish. I was broke back then, so I loved that Carlo was generous with beer. He really tried to cultivate a cool artist crowd in there. Max Fish represents a melting pot of ethnic and bohemian diversity. Low-key, unpretentious and creative. I never felt underdressed or unwelcome there.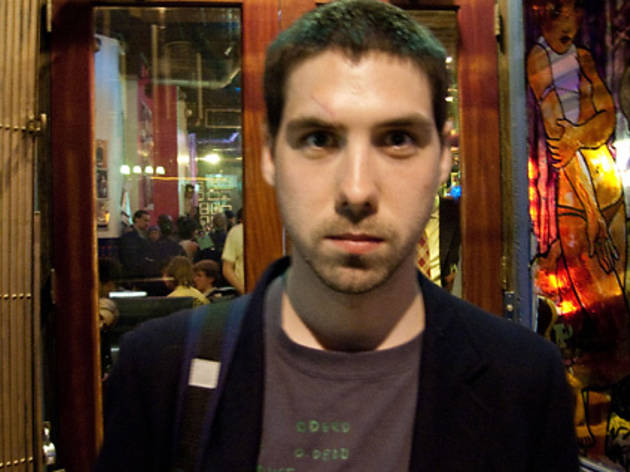 4/14
Photograph: Stefano Giovannini
Leo Fitzpatrick, actor (Kids, The Wire) The crowd—love them or hate them—made the Fish special. You had to be secure in yourself to hold your own in there, 'cause if you weren't, the bright lights made sure you'd be exposed real quick...It will always have a place in my heart. I used to call it my living room. I'll just miss the feeling of simply stopping by for a drink and staying all night, bumping in to all sorts of characters and letting it take you for an adventure.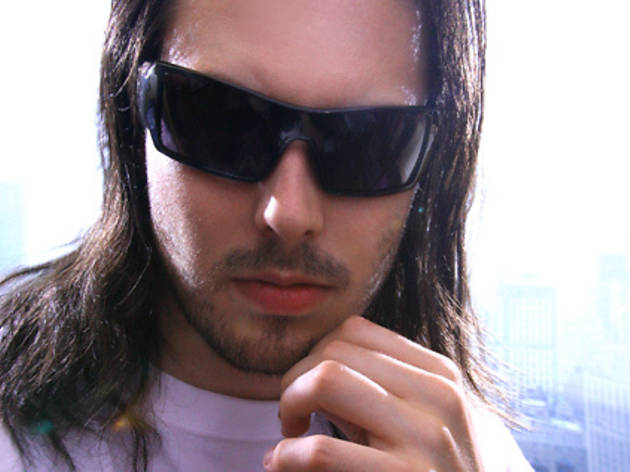 5/14
Photograph: Andrew Strasser
Andrew W.K., musician Max Fish partied hard. The first time I went to Max Fish I remember thinking, "Whoa, it's really bright in here." It was a dreamlike kind of foggy yellow light. Perfect, warm, shadowless overhead light. I always thought it was such an intense atmosphere, but it somehow created a party by default—effortless good times with an edge of unpredictable consistency.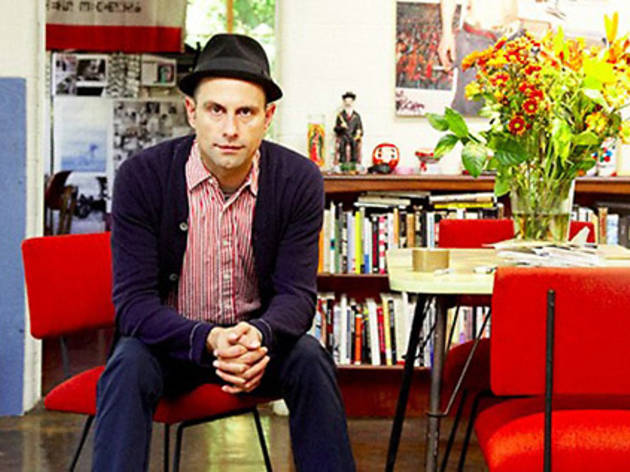 6/14
Aaron Rose, film director/art curator (Beautiful Losers) It's been a hub where two generations of artists have been able to meet each other and collaborate and share ideas. It was the center of the artistic community, in terms of socializing, for over a decade. It could possibly end up being as important as CBGBs, or Cedar Tavern for the Abstract Expressionists. I owe my life to Allan, one of the bartenders there. One night, late night—it must have been '95—there were these jocks at the bar. They were really wasted and started talking shit to me. I was talking back and the guy ended up pulling a gun on me at the bar. Everyone at the bar saw it and hit the deck. Allan stepped out from behind the bar and stood right in front of me and said, "Shoot me." Which says a lot about how that bar worked. I can't think of many bartenders who would step out and offer to take a bullet for one of their customers. And the guy wouldn't pull the trigger. He left.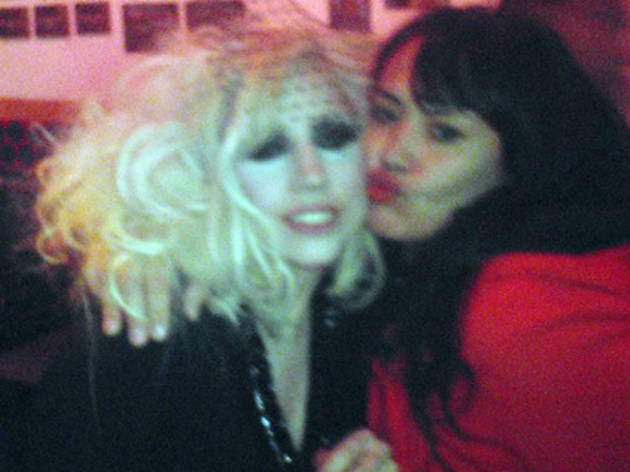 7/14
Pictured: Lady Gaga (Photograph: Gavin McInnes)
Carlo McCormick, Max Fish host/art editor of Paper Magazine If a celebrity wanted to go somewhere to get noticed, Max Fish would be the last place they'd want to go. They came there so they could hang with their date and have a normal drink. Because they knew Max Fish would never call Page Six the next day... Word of mouth spread through all the bands touring the country that if you wanted a place to stay up and drink and do drugs all night, that was the place to go.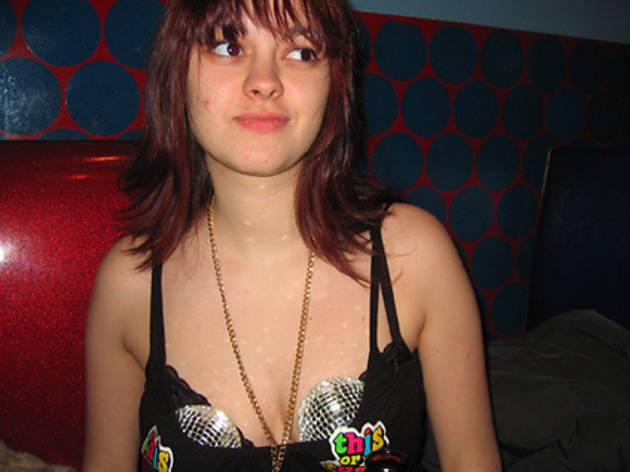 8/14
Photograph: Gavin McInnes
Gavin McInnes, writer/Vice cofounder A band manager once gave me a great travel tip: When you arrive in a new city, tell the cab driver you want to go to the "punk bar." There's no such thing as a punk bar, so you end up at what an immigrant would consider punk, which ends up being the most popular weirdo bar. In Montreal it's Le Biftek. In L.A. it's the Rustic Inn. In New York, it is Max Fish...The thing I loved about Max Fish back then [in 1999] was how balls-out and mean everyone was. I was still wearing Canadian streetwear and strangers like [fashion designer] Matt Damhave would come up to me and go, "Nice pants, do they come in men's?" After a few more insults like that I just thought, "I'm home."I couldn't do a lot [of the Vice column "DOs & DON'Ts"] there because those contrasting circles on the wall are so distinctive you instantly knew where it was. There was this one [pictured above], which was a DO, and simply said, "Disco Tits." One night I was at a bar on Rivington where the deejay butted in front of me to go pee because he gets special rules. I jumped in front of him and locked the door behind me, but when I came out he had the bouncers waiting to kick me out. I was so mad at myself for not punching him, it ruined my night. When I got to Max Fish the bouncer, a gigantic man called Dan Graff, asked me why I was so bummed out. I told him and he goes, "Punch me." I asked if he was serious and he goes, "Gimme your best shot." So I hauled off and nailed him in the face as hard as I could and he just smiles at me and goes, "There, you feel better now?" I did actually, a lot better, so I bought him a shot and that was that.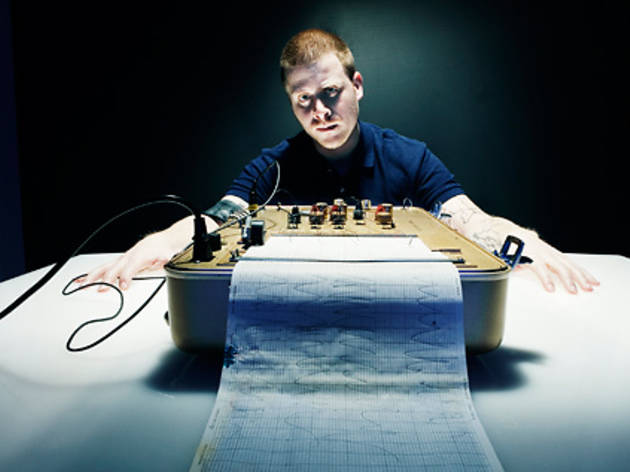 9/14
El-P, rapper/Definitive Jux cofounder [A typical Max Fish night involves] shit-tons of cheap drinks, great music, women, talented musicians, the occasional fight, creeps, weirdos, hood cats, hipsters, old and young people, genuine NYC freaks and artists...all bugging out and having fun together. NYC is pricing out one of its unofficial cultural landmarks yet again. Good job, assholes.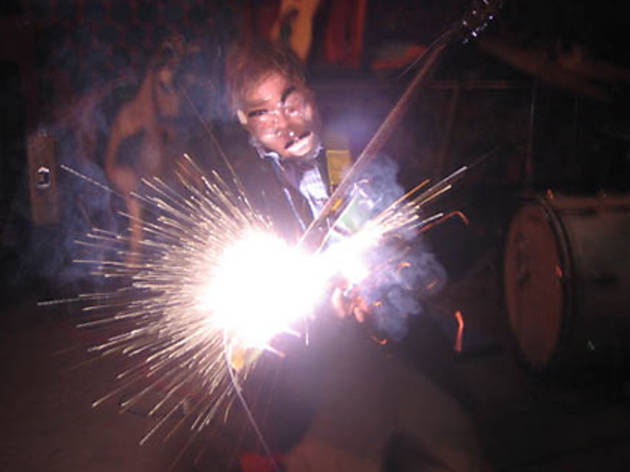 10/14
Photograph: Epicly Later'd
Wilder, Max Fish bartender/musician I've been around the world just throught the musicians I've met working here. I got to perform with El-P when he was on Conan. Max Fish has a TV that doesn't get any reception, but afterward we went and jury-rigged it with all this aluminum foil and stuff until we got a crappy picture. We knew there was no other place we could watch the performance but the Fish. John Drury, Max Fish bartender/artist I've been working here 20 years. For me, it's been great. Most bartenders here are either artists or musicians, so it's rare to have a job where you can leave for a month at a time. It accommodates the artist. That's really what this place is, an incubator for creativity. No joke, I once saw a woman put a miniature Doberman on the bar, flip it over and [perform fellatio] while everyone watched.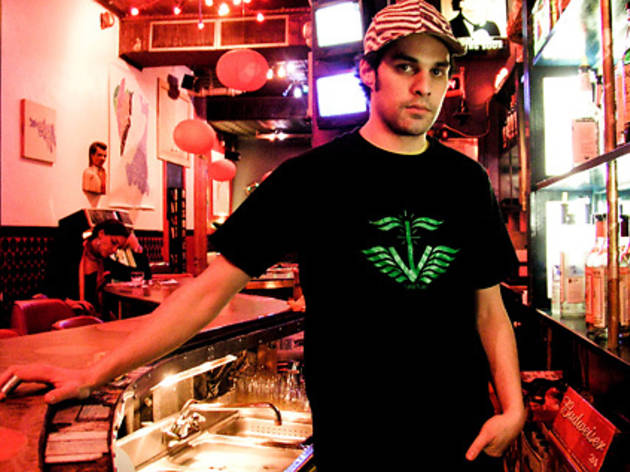 11/14
Pictured: Bartender and skater Tino Razo (Photograph: Stefano Giovannini)
Dante Ross, music producer/former Elektra Records A&R (Busta Rhymes, Carlos Santana) I started going to Max Fish in 1991. My close friend at the time Jeremy Henderson, the old pro skater and de facto leader of the gang, lived around the corner. He always wanted to meet up there, so it slowly but surely became the skater bar of choice. I remember hanging with Everlast while I made Whitey Ford Sings the Blues, drinking and thinking about the music we had just made. Someone asked him if he was Everlast. He said yes, and they said, "Oh." We went there 'cause nobody gave a shit about us, House of Pain or what we were doing.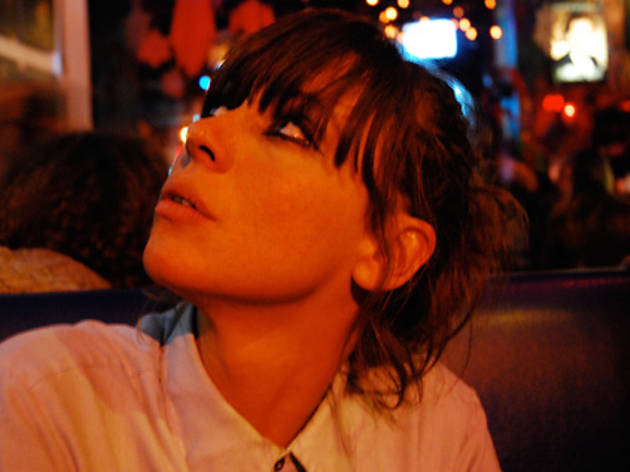 12/14
Pictured: Cat Power (Photograph: Stefano Giovannini)
Matt Sweeney, musician (Cat Power, the Dixie Chicks) All the early Matador [Records] bands hung out at Max Fish back [in the early '90s]—Unsane, Surgery, HP Zinker, Blues Explosion, etc. Back then it was fun because you could find out what was going on with bands and hear about good new records just from going there. It was super friendly back when Ludlow Street was not so friendly...I remember Keith Urban and his mom partying hard [at Max Fish]—that was amazing to see. Max Fish is like the Sesame Street for a bunch of artists, skaters, musicians, actors and heads. A village green. Horrendous to think that greed and short-sightedness of that landlord is stopping such a sweet place.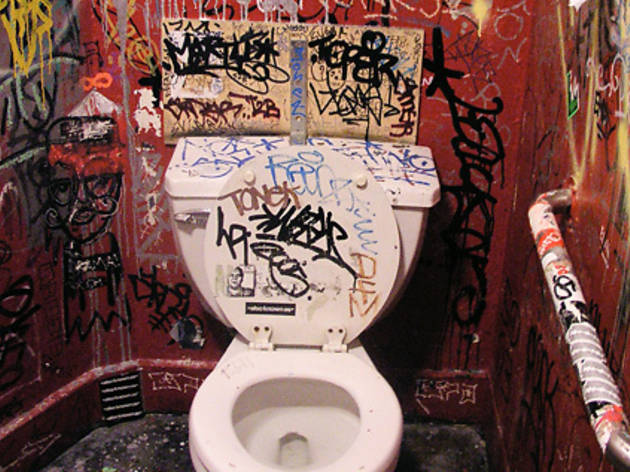 13/14
Photograph: Stefano Giovannini
Stefano Giovannini, photographer Max Fish was a place where there was always someone I knew and often something happening. It was more than just a bar. It was the hangout of a block where people made and shared art. There was no barrier between different social, celebrity, cultural levels...When I started coming to NYC in 1994, artists and musicians gravitated in a small universe, and the shows and art openings were always packed and crazy. Many people I knew have moved elsewhere now. Friends here are all scattered around. I feel at the time of the Fish there was a social and creative cohesion.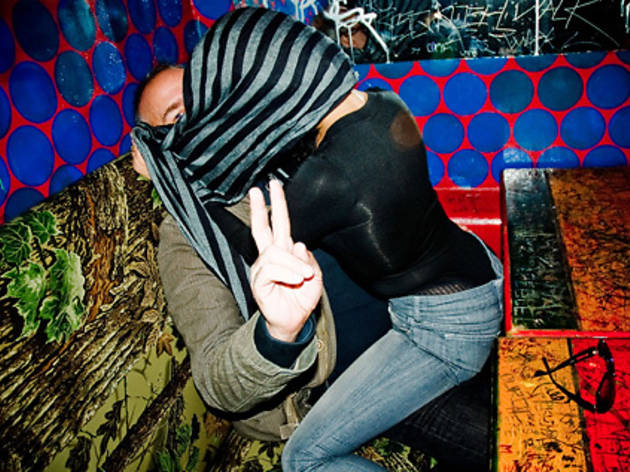 14/14
Pictured: Random canoodlers (Photograph: Stefano Giovannini)
Elie Z. Perler, Bowery Boogie founder A Ludlow without the Fish seems incomprehensible. [When it closes next year] the neighborhood will have lost a true community character. It always extended its middle finger, as it were, to the rampant forces of change; it was always a reminder of punk-ass youthfulness, an aesthetic on which developers effortlessly seized during the prerecession area gold rush.