Heads up! We're working hard to be accurate – but these are unusual times, so please always check before heading out.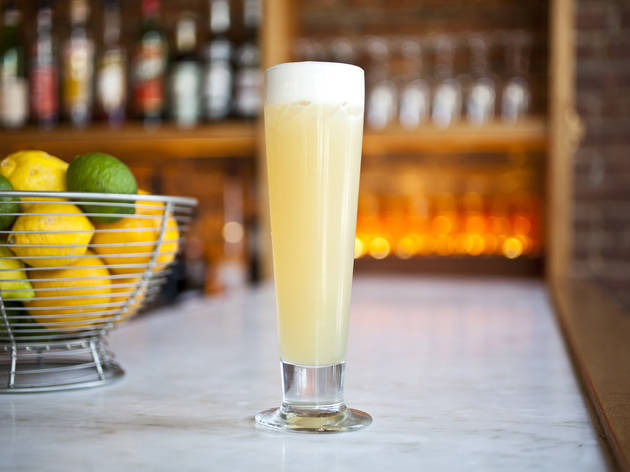 1/5
Photograph: Virginia Rollison
Session cocktail: Brooklyn Shandy at WoodlandBeverage director Martim Smith-Mattsson tweaks the classic beer-and-citrus shandy for this low-key libation, substituting the usual sugary lemonade with locally sourced ingredients. He amps up the fruit flavors of Applejack, a robust earthy brandy, with an infusion of tart Granny Smiths and sweet McIntoshes, plus a slug of gingery cider syrup. The timeless combination of apple and ginger is lightened with a frothy pour of Blanche de Bruxelles witbier. 242 Flatbush Ave between Bergen St and St. Marks Ave, Park Slope, Brooklyn (718-398-7700). $10.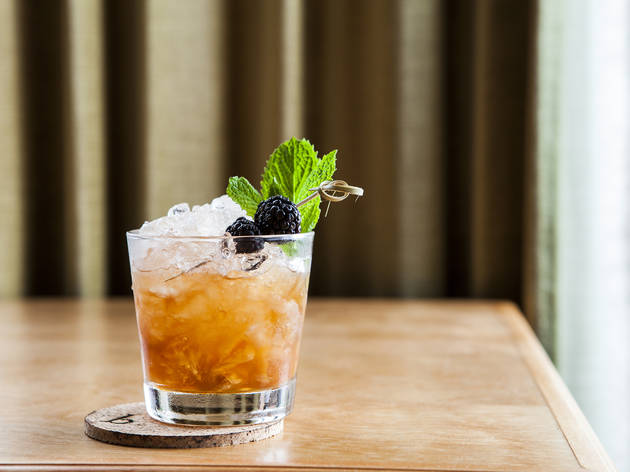 2/5
Photograph: Jakob N. Layman
Session cocktail: Amaro Cobbler at BotanicaBarkeep Dan Carlson summons Mediterranean and Caribbean flavors for this mellow nip, which toys with the framework of a 19th-century sherry cobbler. The Alpine aromatics of silky Amaro Nonino and the nutty spice of Lustau East India Solera sherry mingle with two potent dashes of Angostura bitters over a heaped cone of chipped ice. The final flourishes: fragrant strips of lemon and orange peel, whole juicy blackberries and an aromatic drizzle of sweet Dominican chocolate liqueur. 220 Conover St at Coffey St, Red Hook, Brooklyn (347-225-0148). $11.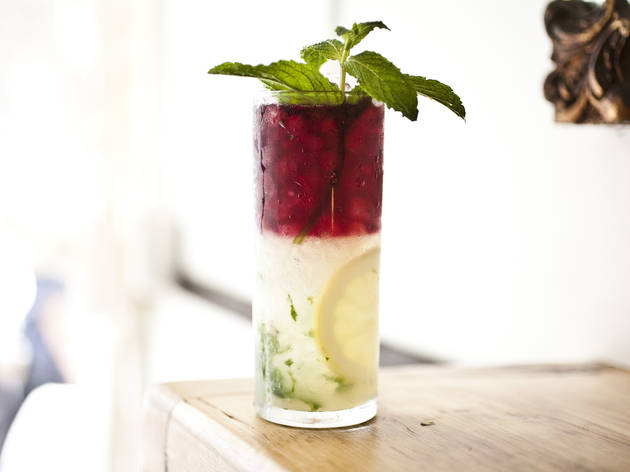 3/5
Photograph: Jolie Ruben
Session cocktail: Vino Verano at ElsaAt this airy East Village spot, bar manager Brandon Davey borrows a Mediterranean concept to give wintry red wines some warm-weather staying power. The term vino verano translates from Spanish to "summer wine," and covers a broad category of chilled red-wine recipes. For the Elsa rendition, Davey tames a spicy pinot noir with tangy orange bitters and freshly muddled mint lemonade. It's served dark-and-stormy-style, the tiered layers of citrusy transparent fizz and deep ruby vino melting together as you sip. 217 E 3rd St between Aves B and C (917-882-7395). $11.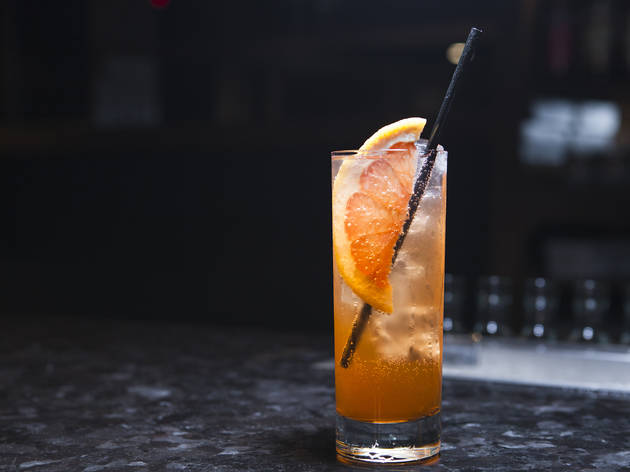 4/5
Photograph: Jakob N. Layman
Session cocktail: Heads Up at Demi MondeVermouth has long been a sidelined ingredient, supporting beefier gin in the martini and other classic drinks. But this quencher, which blends bittersweet aperol with watermelon-infused Dolin Blanc vermouth, gives the fortified wine a starring role. The Heads Up sips like a soda pop, thanks to a glug of house-filtered seltzer and bracing acid phosphate—an erstwhile soda-fountain staple used to boost sourness. 90 Broad St at Stone St (212-248-7220). $14.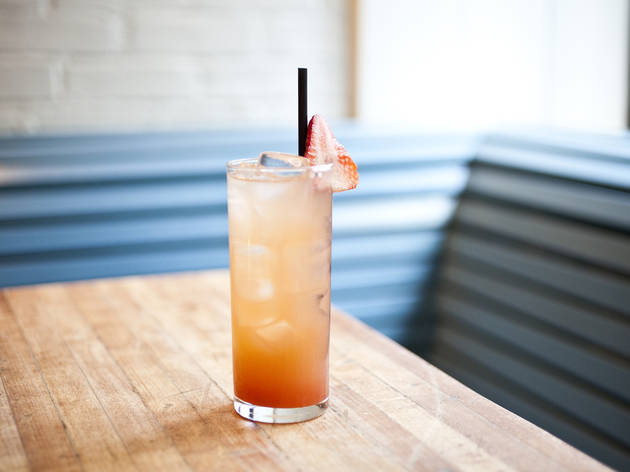 5/5
Photograph: Virginia Rollison
Session cocktail: Honeymoon in Red at Northern SpyGreenmarket-sourced strawberry and rhubarb—a twosome more commonly found in pie crusts than in collins glasses—supply the Honeymoon in Red's vibrant sweet-tart spine. Northern Spy co-owner Chris Ronis boils the fruit down to a syrup and tempers its sugar with bittersweet Lillet Blanc and aromatic cardamom bitters.  511 E 12th St between Aves A and B (212-228-5100). $10.
Session cocktail guide: the low-alcohol summer trend hits NYC
You've heard of session beers—low-alcohol suds engineered for extended sipping throughout an afternoon. Now meet the session cocktail.
The trend toward low-alcohol quaffs has been simmering for several years. First came session beers, with a dialed-down booze content designed for all-day drinking bouts. Now cocktail bartenders are following suit, with low-octane drinks that rely on less-potent ingredients like vermouth, sherry and amaro. Low-alcohol cocktails can convey as much flavor and complexity as many boozier drinks. But they are also much more food friendly because they don't overwhelm the palate. Barkeeps around town are tinkering with easy-sipping potions, devising all manner of tweaked aperitifs and low-alcohol cocktails, so that you can keep tippling late into the evening. Here are some of our favorites—why not have another?
You might also like
New York's ten game-changing cocktails
Best cocktails for brunch
Cutting-edge cocktail trends
New York's 41 best cocktails
Session-beer crawl