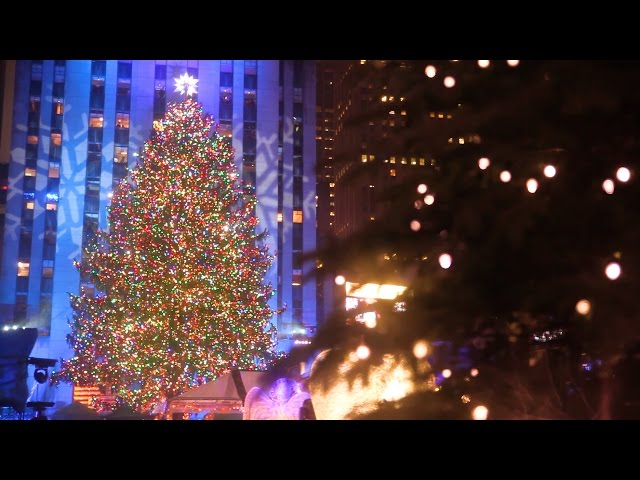 Tree and holiday lightings are a sure sign that it's officially Christmastime in New York, and the ceremony for the iconic Rockefeller Center Christmas Tree, a Norway Spruce, is tonight at 7pm. We've found the 11 most impressive stats for you to discuss at your holiday cocktail party. And if you want to go watch the lighting in person, head to Rockefeller Plaza tonight at 7pm. Oh, and if you don't want to get stuck in a massive crowd of Christmas fanatics, stay far, far away.
RECOMMENDED: A full guide to the Rockefeller Center Christmas Tree
Average number of people who visit the tree—daily—during the holidays: 750,000
Distance the tree traveled to get here from the front yard of a house in Gardiner, NY: 96 miles
Height of the tree: 78 feet
Number of multicolored, energy-efficient LED lights decorating the branches: 45,000
Length of the lights' wire that's wrapped around the tree: 5 miles
Number of lights on the tree at the first lighting ceremony in 1933: 700
Weight of the tree: 10 tons—that's 20,000 pounds.
Number of crystals on the Swarovski star topper, which twinkles thanks to customized light sequencing: 25,000
Approximate age of the tree: 80
Number of trees there were at Rockefeller Center in 1942, to support WWII troops: 3 (each was decorated in red, white or blue)
Year the very first Rockefeller Center Christmas Tree was erected: 1931—it was put up by construction workers and had tin cans as decorations instead of lights.
The tree will be lit every day from 5:30am to 11:30pm until January 7, all day on Christmas, and from 5:30am to 9:30pm on New Year's Eve.