New York City has set the stage for hundreds, maybe even thousands of films and television shows dating as far back as the medium itself. Whether it's a feature film, long standing series or movie-short, the cityscape often plays a significant role in the plot line. But among the glass skyscrapers and back alleyways are the rooms and buildings featured in those memorable cinematic scenes, many of which have their own unique story to tell. From The Royal Tenenbaums to The Godfather, ahead we've compiled a hearty list of star-studded addresses throughout New York City—plus few in the city's environs.
We all have of dreams of escaping our everyday lives to explore the world beyond our own doorstep, and that's exactly what Elizabeth Gilbert does in her book Eat, Pray, Love. Featured in the Julia Roberts movie version of the best-selling title is this lovely 19th century firehouse located in Cobble Hill, Brooklyn. The home is situated on a charming shade-dappled block surrounded by a myriad of cinematic qualities, including a street filled with quaint 19th century houses. The structure was originally built as a fire station but was later converted into a residential unit, and today it is owned by none other than singer Norah Jones. Get a look at its original interiors here, as Jones has started plans to completely revamp the inside and the back of the home.
Any fan of the showGIRLS will remember this dream house featured in the episodes where Lena Dunham's character was swept up in a dreamlike affair with a handsome doctor. Much like the affair itself, the home featured in those episodes was breathtaking and memorable. While in TV land the passionate relationship took place in Greenpoint, in reality, the 5,600-square-foot landmarked home is located in Fort Greene and owned by the actor/screenwriter/interior designer Billy Morisesette. Morisesette recently listed the home for $5.6 million, giving us an up-close look inside its five stories. Highlights include a sprawling deck, landscaped yard, glass walled sunroom and elegantly curated interior.
Before Lena Dunham exploded onto the scene with the HBO series GIRLS, she was the writer and lead actress in the 2010 indie flick Tiny Furniture. In this film, Dunham plays an angsty New York twenty-something who lives in a massive Manhattan loft with her spiteful younger sister and egocentric artist mother. The loft used as the location for Tiny Furniture actually belonged to Dunham's parents and is located in Tribeca at 16 Desbrosses Street. The 3,600-square-foot home was previously a textile warehouse and was re-designed by Architect David Bers into the bright, airy and inspiring space that it is today. Designer Nick Dine and pop artist Jim Dine also worked on decorating home's interior.
Since Friends first aired on network television in 1994, the living situation of Monica and Rachel has been subject to much debate given the pair's ongoing unemployment issues. As Friends buffs will tell you, their apartment building is officially located at 90 Bedford Street at the corner of Grove Street in Greenwich Village—an area that happens to be one of NYC's priciest, and well out of the price range of a sous chef and a waitress. So to fill this quite large plot hole, the show's writers craftily circumvented the flub by citing New York City's rent control laws as reason. As the story goes, Monica inherited the apartment from her grandmother, which rightly justified her and Rachel's insanely low $300 a month rent. But there is still another flaw that was never explained: Rachel and Monica's balcony. When looking at pictures of the actual building, one can easily see there are no balconies on the facade. But alas, this is what happens when a show is almost entirely filmed on a studio lot in Hollywood.
Although it ended over a decade ago, Sex and the City remains one of New York's most iconic television series, and today thousands of folks still flock to the many locations featured in its episodes. Unfortunately for the family who owns 66 Perry Street in Manhattan's West Village—where Carrie's fictional home is located—these same people have become an ongoing nuisance. In fact, to keep overzealous fans off their property, the owners have permanently installed a metal chain and "no trespassing" sign at their front stoop. And to add insult to injury, in September 2014, Sarah Jessica Parker used the stoop as a backdrop to display her then debuting shoe line, the SJP Collection, in spite of the residents' obvious disapproval.
Holly Golightly, the main character in the 1961 film Breakfast at Tiffany's, was played by the beautiful Audrey Hepburn, and she resided in an equally beautiful home at 169 East 71st Street in Manhattan's Upper East Side. While in the film the home's story is obviously fictional, the actual history of the brownstone's ownership comes complete with a movie-worthy plot line of its own. Prior to its sale to the illusive Cyprus-based Costalea Holdings Limited, the home belonged to former Merrill Lynch broker Peter E. Bacanovic, the infamous employee allegedly responsible for busting Martha Stewart for insider trading and landing her in jail.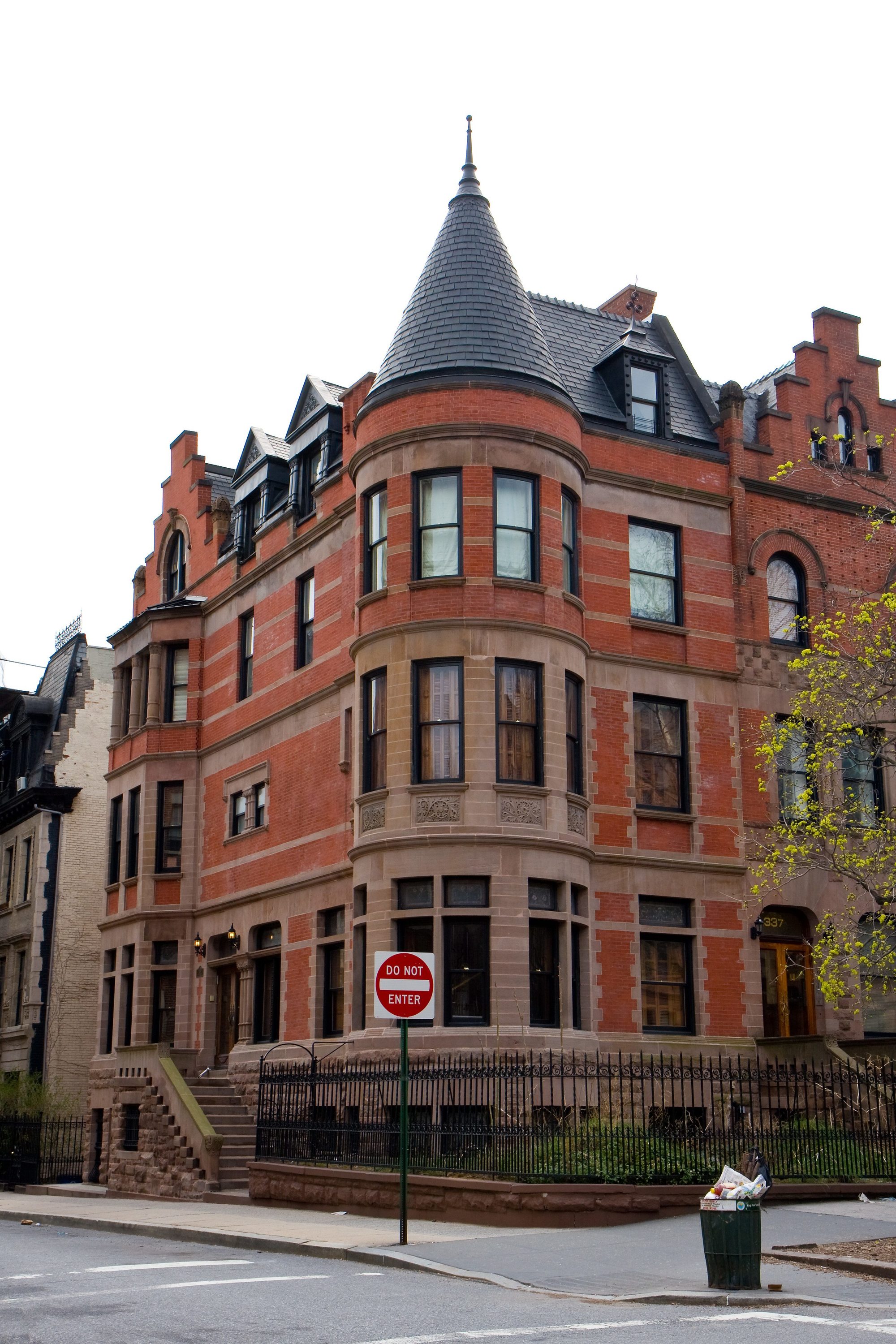 Wes Anderson's movies have become a cherished institution, and one of his earliest films, The Royal Tenenbaums, certainly helped build this legacy. The home featured in the movie is located on 144th Street and Covenant Avenue in Harlem (just north of City College), and interestingly enough, Anderson and his location scout found it before Anderson even began working on the Tenenbaums script. During production, Anderson rented the digs for six months, and during the stretch he shot a number of exterior and interior shots that would later be prominently featured in the movie. The home is currently occupied as a private residence.
The 1990s crime thriller Ghost starring Demi Moore and the late Patrick Swayze takes place all throughout New York and features well-known stretches of the city and even some dramatic subway violence. But the real action (i.e. that sexy pottery scene) happens in a light-filled loft located at 102 Prince Street in SoHo. This incredible home measures 4,341 square feet and has its own private key-lock elevator, double entry doors and cast iron columns—not to mention incredible views of downtown. The home was put on the market back in April 2016 and is currently available for purchase for a "reduced price" of $9.35 million.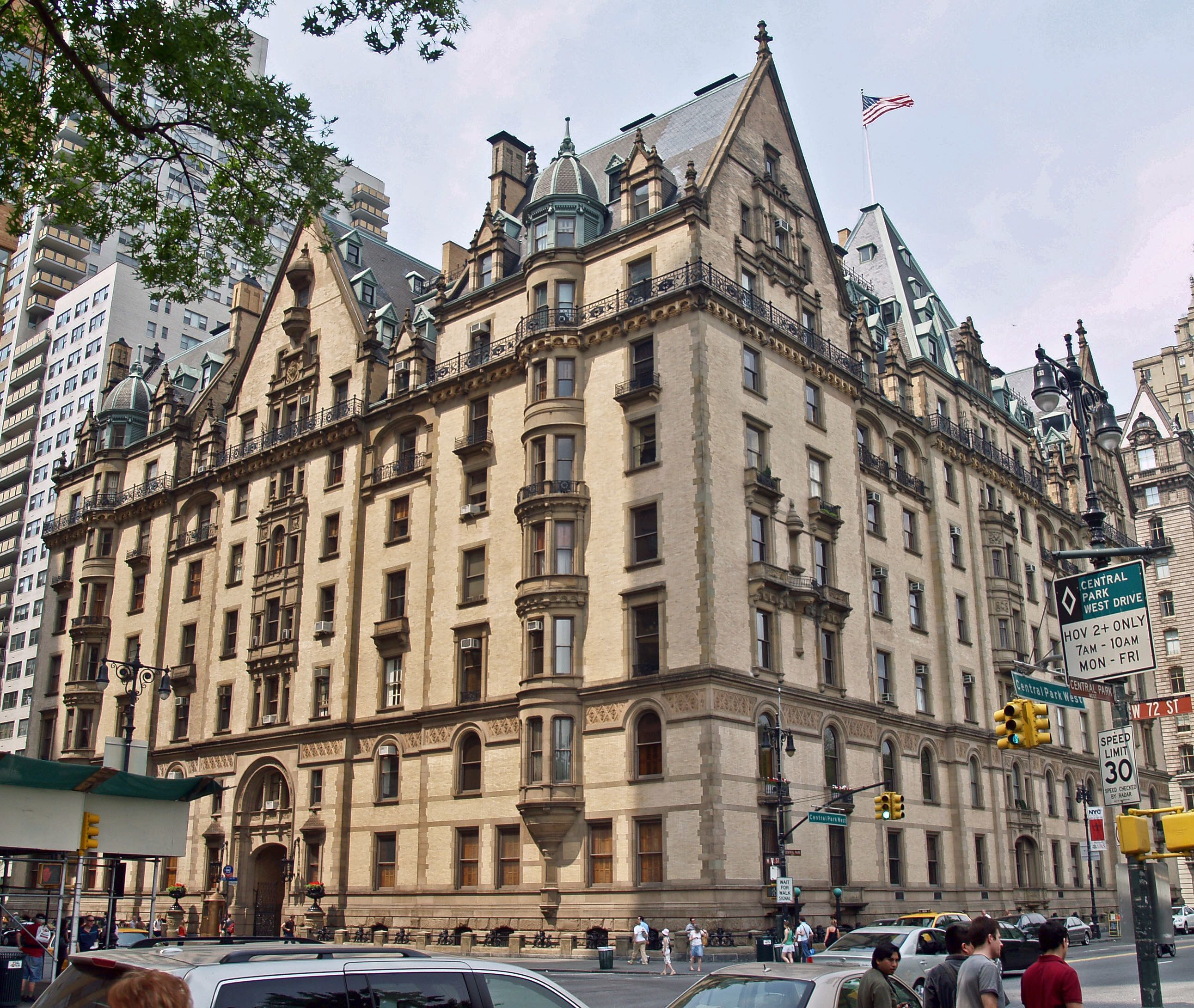 In the film Rosemary's Baby, Mia Farrow and Guy Woodhouse portray a young couple that's just moved into an Upper West Side apartment building with a less than stellar reputation. In the film, the two characters become friendly with their neighbors, a seemingly affable older couple. However, as they spend more time with their new friends, strange things start to happen. The building where the movie was filmed is the infamous Dakota (where John Lennon was also killed) located on the northwest corner of 72nd Street and Central Park West. The original plans for the structure were designed by the architectural firm of Henry Janeway Hardenbergh, the same firm responsible for the design of the Plaza Hotel. With its high gables, deep roofs and terracotta spandrels, the building's ornate exterior is North German Renaissance in character and provides a style that lends beautifully to the dark and theatrical vibe of the horror film.
A character like Don Corleone lives far beyond the screen, and the house used in The Godfather, the epic film about a notorious New York mob family, is also still standing. The Todt Hill mini-mansion is located in Staten Island at 110 Longfellow Avenue. The 6,248-square-foot home was built in 1930 and was given a modern interior update via gut renovation by its previous owners in 2014. Thankfully, though, the exterior was left almost unchanged from when the home first debuted back in 1972 as the backdrop of the opening wedding scene.
In the AMC series Mad Men, Don and Betty draper lived out their marital bliss in a picturesque upstate colonial—and from the very first episode, the same cookie-cutter house set the stage for Don's floundering double-life. In the show their home is in Ossining, New York, but the real property is actually located at 90 Forest Avenue in the Forest Heights neighborhood of New Rochelle. The tasteful six-bedroom house was built in 1914 and still has many of its original architectural details, including crown moldings, pocket doors, hardwood floors and four fire places. The show's creator Matthew Weiner decided to place the family in Ossining on account of his fondness for the writer John Cheever, who according to the New York Times had a significant impact on Weiner's vision—so much so that he named the Draper's street Bullet Point Road after one of his novels.
The first season of The Real World was hosted in New York City and introduced its cast of soul-searching twenty-somethings, as well as MTV viewers, to a dream-like SoHo loft everybody wanted to live in. While the series debut marks the birth of reality television, both the genre and the well-known New York residence have gone through some significant changes. The one-of-a-kind home located at 565 Broadway has seen some serious upgrades, namely by its last owners, sculptor Edwina Sandys (the granddaughter of Sir Winston Churchill) and her husband, architect Richard Kaplan. The pair transformed the trendy yet raw space into what has been referred to by famed architect Philip Johnson as "the most beautiful loft in Soho." Sandys and Kaplan hosted many high-society parties during their tenure, entertaining famous guests including architects Richard Meier and Rafael Vinoly, Barbara Taylor Bradford, Massimo Vignelli and Christine Ebersole.