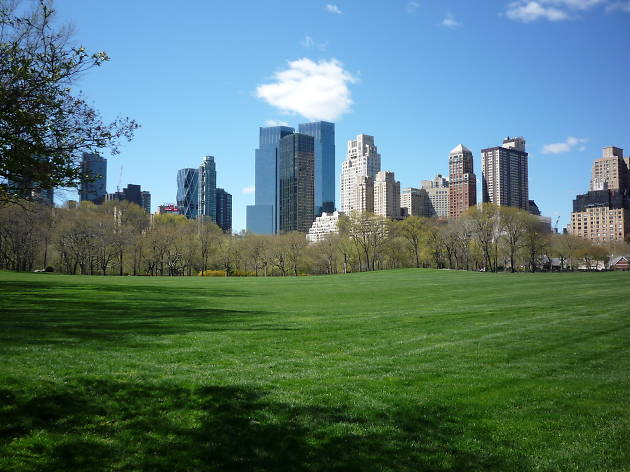 20 awesome things to do in NYC this week
Posted: Monday April 10 2017, 10:51am
Mon 10
Passover Seder at Mile End; 8pm; $85
Head to Mile End in Manhattan for a spin on Jewish traditions and delicacies, led by The Unorthodox Haggadah author Nathan Phillips. Feast on duck-fat matzo-ball soup, rutabaga tzimmes and flourless chocolate cake with fellow foodies inspired to dine as they've been commanded to by the divine.
Bob's Burgers Trivia Atwood Kitchen & Bar Room; 7:30pm; free
If you know every word of "Work Hard or Die Trying, Girl" and "Bad Stuff Happens in the Bathroom," then show off your love for the country's most delightfully mediocre family at this trivia showdown. Build a team of up to four Belchers and make sure you've studied up on Andy, Ollie and the glorious world of butts.
Somethin' for the People with Cyrus Aaron Bowery Poetry Club; 6pm; $15–$20
Cyrus Aaron, whose writing has been featured in Vice, Complex and the Huffington Post, invites fellow wordsmiths to perform songs and poetry at this benefit for social empowerment initiative The People's Campaign.
"Mummies" American Museum of Natural History; 10am; $22
Explore the lives and afterlives of the honored dead from Ancient Egypt and Peru at this cutting-edge exhibition, which details burial techniques and tomb designs and tells the stories of some of the royal faces buried under the sarcophagi.
Tue 11
Women of Letters Joe's Pub at the Public Theater; 7pm; $20
This monthly literary salon invites notable women writers and performers to air their dirty laundry in the form of personal letters crafted just for the occasion. The "Letter to the One Who Got Away" edition features Suzanne Vega, Aparna Nancherla, Joan Juliet Buck, Mona Chalabi, Stephanie Danler and Susan Kent.
Freedom's Feast Multifaith Seder for Justice Union Theological Seminary, Social Hall; 6pm; $40
Innovative spiritual community Lab/Shul welcomes Jewish, Christian, Muslim and Zen Buddhist leaders to lead this inspiring gathering. While musicians and artists perform, you'll be called to action by contemporary interpretations of ancient texts.
Annual Second Night Community Seder Congregation Beit Simchat Torah; 6pm; $100
Congregation Beit Simchat Torah, one of the city's best hubs for LGBT spirituality, hosts this joyous event featuring different takes on seder-table classics like charoset, brisket and macarons.
Shack Track & Field at various locations; 7pm; free
Lace up those sneakers and hit the streets with fellow burger lovers at this free monthly event hosted by Shake Shack. There are two routes to choose from, one beginning and ending at the Battery Park Shake Shack (2–5 miles), and the other kicking off at Jackrabbit in Union Square and proceeding to Battery Park (3–5 miles). Register online (or don't, it's fine to just show up) and sport a Shake Shack Track & Field t-shirt to get a free cup of frozen custard when you finish.
Make Trouble Barnes & Noble Union Square; 7pm; free
Sultan of Filth and director of Pink Flamingos and the original Hairspray John Waters gives advice to artists who are just starting out.
"Will Eisner: The Centennial Celebration 1917-2017" Society of Illustrators; 10am; free
The author of the comic strip The Spirit and pioneer of the graphic storytelling form—the Eisners, known as the Oscars of comics, are named after him—Eisner defined the way we read graphic literature today. This two-floor exhibition features more than 150 pieces of original artwork from his rich career.
Latin Jazz Big Band Night Nuyorican Poets Café; 9:30pm; $10
Head to the East Village to get into the groove with a 20-piece latin-jazz band. Expect to hear lively renditions of hits by Tito Puente, Machito and Mario Bauza, plus the band's own compositions.
Wed 12
Italy as a Muse: A Conversation with Andre Aciman Casa Italiana Zerilli-Marimo (at New York University); 6pm; free
The scholar, CUNY professor and author of the magnificent Call Me by Your Name sits down with fellow CUNY professor Giancarlo Lombardi to discuss his new book Enigma Variations and the sensual film adaptation of Call Me By Your Name, directed by Luca Guadagnino.
Needful Things Wise Men; 8pm; free
Nick Kelly, Fixx Invictus and friends serve deep house at this weekly soiree set in an eye-catching bar designed by sculptor and set designer Andy Harmon.
Live Country Music Wednesdays Johnny Utah's; 7pm; free
Get down at an old-school honky-tonk at Johnny Utah's every Wednesday night, featuring covers and new music from the charming country performer Ben O'Connor. To make the night more interesting, try your hand at the mechanical bull, or order dangerous drinks like the Dixie Tea and Texas Mule. Plus, sample the bar's beloved baby back ribs.
Remembering Whitney: Harlem Gospel Choir B.B. King Blues Club & Grill; 8pm; advance $25, at the door $30
Over the years, the Harlem Gospel Choir has worked with U2, Diana Ross and Jimmy Cliff, and its rousing, soulful takes on Houston's pop classics tonight should be something special. This performance will also feature some hits by Beyoncé.
Thu 13
Mortified Littlefield; 8pm; $10
Most of us wouldn't relive our teenage years if you paid us. But at this reading, bold volunteers share their most embarrassing—and hilarious—childhood diary entries, poems, songs and home videos. Seats are limited, so show up early to nab one.
The Losers Lounge Joe's Pub at the Public Theater; 7pm; $25
They've covered Cher & Sonny, they've nailed Xanadu, and now NYC's most dedicated tribe of tribute artists take on the beautiful musical legacy of George Michael. Look out for complicated string arrangements of songs like "Faith," and special guest appearances (past surprises have included Parker Posey, Santigold and Debbie Harry.
Burlesque Sketch Night Society of Illustrators; 6:30pm; $20
Society of Illustrators welcomes you for a sultry night of sketching in its fabulous Upper East Side headquarters. Grab a cocktail and witness the splendid beauty of burlesque siren Lefty Lucy and her fellow performers, and try your hand at doing them justice with a pencil and pad.
Independent Women: Jennifer's Body Videology Bar & Cinema; 7:45pm; $10
Witness peak Megan Fox in this self-aware succubus comedy, in which Amanda Seyfried must stop her best friend from eating boys.
ARTtech Adult Night Chelsea Market; 7:30pm; $20, at the door $25
ARTech, the Meatpacking district's spring science and technology playground, hosts this night of experimentation for adults. Tinker with homemade rockets, build mechanisms, and make your own GIFs, all while enjoying vittles and drinks with fellow creative minds.
Share the story