By Time Out contributors, edited by Sophie Harris
We've got to tip our hat to you, Gotham—you do the seasons like nobody's business. The heady delights of spring! The sweaty joys of summer! And of course, the aromatic charms of fall in New York. But for all the hardships of winter—looking at you, polar vortex—anyone who's spent the season here knows that the iciest months in NYC can be truly magical. From the city's classic hangs like ice-skating to such simple pleasures as bars with fireplaces, NYC in winter is truly awesome—and here's why.
What did we miss? Tell us what you love about winter in the comments below.
RECOMMENDED: The New York guide to life


1. The way it feels when you dressed exactly right for the cold and you're oh-so-snuggly in your enormous coat and insulated long johns.

2. You can listen to cheesy holiday music with total impunity. Bust out the Bing!

3. Whiskey tastes approximately nine million times better when the temperature drops below freezing outside. And hey, you're just keeping warm.

4. Jaywalking anywhere and without need for speed after a snowstorm. So luxurious.

5. All your smoker friends are less inclined to abandon you at the table and stand outside the bar for 10 minutes at a time, because now every time they step outside, their cigarettes get frozen to their lips.

6. The beautiful silence that descends upon New York after a heavy snowfall.

7. You can just eat everything and know that your massive winter coat will cover all evidence of your gluttony.

8. Blue skies, biting cold.

9. We have the Rockefeller Center Christmas Tree, and, lo! It is a marvel.

10. Your cats/dogs/snakes/ferrets/whatever are more cuddly—and like an instant heated blanket.
11. Cozying up in a bar all night on the first big snowfall.

12. SNOW DAY.

13. Nonstop weekend loops of Elf and The Royal Tenenbaums while ordering breakfast, lunch and dinner on Seamless.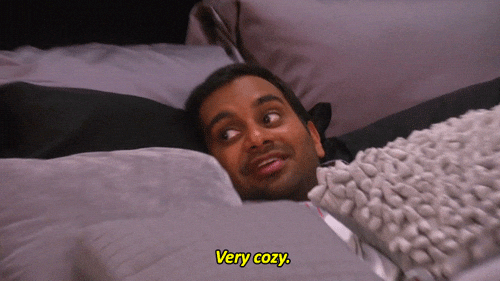 14. You can go to Rolf's manically Christmas-themed bar without feeling like you're in the grips of a nervous breakdown. It all makes sense!

15. Your sullen neighbors suddenly reveal themselves to be friendly folk who'll happily dig a path through the snow for you.

16. Wearing gloves = instant subway-pole protection.

17. Ice-skating in NYC in the holidays is magical, whatever age you are (and even if they do blast out Taylor Swift on the speakers).

18. Cuffing.

19. Drunken snowman-building in the park. We can make him tall, or we can make him not so tall! Or we could give up halfway through and go get pizza. Either way, it's awesome.

20. With everyone wearing so many layers, creepy people on the subway are now unable to get close enough to be properly creepy. Thanks, T-shirt, sweater, hoodie, giant coat, scarf and mittens. Really, thanks.

21. Hats are obligatory.

22. You can listen to Nat King Cole's "Chestnuts Roasting on an Open Fire" and then actually go get roasted chestnuts from the Nuts 4 Nuts guy. (And who doesn't like saying "Nuts 4 Nuts"?)

23. The breathtaking beauty of Central Park after a snowstorm. And sliding down a snowy hill on the lunch trays that somehow magically appear.

24. Flannel PJs all the way!

25. Twinkling lights in apartment windows as you walk by.

26. Every day is a potential pie-eating day. Warm up your tastebuds with our picks of the best pies for the holidays.

27. Bad weather is a built-in excuse to cancel that date you never wanted to go on in the first place.

28. It's mulled-wine season, and your house smells amazing.

29. NYC is yours for the gawking: Stroll around the city, taking in the beautiful holiday windows and Christmas lights and let yourself get swept up in it all.

30. Watching people step off the sidewalk into a hole full of frozen water halfway up to their knee never gets old. Remember, it's only not funny when it happens to you.

31. You can now hit up your lucky friends with fireplaces to host parties (or just have you over for a drink).

32. Two (delicious) words: hot toddy.

33. Five more: hot cocoa with peppermint schnapps (don't knock it till you've tried it).

34. It's truly okay to say on the first date: "It's so cold, why don't we just go back to my house."

35. Snow framing the city's bridges. Swoon.

36. Netflix marathons (and zero guilt about not leaving the house. Are you insane?! It's freezing!).

37. Roasting a whole chicken and then making soup from it. It warms up your apartment, makes your roomies happy and cures the sniffles. Triple win.

38. Shopping in winter means holiday markets. Translation: munching waffles and quaffing beer while you do your gift-buying duty. Well done, everyone!

39. When the city clears out and all the transplants leave for Christmas week, NYC becomes a paradise of extra space.

40. All the best comfort food and drink normally ingested cold—cereal, coffee, sandwiches, wine—tastes even yummier heated up
41. Seeing the Rockettes at Radio City makes you feel like New York invented Christmas.

42. Finally being able to enjoy a midnight-colored beer again. Calories be damned!

43. When it snows really heavily, cars have to slow down or stay in the garage—and pedestrians rule the streets.

44. We have the largest edible gingerbread display on earth called GingerBread Lane—it gets dismantled and given away to New Yorkers to eat in January!

45. The Charlie Brown "Christmas Time Is Here" song plays on a loop in your brain.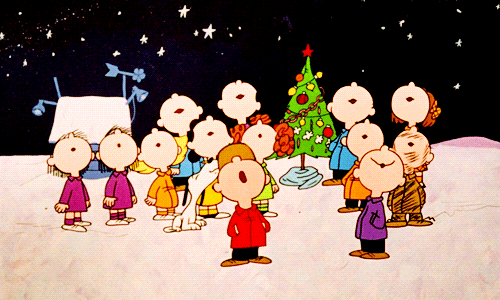 46. Any stinky restaurant curb trash freezes, neutralizing bad odors.

47. The city is soundproofed when it snows! Rejoice! (Quietly.)

48. The Dyker Heights Christmas Lights and Cannoli Tour. We repeat: Christmas lights and cannoli.

49. Rosy cheeks. And snowball fights.

50. Taking in that view from the Manhattan Bridge on a quiet N train, Starbucks warming your hands, makes everything okay.