With everyone freaking out about the Mets this year, even non-sports fans are rushing to jump on the bandwagon. If you know nothing at all about the team, here are a few things you should know.
1. Daniel Murphy is a baseball god. He's a nice player during the regular season, but this playoffs he's been historically good and everyone is pretty much in awe of it. He's single-handedly won games for the Mets during their run including the deciding Game 5 versus the Dodgers. He's homered in FIVE straight games including last night. I have a friend who texted me a couple games ago: "My next child, regardless of sex, is going to be named Daniel Murphy Rizzolo." So yeah, a fan absolutely needs to be aware of Murph.
2. The Mets true strength, however, is their pitching, with arguably three aces (whereas most teams are lucky to have one.) They rarely have to score many runs, as their pitchers rarely give any up to the other team.
3. You've got to know about Bartolo Colon. He's 42-years old, incredibly out of shape, and a Google image search dream come true, and he's somehow also really good at pitching. He doesn't get up to the plate to bat much, but if he ever does, it's really fun to watch.
5. The Mets have some... interesting hair going on with their starting pitchers (and two aces), Noah Syndergaard and Jacob deGrom. (In fact, Yandy is giving away free wigs in honor of them right now.)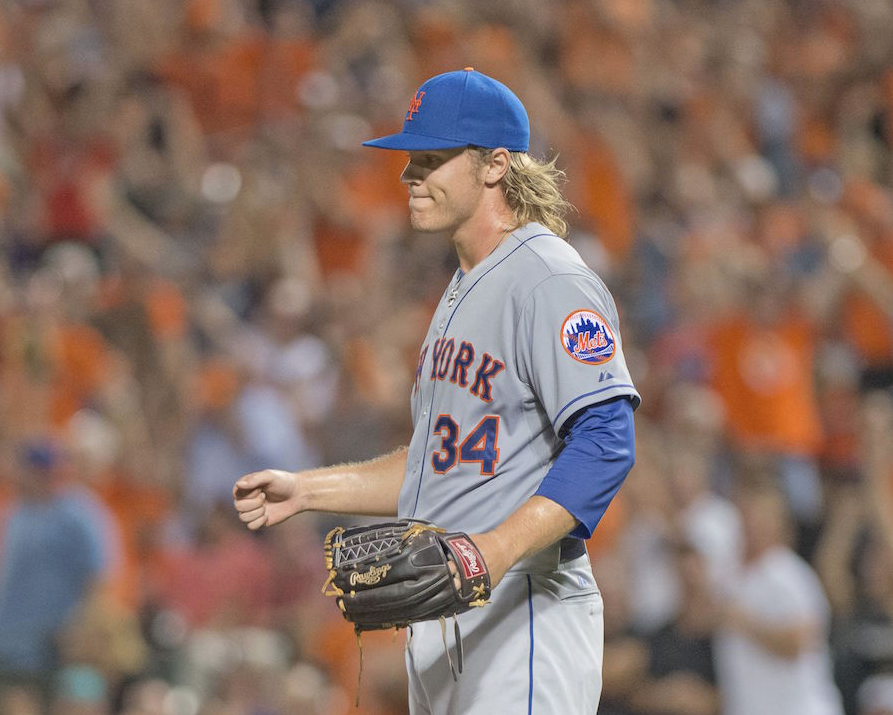 Noah SyndergaardPhotograph: REX Shutterstock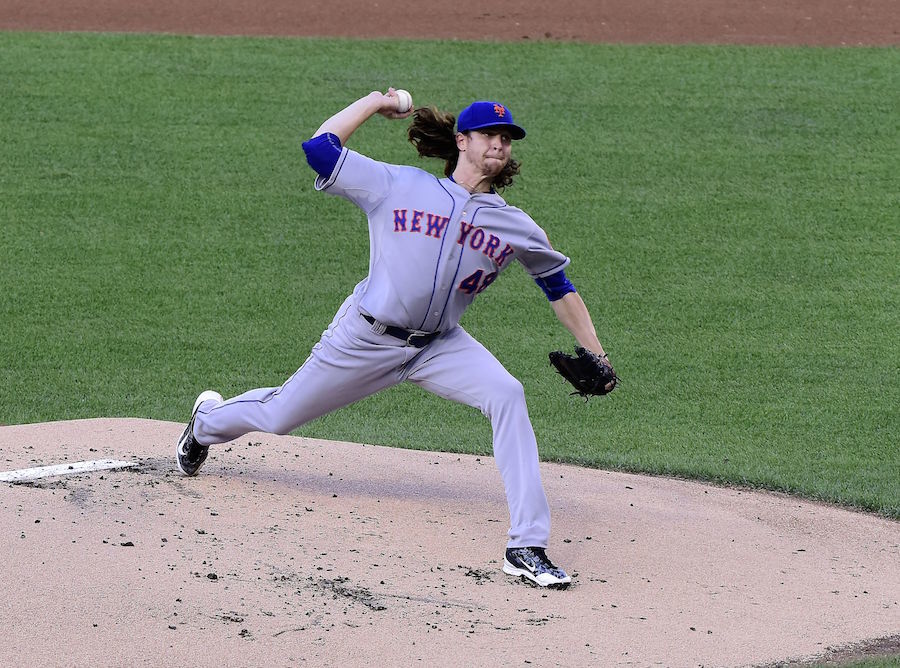 Jacob deGromPhoto by REX Shutterstock
6. Not unrelated to the hair, they have some pretty great nicknames going on as well. Syndergaard is called Thor. Matt Harvey is called the Dark Knight (And has the fan art to show for it.) David Wright is called Captain America (for his heroics when he was on Team USA baseball.)
7. The Mets' entire season changed when they acquired Yoenis Céspedes in a mid season trade. He immediately went bonkers and raised the entire offense to a whole new level. Seinfeld fans were tweeting "A Céspedes for the rest of us." (Festivus reference if you aren't familiar with Seinfeld.) He has a tendency to jack just absolutely monstrous home runs, his "feats of strength" if you will.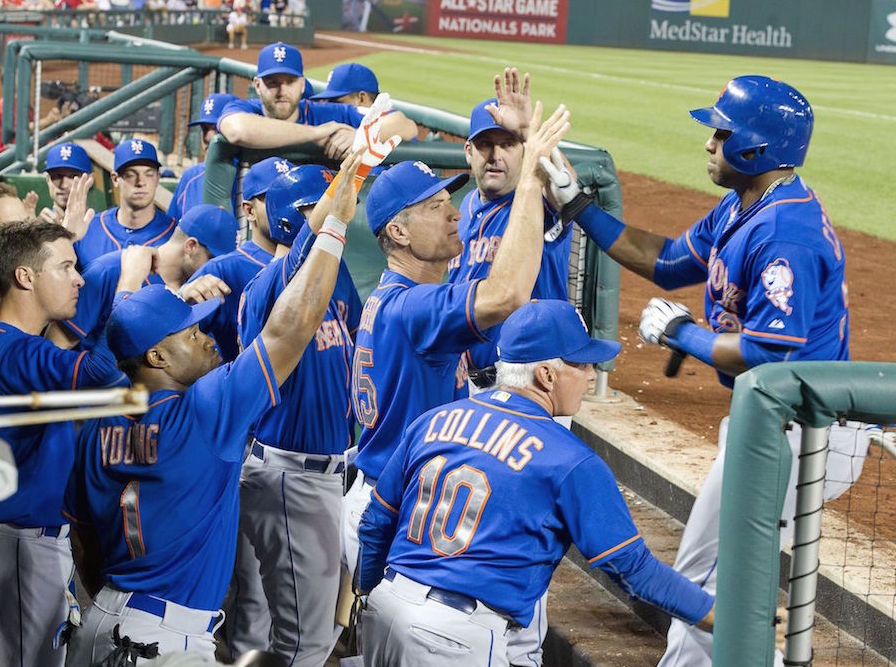 Photo by REX Shutterstock
8. Speaking of Seinfeld, he is a gigantic Mets fan (the Mets came up all the time in his show, it had former Mets as characters, etc.), and he's been at all the games. In fact, here is a great shot of him and his good friend—and also diehard Mets fan—Chris Rock a couple games ago when Céspedes hit one of his monster home runs.
9. Along the same lines, the celebrities who are now your enemies (sorry!) are Bill Murray and Eddie Vedder, both huge Cubs fans.
10. The go to place to get information on the Mets for diehard fans on the web is "The 7 line" which is a fan club created for and by Mets fans themselves.
11. The Mets' manager, Terry Collins, is a nice story. He managed 1,688 games before finally making the playoffs (debuted as a manager 21 years ago.)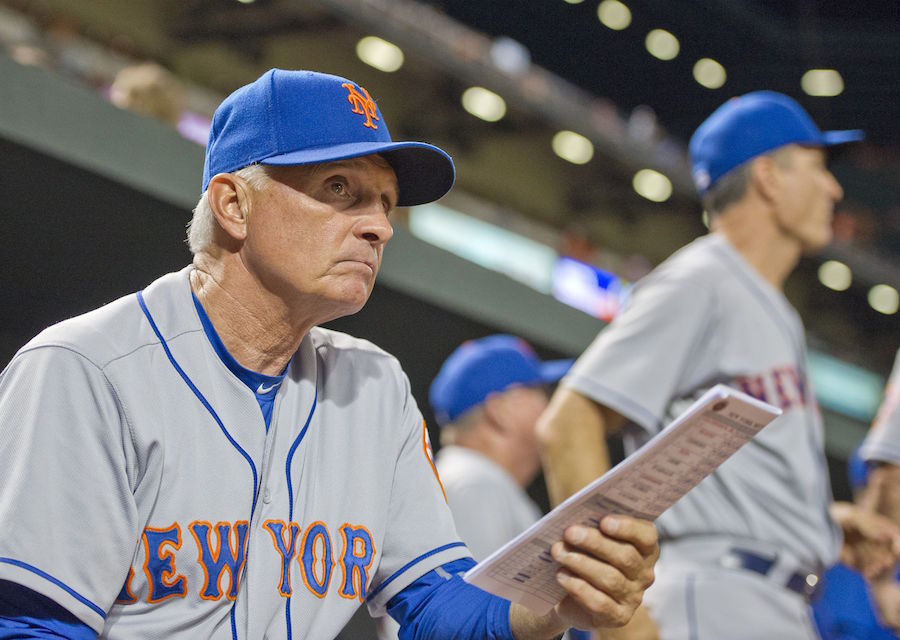 Photo by REX Shutterstock
12. Wilmer Flores is another nice story. He was drafted by the team at age 15 and has been with the team 8 years. Earlier this season, there were rumors that he was being traded floating during a game, and he literally starting crying out on the field. It was adorable and sweet as hell. Needless to say, he wasn't traded, and has been (even more of) a fan favorite ever since.
13. And to close, I guess I'll bring up their Closer, Jeurys Familia, who throws absolute fire out of the bullpen to close out games. He's been asked to do a lot this post season, and has been pretty much flawless.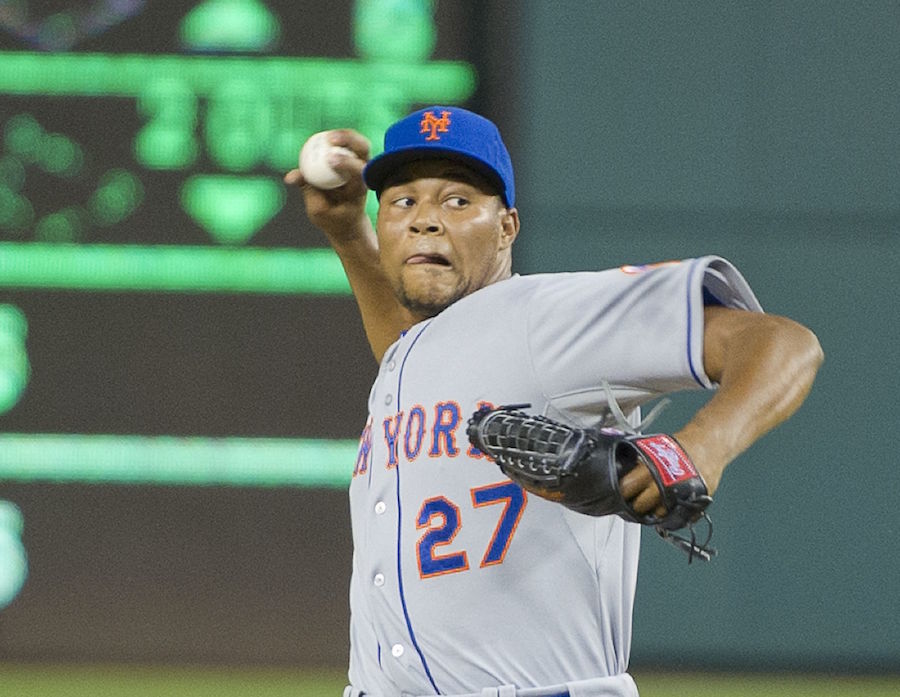 Photo by REX Shutterstock