Each week, we dive into the world of NYC bars and meet the drink-shaking players behind them. From the latest cocktailing trends to crazy stories on the job, these are the Bartender Tales of New York City.
Jane Danger, head bartender, Mother of Pearl and Cienfuegos
What's your signature drink?
I really like the Shark Eye that we have on the menu—it comes in a shark mug with passion fruit and curaçao, but with bourbon rye instead of a rum base.
How did you get into bartending?
I had moved to the city to become a model, and bartending was the first job I got. A friend at the time was working at CBGB, the old music club on Bowery, and she gave me all her shifts there. That was 11 years ago. When you work in the service industry, you come into a built-in family and a support system.
What's your favorite thing about being a bartender?
Creativity. I'm pretty crafty, and bartending is an outlet where I get to use my hands. It also gets me out of the house, because sometimes I get shy and curmudgeon-y.
What are some trends you've been noticing?
A lot of bitters and amaros, which are fun to play with. Also, it seems everyone with a cocktail menu has a tiki drink now. It's not a new thing, but more and more, everyone's jumping on the bandwagon.
What are your customer pet peeves?
Nothing really fazes me at all anymore, besides outright rudeness. People can order whatever—I'll make you all the vodka sodas you want.
Got any crazy bar stories?
Back when I was a cocktail waitress, I saw a bartender—who shall remain nameless—smack a guy pretty hard for passing out cold at the bar. He'd had too many drinks, and we couldn't wake him up, so my coworker just grabbed his book and hit him right upside the head.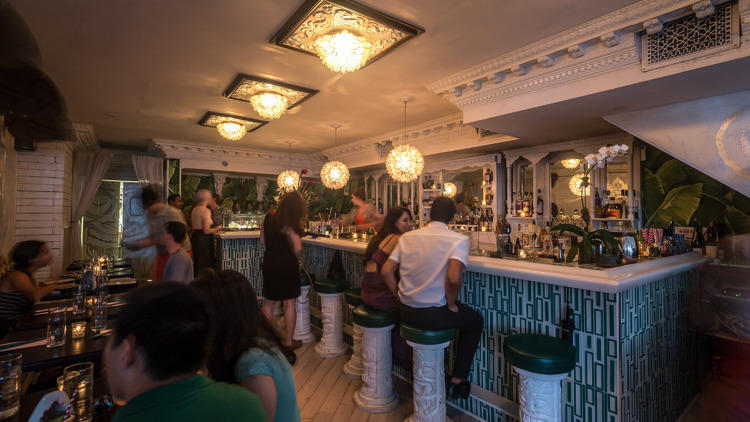 Mother of PearlPhotograph: Paul Wagtouicz