Each week, we dive into the world of NYC bars and meet the drink-shaking players behind them. From the latest cocktailing trends to crazy stories on the job, these are the Bartender Tales of New York City.
Jim Kearns, partner and head bartender, the Happiest Hour and Slowly Shirley
What's your signature drink?
That's definitely the Happiest Hour's Link Ray, which is a spin on the old Cel-Ray soda, with celery juice, lime and Suze (a gentian-based bitter liqueur). It's fun, because it presents a lot of complex flavors—vegetal, from the celery; bitter, from the Suze; grassy, from agricole rhum; spicy, from jalapeño tequila—in a way that's accessible and refreshing.
What is your favorite thing about bartending?
You're constantly interacting with a diverse crowd of people and trying to understand them. I also enjoy the lack of monotony—no two shifts are the same.
Have you noticed any trends in the industry recently?
It's nice to see fortified wines finally getting their due. In the past, vermouth was associated with the sour bottles of wine allowed to sit open for months and sherry with low-quality products that never really caught on in America. Now, there's an array of high-quality products available in the category.
What are your pet peeves?
Questions from customers like, "What do you like?", "What's your favorite?" or "What's most popular?" These questions don't reflect the tastes of the person asking them. Second, they often reflect an aversion to really looking at and interacting with the menu. Menus are usually the result of the exhaustive work and thought of many people, and lack of willingness to engage with it is generally a frustration. Questions about ingredients or requests for descriptions are always much more welcome and helpful, both to guests and to staff, as it helps us better understand individual tastes and make recommendations.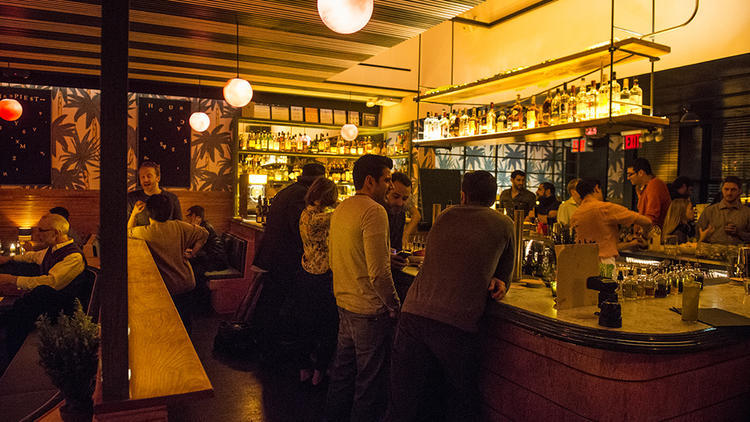 The Happiest HourPhotograph: Cayla Zahoran