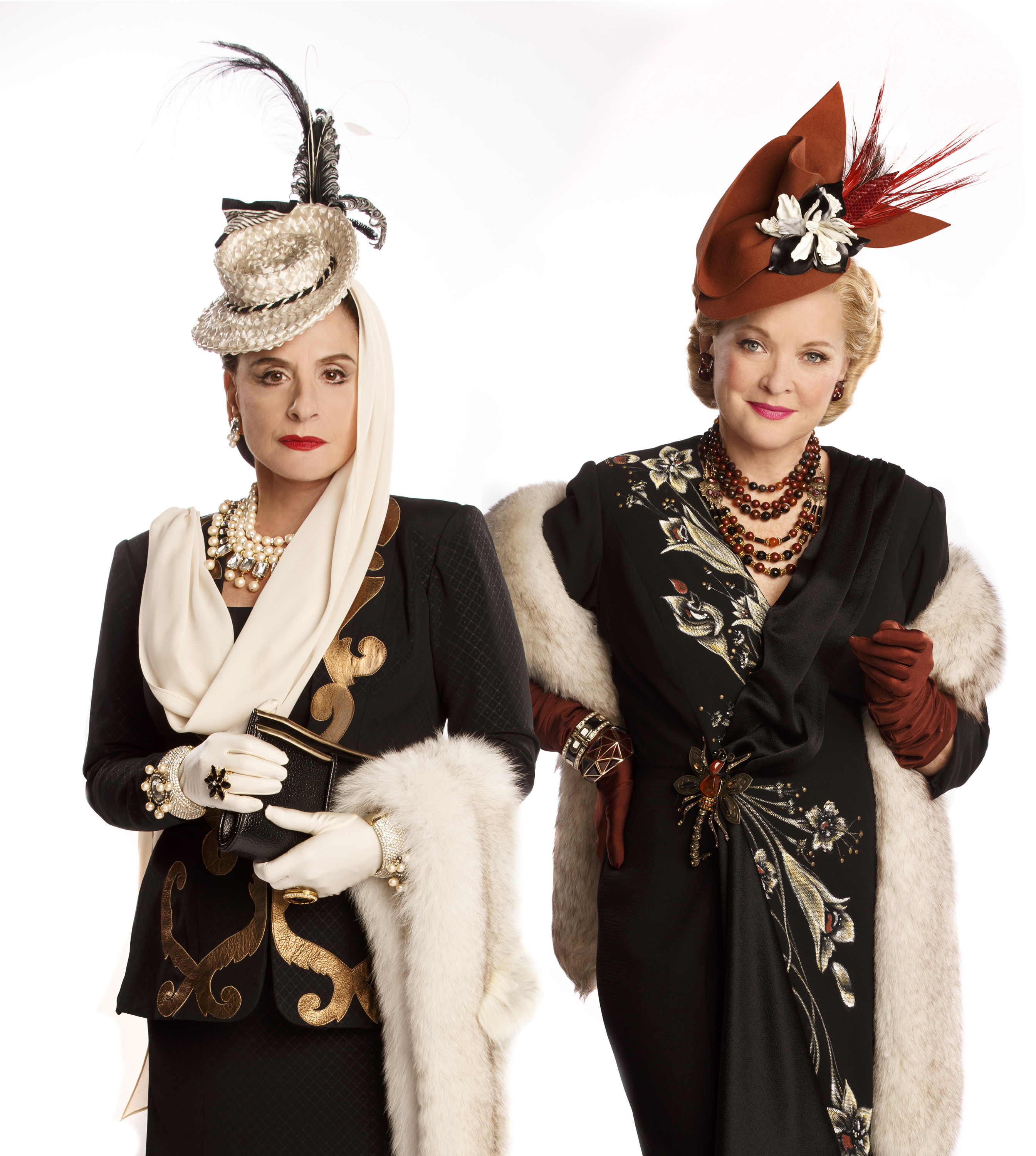 War Paint, a new musical that depicts the rise and clash of 20th-century cosmetic-industry titans Helena Rubinstein and Elizabeth Arden, has in its corner both a true story of female entrepreneurship and the pairing of two distinctly different Broadway talents: Christine Ebersole (Arden) and Patti LuPone (Rubinstein). We talked with the Tony-winning luminaries about their characters before the show starts previews March 7.
These women lived parallel lives in many ways, but there's nothing to suggest that they ever actually met.

Patti LuPone: I don't think we'll ever know whether the media instigated their feud, or whether in fact it was a feud, or if they simply decided they didn't want to meet.
How do you go about playing rivals who had no documented interaction with one another?

Christine Ebersole: Through our individual explorations of their lives, we found there's a lot of similarity.
PL: In fact, had they decided to forge a future together, they would have ruled the world. Their ideology was so similar.
Were either of these women Devil Wears Prada/Miranda Priestly types?
CE: That's the kind of personality that gets you that far. You're not gonna be retiring mild-mannered. [Laughs]
PL: They were the creators of an empire. They were the queens. Apparently Helena saved several family members in World War II from the concentration camps, and then put them to work and treated them like employees. She wasn't too generous in that respect. She was a tyrant – they both were.
A new TV series, Feud, documents the antagonistic relationship between Bette Davis and Joan Crawford. Do you see any similarities between that rivalry and the one your characters share?

PL: Bette Davis and Joan Crawford might have been exaggerated by the studio system. But that's different than Elizabeth and Helena. These women were probably inspired by each other—without actually admitting it outloud—to create better. "Okay, she came up with that; I'm coming up with this."
CE: Their rivalry was inspirational.
PL: And that's a much more positive spin than to compare them to Bette Davis and Joan Crawford. I would much rather that the thrust of our "rivalry," and it's not even a great word, be that they inspired each other. And probably refused to meet because they would have been intimidated by one another.
Or maybe they would've gotten along famously.
PL: I think so!
When it comes to your careers, have you been pitted against other women?
PL: Yes, and it's terrible. We've all been subjected to that. It would be so great in any of these competitions if they gave the five best an award, because you cannot compare parts. You cannot compare songs. You cannot compare plays.
CE: And people in revivals as opposed to a new production.
PL: It would be so great if it was a celebration. To make it a competition is nerve-wracking and unfortunate, and it imposes something on the work. We open in April and then we're performing our asses off all through April and May, and then it's the Tonys, and then we'll be able to relax, three months after we've opened, as opposed to growing into it. Right away we're slammed up against, as Christine calls it, "the dog and pony show." [Laughs]
How much did your individual strengths as vocalists influence the differing styles in which your characters sing?
PL: Elizabeth was Canadian and aspired to be in New York society; Helena was a Polish Jew. Scott [Frankel, composer] used the influence of those two nationalities, those two geographies, to create the sound of each individual.
CE: But I think he also was inspired by what we could bring to it. Like, I could never sing what Patti sings. I just stand off stage like, "How do you do this eight times a week?!"
PL: But vice versa! I could never do what Christine does. Her voice is pure, and floats –
CL: Well-
PL: -and it's a struggle for me. But I'm telling you, just listening to how fluid and how shimmering her voice is, I'm so jealous.
CE: It's nice when our voices combine. We were talking about it earlier. It's like there's another entity that comes into the picture, like a vocal entity that kind of inhabits the space between the two voices.
PL: Our voices sound really, really good together. It could've been anything, and it was: Ping! Perfect.
War Paint is at the Nederlander Theatre (208 W 41st Street) from March 7. Tickets start at $75.