Comic Cons have recently risen to prominence around the world as communal hubs for those with pop culture passions. While your awful cousin is "watching the game," you're meeting creators, buying beautiful art and sharing your cultural passions at a weekend retreat.And every fall, when I'm experiencing my regularly scheduled pre-Comic Con anxiety (where do I get tickets? Do I take off work? How do I papier-mâché a Magneto helmet?), I always get asked the same question: "is it like the one in San Diego?" Sure, New York Comic Con is similar to its West Coast sibling, but of the two, it's the bigger, hotter brother. And NYC's is simply the best. It's one week of hardcore fan partying in the city where superheroes were born. Before this weekend's con, here's our rundown of why ours is the best in all the land.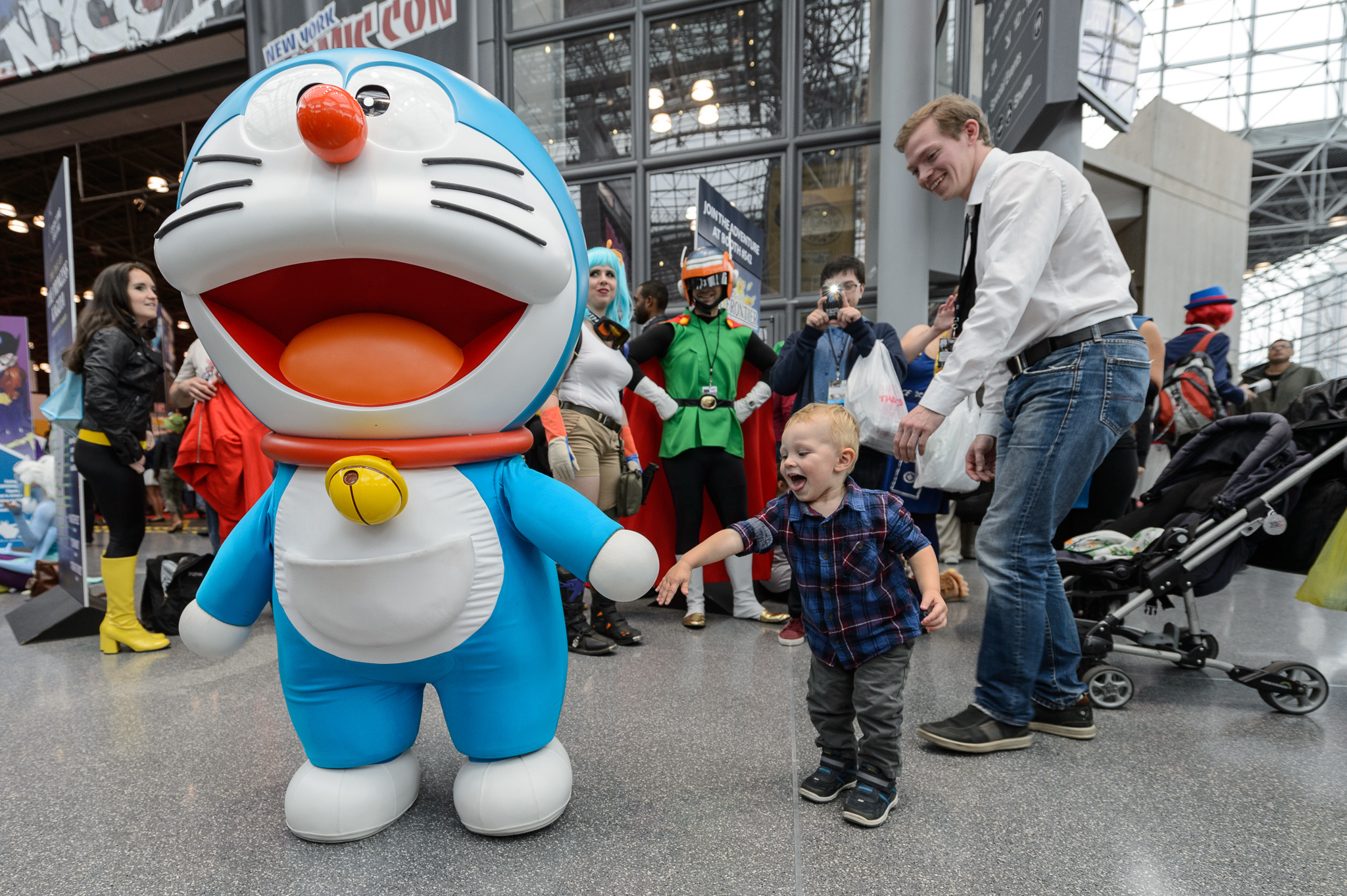 1. In New York, for New Yorkers
Sure, SDCC may go down in San Diego, but it's really a satellite for L.A.'s entertainment community. People from all over the globe head to this beachside city for its goliath convention, but how many of them come back with actual memories of San Diego, and not of a convention hall? That's not the case in NYC. Our con starts at Javits Center in Hell's Kitchen, then takes over the rest of town for afterparties, fan meetups and bar specials. It's not about leaving the city to go to your con. It's about celebrating your city with your con (and about wearing a cape on the subway).
2. It's way bigger than you think
Over a four day weekend, New York Comic Con 2015 attracted 167,000 fans to the Javits Center and Hammerstien Ballroom. That's over double the amount of attendees of this year's Super Bowl, and while SDCC and cons in Canada and Salt Lake City also rate in the hundred thousands, ours is in the top two. We're arguably the biggest pop culture event in the country.
3. You don't even need to go to the convention to get down
Even if you couldn't snag a ticket to this year's sold-out con, you're still likely to have a packed weekend. While other cons may have a kickback at a local bar, New York City's nightlife goes bananas for its geeks. We've picked out just ten of the best New York Comic Con events going on around town, but there's plenty more to choose from. Whether you're down to bowl in spandex, check out erotic literary readings based on The Princess Bride, or dance to your favorite Anime theme songs, there's a nightclub waiting to pull out the stops for you.
4. We don't do red carpets
San Diego should be credited with bringing genre and superhero interests to Hollywood's attention. It's where we got the Wonder Woman trailer, and where huge, rapturous announcements get made every year. But over the past half-decade, SDCC has gone a little too far up Hollywood's butt. Remember when Glee had a panel, and the now-customary red carpet pics from the celeb-only afterparties? Sure, we get our fair share of names to hit up panels at NYCC, but they're here by fan demand. They speak our language. And we don't reserve the partying just for them.
5. The best superheroes are already here
Jessica Jones. Spider-man. Luke Cage. The Fantastic Four. Whether they're oppressed mutant minorities, superpowered loners or cosmic avengers, the legends tend to fight their fiercest battles here. And off the page, comic book creators have set up shop here since WWII, with icons like Jack Kirby, Stan Lee and Karen Berger building the industry in Manhattan. If you're going to strap on the spandex, it might as well be in Metropolis.
New York Comic Con goes this Thursday–Sunday. You can find out more about it here.
We want to know all about your life in New York! Take a few minutes to complete our City Index survey.