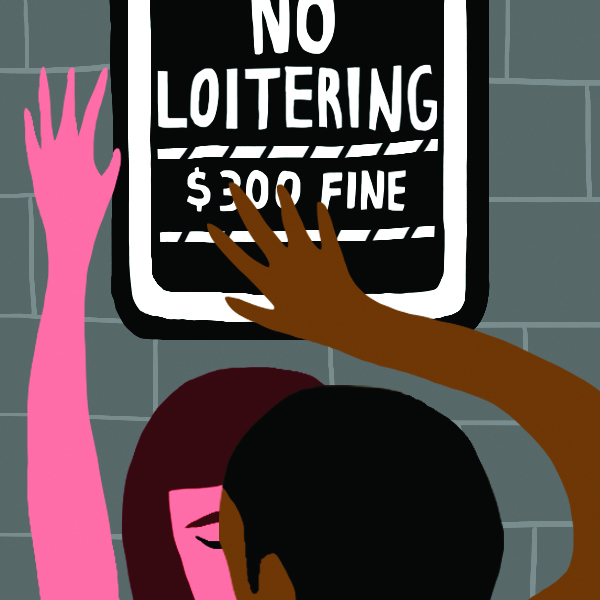 Illustration: Alex Citrin
I get it—being single in the city can be tough, and the ways New Yorkers are getting it on these days can be surprising. But whatever your dating conundrum might be, I'm here to help. Consider me (Jillian Anthony, Time Out New York's Senior Things to Do editor) your personal wingwoman, guiding you through dating and doing it in New York in our weekly "Let Us Sex-plain" column. Check out my answers to all your questions online and in the magazine every Wednesday, and submit your own coitus queries here!
My boyfriend is really into the idea of having sex in public—he's even scoped out locations. I'm kind of intrigued but also scared. Should I do it?
—Sebastian, East Village
I like thinking that there are sex location scouts out there, evaluating the square footage of a particular darkened doorway or the stability of a rooftop folding table. If you're intrigued and healthily frightened (rather than scared to a point where you won't enjoy any of it), it sounds like you're into it. Sure, you could get arrested or end up passed around the Internet like the SantaCon rooftop lovers who went at it in midday—but you're much smarter than that, aren't you? I think the real challenge would be finding an outdoor spot to score that another New Yorker hasn't already consummated.
I love my boyfriend, but he's horrible at sex. It's like doing it with a wet mop. Do I stay with him and try to work on this—I think he might be unfixable—or leave him?
—Audrey, Crown Heights, Brooklyn
Let me guess: Your boyfriend is kind, funny, thoughtful, everything you want in a guy—except for this one thing. The problem is, that one thing is not just an annoying tick you can ignore, like that he whistles while you're trying to read. That one thing is almost everything, and if the sex sucks, it will eventually touch and tarnish every other part of the relationship as well. Your boyfriend will be thinking, Why is she so upset with me all the time? and you'll be screaming inside, Because I haven't gotten off in three weeks, you f@$&! Don't let that happen. Be brave and give him a step-by-step guide to how you like to be touched (Pro tip: Masturbate in front of him), and if things still don't improve, break it off and get someone to break you off elsewhere.
My girlfriend can only get off if she has her toes in my mouth, and it turns sex into a game of Twister every time. Is this normal?
—Chad, Astoria, Queens
What is "normal"? Is it forcing people to use your toes as a pacifier? For your girlfriend, the answer is yes, and hey, that's cool—as long as it meets a couple requirements for you as well: Do you feel comfortable doing this? If you're happy to please her kinks, great! If the idea of putting someone's hoof digits in your mouth actually makes you start dry heaving, like I am right this second, then you're under no obligation to make that happen. Also, are you willing to participate in this sex act on the reg for your foreseeable future? Those kind of acrobatics could definitely be exhausting and take all the sexy out of the room—but if she's willing to take toes out of the equation and give into your cravings now and then, you two bipeds can work it out.
RECOMMENDED: See more of our "sex-plain" column