Each week, we take two New Yorkers who swear they're totally undateable, and put our matchmaking skills to the test. Afterward, we find out what went well on their date, and what went horribly, horribly wrong.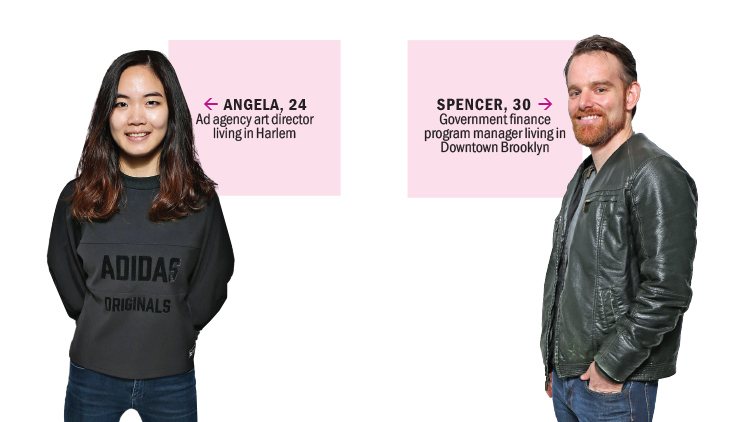 Why they're single:
Angela: She's career-focused, and there aren't enough hours in the day.
Spencer: He thinks he may have too many hobbies: jiujitsu, yoga, the Moth and more.
Ideal date:
Angela: A creative suggestion like going to a museum or rock climbing
Spencer: An active, fun workout like Flywheel followed by a conversation at a coffeeshop or a bar
THE DATE
First impression
Angela: "I was so late because of the trains. I felt so guilty! At the same time, I was nervous; I'd never been on a blind date. When I finally got there, he was pretty chill about it."
Spencer: "She was a little late, but when she came she was super apologetic. I have a good tolerance for awkwardness, so this was not a big deal. I occupied myself with news."
Chemistry
Angela: "It felt friendly. We had stuff to talk about every minute: Our backgrounds, work, food. He belongs to a group that tries new food every week, which I found cool."
Spencer: "She's an interesting person who has a lot going for her. She's a hip creative type. As for if there was any spark, it takes me several dates to realize that, or one longer date."
Awkward Moment
Angela: "It got very cold out. Everyone left near where we were sitting until we were the only ones around. Eventually we moved indoors, but for a while we were alone outside."
Spencer: "I'm an open book, so nothing was weird, but she seemed to have a hard time concentrating. She glanced at her phone every now and then. I'm not judging at all, though."
Afterward
Angela: "We walked back to the same train station together, which was great because it was a long way. He wasn't pushy about asking for my number. Then my train quickly came!"
Spencer: "We walked and connected over musical festivals, but right when we got to the subway, her train arrived. Neither of us expected it to end so fast, but she had to run."
Verdict
Angela: ♥♥♥♥ "He was super polite. We had a lot to talk about. There was no serious chemistry, but I did hug him goodbye. If I ran into him in the city, I'd be friendly."
Spencer: ♥♥♥ "I think she was cool and intriguing, but she could have been a little more present. I'm more of an in-the-moment guy. But maybe that's just me."
Our daters went to Cantina Rooftop (604 W 48th St, 212-957-1700)
RECOMMENDED: See more Undateables
Want to be set up on a free blind date? Email undateable@timeout.com.