Each week, we take two New Yorkers who swear they're totally undateable, and put our matchmaking skills to the test. Afterward, we find out what went well on their date, and what went horribly, horribly wrong.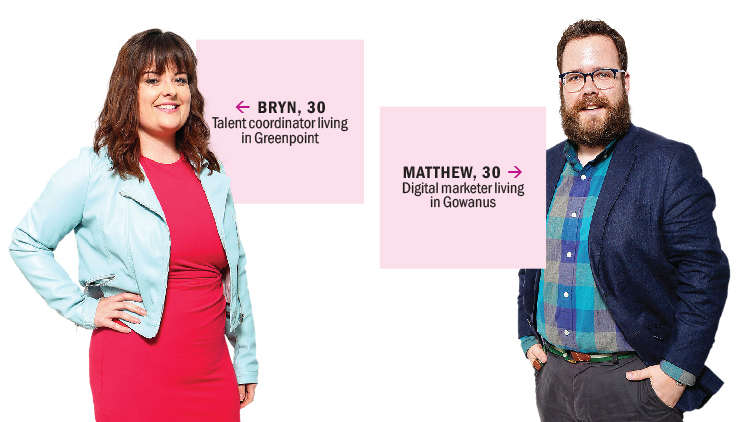 Why they're single:
Bryn: She travels for work constantly, so when she's in the city, she mainly sees people she already knows.
Matthew: He's a pretty busy guy, and it's hard to make time to get to know someone.
Ideal date:
Bryn: Something that gives you something to talk about, like drinks and a comedy show
Matthew: Anything where you don't even notice time passing, like a great conversation in a bar or a walk through a museum
THE DATE
First impression
Bryn: "I got there a few minutes late, and he was seated already. I went in to say hi, and he hugged me right away. He seemed really warm and friendly right off the bat."
Matthew: "I arrived early and watched everyone who came in. When she came in, I knew it was her because she also looked lost and terrified as to what might happen."
Chemistry
Bryn: "He was really easy to talk to. You could tell just by his eyes that he was open to trying new things. He had a good sense of humor, and the conversation flowed easily."
Matthew: "Chemistry was a little flat. We didn't really have any awkward moments, but there was no razzle-dazzle. It
was like a conversation in a doctor's waiting room."
Awkward Moment
Bryn: "The restaurant was huge. I left to go to the bathroom, and there was this super long hallway like in The Shining. It took me forever. I was worried he was going to think I left."
Matthew: "We did the tasting menu, and each plate of food they brought out had four pieces on it. She would only eat one of them, so the plates stayed on the table for a long time."
Afterward
Bryn: "He walked me out, and we both said goodbye. There wasn't any number exchange, and no plans were made. I didn't get the vibe that either of us wanted anything more."
Matthew: "We both realized we had other obligations, so we headed out. I think we both knew there was nothing much there. It was a fine time."
Verdict
Bryn: ♥♥♥ "We were there for hours, and it's amazing the conversation didn't feel forced. There wasn't really a spark there, but it wasn't bad. I've been on some bad dates."
Matthew: ♥♥♥ "It was an average time at best. I go out on a lot of dates, but I'm rarely able to dedicate time for a second. So no, it wasn't up to that level."
Our daters went to Zuma (261 Madison Ave, 212-544-9862)
RECOMMENDED: See more Undateables
Want to be set up on a free blind date? Email undateable@timeout.com.