Each week, we take two New Yorkers who swear they're totally undateable, and put our matchmaking skills to the test. Afterward, we find out what went well on their date, and what went horribly, horribly wrong.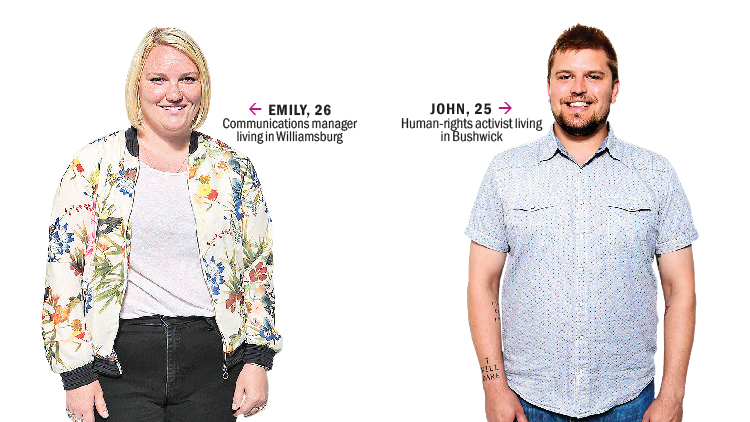 Why they're single:
Emily: She's moved a lot over the last few years and hasn't really put down roots.
John: He has trouble finding time to meet new people between work and extracurriculars.
Ideal date:
Emily: A laid-back dive bar or a concert
John: Somewhere casual, like a dive bar, that's a good place for conversation
THE DATE
First impression
Emily: "I'm notoriously early, so I got there first. The host brought him over to the table, and I gave him a hug. Immediately, I felt a lot less nervous. He was a great conversationalist."
John: "We gave each other a hug and made some small talk about how weird it was that we were on a blind date. She seemed really outgoing right away."
Chemistry
Emily: "I got more of a friendship vibe. I think if we had gone to a place that was a bit more laid-back, it might be different. But still, there was no limit to what we could talk about."
John: "I didn't sense that there was a spark, but we talked the entire time. There wasn't a dull moment, and the conversation was friendly."
Awkward Moment
Emily: "I tripped on the stairs as we were leaving. Not all the way on my ass, but my heel slipped, and I almost fell onto two people at the bar who were eating."
John: "She went to the bathroom, then came back, and I was on my phone. She was like, 'Oh, so you're texting your friend that this is the worst date ever?' I was like, 'No, not at all.' "
Afterward
Emily: "We both had early mornings the next day. He walked me to my subway stop, and I asked for his number. Later that night, I texted him, 'Thanks!' "
John: "We were going different places, but we walked to the subway, and I got her number. I'd get drinks with her again and maybe explore a dive bar or something."
Verdict
Emily: ♥♥♥♥ "The conversation was great, the company was great—in general, it exceeded my expectations. I was nervous before but not at all on the date."
John: ♥♥♥ "I thought it went well. It was a fun, casual time, and I had a really enjoyable Friday evening. She was a nice person to hang out with."
Our daters went to Blu on Park (116 E 60 St, 646-893-0160)
RECOMMENDED: See more Undateables
Want to be set up on a free blind date? Email undateable@timeout.com.