Each week, we take two New Yorkers who swear they're totally undateable, and put our matchmaking skills to the test. Afterward, we find out what went well on their date, and what went horribly, horribly wrong.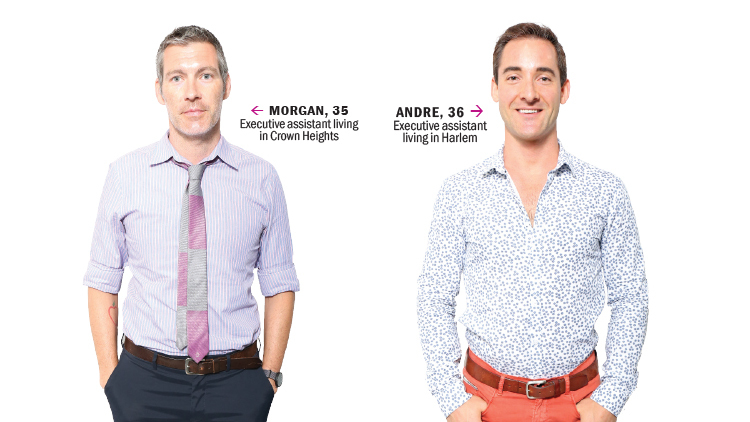 Why they're single:
André: He has a hard time finding someone who wants to make a commitment.
Morgan: He's busy and has trouble meeting people through his day-to-day activities
Ideal date:
André: Something where you're not trapped in one place, like going to a museum or exploring a new neighborhood.
Morgan: Anything that's active and fun, like going to a museum or taking a cruise around the city
THE DATE
First impression
André: "He came in wearing suspenders, which I thought was interesting and quirky. I was sitting in a corner, so it took me a while to stand up and say hi, which was awkward."
Morgan: "He was incredibly easygoing right away, so I knew [the date] wasn't going to be terrible. I mean, he was attractive, alive and there. So we were off to a good start."
Chemistry
André: "The chemistry seemed to be okay. The conversation wasn't super smooth at first, and I was doing a bit more of the questioning in general. Eventually, it got more interesting."
Morgan: "I've never been on a blind date before, and this one set the bar pretty high. We were there for three-and-a-half hours, and it was really enjoyable."
Awkward Moment
André: "The restaurant turned into more of a nightclub later on. We were the only ones eating, and this crew of scantily clad women came, ushered in by a nightclub promoter."
Morgan: "I wouldn't say there was an awkward moment. He's wholesome, intelligent, well traveled. He's an overall great person. Definitely objectively a good person."
Afterward
André: "I wasn't sure if he was interested in something more, but the chemistry seemed to be there. I told him I'd be interested in a second date and gave him my number."
Morgan: "We ended up at the same train station. He gave me his number, and we said goodbye. A few days later, I texted him to see how his weekend went, but he didn't text back."
Verdict
André: ♥♥♥ "I think the date went well, but I just couldn't tell his level of interest. I was confused about where he stood on things. He seemed kind of nervous."
Morgan: ♥♥♥♥♥ "I had a great time, and I'm open to continuing to have a great time. I had the opportunity to meet someone who turned out to be awesome."
Our daters went to The Anthony (183 Bleecker St, 212-804-7771)
RECOMMENDED: See more Undateables
Want to be set up on a free blind date? Email undateable@timeout.com.