Each week, we take two New Yorkers who swear they're totally undateable, and put our matchmaking skills to the test. Afterward, we find out what went well on their date, and what went horribly, horribly wrong.
Why they're single:
Ronnie: Is still looking for that perfect girl but also just trying to enjoy his time in the city.
Gabi: Put in a lot of time to get her career off the ground and has just transitioned into dating again.
Ideal date:
Ronnie: Having a couple of drinks at a speakeasy, then going to a comedy show.
Gabi: Going to a restaurant with a view of the city or the water, then a comedy show or trivia.
THE DATE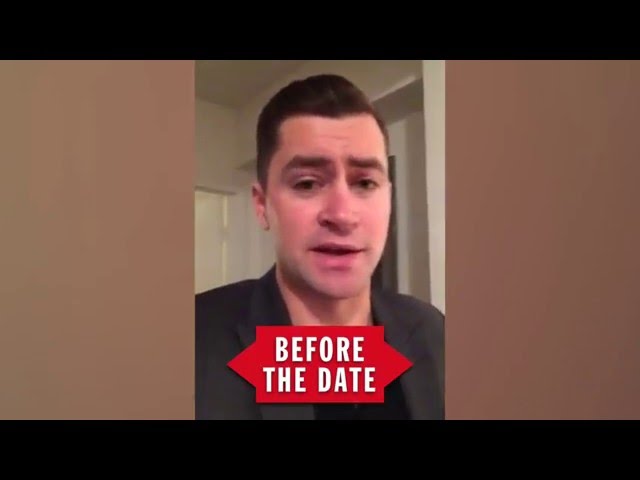 First impression
Ronnie: "At first she was quiet and shy and avoided eye contact, but I could tell she wanted to be there. She has dark hair, and I normally go for light-haired girls."
Gabi: "I was there early because I'd come from a holiday party. I didn't have any expectations, so I wasn't taken aback at all. I was just glad he was taller than me."
Chemistry
Ronnie: "Once we started talking, we found some commonalities—we both like comedy, and we talked about our experiences moving to the city. I felt more of a friendly vibe."
Gabi: "We bonded over the fact that we're both transplants from small towns. He said he was homecoming king in high school; my type has a little more edge."
Awkward Moment
Ronnie: "She tried my old-fashioned and winced quite a lot. I was like, 'Oh, not a big fan of whiskey?' and she said, 'No, but I thought I'd try it.' I think she was trying to be adventurous."
Gabi: "We went to a comedy show at UCBEast, and he kissed me. It was a really romantic moment, until we realized there were pictures of penises on a big screen."
Afterward
Ronnie: "We exchanged numbers right before we said goodbye. She gave me her number, and I hopped in a cab and went home. There was a one-armed hug."
Gabi: "After the comedy show, he got my number and got in a cab. We've texted about this whole experience but have no plan to do anything more."
Verdict
Ronnie: ♥♥♥ "She was a nice girl but not exactly what I'm looking for. I like girls that are extroverted, and she seemed kind of introverted. I still had a great time."
Gabi: ♥♥♥ "He wouldn't be the person I'd typically go out with, but I had a good time. If he wants to go out again, that's fine. If not, I'm not going to chase him."
Our daters went to The Django at The Roxy hotel (2 Sixth Ave, 212-519-664)
RECOMMENDED: See more Undateables
Want to be set up on a free blind date? Email undateable@timeout.com.