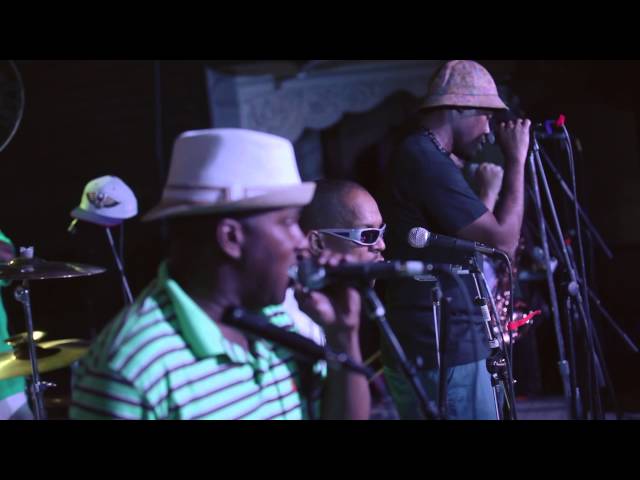 Keith Frazier, 45, is the bass drummer for Rebirth Brass Band, which he founded with his brother, Phil, when Frazier was 14 years old. The New Orleans band released their new album, Move Your Body, last month—the video above shows the band playing one of their new songs live at the Howlin' Wolf in New Orleans. Rebirth will play at Drom this Friday, so we caught up with Frazier about the differences between playing in New York and at home.
What do you look forward to about playing gigs in New York?
People in New York City immediately know when we start playing that its not the kind of music that you sit down and listen to, it's the kind of music that you want to get up and dance to. Places like Minnesota or Iowa—they don't really know who we are or what our music is, so it takes them a while to warm up to what we're doing. In New York City, even when we play at the Blue Note, people know that they can get up and dance.
Do you have a favorite venue to play here?
We like Brooklyn Bowl a lot. It's kind of like a venue that we have in New Orleans called Rock 'n' Bowl, where you have bowling and live music at the same time.
What are the differences between performing here and performing in New Orleans?
In New York City the clubs for the most part are smaller, and instead of doing [one show in] two sessions, we'll do an early 8:00 show, kind of like the dinner crowd, and we'll do a later 11:00 show. In New Orleans, it's primarily that one audience. I prefer the 11:00 crowd
Is there anything else you particularly like about performing in New York City?
In New York City, people tend to study who we are more. They know the song lists and the band members. They really study the music. In New Orleans, they're more like, 'man, I want some music and I want to party'.
When you're not playing, is there anything you guys like to do while you're in New York?
We love to shop-—shoe shopping, a lot of the guys like to buy tennis shoes. Some of these shoe shops for men in Manhattan are like candy shops for kids. Some of the guys like to visit some of the bars in SoHo or the Village, too—there's always some new music that nobody really knows about, or some jam session.
Why do you think you guys have been so successful at breaking out of the New Orleans scene and becoming nationally known?
I think just by going out and doing the number of shows that we do. I tell people we will play in your bathroom if the money's right. There's no gig too big or too small. We're also easy to get along with, very approachable. People like when they can approach musicians and talk about whatever and have a good time.
That's it? There have to be more reasons you're so popular.
Well, we always pick the right tunes—things people can associate with and identify, anti-drugs, anti-gay-bashing. Our music isn't about making something from the haters—it comes from the heart. I think that's why we're so popular around the world—when you hear us play, you can tell that it's real. And a lot of the stuff we play is improvised—we can deviate anytime. People like the rawness of it. The energy is always high, it's uplifting. People all over the world understand that. Music is supposed to uplift and make you feel good, and we're always able to do that whenever we play. I'll tell you a story—we went to Syria in 1994 and they told us this is a Muslim country, they will not dance. We told our tour person, when we start playing we will raise the dead. They were dancing like they've never danced before. This music will move anyone—you can't sit there and not move.
Have you noticed a growth in your national popularity since HBO's Treme aired?
A big surge. When they first asked us to do it, we didn't think it would be as big as it was but I guess we didn't really understand the power of TV. People really watched it and tried to understand what New Orleans is all about. After Katrina and Treme, there were a lot more calls for New Orleans music. We wouldn't normally have played Indiana or Iowa. We just played Cedarbury, Wisconsin. One of our guys was like, 'this is Tea Party country'. But we were like, this is Rebirth country now.
Comments