By Time Out contributors, edited by Sophie Harris
New York City, as we all know, is the concrete jungle where dreams are made of and as such is populated by very cool people doing very cool things (see: Karen O chatting to Julian Casablancas, or our Lena Dunham Pop Art photo shoot). And hell, we're down with that! But you know what? We're also down with snacking on mall food and going to the deli in our jammies. We like delivery and we like pop music, and we're not ashamed of it. Okay, maybe just a bit. Here are our guiltiest pleasures of living in NYC. Tell us yours (if you dare) in the comments below.
RECOMMENDED: The New York guide to life
1. Gigs at the Barclays Center. Immaculate sound! Great views! A total lack of character! Who cares? Not us!

2. Scarfing a Sbarro slice when you could be feasting on one of Gotham's finest gourmet pies. It was right there on the corner…

3. Seeing Jersey Boys on Broadway. There are so many amazing, thoughtful, inspiring shows all over town, we know! But this one's, like, really hummable.

4. Not doing your own laundry. Yeah, there's a laundromat on the corner and machines in your building's basement, but drop-off service is where it's at. (Apart from anything else: folded underwear! Socks that have been matched up in a manner that doesn't suggest their owner is deranged! It's like magic! Sad, domestic magic.)

5. Booking an Uber in the middle of a price-surge without a second thought, because walking three blocks in the rain to get to the bar is for, uh, people who are good with money. But wet! Wet, thrifty people.

6. Staying out 'til 4am then going to Veselka for late-night/early-morning eats. It's sophisticated and bon-viveur-ish, right?

7. The shameful joy of a trashy regional chain opening its first NYC outpost and briefly becoming the hottest restaurant in New York (Dairy Queen, Five Guys, etc.).

8. Medieval Times. Wearing a silly paper crown never felt so right.

9. Buying beeswax candles, gluten-free face scrub, quinoa toothpaste and hand-sculpted udon noodles at the organic supermarket by your apartment building when you only went in for seltzer.

10. Terminal 5 at JFK. Several restaurant options, cupcakes and a pedicure all in one place? Okay. We're used to the high prices from living in the city, anyway.

11. Bulletproof buttered coffee and a doughnut. Our app told us to, okay?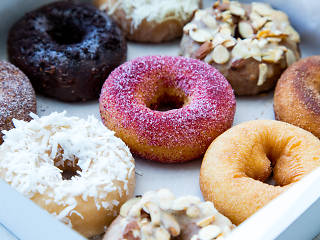 12. Going to see a terrible blockbuster (Boy Next Door with J. Lo, we're looking at you) at a theater where people get all loud and yell-y (Sheepshead Bay, we're looking at you). Now that's what we call entertainment!

13. Bottomless brunch followed by bar-hopping directly after. It almost sounds athletic, doesn't it?

14. No Lights No Lycra. Some people might say that dancing in total darkness to the cheesiest pop hits while inventing your own awesome/diabolical dance moves is stupid. Those people are wrong.

15. The "mission": Mission Cantina for breakfast/lunch and Mission Chinese for dinner, all in one day. All Danny, all the time.

16. Going to the bodega in your slippers and/or walking the dog in your pajamas, because who's awake and around at 9am by the subway station? Oh. Yes. Everyone. Whatever.

17. Taco Bell. For when you want Doritos mixed into ALL your food groups.

18. Street dogs. They live up to the hype. Just don't think about where they came from.

19. Buying books at Barnes & Noble Union Square—look, they don't sell bodice-rippers/Cake Boss cookbooks/the Twilight Saga/that Mitch Albom anthology at the local indie store, okay? Give us a break.

20. Going to the yoga studio for the café/treats experience and not even pretending you might take a class.

21. Smorgasburg. It's basically a tourist trap at this point, but why let that stop you from enjoying the Good Batch's ice cream sandwiches with a view of the river?

22. Ninja restaurant. Yeah, the food is beyond terrible, but that at-the-table magic show when you're plastered? Amazing. ARE YOU A WIZARD?!?

23. Ordering delivery when the restaurant is on the corner and you just really don't want to go back up your four flights of stairs. Or put pants on.

24. Dallas BBQ, the ultimate pregame spot for a sugary margarita as big as your head and a side of 12 beer-can-size wings. Maybe you'll have your future wedding reception there.

25. Willingly choosing to get flogged with a wet birch stick at the Russian Baths. So invigorating.

26. Belting out your favorite pop song with a live pianist at the Duplex while being cheered on by your fellow pop lovers. It's not karaoke, it's CLASSY!

27. 7-Eleven Slurpees. Being rabidly anti-chain and pro-bodega is a challenge when it's oppressively hot and humid and you want to be a kid again riding the sugar high of a cherry- or Coke-flavored slurpfest.

28. Ellen's Stardust Diner in Times Square. Sure, it's touristy and the singing waiters can get too close for comfort, but you won't find a better (or cheaper) way to hear the Broadway stars of tomorrow while chugging a mint chocolate chip milkshake that's 50 percent vodka.

29. Sleeping in 'til the last possible minute and cabbing it to get to brunch on time, then going back to bed as soon as you get home.

30. Choosing fried dough as your snack of choice at Yankee Stadium. If it's guilt, why does it taste so delicious?

31. Listening to songs about New York while you're walking around New York and being like, yeah, Alicia Keys is basically singing about me right now.