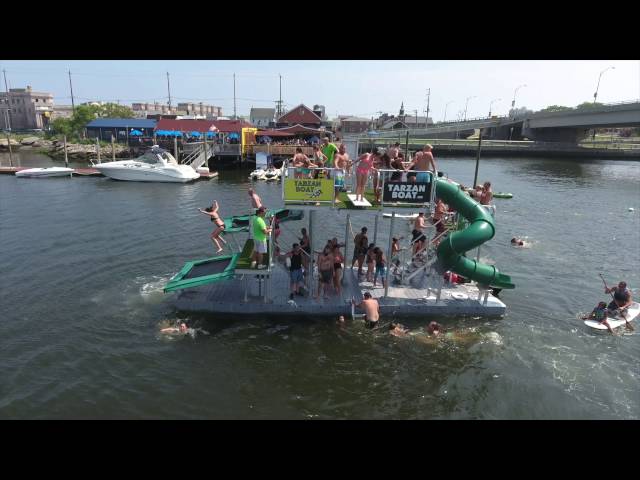 Summer in NYC really is on another level. New Yorkers come face-to-face with the city's underground rodent and insect populations, the subway platforms begins to feel like the rainforest room at the Central Park Zoo and trash on the sidewalk begins to smell pretty rank. On top of all that, Amtrak's summer of hell at Penn Station makes it that much harder to plan a quick getaway.
Midsummer train delays and job deadlines can make anybody nostalgic for the simple joys of a water slide. Luckily, the mobile, floating Rockaway Water Park, which is open for the summer, satisfies that fix. It's a pop-up, and it's only in place through mid-September. With a slide, rope swing, bouncing platforms, jet ski rentals and more, the park is basically a floating playground in Jamaica Bay.
This attraction is probably the closest you can get to your memories of Splish Splash within the five boroughs. Plus, it sure beats taking a dip in the fountain at Washington Square Park (what with all the pigeons lingering nearby).
You can make a reservation on the Rockaway Water Park site for jet ski rentals, activity tours, private parties or a chance to play on the boat. There is also access to the nearby long-standing Thai Rock, an authentic Thai restaurant with live music and a bar. So if you need a summer date idea, the sunset jet ski tour à la Will Smith in Hitch followed by cocktails at Thai Rock or Bungalow Bar is not a bad way to go.