For this week's cover of Time Out New York cover, we had world-famous street artist Giz paint us a 19-foot mural in Bushwick. You can check out the mural at 424 Troutman Street, and find out more about how it all went down below.
The artist
After graffiti bombing all five boroughs in the '90s, New York native Giz entered the gallery scene in 1998. He's shown his work all over the world, from Paris and Berlin to Art Basel in Miami. Last year, he joined the Bushwick Collective—a group of street artists who paint murals in the neighborhood—which is featured in this week's cover story.
The process
Giz painted the mural over the course of three days, with the help of a ladder and a 19-foot crane. He outlined his design in gray spray paint, then added multiple layers of color in order to arrive at the final palate. Walking tours and fellow street artists stopped by to watch Giz while he worked his magic.
The location
Joe Ficalora, founder of the Bushwick Collective, helped find a home for the mural. "Bushwick has definitely changed," says Giz. "It used to be crackheads and thugs, and now it's coffee shops and trendy outdoor areas. Bushwick is called the coolest place in New York, but it used to be the worst."
The design
For our "Best of New York" issue, Giz collaborated with Time Out New York's art team to create a mural that captures the energy and vibrancy of the city right now. He made a preliminary sketch, drawing on elements from his previous work, but much of the painting was improvised. "I would say 80 percent of what I do is not planned at all," he says. "It comes out naturally; it can't be forced."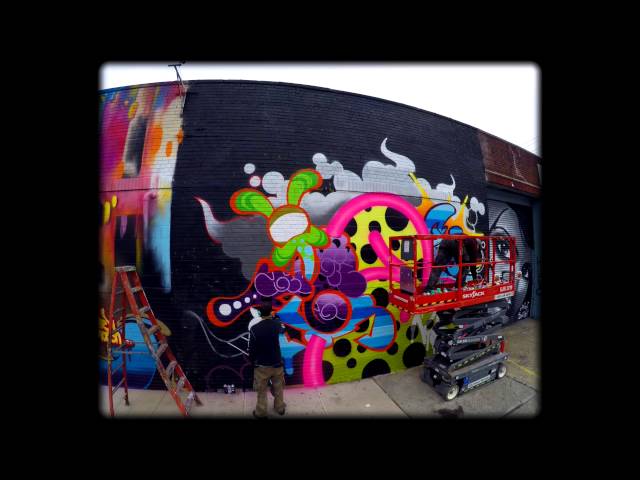 ---
Recommended feature