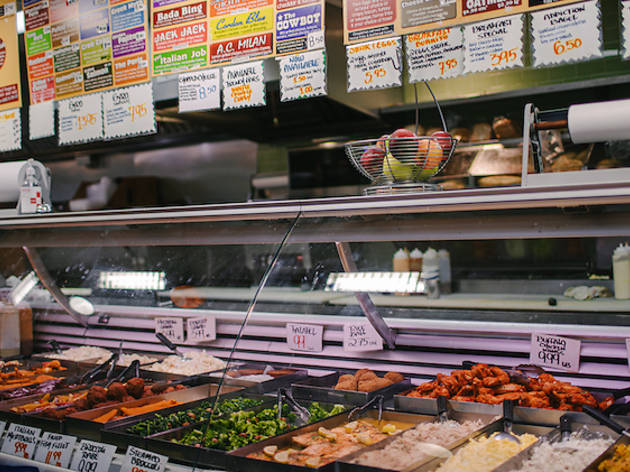 15 bodegas we love in New York right now
Did your favorite make the list?
A New York neighborhood is only as strong as its best bodega, and lucky for New Yorkers, the boroughs are full of excellent, oft-open corner stores. These quintessential shops are rife with specialty deli items, fridges stocked with cold Pepsi when you crave it most and pretty much anything else a city-dweller could need (single roll of toilet paper, check! Extra-large bag of Doritos at 2am, check! Vegan butternut squash soup for your surprise meat-free guests, check!). Bodegas are just one of the many small businesses that make New York an incomparable place to live. These cart-free, cat-positive convenience stores come in all shapes and sizes, but they all have a place in the great bodega canon.
Ranking all of New York's bodegas would be an impossible feat, but this holiday season, Time Out and Pepsi are teaming up to highlight some of the best. After all, it's the least we can do to show our appreciation for the mom-and-pops that keep the city running. Shoutout to the bodega cats, for keeping it real, too.
Everyone's got a favorite bodega – what's yours? Share your own bodega story with #PepsiBodega.
Brooklyn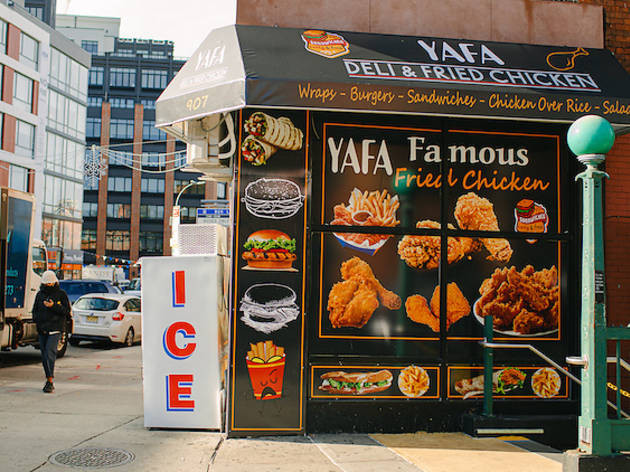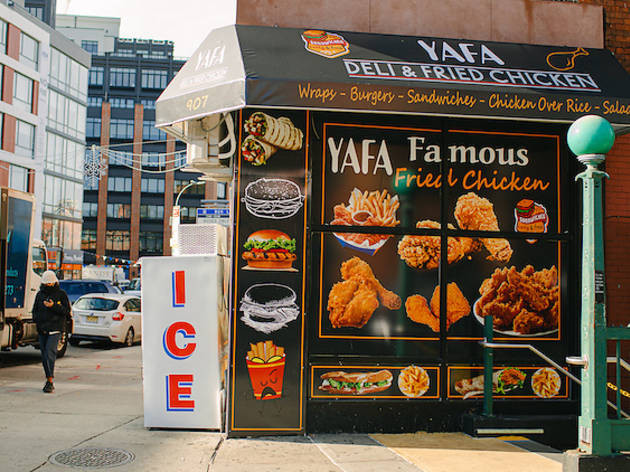 Photograph: Archer Lewis
907 Fulton St
Two words: Fried chicken. Yep, you can grab your pint of milk and any last-minute ingredients for dinner and slip a crisp drumstick in there, too, thanks to Yafa's excellent poultry specials. The meat is moist and stays crisp in a warmer, and there are plenty of accoutrements to choose from, including mozzarella sticks, potato wedges or ice-cold beer from the fridge.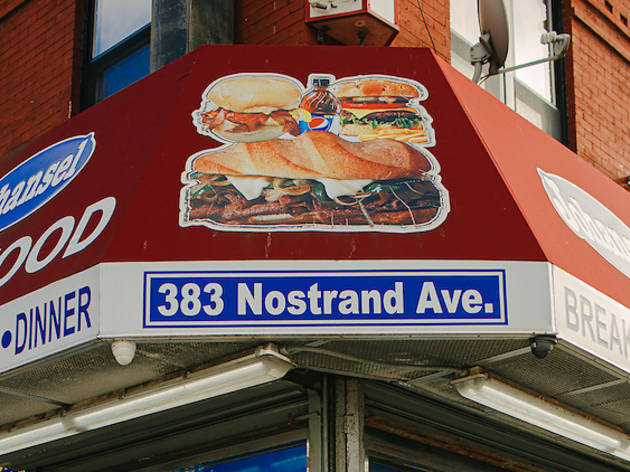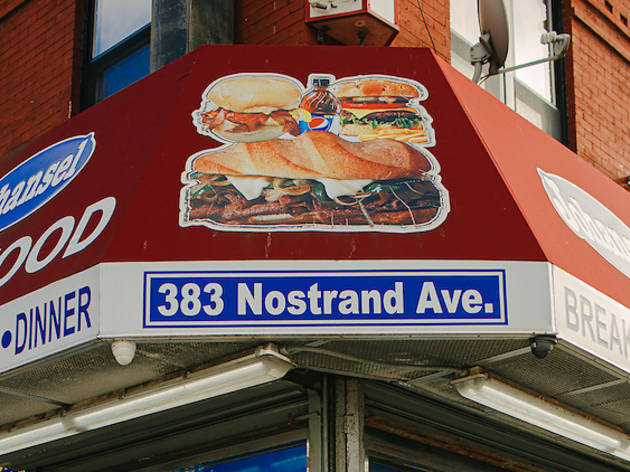 Photograph: Archer Lewis
383 Nostrand Ave
Home to one of Bed-Stuy's greatest breakfast sandwiches, Jasleen is a go-to for bacon, egg and cheeses. As added perks, the staff is wonderfully friendly and the sandwich menu goes beyond the classics, including warm lunch subs and more.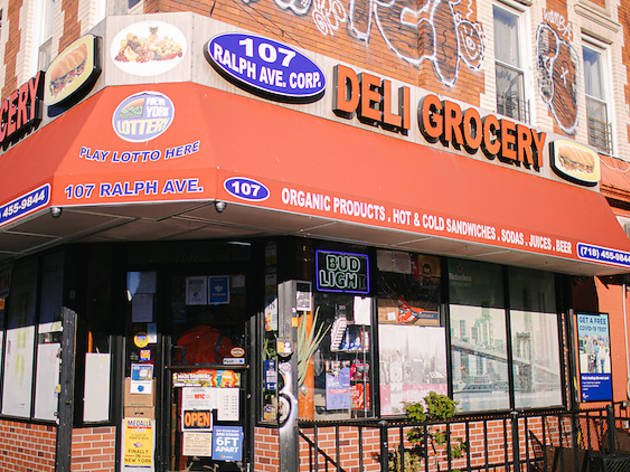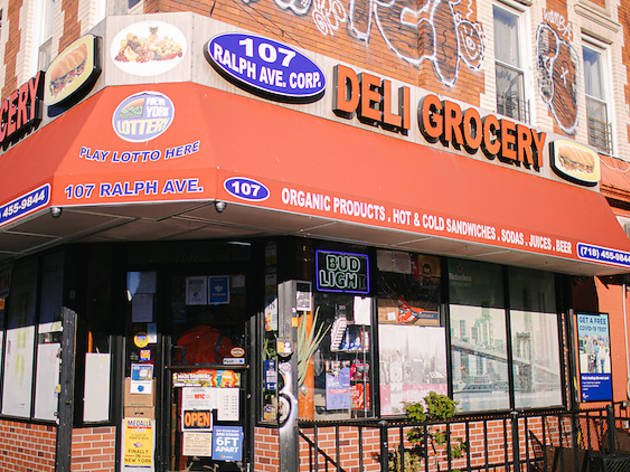 Photograph: Archer Lewis
107 Ralph Ave
This triangular corner bodega packs its unusually shaped space with oodles of crave-worthy treats. Nearly a full-blown grocery story, 107 has all the essentials plus some gussied-up organic snacks and ingredients as well as a full hot and cold deli.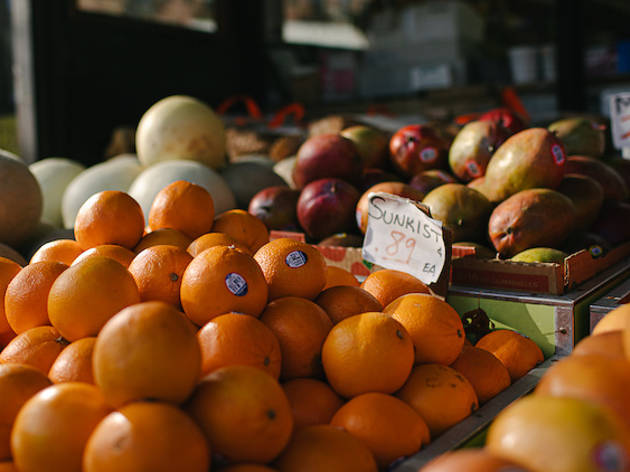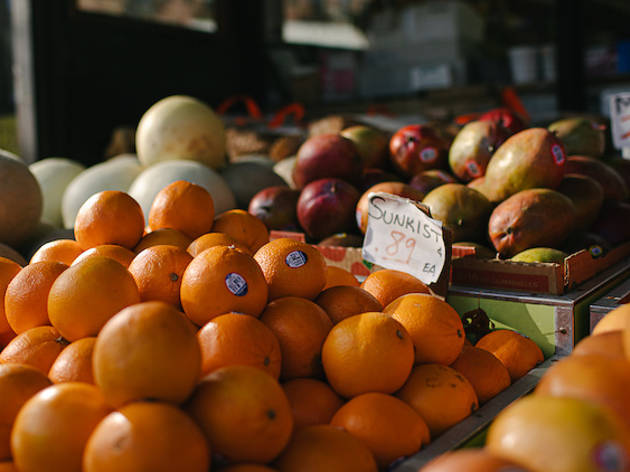 Photograph: Archer Lewis
214 Prospect Park West
Homemade kimchi puts this destination-worthy bodega on the map, thanks to owner Sandra Kim. A smorgasbord of fresh dips, dishes and plenty of produce make J&H a healthy choice to shop for dinnertime essentials.
Manhattan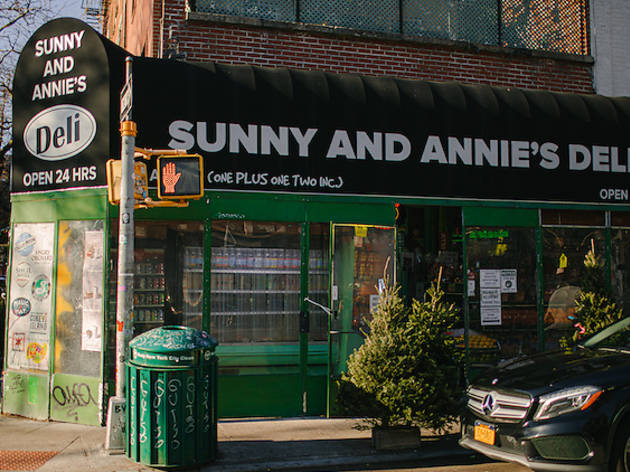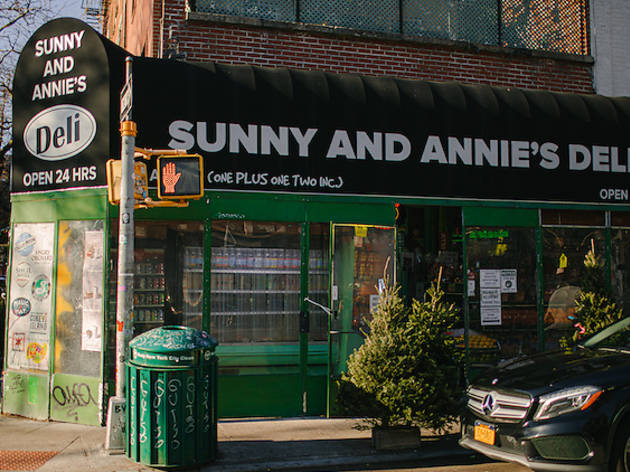 Photograph: Archer Lewis
94 Avenue B
This Alphabet City staple is renowned for its inventive sandwiches, complete with cutesy names, like the fan-favorite PHO Real, which turns the Vietnamese soup into a wrap with roast beef, sriracha and avocado. When you factor in the ample selection of beverages, the fresh flowers and its proximity to Tompkins Square Park, Sunny & Annie's practically doubles as an under-the-radar date spot.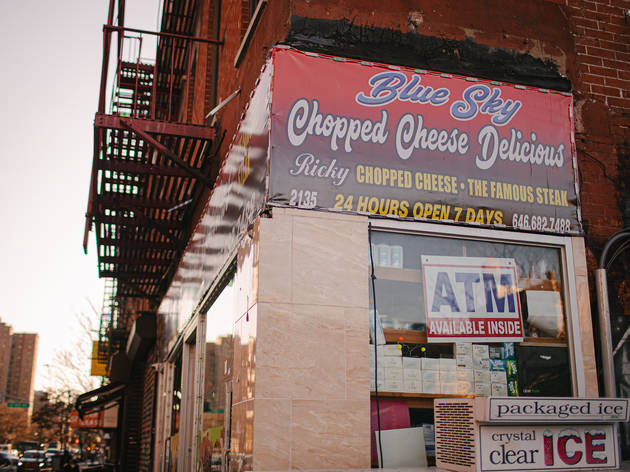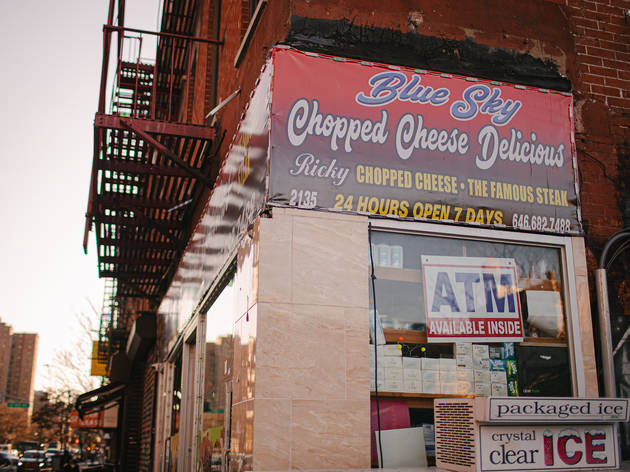 Photograph: Archer Lewis
6. Harlem Taste (Hajji's)
2135 First Ave
Known as the birthplace of the bodega's most iconic sandwich, the chopped cheese (created by deli worker Carlos Soto sometime in the '90s), Harlem Taste is now a landmark for its ground beef and melted cheese sandos. Above all else, it's a great neighborhood bodega, with well-stocked shelves and a photo of Soto (who passed away in 2014) proudly gracing the space.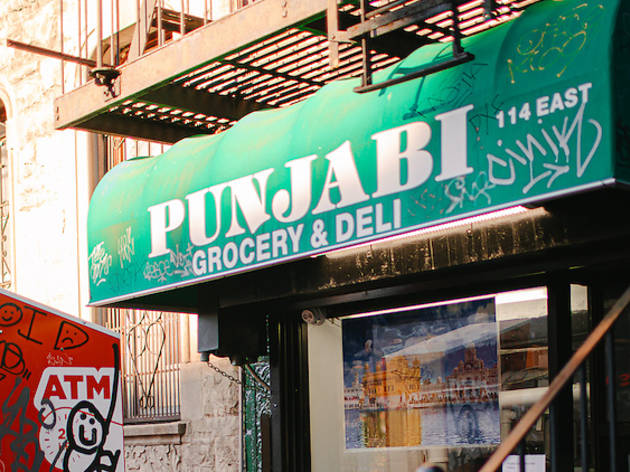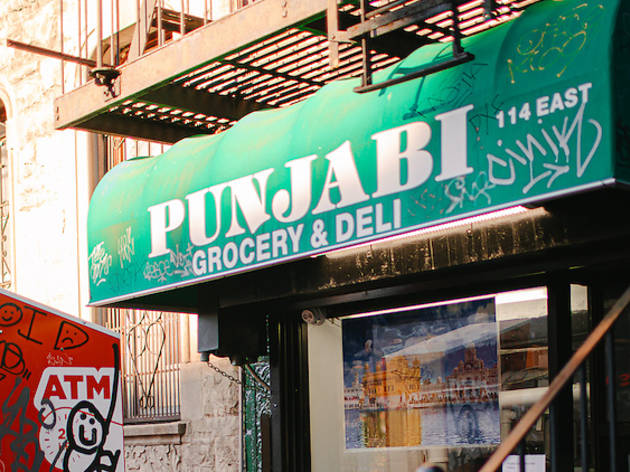 Photograph: Archer Lewis
7. Punjabi Grocery & Deli
114 East 1st St
One of few bodegas with a social media presence, Punjabi has garnered plenty of media attention over the years. It was even the subject of a 2015 short film, thanks to the slim deli's top-notch Indian fare and popularity among cabbies. Stop in for piping-hot samosas, curries and plenty of imported groceries to take home, plus a sweet drink to wash it all down.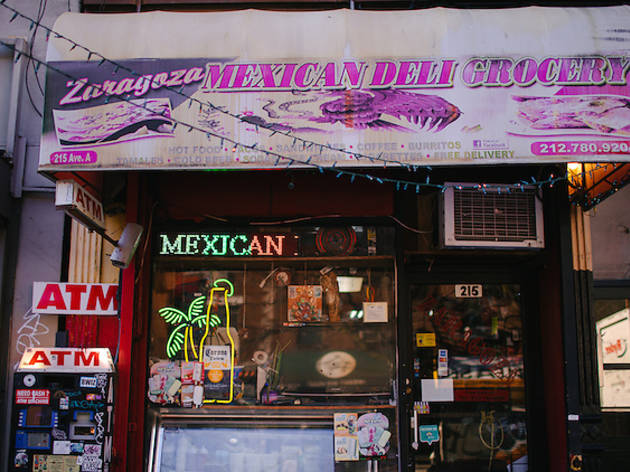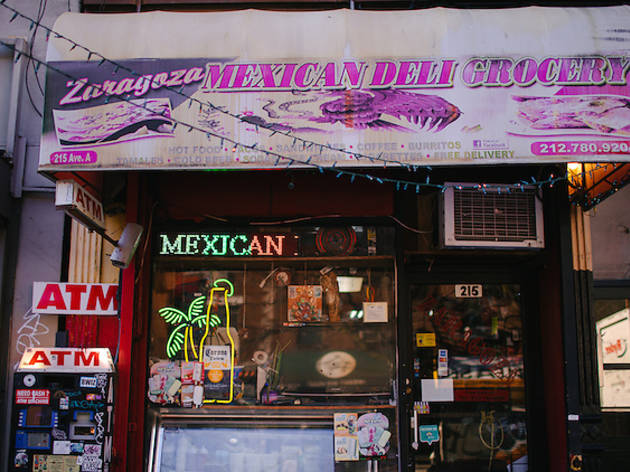 Photograph: Archer Lewis
8. Zaragoza Mexican Deli & Grocery
215 Avenue A
Stop in for a mini-bottle of mouthwash and leave with a mouth-watering potato and cheese flauta from Zaragoza, a downright delicious place to run errands downtown. The cozy, fully stocked shop doubles as a restaurant, doling out excellent Mexican eats. Come spring, grab a seat at one of the outdoor tables to eat a salsa-drenched burrito on-site.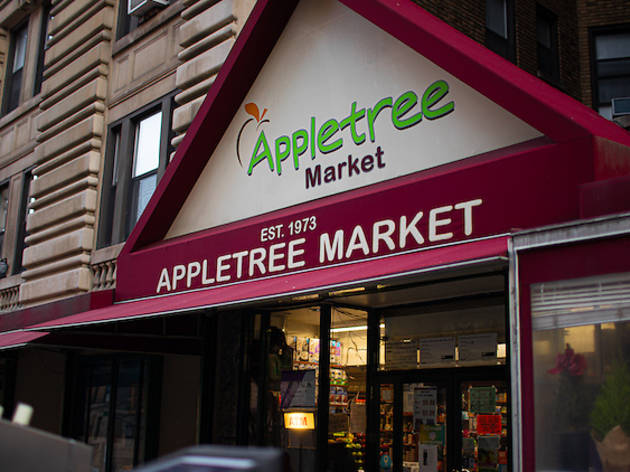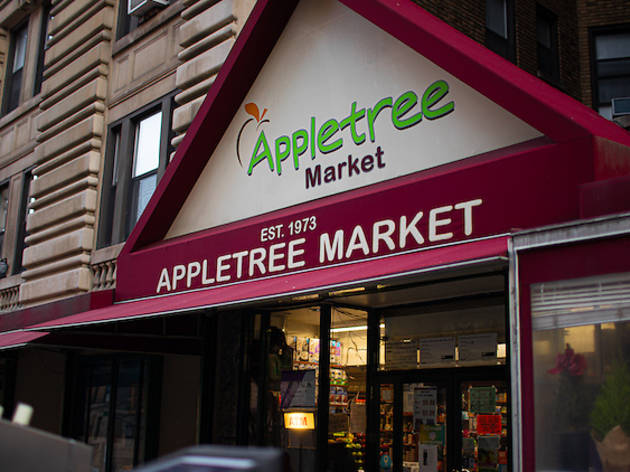 Photograph: Archer Lewis
1225 Amsterdam Ave
Simply put, this 24-hour, cat-guarded supermarket rocks. Apple Tree's grocery section is rife with packaged and fresh foods, and a sprawling deli and adjacent salad bar make it possible to skip cooking altogether.
Queens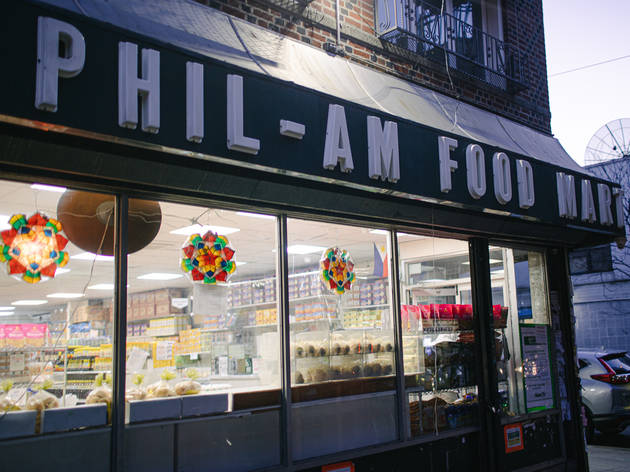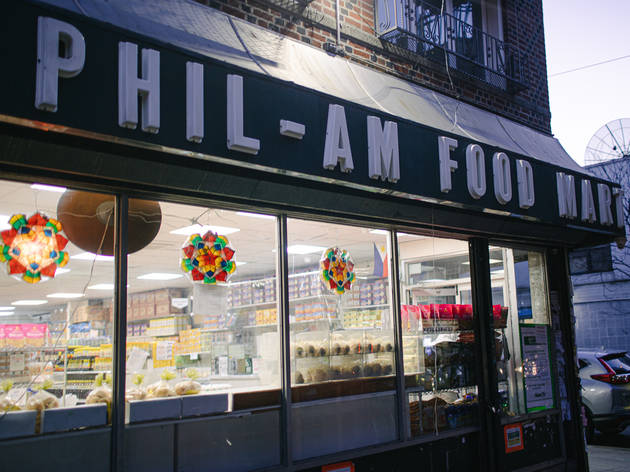 Photograph: Archer Lewis
40-03 70th Ave
Far exceeding your average bodega, Phil-Am is the oldest Filiino grocery store in all of New York City. Since 1976, this Woodside shop has kept its shelves stocked with imported Asian groceries, both shelf-stable (canned ligo) and frozen (ube and banana leaves). Stock up on noodles, rare snacks and baked goods when you visit.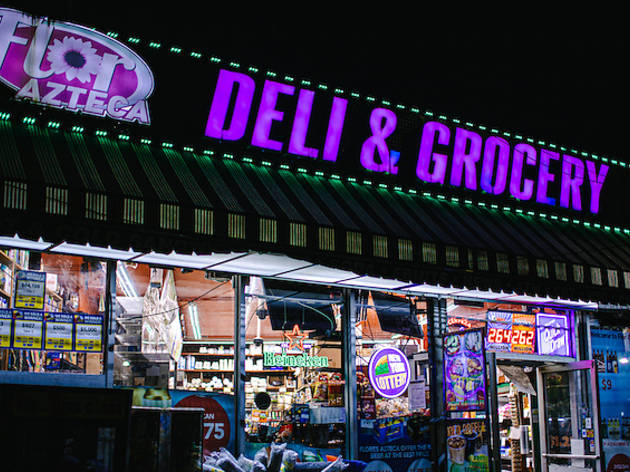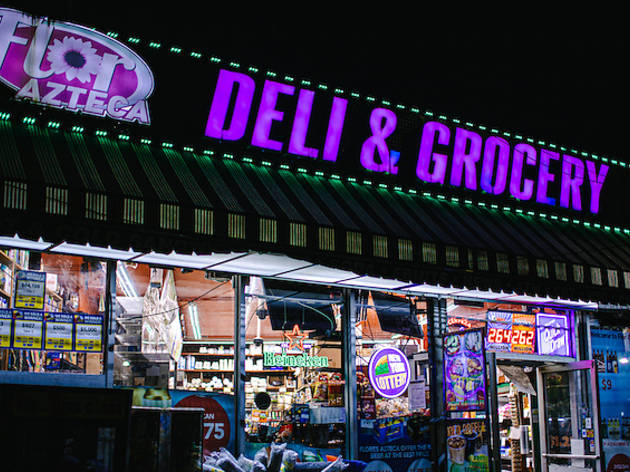 Photograph: Archer Lewis
11. Flor Azteca Deli & Grocery
48-12 104th St
One of many exemplary Mexican convenience stores in Corona, Flor Azteca is generously sized and priced, vending fresh produce, flowers and everyday essentials. On your way out, treat yourself to one of the beloved deli sandwiches.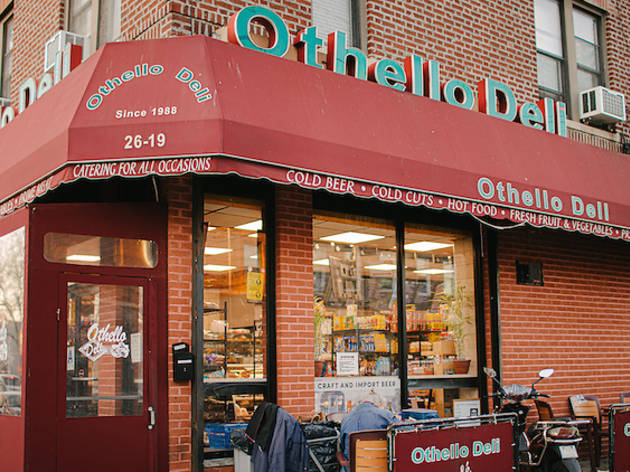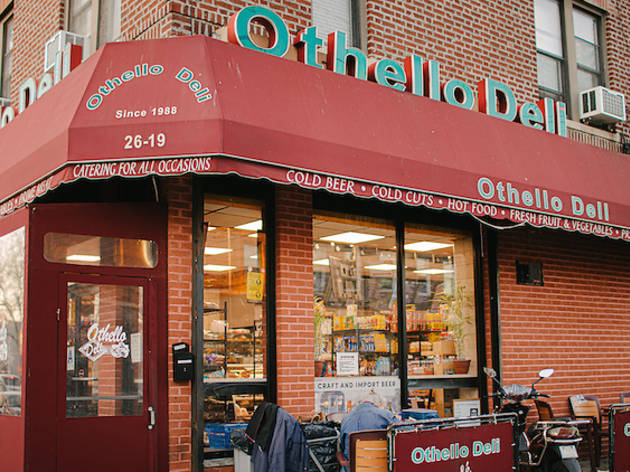 Photograph: Archer Lewis
26-19 24th Ave
An outstanding sandwich shop with seemingly endless options, Othello offers an enormous variety of hot and cold food, with some grocery and household staples on the shelves to supplement. Heroes are made with generous portions of protein, and the big boy breakfast sandwich has been known to cure a hangover or two.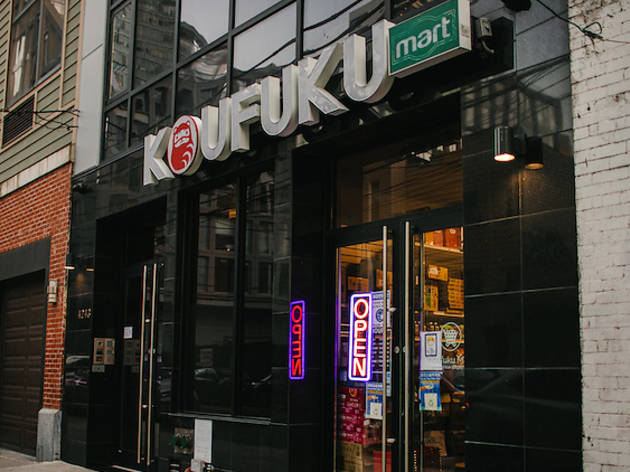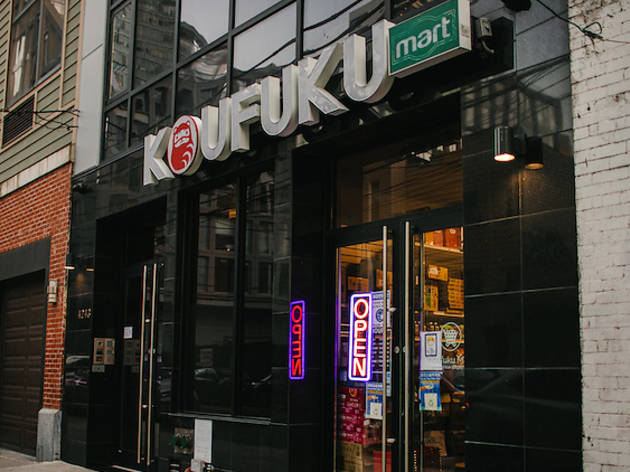 Photograph: Archer Lewis
42-43 27th St
While this tidy Japanese store leans more supermarket than bodega (checkout is done via iPad and shelves are color-coordinated!), Koufuku is open late and considered a daily necessity for neighbors. It's also the best place to grab a last-minute gift, as owners stock up on imported Japanese and Korean cosmetics as well as a plethora of hard-to-find snacks.
The Bronx
901 East 217th St
A Bronx staple for unparalleled variety, the menu at NH Deli covers breakfast, lunch and dinner—with signature pressed melts and wraps, fresh shakes and juices, Halal food and chopped cheese sandwiches. They have it all, and they do it right.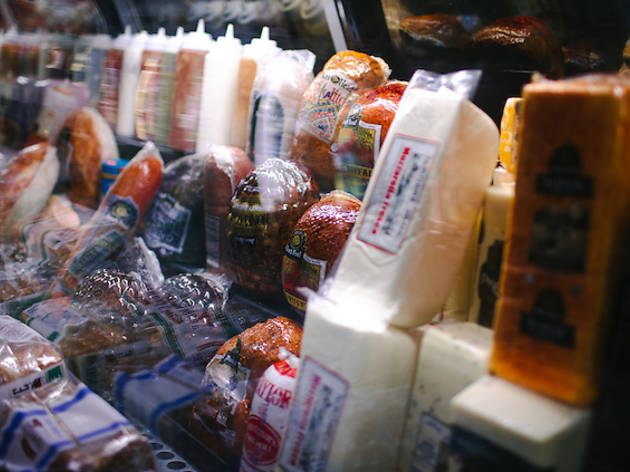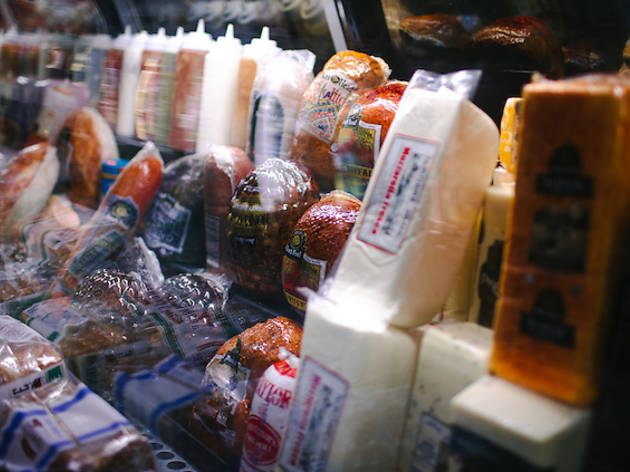 Photograph: Archer Lewis
434 West 238th St
Open 24/7, Jasper's is a neighborhood essential, particularly for its dozens of hot sandwiches. Some are traditional, while many are decadent, like the aptly named OMG I'm Fat with chicken tenders, lamb, onion rings, mozzarella sticks, white sauce and hot sauce on a hero.
Share your own bodega story with #PepsiBodega.