Heads up! We're working hard to be accurate – but these are unusual times, so please always check before heading out.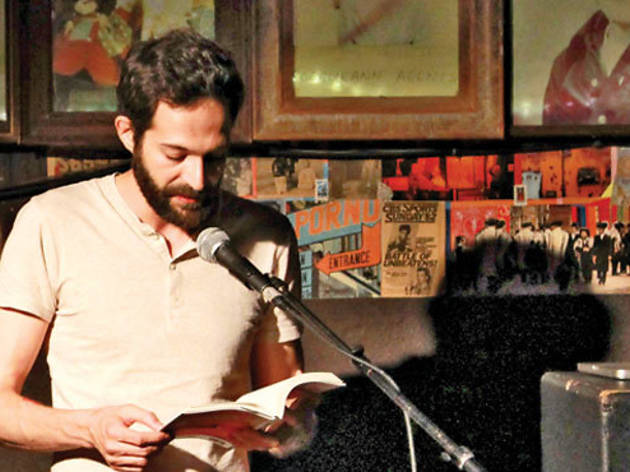 Author Shane Jones opens up about death and his dark new novel
In Crystal Eaters, Jones creates an outlandish world that reflects his own realizations about parenthood—and where, yes, characters consume crystals
Let's begin with death. "I think everybody's obsessed with death to a certain extent," Albany-based author Shane Jones says after a rare Brooklyn appearance at the Franklin Park Reading Series. "And the idea of a woman dying—and a mother dying— seems so intense. There is a power there."

In Crystal Eaters, his new novel (following the much-acclaimed Light Boxes and Daniel Fights a Hurricane), an intricate plot grows from the impending death of a mother in a village where the townspeople mine crystals. Every living being also possesses internal crystals, and (as in a video game) a character's crystal count decreases over a lifetime. Humans begin with 100; this mother has only a handful left. But her daughter, Remy, and (imprisoned) son, Pants, trust, devotedly, in the crystals and obsess over the possibility of raising their mother's count to keep her alive. Remy roams about the novel, bickering with her father and haunting the crystal mines, searching for the fabled black crystal, which—the stories say—can increase one's count. Though Pants, in prison, has discovered and regularly consumes a black crystal himself, his actions bear little consequence on the narrative or the fantastical world. Jones asserts, "All the action either spins off of the mother dying or what Remy is doing. All the women have the power in the book." The novel's intricate plot is a beautiful, crystalline structure orbiting the mother—so as her condition worsens, the physical world, too, deteriorates: the Sun appears closer and closer to the Earth's surface, suffocating everyone with heat, and the nearby city inexplicably expands, threatening to consume the village.

The author credits his wife with inspiring his interest in crystals and says, "I like the idea of almost any type of belief system, from religion, at one end of the spectrum, to crystals at the other end. I respect people that are so devoted to that kind of thing…because I want something to believe in. I think everybody does." And as in many belief systems, hope rises up from the book's muddy earth—hope in the potential power of the black crystal and in the ties of a family. As the mother's strength fades, Jones, a father himself, posits a new understanding of legacy: not being remembered but being supplanted. "You realize you're being pushed toward the end of the spectrum of dying and your [child] is going to replace you." From that notion, he spins an admirably deep story that will wrench readers' hearts as the mother coughs out crystals, and Remy staggers toward replacing her.

Crystal Eaters
by Shane Jones, available now from Two Dollar Radio; $16.