Book review: I Dreamed I Was a Very Clean Tramp by Richard Hell
The punk icon remembers '70s NYC and more, skipping between music, sex and philosophy with a winning insouciance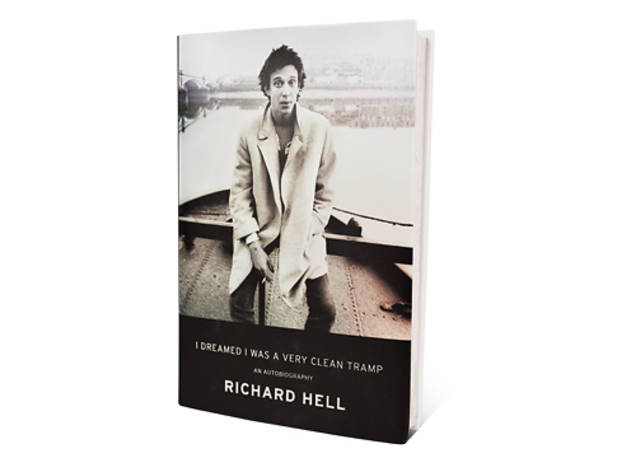 By Richard Hell. Ecco, $26.
The new memoir by New York City music world legend Richard Hell is an apt commingling of the righteous and the risible, precisely in line with the enigma of his life and career. Though Hell's artistic journey began with an ambition to become a poet, he was quickly seduced by the burgeoning CBGB rock scene of the 1970s, doing stints as a formative member of both Television and the Heartbreakers. Later, he fronted his own band, Richard Hell and the Voidoids, whose debut, Blank Generation, remains a touchstone of the era's compellingly misanthropic nihilism.

Hell retired from music in 1984, but his recollections remain razor sharp and his prose style is agreeable, if occasionally self-aggrandizing. The least-appealing digressions in I Dreamed I Was a Very Clean Tramp are those that deal explicitly with his relationships with women—it's clear that he considers himself a lothario of nearly unequaled appeal, and spares no detail in rendering his particular variety of carnal triumphalism. He redeems himself, however, by being just self-deprecating enough to suggest he's a little more thin-skinned than the typical rock star.

Recalling elements of Bob Dylan's Chronicles, Hell's book skips from professional engagement to personal assignation to freewheeling philosophy with a winning insouciance. Along the way he introduces Tom Verlaine, Dee Dee Ramone, Sid Vicious, Patti Smith and a nearly endless host of others. Hell is an enthusiastic reporter of the critical artistic crossover of the avant-garde art scene and the world of punk rock. Warts and all, his account rings true and it entertains; Tramp will prove itself a treasure both to those present during gritty, heady '70s NYC and to those not.
Buy I Dreamed I Was a Very Clean Tramp on Amazon

Get I Dreamed I Was a Very Clean Tramp on your Kindle
Sponsored listing
Kat & Theo
This Flatiron gem offers seasonal, New American fare from executive chef David Fisher, who's put in time in such Michelin-starred restaurants as Jean-Georges, Aquavit and Aldea. From an open kitchen overlooking the 70-seat dining room—a moody, brick-walled stretch divided into a front bar area fitted with leather booths and metal trellis archways, and a back dining room warmed with a stone fireplace—Fisher deploys starters like tomato-braised octopus with cannellini beans ($18), and delicata squash agnolotti with lemony shrimp and firey chiles ($14). Robust mains include a juicy hanger steak accompanied by earthy rutabagas ($28), and a slow cooked leg of duck glazed accented with sweet plums ($29). 
Venue says: "Kat & Theo offers Happy Hour Mon - Fri from 5pm-6:30pm, enjoy a Classic Cocktail $10, select Wines & Prosecco $8, and select Beers $7"