Book review: The Flamethrowers by Rachel Kushner
Art and revolution swerve into the same lane as a young woman encounters creative characters of mid-'70s New York City and class war in Italy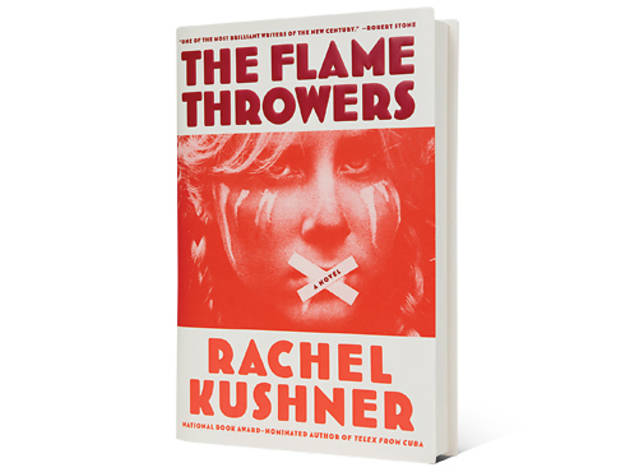 By Rachel Kushner. Scribner, $27.
Youth, art and revolution all demand a body count, or so Rachel Kushner suggests in her bracing, sometimes brutal second novel. The central character, a young artist nicknamed Reno, is almost secondary to the larger-than-life figures she encounters in the late 1970s, including artists and countercultural revolutionaries, who fall into one of two violent categories: the Weather Underground sort and the even more dedicated-to-destruction Italian kind.

Reno's bridge between the two worlds is her boyfriend, Sandro Valera, an Italian artist living in New York, whose businessman father built a tire and motorcycle empire on the backs of Brazilian slave laborers. Kushner's focus shifts between Reno's artistic journey and the Valera family's rise, rendering locales ranging from the Salt Flats of Utah to the Amazonian rain forest with sterling detail. The narrative veers and swerves between locations and times, creating a jerky sense of anxiety. While beginning an art project on the Salt Flats, Reno crashes a motorcycle and is subsequently adopted by the Valera racing team. Her beau, the black sheep of his family, resists Reno's inclusion, but she nonetheless ventures with them to Italy—and there learns more about Sandro and revolution than she cares to know.

The Flamethrowers packs an impressive punch, and Kushner's writing is fantastically vivid. Her use of color is cinematic, and she frames the minutiae of everything from obscure art movements to motorcycle parts as if she had intimate knowledge of each subject. Her constructions don't just pop off the page, they blister and seer into your brain. From descriptions of clouds to 12-page soliloquies on sailing around the world, it's often difficult to see where the author is going. But it's nearly impossible not to follow her.
Buy The Flamethrowers on Amazon

Get The Flamethrowers on your Kindle
Sponsored listing
Amorina
This Prospect Heights pizza and pasta joint has a dedicated following among the neighborhood's residents. The menu reads like any typical old-school Italian restaurant, but the focus on seasonal ingredients sets Amorina apart. The special "Will to Live" pizza changes nightly—one day, it could be made with fresh ramp pesto and mozzarella, and the next, it could be a meaty sausage pie. Classics like the margherita ($12) and tricolore ($15) pizzas make an appearance, as do more inventive options like the gorgonzola e frutta, with wine-soaked figs, caramelized pears and a drizzle of honey. If you want something other than a slice, there's plenty of pasta to choose from—think rigatoni with cremini and porcini mushrooms ($15.50), baked ziti with smoked mozzarella, stewed tomatoes and bechamel sauce ($15) and eggplant parmigiana ($15). The restaurant serves up all kinds of traditional sweets for dessert, like ricotta cheesecake with orange and a flourless chocolate cake with caramel (both $7).
Venue says: "Will To Live Pizza: Ricotta, Roasted Winter Squash, Caramelized Onion, Speck"