Book review: The Peripatetic Coffin by Ethan Rutherford
The dark comedy in Rutherford's debut is staggeringly good, but while exploring all the ways in which a person can be trapped, he may give readers PTSD.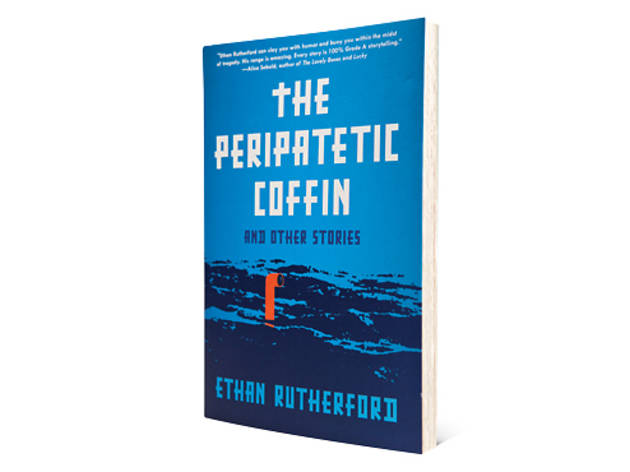 By Ethan Rutherford. Ecco, $14.
The title story of Ethan Rutherford's debut collection wonderfully balances trauma and wit, and sets the tone as it fictionalizes the crew of an early submarine used by the Confederate Army during the Civil War. The sub's first two crews perished, and Rutherford envisions the third unit as a group of misfit soldiers, many of whom have already been mauled in combat. They're a sort of doomed Bad News Bears, whose quips could fill several seasons of a sitcom.

"Summer Boys" follows two friends on the precipice of adolescence, relentlessly copying one another—e.g., riding the same bike and sporting the ridiculous haircut of their favorite football player—in search of identities. The terrific pitch-black comedy "Camp Winnesaka" finds hapless summer-camp instructors conducting a series of raids on a neighboring camp when their mascot goes missing. What begins with overweight kids falling out of paddleboats escalates to an all-out war complete with ballistic missiles.

Rutherford explores every way and shape in which someone can be trapped, from the literal—aboard a sinking ship—to more indefinable sensations, like being penned in a loveless marriage. The thematic repetition, however, becomes tiresome in "The Mugging," and completely misses the mark in the bizarre, postapocalyptic closer, "Dirwhals!," which comes off like a poor attempt at Dune fan fiction. Rutherford can be staggeringly good, especially when focused on dark comedy, but his heavy repetition of awful circumstances and characters suffering from PTSD might make readers feel trapped as well.

Buy The Peripatetic Coffin on Amazon

Get The Peripatetic Coffin on your Kindle