Heads up! We're working hard to be accurate – but these are unusual times, so please always check before heading out.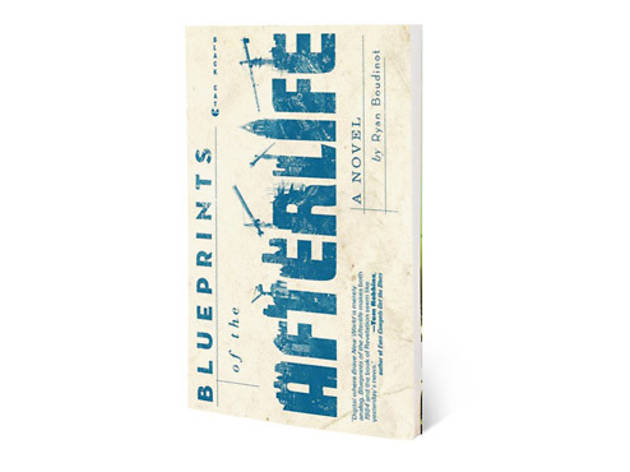 Review: Blueprints of the Afterlife by Ryan Boudinot
Oddball characters cope with an apocalyptic future in this series of strangely compelling vignettes.
By Ryan Boudinot. Grove Atlantic/Black Cat, $14.

Things have gotten bad in the future chronicled in Blueprints of the Afterlife, the latest bit of mind-probing prose from author Ryan Boudinot, who writes like the bastard son of Philip K. Dick, William S. Burroughs and Aldous Huxley. A hundred years from now, a global apocalypse has wiped out 80 percent of the world's population and ushered in the Age of Fucked Up Shit (or FUS for short). A series of catastrophes, including a human-android war and a monstrous sentient glacier with bottomless bloodlust, have mightily altered the world as we know it.

Weirdness abounds as Boudinot eschews a straightforward narrative, in favor of overlapping vignettes involving anything from alien visitation to a biology-based Internet. In the first chapter, Pacific Northwest "championship dishwasher" Woo-jin Kan debates whether to hand over food he's pulled from the trash to his morbidly obese foster sister, who spends her time watching television and growing tissue for a bizarre government program. Ensuing chapters introduce increasingly oddball characters, including the beautifully-named data analyst Abby Fogg; her bionet hacker boyfriend, Rocco; demented former pop star Kylee Asparagus (who has 600 clones); and Luke Piper, whose posthumously retrieved audio recordings slowly begin to decode the reasons for the world's unraveling.

Blueprints is both dire prophecy and biting commentary on the modern world, seizing on contemporary issues and blowing them up to grotesque, comedic excess in ways that never feel far-fetched (e.g., the text takes a swing at consumerism as major corporations sponsor the human-android war). Boudinot blends science fiction and farce with rare skill and energy, and his compellingly strange characters are a wonder to behold, even as they're watching the world die.
Buy Blueprints of the Afterlife on Amazon

Get Blueprints of the Afterlife on your Kindle