Review: The Miniature Wife by Manuel Gonzales
The surprising oddities in this debut author's short stories reveal wholly relatable consequences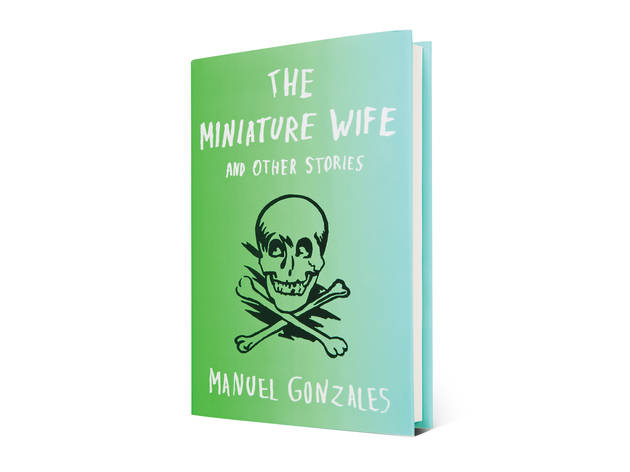 By Manuel Gonzales. Riverhead, $27.

Some stories can only be enjoyed when you aren't fully aware of what is transpiring or things aren't quite what they seem. Manuel Gonzales's debut collection, The Miniature Wife, is the opposite: Things are exactly as they appear. Early in each tale, we learn of a rather unusual circumstance confronting the protagonist, who must either fight or retreat. But because these peculiarities are dispensed with at the outset, individual will, rather than plot twists, propels the narrative.

Some of these predicaments include a house filled with caged animals, a composer whose musical creations cause him bodily harm and a hijacked airliner that has been circling Dallas for two decades. In this last tale, "Pilot, Copilot, Writer," the physics of perpetual flight is less an implausibility than it is a metaphor for the narrator's desire to escape his earthbound life. In the title story, a man renowned for his ability to miniaturize anything accidentally shrinks his wife to the size of a coffee mug. What ensues is a study of a couple's inability to adjust to new situations.

These—and other surreal happenings in the book—are "ordinary monsters," to borrow a phrase from Gonzales's "The Animal House." Like Vonnegut, he uses the supernatural as a means to an end. Suspense and panic may arise in us as readers, but these reactions aren't coming from the stories' strangeness; they are the result of our familiarity with the consequences rebounding from the oddities each character must face.
Buy The Miniature Wife on Amazon

Get The Miniature Wife on your Kindle
Sponsored listing
Caffe dei Fiori
A block away from Hunter College on Lexington Ave, Caffe dei Fiori hosts a seasonal menu that rest comfortably between traditional and modern. Offerings include elevated classics such as house-made tagliatelle with bolognese sauce ($26), a crunchy potato string–topped tuna tartare with lightly spiced avocado mousse ($22) and a salad of octopus, eggplant and basil ($23). While the scratch-made pasta offers the ideal fork tenderness, some of the protein-centered entrées fall short—lamb chops with wild mushrooms ($40) lack enough seasoning to complement the earthy flavor of the meat while the duck breast with pickled cherries ($44) screams out for greater attention to technical detail. On a recent visit, the skin wasn't properly crispy, the fat had not rendered and the meat wasn't fully cooked. However, the restaurant's reaction was immediate, as the maître d'hôtel quickly made amends for the failed dishes with two fresh plates of pasta covered with white truffles and parmesan. Dessert fares better. The cheesecake ice cream layered with fresh raspberry compote and buttery crumble ($12) tastes creamy and decadent and the panna cotta ($12) is lusciously smooth. The restaurant also offers an extensive wine list, with bottles ranging from $50 to $630. Though a few dishes fall short, the staff more than makes up for it with your choice of freshly baked bread, tableside fish deboning and an attitude that makes you feel right at home. All in all, Caffe dei Fiori is a charming and prom
Venue says: "Caffe Dei Fiori is a hidden gem, conveniently located on the Upper East Side."