Heads up! We're working hard to be accurate – but these are unusual times, so please always check before heading out.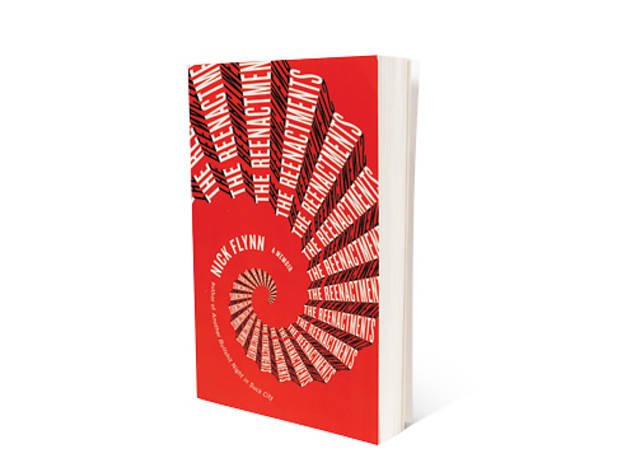 Review: The Reenactments by Nick Flynn
Flynn's book about making a movie based on Flynn's own memoir is a poetic and engaging—if not essential—piece of metafiction
By Nick Flynn. W.W. Norton, $16.

Who would play you in the movie of your life? What would it be like to watch your days reimagined for the silver screen? In his new book, Nick Flynn does more than daydream about these questions; he answers them for himself. Eight years after Flynn wrote Another Bullshit Night in Suck City, its autobiographical events were adapted into a film called Being Flynn. The Reenactments recounts the making of the movie—including representations of his mother's suicide and his father's struggle with alcoholism and homelessness—while exploring many of the psychological forces that underpin these memories.

The book plays out in quick passages. Some, akin to journal entries, describe the film's shooting process and director Paul Weitz's constant probing into Flynn's recollections; others collect heady quotes on the science of memory from people like Friedrich Nietzsche. Flynn, here a fly on the wall of his own existence, takes a third-person perspective on his life in a way that's part metafiction and part DVD commentary.

Though many of the events in question take place between 25 and 30 years in the writer's past, The Reenactments finds Flynn very much dealing with the underlying trauma. Equally engaged and baffled by his 40 days on set, Flynn wonders what he gains, for instance, in watching Julianne Moore repeatedly re-create the scene of his mother's self-slaughter. The writer describes a "phantom limb pain" felt for things gone missing and a sort of "resurrection" that eases it; his own resurrections make for a poetic and engaging—if not essential—addition to the ongoing study of the human psyche.
Buy The Reenactments on Amazon

Get The Reenactments on your Kindle