Review: This Is How You Lose Her by Junot Díaz
A Dominican-American sucio hashes out love, life and regret in Díaz's playful and musical tales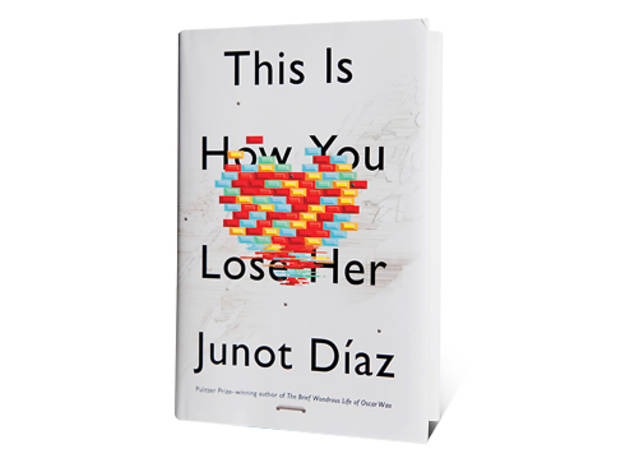 By Junot Díaz.
Riverhead, $27.
"Your girl catches you cheating." This is how the pivotal tale in Junot Díaz's newest collection of stories first confronts its reader. Deeds have been done, and the earth-scorching that follows is a by-product of decisions already made and pleasures enjoyed. But what makes a cheater? What's in such a man's physical and emotional makeup? Is there even a slim possibility for the rehabilitation of a wandering Latino sucio, if not redemption?
Consider the sum of
This Is How You Lose Her
a thorough, if fictional, search for the answers. Its stories—most often guided by narrator Yunior—plumb formative moments in a young Dominican immigrant's life, turning the microscope on his upbringing and natural predilections in a hunt for clues. Dissecting family ("Invierno"), male role models ("The Pura Principle"), first loves ("Nilda") and first liaisons ("Miss Lora"), the stories are both situational riffs and careful pieces of social science, looking to discover when the swain became a shark.
As in previous collection Drown and the Pulitzer-winning
The Brief Wondrous Life of Oscar Wao,
Díaz has an uncanny ability to marry the language, customs and mien of those in his homeland with those in his adopted home of the U.S. The lighthearted and playful musicality in his Spanglish—e.g., a comic-book-reading Dominican girlfriend becomes an "alternatina"—remains even when the characters are coping with pain. When there is heartbreak, as with the death of Yunior's brother Rafa, Díaz never exploits the grim details; he prefers instead to delve into those circumstances that led to and those that will eventually lead away from difficulty.
TIHYLH
doesn't uproot infidelity, but Díaz's intimate understanding of his subjects and subject matter convinces the reader even a cad like Yunior is capable of a final, lonely lamentation: "The half-life of love is forever."
Buy This Is How You Lose Her on Amazon

Get This Is How You Lose Her on your Kindle