Heads up! We're working hard to be accurate – but these are unusual times, so please always check before heading out.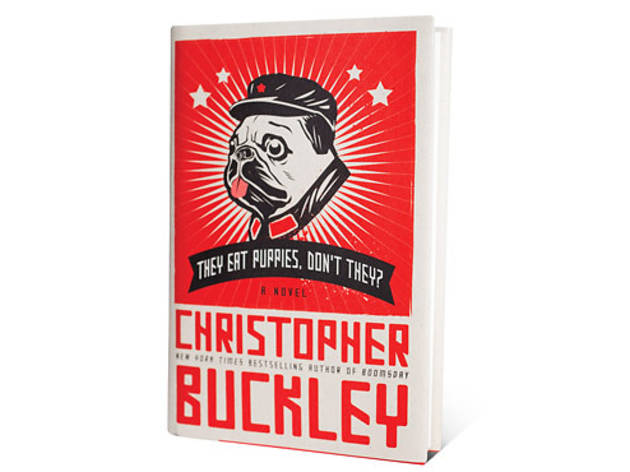 Review: They Eat Puppies, Don't They? by Christopher Buckley
The satirist examines the relationship between D.C. think tanks and war.
By Christopher Buckley.
Twelve, $26.
As the son of National Review founder and famed mouthpiece of the old-money right William F. Buckley, Christopher Buckley seemed destined to a fate as an acid satirist of Washington, D.C.'s odd social mores and sundry moral slaloms. Good thing he has a genuine knack for it, as demonstrated in his previous incisive comedies Thank You for Smoking and Supreme Courtship.
Buckley's most recent yarn revolves around Walter "Bird" McIntyre, a consultant charged by an aerospace-weapons giant with fomenting anti-Chinese sympathies in order to gain political support for expensive, top-secret weapons projects. To this end, Bird partners with the bewitching and war-fixated Angel Templeton, head of D.C. think tank the Institute for Continuing Conflict. After the Dalai Lama takes suddenly ill, the duo begins circulating false rumors that the Chinese government poisoned him. And as Bird contends with the pressure of bringing two superpowers to the brink of war, his comfortable life unravels.
Lesser writers might take this story in a needlessly misanthropic direction, but Buckley has an appealingly humane way of getting tough points across. Nearly everyone here is rendered in a sympathetic and vulnerable manner, their greatest sins being those of ineptitude. In this regard, the author seems to be getting at something crucial: The tragedies of warfare are rarely brought on by tyrants and sadists, and instead tend to be the province of feckless individuals possessing too little knowledge and shortsighted agendas.
Buy They Eat Puppies, Don't They? on Amazon

Get They Eat Puppies, Don't They? on your Kindle