Heads up! We're working hard to be accurate – but these are unusual times, so please always check before heading out.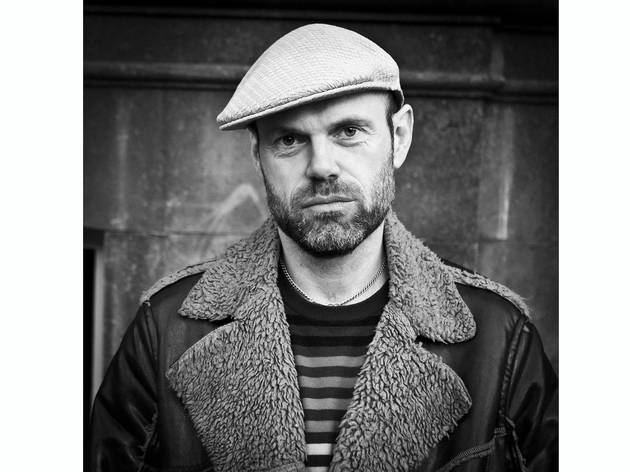 After-dark inquiry: Dave "Joey Negro" Lee
DJ, producer and musicologist Dave "Joey Negro" Lee revisits the go-go sound.
The British DJ, producer and musicologist revisits Washington, D.C.'s venerable go-go scene on his new Go Go Get Down compilation, a collection of some of the funkiest party music ever committed to vinyl.

What was the genesis of Go Go Get Down?
That's an easy one: I've just always fancied doing a go-go compilation. The hard part was avoiding an overreliance on tracks that had already been reissued a lot, or much major-label stuff. And you have to listen to the tracks carefully and try to disassociate yourself from the memories you have of them, and try to figure out if it still sounds good. You have to assume that people are hearing it for the first time, and they're not going to have any way to judge the music except, simply, whether they like it or not. It doesn't matter if the original vinyl is worth £100 or if it's worth 30 p; it's just got to be good. We didn't go for all obscurities; we kind of split the difference as far as that goes.

It's a sad coincidence that Chuck Brown, who's generally considered the main force behind the go-go sound, passed away right after you released this compilation.
I think it was the very week of the release, actually. It's an unfortunate coincidence, to say the least. I mean, who's the best-known go-go artist, if not Chuck Brown? Yes, there's Trouble Funk, E.U. and a few others, but if you think of go-go, you think of Chuck Brown. He is called the Godfather of Go-Go, isn't he?

Was he actually the guy who developed the genre, or was he the one who took the sound and popularized it?
I think it's generally thought that it started with the beat on "Ashley's Roachclip" by Chuck Brown & the Soul Searchers, from around 1974. That was the beginning. And he had the first go-go hit—at least in the States; it wasn't a hit over here—in '79 with "Bustin' Loose."

How did the music come to be called go-go in the first place?
That, apparently, was Chuck Brown's doing as well. The story is that when the band would play, he would notice that the crowd would stop dancing between the songs, as you would expect. So his idea was to instruct the drummer to just keep playing the beat, and then the band would just join in. It was like, "Go! Go!" And in a way, the beat would become just as much of a hook as the music itself.

And the band plays for something like eight hours straight without a break, right?
Yeah. I once saw Chuck Brown play over here in the '80s, and I just kept thinking, that drummer's gotta be incredibly fit! Not just playing, but playing all these triplets and everything, and constantly. He just never stopped. For a drummer, being in a go-go band is a tough gig.

And I doubt if many of them exactly got rich off of it.
Not at all—especially since the bands always had, like, eight or nine people in them. You wonder how they ever made any money off their records or gigs or whatever; there were a lot of people to spread the money around to. It's much better to be in a band like the Police, isn't it?

I've always known you're a big boogie and disco fanatic, but I wasn't aware that you were such a go-go aficionado. Has that always been the case?
They're all slightly different versions of the same thing, aren't they? But my first love, actually, was funk—stuff like early Kool & the Gang. Those were the first records that I bought. Funk has so many regional divisions, and go-go is just one of many. It is a particularly unique-sounding one, though. It's funny—when I first heard songs like [Chuck Brown & the Soul Searchers'] "Bustin' Loose" and "We Need Some Money," I thought they sounded very retro.

Why so?
It was a lot more James Brown–like than a lot of the other funk records that were around at the time. For instance, tracks like "Walking on Sunshine" by Rockers Revenge, which were so much more electronic, had been out for years before lots of those go-go songs. By comparison, go-go was a very rootsy sound; it sounded like it was made by a band rather than a producer.

At some point in the '80s, a few go-go producers attempted to modernize their sound, didn't they?
Yeah, and that kind of ruined it, with more drum machines and rapping and things like that. It kind of lost a bit of what was good about it.

I'm guessing by the time E.U. released "Da Butt" in the late '80s, there was a lot of pressure to produce hits.
Well, the labels were trying to have go-go hits even before that. Over here, in the early '80s, Island Records was really trying to break go-go; they signed Trouble Funk, and they had E.U. for awhile, too. They were flying the London press over to Washington to check out the scene. And the press was all over it; it certainly fit in with the whole rare-groove thing we had over here at the time. But they never really delivered, radiowise. Little Benny & the Masters' "Who Comes to Boogie," which is on the compilation, did hit the Top 40 over here; I think it reached 37. That was about it. Then they tried to change Trouble Funk into…I don't know what, but not a go-go band. And of course, they became shit. Well, that's probably too strong, but they certainly lost whatever they had that made songs like "Drop the Bomb" so good.

Go-go here in America, by comparison at least, did a bit better—but with a few exceptions, it rarely got much radio play.
What I find interesting is that guy Rich Harrison, who produced Amerie, and also Beyoncé's "Crazy in Love. To me, those are the go-go radio hits that they never had in the '80s. He's from Washington, so there you go. My theory is they always could have had go-go hits—they just needed to get some female vocalists.

There's weren't many, were there?
Oh, no. Go-go is a very macho thing; it's almost all guys. We have one on the compilation, "Release Disco" by Expression, but we kind of had to stretch the definition of go-go a bit to get that on. It's sort of a go-go–funk hybrid.

I always thought that part of why go-gonever broke through on radio was that you kind of had to experience it in a live setting. It's real party music.
It's definitely club music. But there are a lot of things that are club music that do become hits, so who knows? Part of it is that there aren't many actual songs in go-go; it's all call-and-response stuff with long drum breaks; you can't really sing along with much of it.

The go-go rhythm sure works, though.
And there are so many hip-hop tracks that used it! "The Show" by Doug E. Fresh, "Bang Zoom" by the Real Roxanne… There are lots of them. They had the hits that go-go never had. Grace Jones's "Slave to the Rhythm" was kind of go-go; a guy named Shine, who had worked with E.U., was on that song. Kurtis Blow's "Party Time" was another. Ideally, we would have liked to have a few songs like that on the compilation, but you just can't license those things.

Is there much left of the go-go scene in D.C.?
Oh yeah, it's still happening! A lot of the bands, like Rare Essence and E.U., are still playing out. There actually are a few new bands, but I think go-go bands are like the Drifters or something; the name remains the same, but there are always new members coming in and old ones leaving. There are live recordings still coming out of D.C., too, but the sound quality is pretty bad.

With the way the world is interconnected, do you think regional scenes like go-go can even come into being anymore?
I don't know, really. Nowadays, if anybody is doing anything interesting, it's going to get jumped on, and then it won't be regional anymore. It'll get steered in a totally different direction than if it was truly regional. I suppose it could happen somewhere—but it would certainly have to be something that wasn't very commercial!

Go Go Get Down Compiled by Joey Negro (Z Records) is out now.