After-dark inquiry: Jonathan Toubin
Ready to rock after a freak accident, Jonathan Toubin returns to the fray.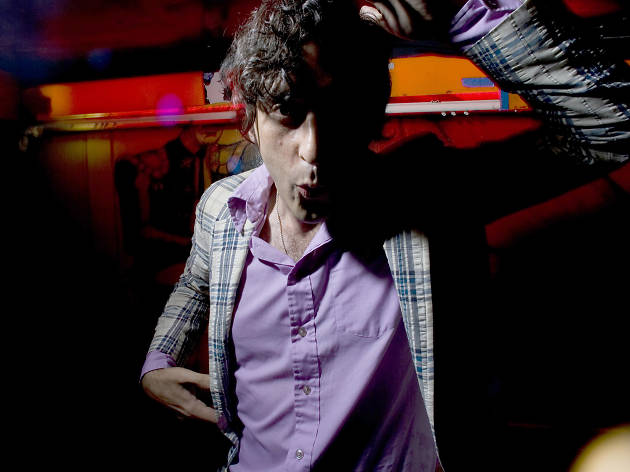 After a long recovery from serious injuries sustained in a freak accident this past winter (a taxi cab crashed into his ground-floor hotel room in Portland, Oregon), rock and soul kingpin Jonathan Toubin is back on the scene and ready for action.The New York Night Train impresario reboots his beloved Soul Clap and Dance-Off at Glasslands Gallery on June 9.
First of all, how are you feeling?
I'm sooo much better, and very excited to be back in New York and getting back to work. I don't want to dwell on the accident itself, but do you remember any of it? No! And I'm hoping I don't bump into some kind of recall at some point. I'll bet! After the incident, there was an enormous amount of concern and an outpouring of love here in New York.
As you were recovering, were you aware of that at all?
No—I was sedated until early January, and my family and friends began telling me about it after I regained consciousness. But when I found out, I was both touched and motivated by the news.
I can only imagine that would be a good motivation. But sometimes when people undergo such a devastating event, it can cause them to alter their life plans. As you were recovering, were you always thinking about coming back as soon as possible to your life as a DJ and promoter, or were you considering other options?
Sometimes I wondered if I would be capable. But I love my work and can't think of anything else I'd rather do. So I've attempted to do everything in my power to get back to normal and try and pick up where I left off.
Your grand reentry into the scene was the New York Night Train Happening at Brooklyn Bowl on May 6. Can you describe what that night was like for you?
In a word, overwhelming! It was everything I hoped for and more. Hundreds of friends from 14 years in New York turned up. But the best part was getting back to what I do at an amazing venue with a bunch of my favorite regular collaborators—and getting blown away by their artistry. When you work with people all the time, and then are away, you can forget how great they are at what they do.
Did you find it easy to dive back in, or has there been a readjustment period?
It's been very hard to get back to where I was as a DJ. I had the good fortune of working in different places nearly every night for five years, so I was on top of my game—not only with putting together the right records at the right time, but being completely in tune with dancers. Cuing, EQing, and getting my volume right with one ear has been a challenge. But the bigger challenge has been getting to know my records again—what they do, when to use them, how they stop, how they start and how they fit into the narrative of the night. Also, I was having stamina issues. But I've done the last three Fridays at my Shakin' All Over Under Sideways Down party for five hours straight, and I'm happy to report I'm rapidly approaching my pre-accident self in every aspect.
Speaking of records, you were on a rust-belt record-buying trip just before the accident. I'm guessing you've been excited to finally show off your new wares.
Yeah, instead of getting back where I was, I've been recklessly moving ahead of myself and trying to learn to play material I'm very unfamiliar with. But in general, these new records are the most supreme I've ever worked with—so even when I suck as a DJ, the quality of the records saves my ass. Like the last Soul Clap, where I made at least a dozen mistakes, but had one of the best parties ever.
On a different subject, when I last interviewed you about a year ago, you said, "I've been thinking about slowing things down a bit." But it seems like you're fully into it, both here in New York and with shindigs all over the country. Is there any plan to cut back a bit someday? Or is that scheme on the back burner?
Well, if you look at it, I'm actually playing half as much as when I last talked to you—though a lot of that is because I'm supposed to take it easy as I'm still recovering and spending a lot of time with different therapists. I'm just working Fridays at Home Sweet Home, one Saturday a month at Soul Clap, and other Saturdays mostly out of town. An average of twice a week isn't that tough for somebody who's accustomed to daily work. But yeah, I'm in the process of trying to play to more people at a time, but less frequently.
Good plan! Before this interview, you told me to have some news to break. What's up?
Let me preface this with a little background. Give or take an unairconditioned summer night, the Soul Clap party has sold out for years. And while a few bigger venues have tried to get me to make the jump over the years, I've kept it at Glasslands, as that it was the owners, Brooke Baxter and Rolyn Hu, who were crazy enough to take a chance on it five years ago. Anyway, when I returned, Brooke told me that she had sold Glasslands, and—while I like the new owners and the place, and plan on continuing to work with the venue on other projects—I just signed a contract today to move Soul Clap to Brooklyn Bowl. It's a big move, but—considering that everyone's complaint about Soul Clap is overcrowding and getting turned away—moving down the street to a place with great sound, a big wooden dance floor, and more space should make more room for everyone and a better party. So June and July are the last two at Glasslands. I've been stubbornly clinging onto Glasslands for years because I think its so special. But I think the time is now. Plus, the Bowl is an incredible spot and has been very good about allowing us to keep the door at $5 and have cheap drink specials so I can take care of my working—and nonworking—kids.
It's the end of an era! Anything else on the horizon?
For summer, I'm continuing my Fridays at Home Sweet Home, I'll be doing Soul Claps and festivals around North America, and I'm also doing a few special local events, like Lincoln Center Out of Doors and The Village Voice's 4knots Festival. Come fall, when I have more time and energy, I hope to resume some of my more ambitious projects, like the Happenings, Land of 1,000 Dances, Polyglot Discotheque, Boogie Night, James Brown Night and the rest.
So I guess that slowing-down thing really is on the back burner.
Well, you can't change culture from an easy chair!
Soul Clap and Dance-Off is Saturday, June 9 at Glasslands Gallery. Shakin' All Over Under Sideways Down is every Friday at Home Sweet Home.