Heads up! We're working hard to be accurate – but these are unusual times, so please always check before heading out.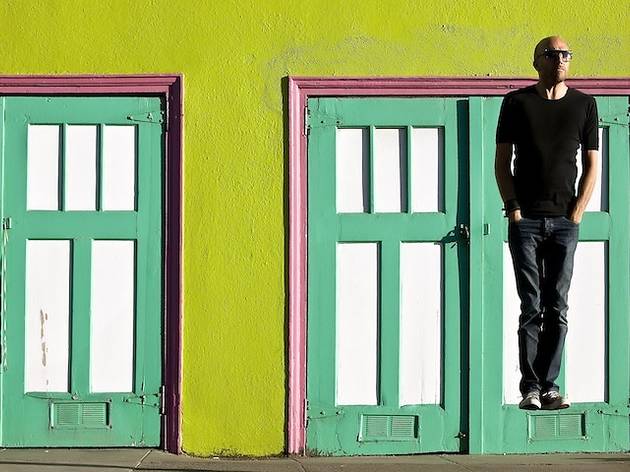 After-dark inquiry: Lee Burridge
Lee Burridge's All Day I Dream affair is back for its second season.
All Day I Dream is the name of the label run by U.K. clubland vet Lee Burridge and his partner Matthew Dekay—but just as importantly, it's also the moniker Burridge used for last summer's series of open-air parties, held on a rooftop in the heart of Bushwick. Those soirees, among the highlights of the season, possessed a vibe you rarely find in NYC, with hundreds of beautiful creatures grooving along to Burridge's lush and emotive rhythms. On June 10, Burridge and All Day I Dream return to NYC with a season-opening throwdown at Beekman Beer Garden Beach Club.

What was the genesis of All Day I Dream, both the party and the label? And is there a specific philosophy or concept behind it?
A few years ago, I started noticing a common thread running through certain records I loved. There weren't that many, but the disparate collection of artists and labels was growing in number the more I looked. Each track had some sort of element that evoked an emotional response in me. It was minor-key music with a certain cinematic elegance to it that touched me. I felt inspired that summer to work on a mix; at the time, I had no idea it would be the first step on a path that lead to last year's All Day I Dream parties. The mix was entitled "All Day I Dream of Her." It's still, to this day, the most special combination of records I've ever joined neatly together. Its enduring nature within my circle of friends led next to some really fun after-party sets where the same friends—all girls of course—asked me to play in the style of the mix. Each time this happened, the amount of tracks had grown, so I could play longer and longer.

Do you prefer playing for women?
I must say that playing for girls has always been a much more fun experience for me that playing to loads of sweaty, nerdy guys. Out in the clubs at that time, I'd noticed the underground scene in general was attracting a larger percentage of males, and the musical experience as a whole had lost its warmer, sexier side. Stripped back to drums and basslines and the still-overused whooshing white-noise sound used to create the tension and drama of each record was getting somewhat tired. It felt tapped out. Musical technology has reached a point where making music is no longer the sole domain of actual musicians. You don't need a degree in musical theory or even the ability to play an instrument to release a dance-music track. So many records are simply slightly different versions of others, familiar and unadventurous. A photocopy of a photocopy of a photocopy. I've seen this happen a few times in my many years as a DJ; people run out of ideas, and the sound itself becomes tired. Of course, there are always exceptions. A few talented people within electronic music put out tracks that sound different, but then others copy them—and rarely is the copy good, let alone better.

Anyway, I felt disappointed in several club experiences I'd had in New York a few years ago, so I decided that instead of waiting for it to come to me that I would do something about it. I asked a very experienced friend of mine, Sana Bindra, to help me put on the event. She had been involved in the Robots parties, bringing many, many underground DJs to New York; pretty much all the promoters out there today were influenced by the Robots nights. The party retired a few years ago, and I couldn't think of anyone better to help me.

And what was the plan that you came up with?
Our intention from the get-go was to give people more than just a DJ standing between a stack of speakers. I feel with everything that's going on in the world and in people's lives these days, that the negatives could use some positives. I felt the need to give people more. I actually set an intention before we threw our first party—and it was simply to make people smile. Last year, we chose a gorgeous rooftop in Brooklyn with the most amazing view of Manhattan. We added our signature decor: Pretty material and lanterns floating above everyone's heads, supported by bamboo structures, colored the grey backdrop of Bushwick and added a more organic feel. We also tried to make the usually empty roof as comfortable as possible with bedding, fresh flowers and lamps on the bars and DJ booth. We paid attention to detail. We hung strings of beautiful sunflowers and daisies above everyone's heads at last year's closing party. Each party had a different deity on the front of the booth presiding over the day…all of whom did their job perfectly, as we managed to avoid any major rainstorms. We were actually on the edge of canceling our August event last year, as the radar showed thunderstorms and unbroken rain clouds from Chicago to the Eastern Seaboard. Somehow the storms surrounded us, but stayed in the distance all day long—and we ended up with an amazing sunset. Thank you, Buddha!

One of the key things for the parties is the sound. There are much cheaper sound systems, but we wanted the best. We used a D&B system. I've never played on better. This style of music sounds amazing outdoors, but as it doesn't rely on energy to carry it, it's important that people can hear all the details. We'll definitely be using D&B again this summer season.
Last year's events were done pretty much on the hush-hush. What was the reasoning behind that?
We decided not to promote much last year to allow the party build organically via word of mouth and Facebook. I think this is how we ended up with such a beautiful crowd of "dreamers." as they started calling themselves, who understand and love music. I always believe your experience begins as soon as you arrive, so we made sure our security and people on the door were lovely. That said, not everyone got in each month. We want to be somewhat choosy with who we let in. I want people to come for the musical experience, not because they were walking by and heard a party going on. We had a few random people that slipped the net last year but they tend to stick out like sore thumbs. A large pumped-up meathead and his peroxide blond girlfriend somehow got in and decided to walk in to the booth, unplug one of the plugs on the front of my booth and start charging his phone. I mentioned the fact he really should ask before unplugging something, as the music could have gone off, and he said, "Whatever.… What are you going to do about it?" Not really one of our "dreamers." If you are coming this year, it really is as simple as knowing who's playing. Oh, and having your phone charged before you arrive.

We had some issues with capacity last year as the number of attendees grew. By September we had to turn away a few hundred people at our closing party. That's why we decided to move this year. I suggest coming early to the parties this year, not only to guarantee entry but also to experience the way the music grows over the day. A lot of people commented on it as an "experience." Personally, I don't like turning up halfway in to a movie. You miss so much of the story!

If you went to any of last year's events you might also have noticed other subtle little changes each time. The party grew to the point were the attendees themselves added to it. It's a similar sort of feeling I get when I'm at Burning Man. We had people dressing up in really fun costumes—pretty Indian head dresses, great makeup, people making their own little camps on the floor, and those that brought little addictions. It made the event extra special. The collective experience wasn't only made by the few—it was made by many people and I love that. I really believe we brought some of the playa feeling in to the city and I thank anyone who added to my own experience.

And what about the label?
Matthew and I are working on All Day I Dream records, as well as deejaying and producing together. Our third release on the label is out in about six weeks. The idea is to create a home for this music and to showcase the feeling of the party. I find many artists and labels tend to make just one track that I would consider an All Day I Dream track. I don't really have many go-to producers or labels I can rely on time and time again. With All Day I Dream, we're attempting to create what I was looking for, and we're slowly building a family of like-minded producers both established and new to show their more musical sides.

I've been around long enough to hear music become way too dramatic. With our sound, we aren't looking to have people throw their hands up in the air in ecstatic joy to a synthesized crescendo that lives in major-chord heaven. I prefer people to dance with their hips and I favor a sound that's more delicate and pretty. Melancholic, warm, sexy house music, sometimes with strings, that reaches inside and connects you to a different place. On the whole, our crowd is slightly older and actually listens to what they are dancing to. The age range was actually amazing last summer, as I think we appealed not only to the current club crowd but also to people who are starting to feel a little old to go to a club but still want to hear cool music. I also think we've achieved the sweet honor of educating some new ears. I had many conversations at the parties and on our Facebook page that started with, "We've never heard music like that before." It's always my greatest pleasure to broaden people's musical experience even slightly. It still happens to me all the time as I continue to explore music, and it's wonderful. Music has the power to mark certain moments in our lives and touch us in all sorts of ways. It's been a long time since I went to a party and actually saw people crying from the feeling of music, but it happened several times at last year's parties.

I've heard you play 51 Days' "Paper Moon" quite a few days at All Day I Dream, and though that track is nearly 20 years old, for me it kind of exemplifies the vibe of the music that you play at the party—deep, dreamy and hypnotic.
As I've already waffled on a fair bit about the sound we are pushing, I'll just agree with you. You actually chose a perfect example. "51 Days" has never left my box in 20 years, but even though it's a brilliant record, there were certain times when it didn't seem as relevant to play as it does now at All Day I Dream; you'll be hearing it again this summer, too. I'm sure I can't be totally alone, but I feel what we are doing to be pretty special and unique. Other DJs play one or two of these tracks in their sets, but I've not heard anyone else play this way for a whole party. By weaving together these tracks and telling some sort of story with them, it creates a really beautiful atmosphere and experience.

An idea Matthew and I have discussed many, many times is to try to give these records a real identity. At present, they're spread across existing genres on download sites that range from deep house, nu-disco and tech-house to techno. We've released several tracks on our label so far with a melancholic edge to them and have jokingly started describing what we play as "heartbreak house." I kind of like it, and it makes me smile when I say it, but I prefer "melodica." It feels a little more broad and doesn't, to the best of my knowledge, currently exist as a genre.

Are there any artists or labels that find their way into an All Day I Dream set more than others?
Kollektiv Turmstrasse for sure; their singles are beautiful musical compositions. Mathew Jonson always makes an appearance, as his trippy grooviness is perfect for outdoors, and Burial and Four Tet show up on most occasions. As for labels, if I were to pick one, I would pick Dial, home to artists like Lawrence and Carsten Jost. I don't play every release, but they have some really beautiful tracks in their catalogue that are always in rotation in my sets.

You've been on the clubbing scene for over two decades, yet you still really look like you're having a blast when you're deejaying. How do you keep the enthusiasm level up after so many years?
It's getting closer to three decades—wow! The answer is simple: I am having a blast. Music is my passion. It never changed, and I'm as much in to the experience of hearing music and dancing to it as I was when I started. If I wasn't playing this music, I would be dancing to it. It was love at first sight and sound, and it's never wavered.