Heads up! We're working hard to be accurate – but these are unusual times, so please always check before heading out.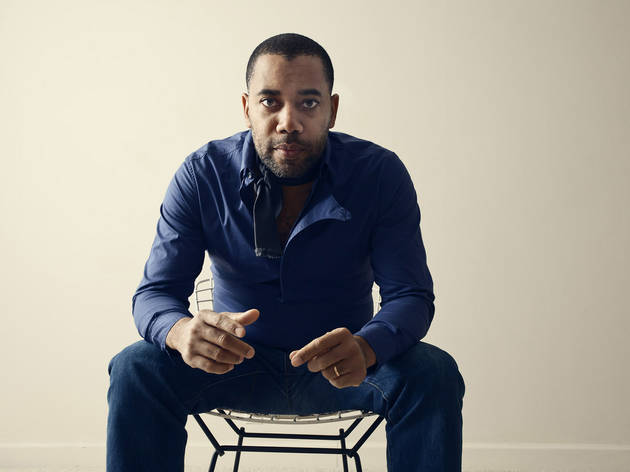 Interview: Carl Craig can't sit still
The Detroit techno kingpin Carl Craig, gearing up for a pair of NYC dates, tries his hand at the editing biz.
Being a leading member of Detroit's techno contingent isn't quite enoughfor Carl Craig. Best known for his angular tech-jazz sound, he's actually worked in a myriad of genres (deep house, breakbeat, straight-up jazz and many more) via dozens of aliases and collaborations, including Innerzone Orchestra, 69 and Paperclip People. The past few years have seen him increasingly committed to contemporary-classical projects, particularly through his work with Moritz von Oswald and Francesco Tristano. Now, he's entered the world of journalism, serving as guest editor for the October edition of Mixmag. Craig still likes to rock a party, though, which is what he'll be doing when he plays both the Black & White Festival and Basic NYC's after-party on Saturday 6.

Time Out New York: Hey, Carl! what's up?
Carl Craig: [Laughs] I'm just reading this thing from the AP about a finger being found in a trout in Idaho.

Time Out New York: A trout? I didn't know they were carnivorous beasts.
Carl Craig: Well, what happened is that they fingerprinted the finger, and found out that it was from a guy who had lost four fingers in an accident at the lake, like, two months earlier. The funny part is that when they called the guy up, he apparently said, "Let me guess—you found my finger in a fish."

Time Out New York: Ha! It's always good to read a news story with a punch line.
Carl Craig: They do a lot of punch lines in Japanese news. The Japan Times always has some real funny stories.

Time Out New York: Okay, let's get semiserious for a bit. One thing that seems to define your career is a kind of artistic wanderlust, a passion to keep trying to create new things in new ways. Are you a restless person, or are you simply curious?
Carl Craig: I would say it's both restlessness and curiosity. I've always been interested in experimenting. No matter what I ended up doing in life, whether it was music or whatever, I'd still be experimenting. I've always have a desire to push myself. If I was an athlete, I'd push myself really hard to be a really good athlete. But since I'm a producer, I'm always trying to push myself to the limit in that regard. And hopefully, I'll get a lot further with my movements and my ideas. That's very important for me—otherwise, I'd probably get completely bored.

Time Out New York: Have you ever actually found yourself getting bored?
Carl Craig: I don't think so. I can remember when I was first deejaying years ago, paying attention to the labels of the time, like Strictly Rhythm. They were labels that had a sound that they really wanted to stick to; they had their big producers and would just keep putting out these records that had more or less the same sound. That wasn't something that appealed to me; I was more interested in being the alternative cat.

Time Out New York: Alternative in what way?
Carl Craig: I was listening to the Smiths and the Cure, stuff like that. Growing up in Detroit, that was a different way to go, a very atypical route.

Time Out New York: It seems as though you've stuck to the alternative route for the past few decades.
Carl Craig: Several decades… You're making me sound old, man!

Time Out New York: Sorry about that! But speaking of artistic restlessness, now you are a guest editor of the October issue of Mixmag. Did they approach you, or was it the other way around?
Carl Craig: You know, we've been discussing this for such a long time that I don't even remember what the original scenario was. [Laughs] But whatever the case, it's happening, and I'm really glad that it is. I wish I actually could have done more, but it just seems like I'm so damn busy all the time. Luckily, I have a good team around me. I threw out some ideas, and they made it happen.

Time Out New York: Judging from what the issue covers—everything from synth pioneer Wendy Carlos to roller disco—it seems as though they gave you free rein to do what you want.
Carl Craig: Yeah, they did. We did give them a whole lot of ideas, and there were a few that couldn't come to fruition. For instance, I have this theory that the only person in Hollywood who I would ever want to hang out with is Robert Downey Jr., so I wanted to have something on him in there. He's not a music guy, obviously, but because of his experiences, it would have been like an adventure, like hanging out with Hunter S. Thompson.

Time Out New York: The editors decided that he was too far outside of what the magazine usually covers?
Carl Craig: Yeah, it didn't happen. It would have been fantastic. But we did get some interesting people in there. Wendy Carlos is obviously interesting; [revolutionary artist] Elizabeth Catlett is in there, and she was obviously really interesting. So we got a lot of what we wanted in there.

Time Out New York: You're coming to New York to spin two very different gigs: The big Black & White Festival, where there will be thousands of people, and a loft party, where there will be a few hundred. Is it hard to mentally prepare for such divergent events on the same day? Do you find yourself playing different music in such different situations?
Carl Craig: I might play slightly different music, or maybe the same music in a slightly different way. [Laughs] But really, it has to do with the mood that the people and the event put me in. If the crowd is going for it and has a lot of energy, that gives me energy. If people are freakin' standing there like they're waiting for something, I'll play a different way. It doesn't matter how big the crowd is. I've played great in front of 100 people, and I've played great in front of 10,000 people. I've played shitty in front of 100 people, and I've played shitty in front of 10,000 people! I'm not a lion tamer; I can't just whip 'em.
You may also like:
DJ mix: Catz 'n Dogz
Interview: John Talabot
Photos: Electric Zoo