Heads up! We're working hard to be accurate – but these are unusual times, so please always check before heading out.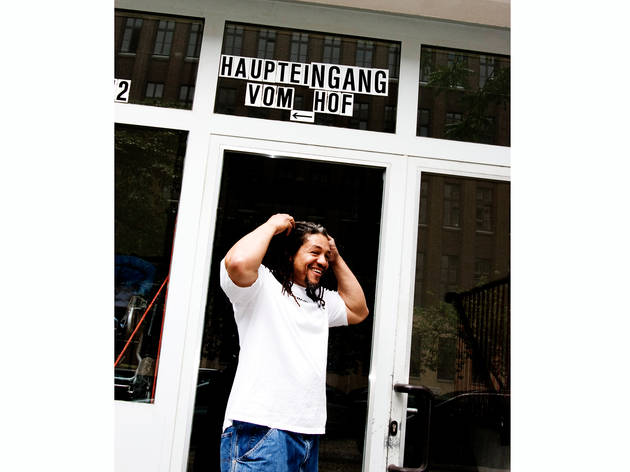 Interview and DJ mix: Jus-Ed headlines the Discovery party
Jus-Ed, the veteran deep-tech DJ, producer and head of the Underground Quality label (real name: Edward McKeithen) joins the Discovery bash for its third-anniversary party on Saturday, September 8.
RECOMMENDED: More DJ mixes from the world's top spinners

Time Out New York: You recently turned 50. You've been deejaying most of your adult life, right?
Jus-Ed: I've been spinning records since I was ten. My first audience was aunts and uncles and friends of my mother's, a very long time ago.
Time Out New York: This wasn't with two turntables and a mixer, I assume.
Jus-Ed: No, they had just come out with those long 45 adapters that would slide over the 33 spindle, so all I was really doing was selecting. You could stack ten or twenty 45s at a time.
Time Out New York: So you've been deejaying for 40 years—but it seems like it wasn't until the mid-'00s that you really found your groove. Do you feel that way as well?
Jus-Ed: There was a time in the '80s when I was starting to feel that way, but I was consumed by drugs and alcohol. More recently, I would say it was about 2004 when it felt like it was happening again, and I really started feeling accepted as a DJ around 2007. But actually, it didn't dawn on me that it was a gift to be able to entertain on that level until maybe three years ago.
Time Out New York: It was around 2007 that I randomly went to Secretsundaze in London, and you were standing there behind the decks as the party's star DJ. I think that's when you were first starting to play events of that level, and you seemed extremely happy to be there.
Jus-Ed: Jus-Ed: Oh, yeah. I was. It was like, I have arrived. It was a big deal. More recently, I was having dinner with Chez Damier last year in Cologne, and he made a statement that really opened my eyes. He said, "You are at the highest level a DJ can be. You are international. It doesn't matter what rank you come in the polls; you're at the highest level of your craft." I felt that, but it didn't really sink in until he said that to me. It clicked, like, Oh yeah, I'm at the elite status of this trade!
Time Out New York: Chez was right. Your music probably isn't commercial enough for you to ever top DJ Mag's Top 100 DJs rankings, but people love your music and they love your deejaying. That must be very satisfying after so many years.
I'm not a soulful-house DJ, I'm not a techno DJ.… I'm not from any specific genre. I just play underground music. So I realized that my approach to this had to be very old-school: establish a following. Just work hard at doing that, and hope that it grows. And it has, and that is satisfying.
Time Out New York: What do you attribute that growth to?
Jus-Ed:
[Laughs]
Well, I think I'm as popular for my personality as I am for my music!
Time Out New York: I don't know about that, but it certainly helps that you're a likable guy.
Jus-Ed: Yeah!
Time Out New York: You were talking about your sound before. I would say that it's a a variation of deep house, a very refined sort of electronic deep house. Did you consciously work to develop that sound, or did it kind of come to you over the years?
Jus-Ed: Jenifa [Ed's wife, DJ-producer Jenifa Mayanja] gave me some good advice. She said, "You have to find your own voice." There are DJs with who you know what to expect or not to expect; they always come with a certain message. The guys before me—Tony Humphries, Frankie Knuckles, Timmy Regisford—those guys are always telling a story, if you're listening. They way they use vocals and blend melodies and build energy is all to tell a story. In the beginning, my music just didn't fit in with what was going on; you can tell by listening to some of my older mixes. So I worked on my style, and also started integrating my own music and Underground Quality music. Of course, that was a bit of a marketing ploy; I was told if I don't play my music, nobody else will
Time Out New York: How do you describe your sound?
Jus-Ed: The best description of my style of music that I've heard was from the 313 forum. The writer said, "DJ Jus-Ed's music is a straight line down the middle between house music and techno."
Time Out New York: Your music definitely is in that in-between area. I know a lot of soulful-house fans who think of you as techno, and a lot of techno people who think of you as house.
Jus-Ed: Yeah, I am most definitely in the middle.
Time Out New York: I was looking at the Underground Quality discography the other day, and besides a ton of your own music, the label's put out a lot of material from some great like-minded producers DJ Qu, Anton Zap, Steffi, Move D, Levon Vincent, Nina Kraviz and Fred P have all showed up at one time or another. How do you decide who gets to be on Underground Quality?
Jus-Ed: When I started, what I was looking for was people who had been basically chewed up and spit out by the industry, but not so much that they stopped making music. That way, most of the people I'm dealing with are very particular about what they do and who they deal with, because they've been taken advantage of in the past. To me, that makes for a trustworthy relationship, because they've already tasted betrayal. They live and die on their word and their handshake.
Time Out New York: That's what you're looking for on a personal level, but how about on a musical level? Obviously, if someone is a totally cool person but is making music that isn't complementary to the label, you wouldn't put it out.
Jus-Ed: Oh, that's just personal taste. Without sounding like some kind of authority, I think I have good taste in music. I'm not limited to just 4/4 beats. I was raised in an environment where there was classical, folk, rock, jazz and all kinds of music, and we had to learn to understand it. That's how my kids are growing up, too. And if there's dead silence, then I'll start making music—or else the kids will start tapping out beats. It's the way I was raised. As far as what ends up on the label, it's an organic process; there's no formula as to how it happens. If the vibe is right, I'm inspired, and then I'll take the time to get to know the producer to see if it will work.
Time Out New York: Have it ever not worked?
Jus-Ed: Well, I've actually turned down tons of dope music! What I'm concerned with is a person's work ethic, whether they're straightforward…that kind of thing. And sometimes, even when I do decide to work with someone, it can be tough. Like Steffi—when I released her record, the
Reasons
EP, it was a struggle, mainly because she knew a lot more about the industry than I did. I kind of got offended when she started asking me about rates, percentages, and this and that. I didn't know about that stuff; I was like, "Look, motherfucker, I just want to put out the goddamn record!"
[Laughs]
I got embarrassed, and finally had to tell her that I didn't understand what she was asking me, and asked her to explain it. But I've known her for years. She was the first person I met when I played Panorama Bar; she was in the van that picked me up. She knew about the label and was playing my stuff long before we met.
Time Out New York: I imagine that's true with a lot of the European DJs that you were meeting around that time.
Jus-Ed: Yeah, like Move D; he had been supporting the label for a long time before I knew him. He had been playing UQ vinyl all around the world. When we finally met, through the Internet, it was kind of rocky. But after we met personally—I actually spent some time in Heidelberg as his guest, and did a party out there with him—I fell in love with him. He's one of my favorite artists to deejay with. Him, Lawrence and Qu—when I play with any of them, it's easy money. It's a pleasure. I don't have to worry about ego, and I don't have to start thinking things like, Wait, did he play more records than me? It's very relaxed playing with them.
Time Out New York: You've recently started the EDJ label with Jenifa. How much to you two feed off each other, musically speaking?
Jus-Ed: You have to understand that you have two very passionate, intelligent people who are in love with each other. And there are boundaries that you can't cross, some of which you are aware of and some of which you find out as you go along. But her knowledge, and the words that she says to me, are inspiring. Those words have helped me, over the years, to get into the position I'm in today. She deserves as much credit as I do, because she's my partner in this.
Time Out New York: Is there anything specific that she's helped you with that you can talk about?
Jus-Ed: I was talking to Dan Bell once, and he said, "I just want to tell you how organized and professional you are in running the label. I really applaud you." This is from Dan Bell—Dan the man! And he's giving me all these accolades. I think that kind of thing is due to Jenifa. But I finally had to tell him to stop. If he saw my house, he would not make that statement. It's total chaos around here! Anyway, the funny thing is that when we met, the last thing she wanted was to be around any DJ, or anyone involved in music at all. But my grandfather said I could always talk the panties off a nun!
Time Out New York: On a different subject, you're about to play the Discovery third-anniversary bash. I just exchanged e-mails with Joel [Discovery resident Free Magic], and he was giving you props for putting the Discovery party and label on the map.
Jus-Ed: Oh, that's so kind of him. I had played one of their parties at Santos, and we recorded it and stuck it online; it's still there somewhere, I think. It was a great night and I had a great time. And I really like them; they're very accommodating and very professional. They told me they were making some music, so I told them to pass it along and I'll play it on my radio show, which I think has been a real success. A few artists have picked up record deals by having their tracks played, and a whole lot have gotten support. So they sent me this track, and though it wasn't something I would probably play out—it had more of a disco feel to it—I would definitely play it on the show, and I did. And people really liked it, and I think it gave them a certain amount of exposure. And I really dug their second release [Olin & Co. Processing's Compton EP]; I've been playing that one a lot. I also gave them suggestions on how to release, on pressing and stuff like that.
Time Out New York: Speaking of pressing, you seem to have a strong commitment to vinyl, both with your label and your deejaying.
Jus-Ed: I'm still in shape, and I can still carry records around, so why not? Actually, that's not quite true—I have a trolley, so they're on wheels.
Time Out New York: You probably remember before those wheeled record trolleys even existed.
Jus-Ed: Oh, sure. Some people still don't use them. They use milk crates! The first time Omar-S came and played with me, in 2006, he drove from Detroit with a record crate, a real old-school kind. Anyway, yes, I play records, I press records and I sell records. It's all an art. No matter where I play—no matter what country it is—the guys who play with Serato are amazed with what you can do with vinyl. I'll be playing and they'll be staring at me. I'll ask them, "Why aren't you out there dancing?" They're like, "We're watching you! We've never seen this before!" They're amazed that a lot of stuff you can do digitally, you can also do with vinyl—offset the beat, cut, edit, phase, all that stuff. They're like, "I didn't know you could do that!" Of course, I play a few CDs; I can't afford to make a dubplate every time I make a new track.
Time Out New York: So you have had to learn how to use a CDJ.
Jus-Ed: Yeah, and I started on a Gemini CDJ-10. You talk about wild pitch—oh, my God!
Time Out New York: What's next in the world of Jus-Ed?
Jus-Ed: Well, I have a new album.…
Time Out New York: Wow, I didn't know about that!
Jus-Ed: Yeah! I just found out today that it's gonna be with Juno in the next couple of days. I don't even have it on my website yet. It's called
DJ Jus-Ed: 50ty and Lookin Good!
Ha! And even if you don't like the music, the artwork is amazing.
Discovery Three-Year Anniversary: Jus-Ed + Tim Sweeney + Mike Servito is at Glasslands Gallery Saturday, September 8.