Heads up! We're working hard to be accurate – but these are unusual times, so please always check before heading out.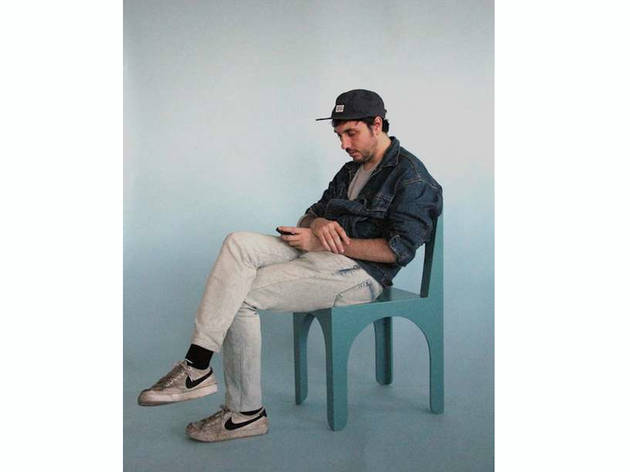 Interview: Spain's John Talabot brings his hazy house to NYC
The brilliant Barcelona beatsmith performs live at Le Poisson Rouge.
Barcelona's John Talabot seemingly appeared out of nowhere in 2009 with the release of "Sunshine," a restrained and blissful piece of hazy house. Beautifully understated, the track immediately propelled the artist (real name: Oriol Riverola) into the A-list of electronic-music producers. In truth, Riverola had been on the scene for a while, producing as D.A.R.Y.L.—but ever since "Sunshine," he's committed fully to the Talabot moniker, releasing a series of stunning singles, and earlier this year, an excellent album, ƒIN. On September 27, Talabot, along with production partner and vocalist Pional, performs live at Le Poisson Rouge.

Time Out New York: As I was getting ready to talk to you, I was listening to ƒIN, along with singles like "Sunshine" and "Matilda's Dream." What struck me is this way you have of conveying both joy and melancholy within a single track.
John Talabot: I'm not sure how that happens, but I do think I am quite a melancholic person, so my music naturally has some of that in it. It's part of me, so it's part of my music too. I think that's a good way to handle melancholy.

Time Out New York: It's certainly better than wallowing in it. But it's such a unique sound; no one else makes music that's quite like yours. Was it hard to develop your style?
John Talabot: It was not hard as all, because my sound is completely based on my taste. What was difficult was to put that vibe into the songs on the album. I had never done real songs before, you know? Before, I was thinking in terms of singles and tracks. Making the album was a little bit stressful in the beginning; I didn't really know how it should go, or even what I should do to put it together. So I just tried to make n album that I would like—something that I would play at home.

Time Out New York: It sounds as though you conceived of this album as an album, rather than just collecting a bunch of individual tracks that you had laying around.
John Talabot: I had all those singles, but I really didn't want to put them, or any old stuff, on the album. I just wanted to create something that had a sense of being something that separate and complete. …something that has a beginning and an end. I knew more or less how I wanted it to sound: Not too advanced, but not too retro or old-school either. So I knew the vibe I wanted. But I didn't know how to fill the album up with music! [Laughs] That was the hard part—actually doing the music.

Time Out New York: I imagine that's usually the case.
John Talabot: Yeah, but sometimes there are albums where the producer starts with three really good tracks, and then he can kind of fill in the rest. And that can work. But in my case, I didn't want any song on the album to be more important than any other song. It was kind of like building a puzzle, trying to balance the music and trying to balance the track list. I didn't want to make it too uplifting, but not too chilled out, either. I hope that's how it came out!

Time Out New York: ƒIN does all flow as a unified entity, but it definitely does have specific moments that stand out. I particularly like the tracks that feature Pional on vocals.
John Talabot: We had released some of his first tracks on our label [Hivern Discs], and I felt really comfortable working with him. We complement each other really well. There are two tunes on the album that we actually produced together. One we made completely together in the studio; the other was more of a process, like going to Madrid, where he lives, and recording some stuff, then coming back to my studio in Barcelona and working some more. I feel really good working with him. He gives me something I don't have, and I think I might give him something he doesn't have.

Time Out New York: What are those somethings, exactly?
John Talabot: That's really hard to say. But the music that comes out when where we are together… I feel it is quite special.

Time Out New York: It is. Is he gong to be with you when bring your live show to Le Poisson Rouge?
John Talabot: Yes, he will.

Time Out New York: What is your live show all about? It's more than you standing behind a laptop, right?
John Talabot: No, we have a lot of stuff! Synthesizers, sequencers, percussion, lots of mikes on the stage… We are basically trying to upgrade the sounds on the album. I mean, there are only two of us onstage, but it has a really live feeling. One thing that I really wanted to do is to make it so I would have fun onstage, so I really didn't have to be behind a computer, pressing buttons. Of course, we have prerecorded stuff; we can't do everything on our own. But we try to play as much as we can live.

Time Out New York: Performing live is fairly new for you, right?
John Talabot: Yeah, it's really new. We've only done it like six or seven times so far.

Time Out New York: No major disasters yet?
John Talabot: More or less, it's been working. [Laughs] We are learning. Neither of us had ever been in a band before, so this is all new. But you know with a normal rock band, where you have a guitarist, a drummer and a bassist? When you are in a band like that and you rehearse enough, you know it will work. But with live electronic shows, you have to think about how to bring your productions to life on the stage in a different way. You need to think about what gear you will bring, who is going to be in charge of what…all that kind of thing. There are no real rules for electronic music when you do it live, so you have to create your own rules. It's quite exciting to create it and to build it up. And now that we're doing it, we're always thinking about what more we can do, what's a little bit too much, or whatever. At the moment, we're still experimenting and trying to make it better, but I'm quite happy with the first results. As long as we can do sound checks, we have the confidence that it will come out somewhat correctly.

Time Out New York: But even if it doesn't come out totally right, that's okay. The mistakes are sometimes the most exciting parts.
John Talabot: Yeah, and I'm totally up for mistakes! I like mistakes. But I don't want it to look like we haven't rehearsed, or that we are some kind of newcomers. We do want it to have a professional vibe. [Laughs]

Time Out New York: There's one thing I've always wondered: Why the name John Talabot? I know you have earlier work out under the moniker D.A.R.Y.L.; is John Talabot simply to differentiate your current work from your older material?
John Talabot: Actually, John Talabot was the name of the school that I went to. The name was originally a kind of joke between friends, like me just telling them that I think it would be fun to do some tracks under that name. But I never really planned to release anything under that name; it was going to be more just for having fun. There never was a commercial thought behind it or anything. When everything started happening, I was like, Wow, I can't believe this John Talabot thing is actually going forward! It was very strange.

Time Out New York: Didn't you originally press something like only 200 copies of "Sunshine" when it first came out?
John Talabot: The only reason I pressed even that much was because some friends wanted to have it on vinyl so they could play it. We didn't have a distributor; we just sent it around to people. It was a very do-it-yourself kind of thing.

Time Out New York: It must have been a bit surprising when people started saying that "Sunshine" was the best house track in years. Pitchfork rather famously gave it an 8.5 and named it a "best new track," for instance.
John Talabot: I couldn't even understand it, actually. Like, how did the record even make it to Pitchfork? At the same time, of course, I was really relieved. Not because they like it so much; it was more that there are people trying to find new music that they like, and who are willing to promote it without being given anything in exchange. I was quite surprised, and I am thankful. They really put me on the map.

Time Out New York: I think people, at least some people, are always happy to find music that doesn't sound like everything else.
John Talabot: I was thinking about that, too. It's important for small bands and producers to have people like that.

Time Out New York: After "Sunshine," I don't think you had much trouble getting your music heard.
John Talabot: Totally not, and I'm quite happy with that. I'm very fortunate to have been put into this situation.

Time Out New York: Does the name ƒIN have any significance?
John Talabot: It really doesn't. I just wanted a really solid word that describes the moment when you close your computer and say, "Okay, that's the end." This album was quite hard for me; I didn't have a studio and had to work from home, and I wasn't very comfortable working from home. I spent many hours working on it and it was a little bit frustrating. At some point I just needed to stop working on the album and go with the songs I had. So that's why I used that word, like, Okay, that is it. I don't have to do any more work on this. That was a good feeling.

Fixed: John Talabot is at Le Poisson Rouge on September 27.
You might also like
Interview and DJ mix: Jus-Ed
DJ mix: Axel Boman
Photos: The final Warm Up of 2012