Q-Tip helms the Offline party at Irving Plaza
The erstwhile voice of A Tribe Called Quest trades the microphone for the DJ booth at his monthly Offline affair, produced by the party-tossing vets at Giant Step.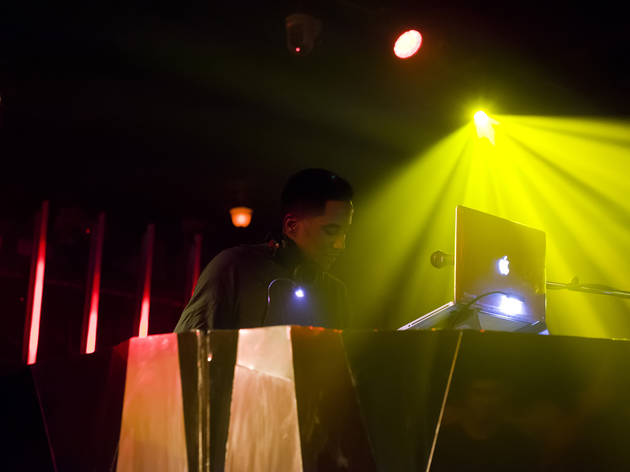 Time Out New York: You seem to have a lot going on right now; among other things, you're working on a new album, The Last Zulu. Why did you decide to take on the responsibility of a fairly large-scale party on top of everything else?
Q-Tip: I wanted to do this party because New York doesn't have many true dance parties. I wanted to bring new aesthetics to nightlife, and over the course of the next few parties we will. From art to photo booths to homespun video offerings from some of the city's coolest creators, we will do it. And it's a monthly, so it gives me space to work on other projects.
Time Out New York: What's the significance of the night's name?
Q-Tip: I named the party Offline because I want to send the notion that this is a real place to dance, socialize, be cool and unwind from all of the trappings of a busy day—no phones, computers or anything like that.
Time Out New York: How would you describe the music that you're selecting? Does any of your own work, or old A Tribe Called Quest material, ever make it onto your playlist?
Q-Tip: I will occasionally play some of my stuff, but only if it makes sense for the vibe and energy of the mix. I play salsa, classic hip-hop, classic house and boogie music, funk, soul, electronic and rock. Some newer hip-hop finds its way in there as well, but really, it's about the energy.
Time Out New York: What have been some of your other favorite NYC clubs over the years?
Q-Tip: I grew up around music, so it was natural to go hear it, especially when you live in NYC. I used to go to Nell's, the World, the Palladium, Union Square, Mars, Red Zone and Save the Robots, among others.
Time Out New York: It seems like both you and Giant Step share a similar aesthetic, one that focuses on soul, funk, jazz and a positive vibe. Is that what made you want to work with them?
Q-Tip: Yes, that's what drew me to Giant Step. Their brand and their quality are unmatched.
Time Out New York: Do you want to give any hints as to what the new album is going to be like?
Q-Tip: I can't really speak about The Last Zulu too much, other than to say I'm really, really pleased. It feels like a shake-up-the-world moment
Offline: Q-Tip is at Irving Plaza Friday 17.
You might also like
DJ mix: DJ Still Life and DJ Eleven at Str8 West Coastin'
MoMA PS1's Warm Up with Jamie XX and Pearson Sound
Live photos: Return to the Bubble Kingdom