Heads up! We're working hard to be accurate – but these are unusual times, so please always check before heading out.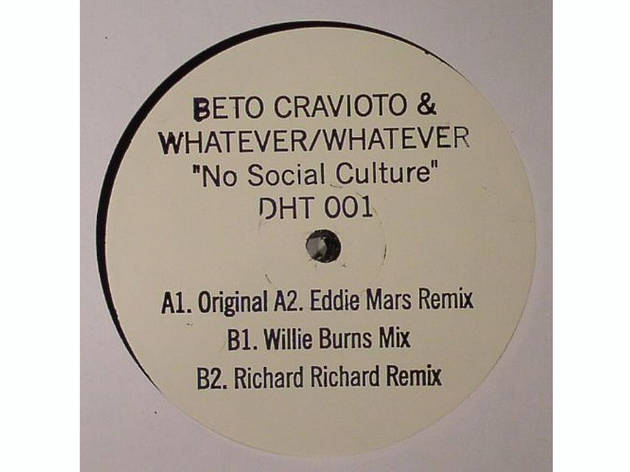 Review: Beto Cravioto and Whatever/Whatever, "No Social Culture" (DHT)
Cravioto and Whatever/Whatever's Justin Strauss and Bryan Mette serve up boogiefied house beats.
Take one of Gotham's most illustrious dance-music mavens, Justin Strauss, whose deejaying career began over three decades ago (in spots such as the Mudd Club, Danceteria and Area); he's the owner of a remix discography that takes in everyone from Jungle Wonz and Book of Love to Debbie Harry and, er, Swing Out Sister. Add the slightly less veteran but still prodigiously talented Bryan Mette, who has a string of strong house singles (under both his own name and as Carlton Banks), and currently spends time in the studio with Strauss as the Whatever/Whatever duo. Add the relatively young buck Beto Cravioto who, along with partner Travmatic, is host and DJ at the popular Kaviar Disco Club soirees, and what do you get? Poof! You get three skinny white dudes of varying ages hanging out, that's what. And you also get the limited-release vinyl of "No Social Culture," which is one of the most enjoyable singles we've heard in months.

A big slice of the track's appeal comes from its familiar melody line, which old-timers and boogie scholars will recognize from Sharon Brown's 1981 classic "I Specialize in Love." As on the original, the jaunty tune is led by a piano. But on "No Social Culture," that piano swirls and spirals in all kinds of jazzy directions, adding a kaleidoscopic edge to the riff. Anchored by a loping rhythm, the melody is augmented by naggingly familiar vocal snippets, a great three-note bassline and a touch of synth countermelody that hints at the Brown track, not to mention plenty of effects-based filigree. It's a rather simple construction, yet it still comes off as dense, action-packed and buzzing with life. The remixes hit the mark as well. The Eddie Mars version starts by peeling away much of the ornamentation, leaving the piano and bass to do the heavy lifting; in the this sparer context, the dreaminess of the keyboard is pushed to the forefront. And once a synthetic marimba and those vocals do finally kick in, its heavenly. The Richard Richard mix exchanges the self-assured melody for a more melancholy version, with percussion, subdued guitar work and chorused bass picking up the slack; Willie Burns's take is a beautiful chugger of a cut, with linear bass-and-keyboard riffage providing the propulsion. It's a great record, and anybody into house or disco would be wise to pick up on this pronto—but if you miss out, we're promised a digital version will be coming out on Plant Music soon.
The Idjut Boys release a new LP
Jerome Derradji chronicles house's earliest recordings
DJ mix: Dead Rose Music Company