Discodeine: Swimmer (Pschent)
Discodeine's Pilooski and Pentile unveil a new collection of off-kilter electronic pop.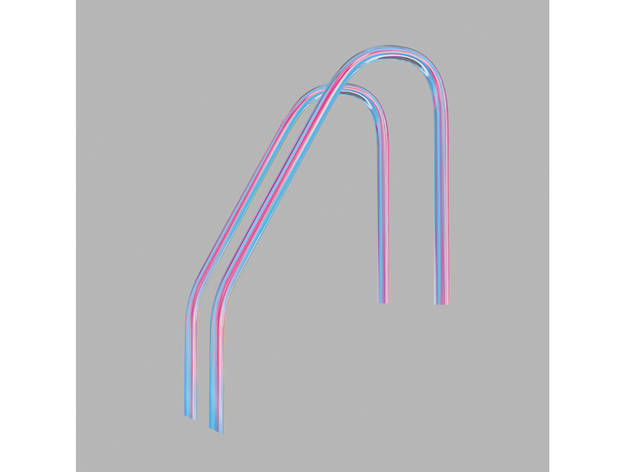 "I'm always looking for bizarre things, music that other people wouldn't think to work with," Cédric "Pilooski" Marszewski told Time Out New York in 2007. Those were the days when he was editing cuts from unlikely sources like electronic experimentalist Clara Mondshine and AM–gold superstars Frankie Valli and the Four Seasons. But by 2008, Marszewski had joined forces with Benjamin "Pentile" Morando to form Discodeine, releasing a series of singles (and, in 2011, a self-titled album) that flitted from style to style. A bit of bouncy electro here ("Joystick"), a touch of late-night, off-kilter house there ("Tema Di Gamma"), and over yonder, a slice of tropical-island funk ("Falkenberg")—individually, they were all cleverly produced underground-dance-music offerings. But they never seemed to cohere into anything like a Discodeine sound, bizarre or otherwise.

It's hard to say if Marszewski and Morando recognized this as a problem, but on Discodeine's new album, Swimmer, they have consolidated and solidified their music's framework. The record doesn't exactly reinvent Discodeine's output—it's still steeped in dance-music tropes—but the pair has tightened its tracks into something more recognizable as actual pop, albeit pop with an eccentric and occasionally menacing edge. Lead single "Aydin," featuring vocals (heavily processed, as usual) from Tame Impala's Kevin Parker, is an Eastern-tinged groover, a souk-goes-electro cut that's one of the LP's bounciest tunes. A soaring, synth-disco feel permeates "Shades of Cyan," whose cyclical melody and gorgeous, piano-led breakdown is somehow reminiscent of No. 1 in Heaven–era Sparks. "Seabox," with creeped-out vocals from Discodeine tour drummer Mark Kerr, comes across as a circa-1983 goth-edged new-wave tune (though with a heftier kick drum); "Dive Wet" could be a stripped-down version of an early-'70s 10cc hit. The songs are compact as hell—most clock in between two and four minutes—and many, like the aforementioned "Shades of Cyan," could benefit from some extended-mix action. Still, it's a strong move for Discodeine, in a direction that fans of offbeat, club-informed electronic pop might find to their liking.
Follow Bruce Tantum on Twitter: @BruceTantum