Heads up! We're working hard to be accurate – but these are unusual times, so please always check before heading out.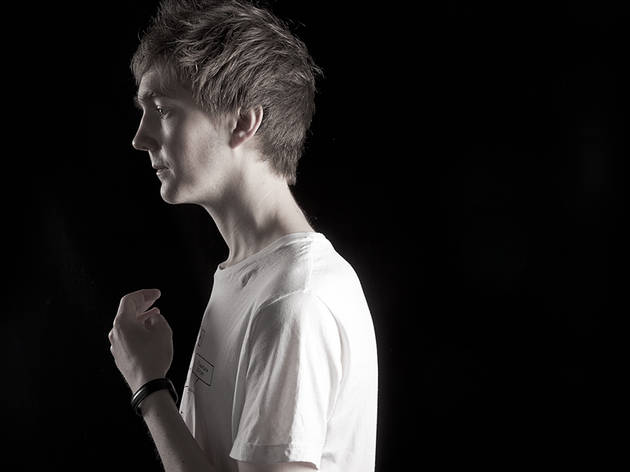 Interview and DJ mix: Ben UFO
Hessle Audio's Ben UFO plays at Mister Saturday Night and mixes the latest FabricLive compilation.
He doesn't have a release to his name, but London's Ben UFO (real name: Ben Thomson) is nonetheless one of the most influential figures in the ever-evolving dubstep-meets-garage-meets-house world. That's largely the result of his involvement with Hessle Audio, the seminal label that he founded with David Kennedy (better known as Pearson Sound) and Kevin "Pangaea" McAuley in 2007. But it's also due to the fact that Mr. UFO is among his scene's best DJs, and New Yorkers will have a chance to experience one of his wide-ranging sets when he plays Mister Saturday Night on Saturday, December 15. Bonus: a condensed half-hour radio mix recorded in advance of Ben UFO's upcoming contribution to the FabricLive series.
RECOMMENDED: More DJ mixes from the world's top spinners

You're one of the few modern-day DJs to have achieved success without the benefit of having any records to your name. Do you feel that has ever been a hindrance to your career?
I've actually never found it a hindrance, mainly because I never expected to be in the position I am now. I never went out of my way to generate hype or excitement about my deejaying, and I certainly never thought I would do this for a living. [Laughs] I was never frustrated.

Why do you think it's so important to have releases nowadays?
I'm not sure if there are many people who think of DJing as an art form in and of itself. I think that's kind of changing, and the fact that I get asked about it a lot suggests that it might be. One of the key things in what you said is that's its modern-day DJs that struggle with this. It's not a new thing for there to be specialist DJs, but with the prevalence of production equipment and the increasing popularity of electronic music generally, producing has become an easily approachable activity. It's becoming more unusual to see people who just DJ.

If you go back to the disco days, very few of those DJs had production careers. But even just a decade ago, there were a lot more DJs who didn't produce.
Yeah. It's understandable - if you see someone's name on a lineup that person produces tracks, you can google their name and come up with a whole stream of five-minute tracks that you can check out straight away. To get a sense of someone's DJing you'd have to check out a few one- or two-hour DJ mixes. It's perhaps more difficult to get an immediate idea of whether you actually want to go hear that person.

I imagine your involvement with Hessle Audio has kind of made it less necessary for you to have releases to use as calling cards.
And I have more time to dedicate to DJing and running the label than I would if I was trying to produce music as well. I do try to maintain friendships and relationships with my family as well. [Laughs]

You're originally from London, but your involvement in the music scene really began while you were a student at Leeds in the mid-'00s. Did not being in London have an effect on direction your path took, ether positively or negatively?
Yeah, and it was entirely positive. London is such a big place that it's easy to feel that you can't have much to contribute yourself; there's so much going on already. In Leeds, it was a much smaller scene, and when I got there I felt as though there was still room for more interesting music and more interesting parties. Dubstep at this point was a tiny scene, and there was really nothing going on outside of London or Bristol. We were lucky in that Leeds had a good infrastructure for starting new things; the bigger promoters actively helped us out, which is pretty unusual these days.

That might not have happened in London.
Absolutely not. And I'm not sure it would happen in Leeds anymore, either. We were lucky to have started when we did - there were a lot of great people around at the time.

When you, David and Kevin formed Hessle Audio in 2006, it was pretty much a straight-up dubstep label, right?
Yeah, pretty much. Well, I wouldn't necessarily say "straight-up"—we were trying to contribute to that scene, but to do that effectively we felt as though we needed to represent music that was not already being covered by the dubstep labels that were already out there. We'd cultivated a small following through our radio show on Sub FM, where we were playing new dubstep records alongside older garage and occasional bits of techno and house—stuff that had the same broad aesthetic but from a few different areas. We were getting sent a lot of music by people who were incorporating techno or garage influences in their tracks, and it didn't seem like there were many labels around to support those producers.

Was there any blowback from the scene's purists?
Yeah. It's kind of funny. When I started playing more house and techno in my sets—when I started dropping the tempo down from 140 to 120 and upward —there was definitely some resistance from the crowd. That was something that initially frustrated me. There was so much going on around this music that it didn't make sense to separate it all out. That didn't last too long; the resistance melted away pretty quickly. It's gotten to the point where I find the opposite sometimes; if I'm trying to play broken stuff, or generally rhythmically challenging music, people sometimes stop dancing. They just stop moving. But I'm still interested in finding the middle ground between lots of different kinds of music, and trying to show what those things might have in common.

I've read that you consider garage to be the unifying factor in what you play.
That's true. In the mid-'90s, when 4/4 garage started to emerge in London, it was mainly in the second rooms at jungle raves, with DJs pitching up old New York house records.

Like old Strictly Rhythm records.
Exactly. And they'd have them set at plus-seven or plus-eight. That then led to original productions in the U.K., and eventually turned into what became two-step garage. And that led directly into dubstep. So there's a formal link between house and techno, dubstep and garage and all of this stuff—as far as the U.K. is concerned, anyway. For me, there's a definite sonic link as well - the U.K. stuff is obviously tied together by an emphasis on bass, which you can hear in everything from acid house through to house and techno, to garage and to dubstep. It's a natural result of sound-system culture I think.

Yeah, it seems like there's been a long-standing love affair with bass over there, much more than in the States. I think we are beginning to catch on, though.
I'll have to take your word for it. I haven't been over to the States very much. I've been to New York twice, San Francisco once, and that's it.

Yes, you played for the Turrbotax crew at Cameo last year, right?
And even before that, I played at the Bunker.

Oh yeah, that's right!
That was really good fun. I came over with Kevin, who had played for them before. I really enjoyed that night. Every once in a while, I'll see Bunker events pop up on Facebook or wherever, and it seems like they're still doing really interesting things.

You had mentioned the Sub FM shows, but a few years ago, you kicked off your Rinse FM show. I'm guessing that went quite far in increasing your visibility in the U.K.
I would say so. We did the Sub FM show for three years, and we've now been at Rinse for almost two. Rinse definitely has a high profile over here, and I feel quite lucky to be involved with them. I recorded a CD for Rinse just over a year ago - I've now done two mix-CDs, and it feels great that they are both with these big institutions who have been active for a long time.

That second one you're referring to is your upcoming contribution to Fabric's FabricLive series, right?
Yeah. Fabric just celebrated its 13th birthday and Rinse has been going for just over 18 years.

Hessle Audio has a residency at Fabric, right?
We have a residency there in the main-room space which we take over around four times per year. We started out in Room 3 in 2009, and it's just kind of progressed naturally since then. We've now done nights in all three rooms, and David recorded a CD for them last year. We were hesitant going into it because big superclubs often have reputations for being the kind of spaces where you can't really experiment, and where you have to play it safe. But we've always been able to book the lineups that we want to book; we've always been able to support new producers and people who are doing interesting, weird stuff. It feels pretty great to be able to do parties in the highest-profile club in London, but still be able to book people like Kassem Mosse, for instance.

We don't have any equivalent of Fabric here in New York, a big club that's willing to take chances like that.
Fabric has an amazing reputation, which guarantees that it's going to have a certain amount of walk-up every weekend. And so rather than being restricted to doing crowd-pleasing stuff, the club is happy to have us do whatever we like.

Your stuff is crowd-pleasing to a very special crowd.
[Laughs] Yeah, we're lucky—we have a really good crowd. Actually, they expect us to take them by surprise.

Since David had already done a mix for Fabric, did he have any advice for you?
We spoke briefly about the licensing process, but that was something I had gone through already for the Rinse CD. I knew that was something that I would have to put a lot of time into. I actually started planning the track list and the licensing about six months ago, in order to give myself loads of time to speak to people and to put together a wide pool of music to draw from.

You do have a rather wide range of tracks in the mix. One thing I like about it is you didn't shy away from older material, tracks that could be considered to be classics, like Herbert's "Take Me Back" or Mr. Fingers's "I'm Strong." Did you include them simply because they're great tracks, or do you feel a sense of duty to educate younger clubbers who might not know about these songs?
I basically just included music that I like, stuff that I thought would work in this context. It's an interesting situation to be in; the following that I've cultivated seems to be quite broad and diverse. There's a lot of older people, and a lot of kids as well. I have people coming at it from quite different angles; some people would consider that Herbert track to be absolutely classic and kind of well-worn, some won't have heard it before. I figure the best way to keep everybody happy is to play music that I like, and that I think works in context. If you've heard a track a lot of times before, hopefully you'll hear it in a new way; if you haven't, well, hopefully you'll enjoy it.

When you play a wide-ranging set—not just new and old tracks, but many different styles as well—the juxtapositions from track to track, or between small groups of songs, can become quite important. Is that something you pay a lot of attention to when you are deejaying?
Absolutely. I'm always thinking about where I want to be in 15 or 20 minutes time, and you always have to take into consideration the amount of time you have to play with. Coherence is something that's important to me - I don't want transitions to sound forced; I want the lines between the different styles that I'm playing to make sense, and I want the stylistic contrasts to contribute to the narrative of the mix as a whole.

Is that something that comes naturally to you?
I'm not sure. It's so easy to be an eclectic DJ these days; music is easily accessible, and once it's on your laptop you can arrange it all by BPM and play it all in the same set. That's not difficult, but there's no art to it, really.

How do you play? Do you still bring vinyl out with you?
When I'm playing in the U.K. or Europe I use vinyl, with Serato alongside it. I play a considerable amount of unreleased stuff, which is quite important to me, and I use Serato for that. But when I play further afield, I just bring Serato with me and try to digitize as much of my record collection as possible ahead of time. I've heard so many horror stories about people losing their record bags on long haul flights, and I feel too attached to my records to risk anything happening to them.

Is the FabricLive mix a pretty good representation of what you play for a dance floor?
I'd say so. Doing a mix-CD like this is really good, because it really forces you to think carefully about what you are doing, and to think about how you want to represent yourself. You only have 70 minutes to play with, and it's going out to really broad cross-section of people due to the reputation that Fabric has. It's going to be checked out by all sorts of people who like all kinds of music. I thought a lot about the music I wanted to include and how I wanted it structured, and I think that I've come away with something that represents pretty accurately what the experience of hearing me play out in a club is like.

I like that you included a track from one of my favorite New York labels, L.I.E.S.—specifically, Delroy Edwards's "Feelings"—right at the start of the mix.
Yeah. I've been hanging out with Ron [Morelli, who runs L.I.E.S.] recently; he's been in Paris lately, so I see him when he comes to London and he comes out when I play in Paris. I've been following that label and Ron's DJing for a while now.

At the other end that Kuedo remix of "I.C.E." finishes the mix on a transcendent note.
Oh yeah—I'm hugely into what Kuedo has been doing lately. Like I said, I thought a lot about how I wanted to structure the set. I wanted to avoid that sensation you get with a lot of mixes where stylistically it's a case of just constantly ramping up the tension, steadily building things up and up and up. I wanted there to be peaks and troughs; I wanted there to be this exhausting, up-and-down momentum. I thought that would a good way to communicate, in a condensed way, what I would do in a much longer set over the course of a whole night – in that kind of situation there has to be ups and downs to maintain any kind of impact and to keep the attention of the crowd. And I just generally think that that kind of set is more interesting to listen to.

Perhaps some DJs will read this and take that advice to heart.
Sometimes when I talk about stuff like this, I feel like I'm indulging my megalomaniacal streak a little. I get to force my own interpretation of music onto other people. [Laughs]

DJing is a bit of a megalomaniacal profession in general, isn't it?
That's probably true.

Ben UFO plays Mister Saturday Night Saturday, December 15. FabricLive is out January 21.