Interview and DJ mix: Josh Wink
Josh Wink releases a tough new track.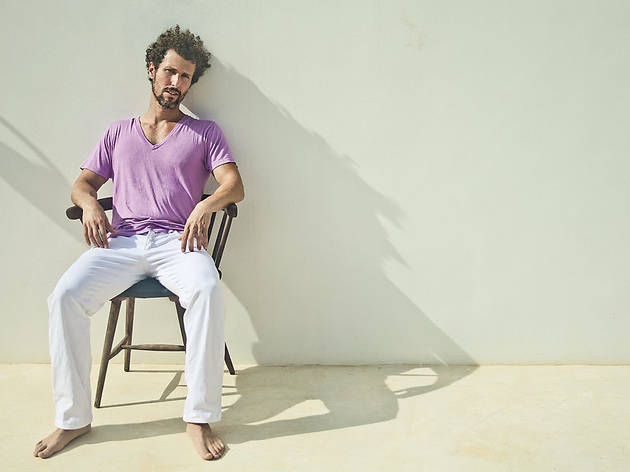 He's been touring relentlessly, but Ovum Recordings head honcho Josh Wink—whose role as an international superstar was cemented in 1995 via the iconic acid-breakbeat track "Higher State of Consciousness"—hasn't released a new original production since his 2009 LP, When a Banana Was Just a Banana. That quiet streak just ended in a big way: Wink, who's playing this Friday's Verboten bash, just released "Balls," a growling monster of a track that looks set to slay this season's electronic-music festivals. And while you're here, give a listen to a hot house-techno-acid throwdown mixed by Wink himself, recorded earlier this year at Peru's Inti Festival.
Time Out New York: I'm catching you on a day when you are doing lots of press interviews for "Balls." Do you get any enjoyment out of doing these things?
Josh Wink: It's okay, but it can get a bit tedious if everyone keeps leading off with "So, tell me about 'Higher State of Consciousness.' "
Time Out New York: Okay, I'll cross that one off my list. Let's talk about "Balls." Until this record, you've been a bit quiet on the release front lately. Why so?
Josh Wink: There are two things. One is that the life of a traveling DJ is not the same as the life of a traveling band. A band generally travels when they have something to support, like an album. They'll go on the road for a year or whatever, and then they take some time off, and go back in the studio. It's very methodical. But DJs don't need to have product out there in order to travel, at least not if you're someone who is favored in the industry. For example, I don't need to have a new release to still be in the press or have my presence known.

Time Out New York: So you're basically on the road all the time.
Josh Wink: Your agent calls you and says, "Hey, we got three offers. Let's start up a tour around that. What do you think?" And you'll be like, "Well, sure, why not? Let's do it!" And that can be a big thing, not just for myself, but also for any traveling DJ. We can sometimes forget how we got to where we are, which is through production, for the most part. People know us through the music we make. So that's one of the reasons; I get caught up in the international-DJ travel lifestyle. You simply lose a lot of days. And when you are home, it's a case of doing what you do. It's stuff like going to the record company, listening to demos, doing laundry, being a father, being a boyfriend…basically being a human, and not just "Josh Wink, DJ."

Time Out New York: And the other reason?
Josh Wink: Producing's hard to do, basically! Sometimes you can sit in front of your computer, and it just comes. Other times it's like, Fuck! I can't do this. I'm going crazy. It's the stereotypical writer's-block thing you see in movies: sit at the typewriter, write a sentence, crumple up the paper and throw it out. And the next cut is the wastepaper basket full of crumpled paper. It's very difficult for certain artists to be creative on demand. And then there's also the learning curve. You spend a lot of time learning new systems, learning new software, learning new DAWs, and basically just learning how to use the studio again. So I actually have an arsenal of reasons why I haven't been making much music lately.

Time Out New York: I'm guessing the fact that you now have a young child is one of the biggest reasons.
Josh Wink: Yeah. The nine months of pregnancy, then another year and half… It's tough to balance. I've become three people. I'm Josh Wink, the artist; I'm Josh, the guy I always was; and then I've become Daddy. And I've really gotten into being a father. And when I'm home, I need to be the father that I wasn't when I was on the road.

Time Out New York: Luckily, you have found some time to produce, and the result is "Balls." Do you feel like it's a bit tougher than what people might have expected from you?
Josh Wink: I was expecting something different myself! I'm as surprised as anyone. People have been asking me what inspired me to make this, and I always have to say that I didn't envision the track coming out this way, but that's the beauty of being in the studio: It's completely spontaneous. But perhaps the inspiration really was simply the angst, the frustration and the anticipation of getting back into the studio and doing something. This is just what came out. It's not fast, it's not really particularly hard, but it's me: tension-filled.

Time Out New York: For all its toughness, it does still sound like you.
Josh Wink: I was playing the opening of the new Space in Brazil in December, and I had just started to play the track out. My friend Yousef was also playing that night, and was hanging with me in the booth while I was deejaying. During my whole two-hour set, he hadn't asked about a single song, except one.

Time Out New York: And that was "Balls"?
Josh Wink: Yeah, except it wasn't called "Balls" yet. He said, "That's you, right?" I was like, "How did you know?" He answered, "It has that organic, Wink-style sound." And that made me really happy. It's nice to know you have a "sound"—or maybe not a sound, exactly, but something within my production technique that makes my music identifiable. Whether it's a house song or a techno song, people can go, "Oh, that sounds like Josh Wink." I took the fact that he knew it was me as a compliment.

Time Out New York: So you don't really feel like the track has surprised people?
Josh Wink: I don't know, really. I remember first playing it for Matt [Brookman, Ovum label manager], and he said, "Dude, I'm getting emotional." I said, "What do you mean?" He answered, "I get a vision of Underworld doing one of their big songs when I hear this." Not that it sounds like Underworld, but maybe it has this big, old-school feel to it. He said, "You know, you're gonna have to have balls to play it," I guess because it doesn't sound like what's in or hip or trendy. But it doesn't need to be, because it speaks for itself.

Time Out New York: I was wondering about the origin of that name.
Josh Wink: Later on, I realized it would be funny to have people on the radio or tweeting or whatever say, "Hey, I like Josh Wink's 'Balls.' "

Time Out New York: Did it immediately get accepted by other DJs?
Josh Wink: I discussed that with Matt. Like, "Dude, who's gonna play this?" We decided to go grassroots with the promotion. He suggested I just send it to a couple of friends who might play it, so I gave it to people like Carl [Cox] and Richie [Hawtin]. Things kind of got rolling; Richie started asking, "Hey, when is this coming out and who's releasing it?" Which was cool, because usually when I send him a track, he'll say something like, "I'm playing it"—but this was more of a "dude, wow" kind of thing.

Time Out New York: Nice.
Josh Wink: Yes, that kind of response makes me happy, knowing that I can do something that people enjoy [Laughs]. I rarely read the press, but Matt started tweeting me all these things, saying I had to read this or that. It's causing a stir, and I'm not used to that!

Time Out New York: I can easily see "Balls" being a major festival song this summer, played outdoors over a big system to thousands of people.
Josh Wink: Yeah, it's a big record, and a dramatic one. I've actually already played it at big festivals. I played it at Igloofest and 4,000 people were up front, pogoing to it. But I've also played it in small clubs, and people go a little berserk then, too.

Time Out New York: You're from Philly, but your history is intertwined with New York; lots of your early releases were on iconic New York labels like Nervous and Strictly Rhythm.
Josh Wink: Yeah, but the people who were buying those records don't come out! Those people have kids!

Time Out New York: You do too, and look at you!
Josh Wink: There's a difference—I have to work. I have to feed my kid, you know? [Laughs]

Time Out New York: But the point I was going to make was that your career has spanned more than two decades…!
Josh Wink: That's one aspect of my career I don't like to hear about! But yeah, King [Britt] and I made our first record in '89, and it was released on Strictly in '90. I was 19 years old.

Time Out New York: What record was that?
Josh Wink: That was E-Culture. That was a long time ago. Twenty-three years… I guess I'm just happy to still be doing what I'm doing, and making a living at it.

Time Out New York: Not only are you making a living, but it seems as though you still get pumped about how you make a living. The reaction that this single is getting, for instance, seems to have you a bit excited.
Josh Wink: Well, I still have a lot of passion for this—for the deejaying, for the record label and for making music. I have to be passionate about it; I produce basically for free now, and have any proceeds pay for the operation of the label. But it's certainly nice to know that I'm still making music that has relevance.

Verboten: Josh Wink + Matthias Tanzmann + Andrew Grant is at Highline Ballroom Friday, May 10.
RECOMMENDED: More DJ mixes from the world's top spinners
Follow Bruce Tantum on Twitter: @BruceTantum