Heads up! We're working hard to be accurate – but these are unusual times, so please always check before heading out.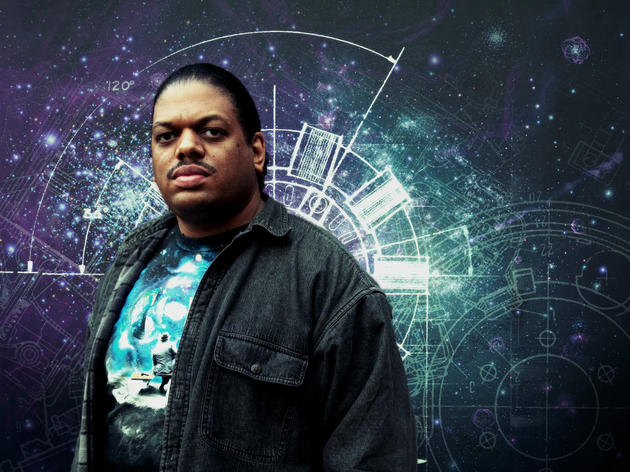 Interview and DJ mix: Kerri Chandler
House hero Kerri Chandler spins a rare Gotham set at Cielo.
Not many deep-house producers have a sound as distinct as New Jersey's Kerri Chandler; his muscular basslines, dopamine-activating chord progressions and, most of all, badass kick drums stand out in a genre that can sometimes seem a bit monotone. He's been working his unique style since the late '80s, but Chandler's star is as bright as ever, as evidenced by his constant gigging in Europe's clubs and festivals, including a residency at Ibiza's famed Circoloco party. He rarely spins in NYC anymore—but on Thursday, February 28, the venerable Nervous label has snagged the dance-music icon for an intimate session at Cielo.
RECOMMENDED: More DJ mixes from the world's top spinners

Time Out New York: You grew up in New Jersey. How much influence did [seminal Newark club] Zanzibar and its resident, Tony Humphries, have on your development?
Kerri Chandler: Oh, lots. We were all going there when we were teenagers. I was already deejaying, playing at this place around the corner called Club America, and we would run over to Zanzibar when my club was done for the night. The same guy owned both clubs. Club America would close around 4 or 5am and then I would go hear Tony. Zanzabar would go on to 11am, sometimes.
Funny enough, when I was at Club America, they wouldn't let me on the danc efloor because I was too young. I could only stay the booth to deejay! I got into Zanzibar because I was part of the staff and I knew the bouncers. I started doing that at 15 years old until I was 19 years old.

Time Out New York: You started releasing music not long after that time, in 1989—and even on your debut release, the Super Lover EP, the Kerri Chandler sound was pretty distinct. How did you develop that sound?
Kerri Chandler: I've always liked basslines, and I've always liked heavy rhythms. And I really loved breakdowns, too. There weren't that many records that had all that at the time, so I would make edits of things that I could play in my club that would have those things.

Time Out New York: We should probably mention that edits weren't quite so easy to make in the late '80s as they are now.
Kerri Chandler: Oh, no—tape machines and lots of razor blades. I was finding my own way through those edits—and the next thing I knew, I was producing, incorporating the same elements. It just turned into what it turned into, just by filling in the gap, by producing stuff that just wasn't there.

Time Out New York: Throughout your career, you've been known for your monstrously chunky, crunchy kick drums. It almost sounds as though you are pushing the kick to its limit. Is that a sound that you worked to develop, or did it begin as a production accident?
Kerri Chandler: I've always loved anything that just bangs and wreaks havoc; I've always loved things that sound like they could break a system. [Laughs] Everyone thinks that I get that sound by running it into the red, but I've never had to clip anything. The truth of it is, I've always made sure that I had a lot of headroom for anything. I just worked hard to make it sound the way I wanted it to sound.

Time Out New York: So that sound didn't come to life as a mistake.
Kerri Chandler: It was definitely on purpose. One thing that's always helped is that I never tried to master anything of my own. I had a really good guy to do that, and I always paid a lot of attention to what he was telling me to do. And after I would send something to him, he would make that kick really kick. Not that it was weak when I sent it to him, but he knew how to give it that little bit extra.

Time Out New York: You've seen lots of trends come and go, but it must be heartening for you to see how people—technoheads, dubsteppers and others—have come back to deep house over the past half decade or so.
Kerri Chandler: Absolutely. But it's always in cycles. People get a bit older after a while, and they begin to want to hear melodies and songs, not just some electronic noise. And a lot of producers who started making tracks a few years ago are maturing as well, and they're starting to learn how to make tracks properly. They're figuring out what the machines do, how the software works and why things sound a certain way. They're even figuring out how to record vocals!

Time Out New York: Beyond the deep-house resurgence, there seems to be a very specific Kerri Chandler renaissance. You even have an Ibiza residency nowadays—not long ago, that would have seemed almost shocking.
Kerri Chandler: I have a blast going over there and just going crazy with everyone. The way they've embraced the sound is kind of cool. It reminds me of when I started—instead of me learning from older guys, now I'm watching over all these younger guys. I try to help them as much as I can. And the weird thing is that it feels like I've started all over again.

Time Out New York: Because you're having so much fun?
Kerri Chandler: That's pretty much it. I've always thought that if I'm not having fun anymore, then it's time to stop. But that hasn't happened yet—and I'm pretty happy about that.

Time Out New York: There's a recent YouTube video of you playing at the Rex Club in Paris, where you're on the mike, saying—and I'm paraphrasing just a bit—"If you don't like deep house, get the fuck out!" What was that all about?
Kerri Chandler: Oh, that was just a moment, a feeling. I was just having fun, and everybody seemed to get into it. It was near the end of the night, and everyone was just vibin' and having fun. That's something I've always done anyway, just having fun with the crowd to get them to go deeper. But for some reason, this one had legs.

Time Out New York: Yeah, it had almost 30,000 views last time I checked. Did anyone actually get the fuck out?
Kerri Chandler: Nope, not a single person! [Laughs]

Time Out New York: Last year, you launched MadTech, an imprint of your long-running Madhouse label. What can you tell us about that?
Kerri Chandler: It stems from me being with all these younger guys. When I was coming up, there wasn't really an outlet for me to get my things going, and I had to scramble around a lot. But I was hearing so many great things that these guys were doing, and I wanted them to have an outlet for it. I like to help them out and try to make sure that they're going in the right direction. And I really want to see where these kids are gonna go. So that's what it is: a springboard for younger producers and people who I enjoy working with.

Time Out New York: It's almost like a dance-music mentoring project.
Kerri Chandler: Yeah, except it all comes out on wax, so you can hear the progress. These people are the next generation, and if nobody helps to guide them, who knows where they're gonna go?

Time Out New York: You don't play in New York very much. Is that simply because you're always playing in Europe?
Kerri Chandler: I'm honestly there all the time. I'm never home!

Time Out New York: But you'll be spinning at Cielo on February 28th How did that come about?
Kerri Chandler: It was mainly Michael [Weiss, head of the Nervous label]. He's the reason I'm doing it. I've known him forever, and this sounded like an interesting night. They're also having Alix Alvarez, who's a really cool guy. I'd definitely like to help him get ahead. I just said, "You know what? It's Michael's party, they're bringing in Alix.… That's a cool thing."

Nervous Records Party: Kerri Chandler is at Cielo Feb 28.
Follow Bruce Tantum on Twitter: @BruceTantum