Interview and DJ mix: Walker & Royce
Rising stars Walker & Royce light up the house-music firmament.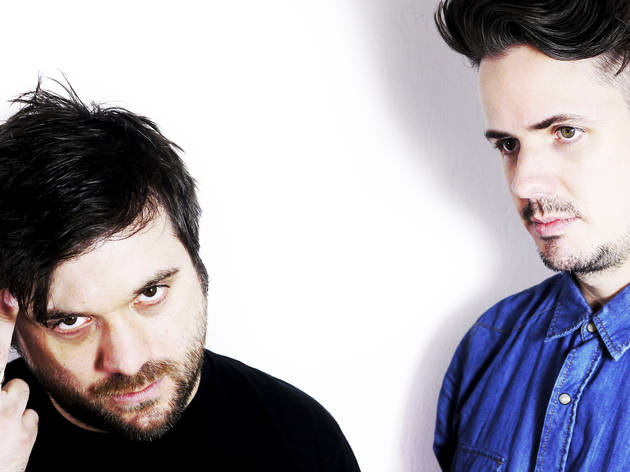 New York City's Gavin Royce and Sam Walker have been producing their emotive, subdued and groove-heavy deep house for just two years—but almost from the start, they were touted as future stars. Now it's official, thanks to a certain U.K. tastemaker—not to mention a string of stellar productions and remixes.

Time Out New York: I've been hearing for a while that you guys are going to be the next big thing—and now it seems as though it's starting to happen.
Gavin Royce: It's nice that you've been hearing that! [Laughs] When we started off a couple of years ago, we were kind of coming out of nowhere and it seemed we were getting noticed pretty quickly. But at the same time, we were just starting and had a long way to go, so we just kept at it. Things have started to fall in place nicely. [BBC Radio 1 DJ and longtime dance-music kingmaker] Pete Tong has taken notice of us, for instance.

Time Out New York: We'll get back to Mr. Tong in a bit, but let's backtrack a little first. You guys were friends for quite a while before you teamed up as producers, right?
Gavin Royce: Yeah, we were friends for about ten years. We were both involved in this group of friends who were throwing parties in Williamsburg; we would help promote and occasionally DJ.

Time Out New York: Which parties were they?
Gavin Royce: They were called Brooklyn Tuning.

Time Out New York: Oh yeah—I remember them.
Gavin Royce: They used to be in a loft space on South 4th Street. We stayed friends after that, but we actually had somewhat different musical tastes back then.

Time Out New York: Different in what way?
Gavin Royce: I was moving away from house and getting into disco—and then, because it was getting popular, I kind of fell into the electro scene. I was involved with the Girls & Boys party when that was starting out. I think Sam was more into minimal techno back then.
Sam Walker: Yeah, that and progressive house. It was the early '00s, when that kind of stuff was peaking. But then I had some other friends that were getting me into deep house—jazzy house and all that San Francisco kind of stuff. When Gavin and I kind of merged a couple of years ago, the electro scene was starting to come down.…
Gavin Royce: Yeah, I was getting kind of sick of it, actually!

Time Out New York: Perhaps your taste was maturing.
Gavin Royce: Really, I don't think I was really ever into electro! [Laughs] When I would play at Girls & Boys, I would always try to play as much house music as possible. I just happened to be involved in that world, but it was never my thing.
Sam Walker: And around 2007 I was getting sick of that dark, chin-stroking sound. I was becoming attracted to music that had more of an attitude. I actually started getting into indie dance and electro. Then my taste did sort of mature into house in general, and then specifically deep house.
Gavin Royce: At that point, I was doing a party called Ella Wednesdays with Nicky Digital; I was a resident DJ there. Sam started coming to that pretty often, and we ended up talking about music a lot.
Sam Walker: We found out that we now had pretty similar tastes.
Gavin Royce: Because I was deejaying so much, people started asking me if I did remixes. I had actually attempted to do some—unsuccessfully. [Laughs] But Sam had gotten more savvy in the studio than me, so I asked him if he would help with this remix for the Dither Down label. It was a remix of Publicist; that was the first music we had ever done together.
Sam Walker: Wait, wasn't that "Nightspot" remix the first thing we did together?
Gavin Royce: Oh, yeah, by 33Hz. That might be right. That was also for Dither Down.
Sam Walker: It was all around the same time.

Time Out New York: You guys were both working for Mike Weiss at the Nervous label at this point, right?
Sam Walker: Yeah, I think we were both there then.
Gavin Royce: I was at Nervous to help with A&R for the Nurvous sublabel. I was there for the beginning of that. I don't do that quite as much any more.

Time Out New York: I'm guessing that Walker & Royce keeps you pretty busy. Sam, do you currently have a day job?
Sam Walker: No, at this point I'm working on production full-on. We're trying to spend as much time on it as we can.

Time Out New York: And the hard work is paying off. How would you describe your current sound? Do you think you even have a specific sound?
Gavin Royce: We've been told we have a sound.
Sam Walker: But we're not conscious of it.
Gavin Royce: We often try to do things that are a little different than what we've done before. For instance, last year we had a track called "Connected" that did really well, and a lot of labels came to us and flat–out asked us for another "Connected." We pretty much refused; we're gonna write what we're gonna write, and if something like "Connected" comes out of it, that's what will happen. But we don't consciously try to have a sound.
Sam Walker: And every time we've tried to do that, it hasn't really worked anyway. Our method of musical creation is happenstance; what comes out are happy accidents. It's like you might be feeling a vibe one day, and you won't be feeling it the next day. For us to try to recapture that vibe just doesn't work for us. But I would say that we're evolving with every track.

Time Out New York: Do you feel that any Walker & Royce releases have been watershed moments for you? It seemed like your 2012 record on Crosstown Rebels, "You're Not Welcome," was an important one.
Gavin Royce: It was definitely a big deal for us. Crosstown Rebels had just put out records by people like Art Department and Maceo Plex. It seemed like all those guys and the label itself were having their moment. And we were literally unknown at that point, so it was a big deal. I think we had about 200 Facebook likes before that.
Sam Walker: It brought us a lot of visibility that we might not have gotten without it. But at the same time, we were still so new that there wasn't really a Walker & Royce identity yet. If we had been working together for years, when that track hit, we really could have run with it. But we didn't really have the history yet to back that release up. Now we have a lot more releases, and we're working on a whole lot more.

Time Out New York: You'll be playing Verboten's StageOne event this week, which is a fairly large-scale event—but you come from a background of playing sweaty little basement parties. Do you find yourself playing differently when you play in such varied environments?
Sam Walker: We do. In a smaller environment, you have a lot more connection with the crowd, which makes it a lot easier. In a big space, it can be hard to figure out the vibe; you're just kind of up there in front of everybody. It's tough to gauge what people are into.
Gavin Royce: We don't ever plan our sets. Obviously, we'll put together groups of tracks that we might want to play. But we might not end up playing them. As a DJ, you try to find the connection with the crowd, and that helps determine what you play. At the StageOne party, I think we're playing pretty early—which actually means we should have a long set. And that means we can cover a lot of ground.

Time Out New York: Let's return to Pete Tong. He's named you as "Future Stars," right?
Gavin Royce: Yeah! That's a segment he does on his show. Our segment airs on October 18. A producer from his show hit us up and asked if we'd want to do it.

Time Out New York: And you said yes.
Gavin Royce: Of course! I've been listening to Pete Tong since I was raving.

Time Out New York: And you're finally making your European debut.
Gavin Royce: We're making our official European debut at the Amsterdam Dance Event; we'll be playing the All Gone Pete Tong party.

Time Out New York: More Pete Tong! I guess he really is a fan.
Gavin Royce: I guess so!
Sam Walker: That's going to be an amazing party.
Gavin Royce: And then we go to London after that. I think we're getting top billing. Our picture is on the flyer!

Time Out New York: Big things are happening.
Sam Walker: It's a very exciting time.
Gavin Royce: That Crosstown thing happened over a year ago now, and everybody thought maybe that was our moment then. But like I said, I think we were still a little too new then.

Time Out New York: And things rarely happen that easily.
Gavin Royce: True. But now it is actually happening. And we're finally going to Europe. The tickets have been bought, the flyers have been printed, and the hotels are booked.

Walker & Royce play Verboten: StageOne in New York on Saturday, October 12; All Gone Pete Tong at the Amsterdam Dance Event on Thursday, October 17; and Audio Whore in London on Saturday, October 19.
Follow Bruce Tantum on Twitter: @BruceTantum